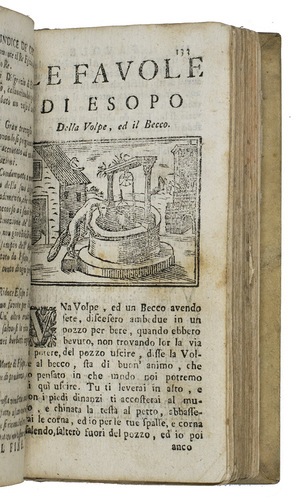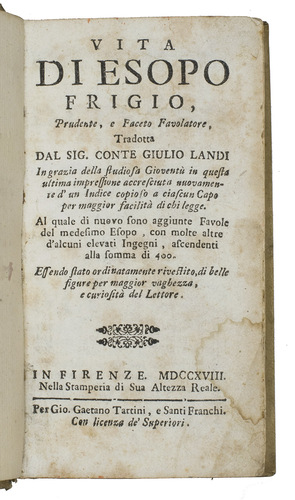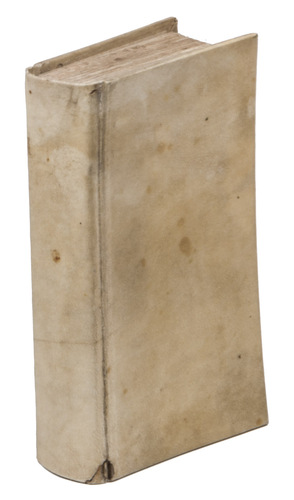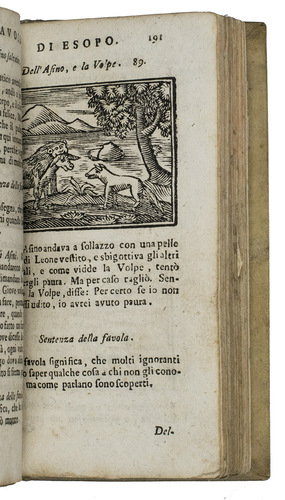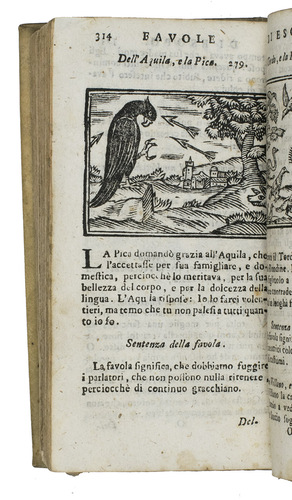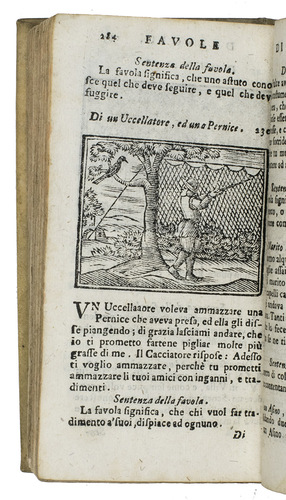 AESOP.
Vita di Esopo Frigio, prudente, e faceto favolatore, Tradotta dal Sig. Conte Giulio Landi in grazia della studiosa Gioventu ... Al quale di nuovo sono aggiunte Favole del medesimo Esopo, con multe alter dalcuni elevati Ingegni, ascendenti alla somma di 400 ...
Florence, Giovanni Gaetano Tartini, 1718. 12mo. With 90 (incl. repeats) woodcuts (ca. 4.5 x 6 cm). Plain vellum. 384, [12] pp.
€ 500
One of the many editions of this extended collection of 400 fables, collected and translated in Italian by Giulio Landi (1498-1580), an Italian author, philosopher and classical scholar, well-known for his description of the Island Madeira. As mentioned on the title the Vita of Aesop comes first, composed in Italian on the basis of Max. Planudes Life, by Giulio Landi. The corpus of the Fables, includes no less than 400 animal fables, some collected from other sources (including Fables by Landi himself). The Fables are illustrated with 90 anonymous woodcuts. Several woodcuts are repeated, especially at the end, for the fables taken from other sources. All fables close with a moral, here called Sentenza, intended for the instruction and amusement of the youth.
The first edition of the Vita appeared in 1545, that of the Fables in 1569, based on the Aesopus Dorpii, followed by many editions till far into the 19th century.
In good condition. Cf. Bodemann, 52.1-52.4 (edd. of 1581, 1585, 1673 and 1818).
Related Subjects: