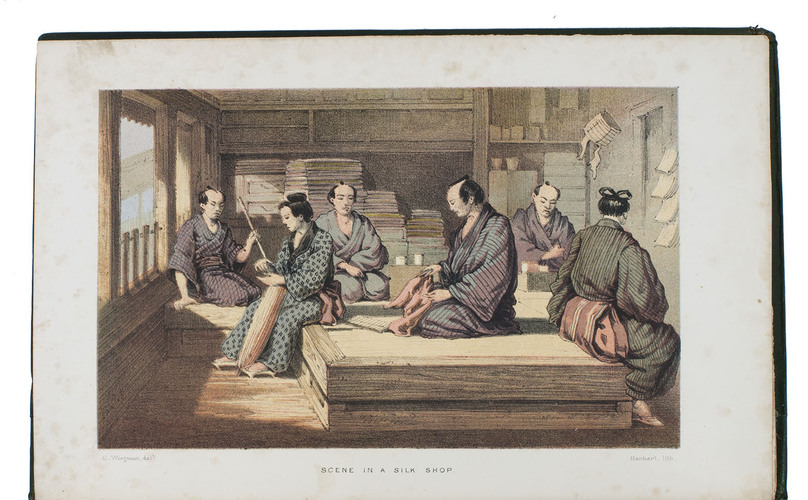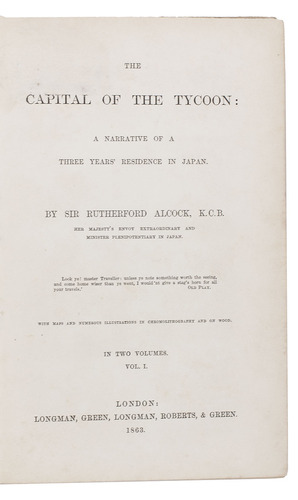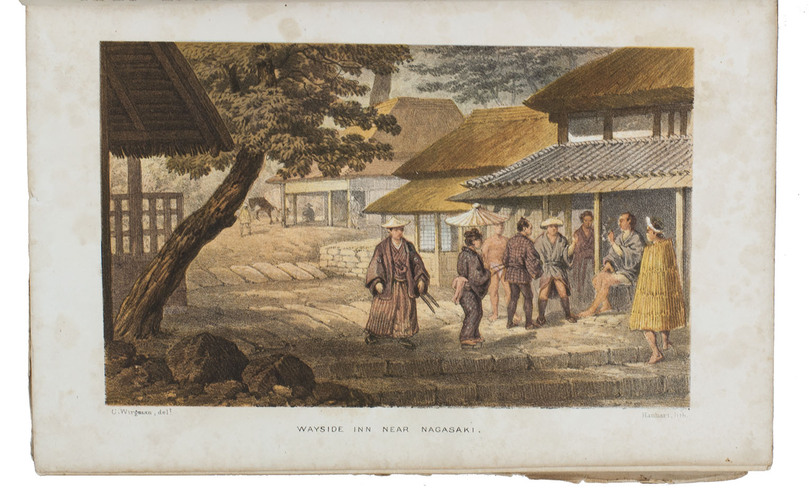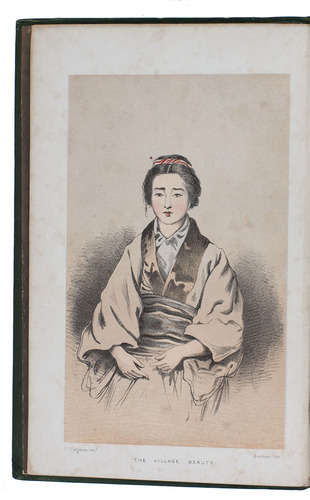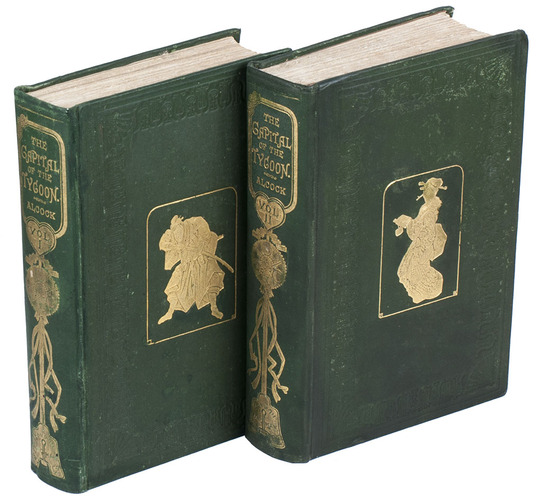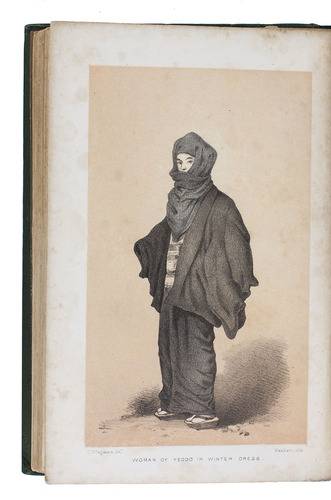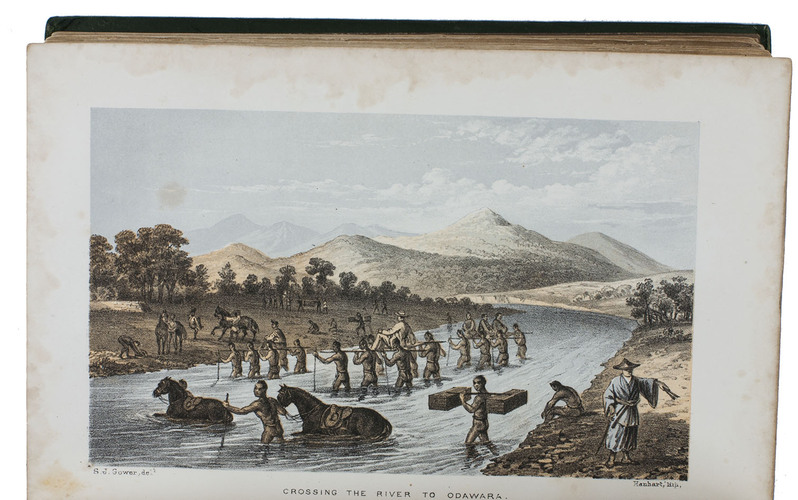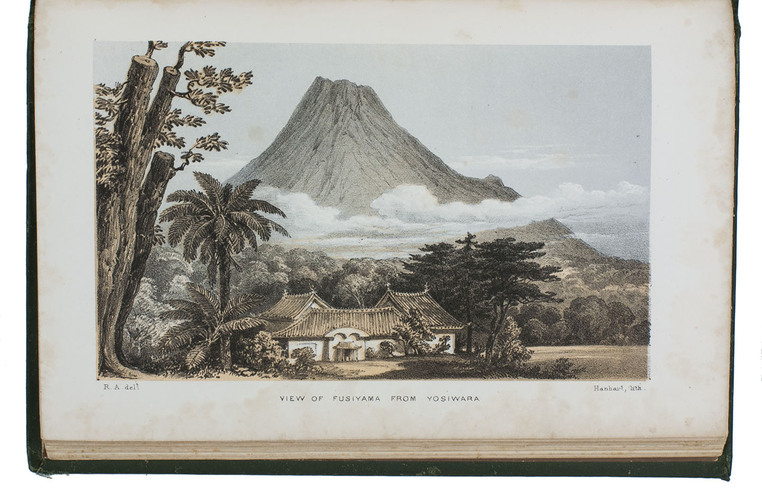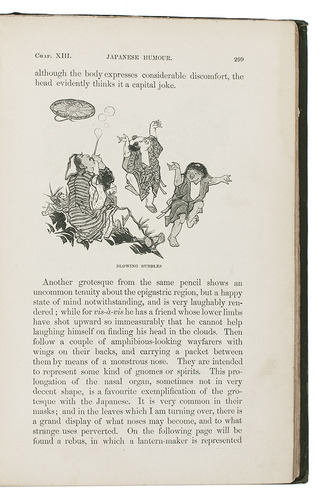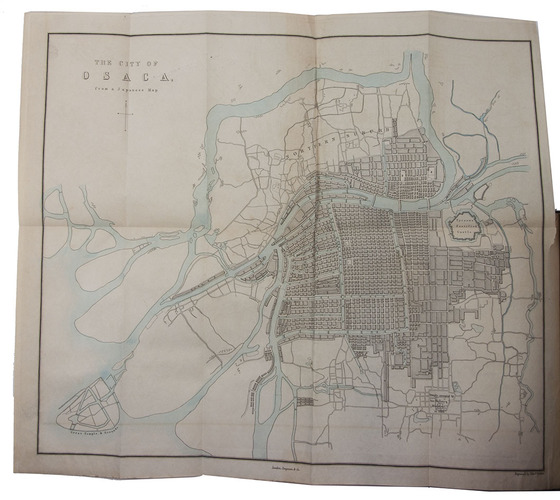 ALCOCK, Sir Rutherford.
The capital of the tycoon: a narrative of a three years' residence in Japan.
London, Longman, Green, Longman, Roberts, & Green (colophons: printed by Spottiswoode & Co.), 1863 [reissued with publisher's advertisements dated April 1875]. 2 volumes. 8vo. With 2 chromolithographed frontispieces, 2 folding engraved maps (partly coloured), 14 tinted, double-tinted and chromolithographed plates (at least one highlighted with silver colour) drawn mostly by Charles Wirgman (1832-1891) and lithographed by Hanhart, 2 black & white wood-engraved plates (engraved by Pearson) and numerous wood-engraved illustrations in text (some signed by Pearson). Original publisher's gold- and blind-blocked green cloth. XXXII, 469, [2]; X, 539 pp.
€ 1,250
First edition of a famous work on Japan by Sir Rutherford Alcock (1809-1897), the first British consul in Japan extensively illustrated with numerous chromolithographs and wood engravings. Alcock describes Nagasaki, Yokohama, a trip to Hokkaido and Japanese foreign relations, including differences between the U.S. Consul and the European Consuls. Alcock made many journeys during his stay in Japan, and records the manners and customs of the Japanese. The appendix contains notes on the agriculture, trees and flora by Mr. Veitch. A "classic work" on Japan. Tipped in is a 1-page autograph letter, signed, from the author, dated 1 July 1878.
With an occasional very minor stain, hinges reinforced, otherwise in very good condition and wholly untrimmed. Cordier, Japonica 556; Wenckstern I, 43.
Related Subjects: