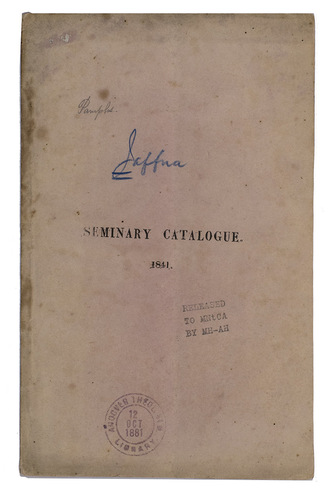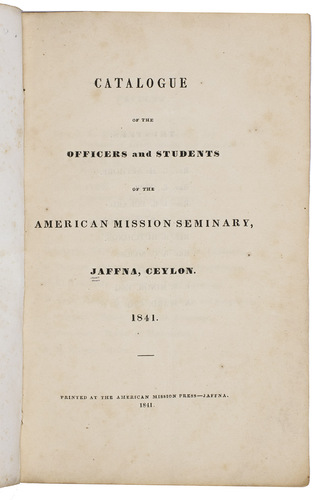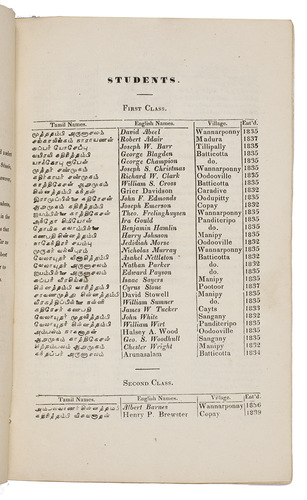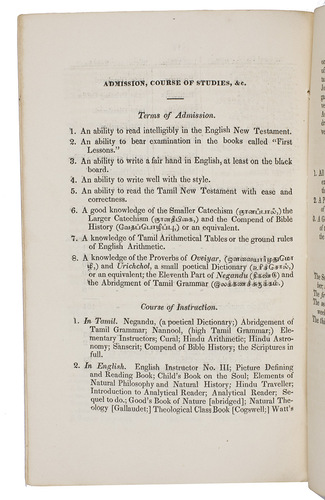 AMERICAN MISSION SEMINARY.
Catalogue of the officers and students of the American Mission Seminary, Jaffna, Ceylon. 1841.
Jaffna, printed at the American Mission Press, 1841. 8vo (21 x 13.5 cm). Original pink printed wrappers, with "seminary catalogue 1841" printed in black on the front wrapper. 13 pp.
€ 650
Very rare pamphlet, printed in Jaffna, containing extensive lists of names (in Tamil and English) of all the instructors and students of the Jaffna American Mission Seminary, along with the year in which they entered the Seminary and the village to which they have been assigned. The only institutional copy we can trace is held at the American Antiquarian Society.
With an old collection and deaccession stamp of the Andover Theological Library and an annotations ("Jaffna" and "Pamphs") on the front wrapper. The wrappers are faded and lightly foxed, internally only very slightly browned, edges slightly frayed. With a light vertical fold line. Overall in good condition. WorldCat 950917175 (1 copy).
Related Subjects: