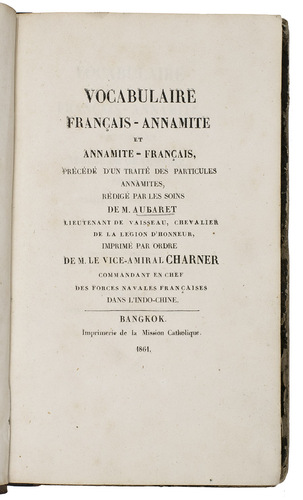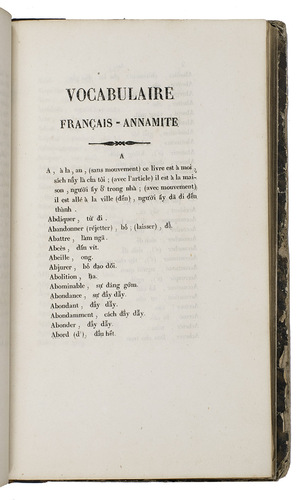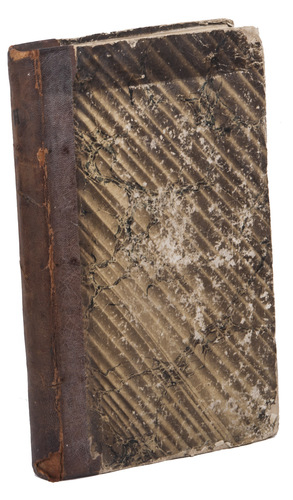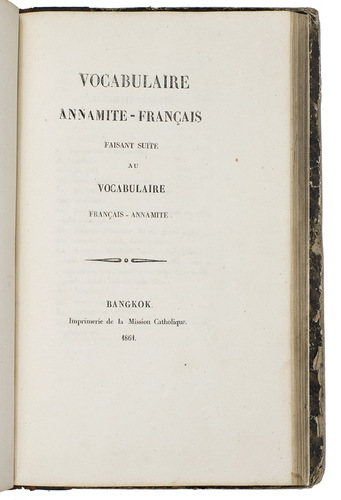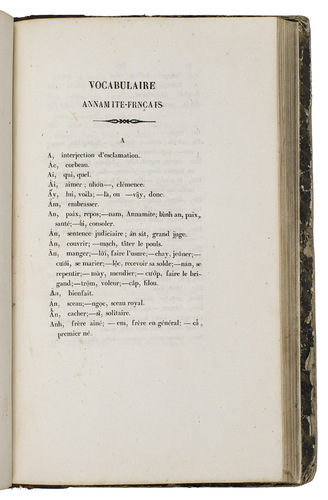 AUBARET, Louis Gabriel Galdéric.
Vocabulaire Français-Annamite et Annamite-Français, précédé d'un traité des particules annamites, rédigé par les sions de M. Aubaret lieutenant de Vaisseau, chevalier de la Legion d'honneur.
Bangkok, Thailand, Imprimerie de la mission catholique, 1861. 2 parts in 1 volume. 8vo. Contemporary half-sheepskin, smooth back. [4], XCVI, 157 pp.
€ 3,750
First and rare edition of the first French-Vietnamese (Annamese) vocabulary. Louis Aubaret (1825-1894), a naval officer, orientalist, and diplomat, authored this significant early dictionary for the Vietnamese language, which was then known as Annamese. The publication is indicative of the exceptional quality of French oriental scholarship in the 19th century. The dictionary was printed at the behest of Vice-Admiral Charner, under whom Aubaret participated in the capture of Saigon. This work was Aubaret's debut published work.
Aubaret described how he had overcome the particular challenger of transcription in his extensive grammatical introduction to the language: "although the main difficulty of this language is entirely in the intonation which must receive each monosyllable, we have managed, with the help of certain signs of convention, to sufficiently represent each of the six tones, which compose this language", p. I. Aubaret devised an ingenious transcription system that employed a combination of accents to accurately represent intonation. Additionally, the author provided a concise overview of the grammatical and linguistic treatment of vowels and consonants, as well as the specific word classes in Annamese, with a particular emphasis on particles and numerals.
At the time this was written, Hué served as the capital of Annam, but it is unlikely that the city possessed a printing shop capable of producing the dictionary. In 1861, Aubaret traveled to Bangkok to negotiate with the King of Siam regarding Cambodia, and it was in Bangkok where he had his book printed by the local Catholic missionary press. Vietnamese is an ancient dialect that originated from Chinese and consists entirely of monosyllables with slightly varied articulation, conveying different meanings depending on the tone of pronunciation. The book was subsequently reprinted in a revised form in Paris in 1867.
Louis Gabriel Galdéric Aubaret was a French naval officer, diplomat, orientalist and the first French consul in Bangkok. He was born in Montpellier in 1825 and died in Poitiers in 1894. He was sent to the French Protectorate of Annam as inspector of native affairs to the admirals governor-generals. Besides his Annamite grammar, he translated the Annamite Code in 1865, and published a work on the history of Gia-dinh (Saigon) and of lower Cochinchina.
Wear to boards, doodles to pastedowns endpapers, wide margins, otherwise in very good condition. Cordier, Indosinica IV, 2287-2288; WorldCat 456831861, 30119409, 252343473, 920409687.
Related Subjects: