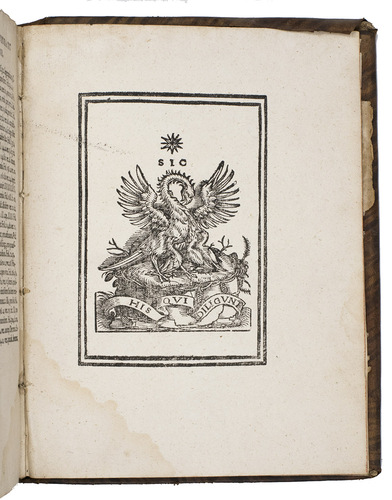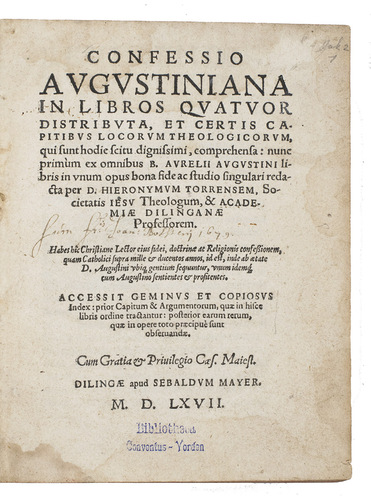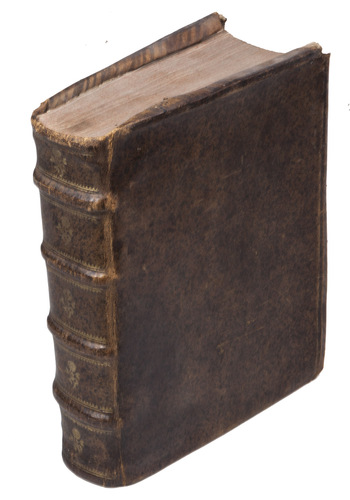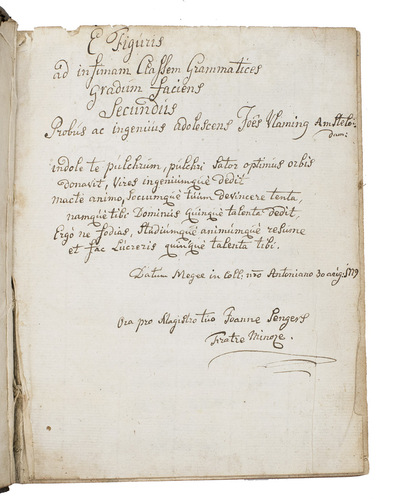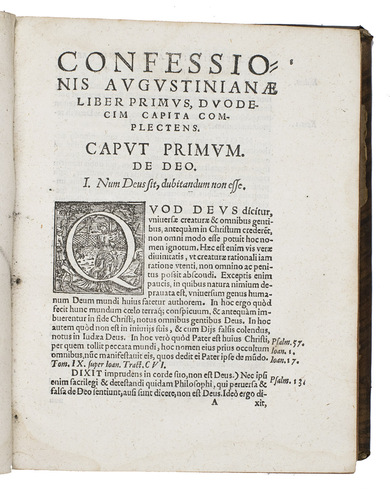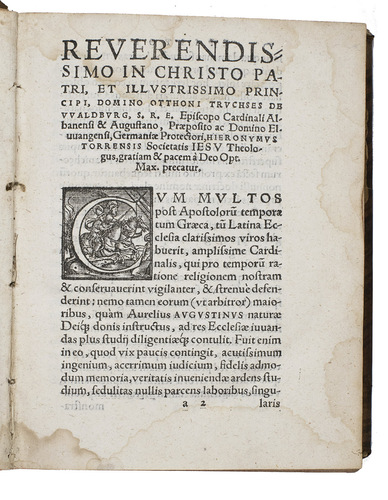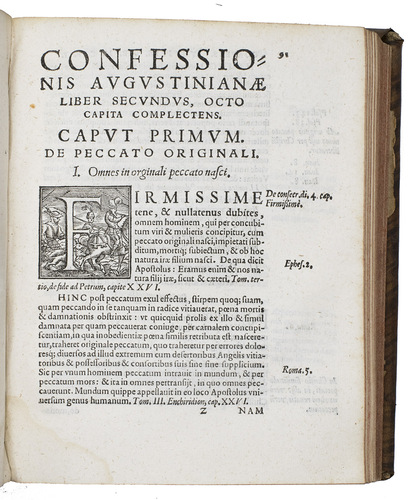 AUGUSTINUS, Aurelius.
Confessio Augustiniana in libros quattor distributa, et certis capitibus locorum theologicorum, qui sunt hodie scitu dignissimi, comprehensa: nunc primum ex omnibus B. Aurelii Augustini libris in unum opus bona fide ac studio singulari redacta per D. Hieronymum Torrensem ...
Dillingen, Sebald Mayer, 1567. 4to. With Mayers full-page woodcut device (a pelican feeding her young with her own blood, with motto "sic his qui diligunt", copied in mirror image from that of Frans Behem in Mainz) on the last otherwise blank leaf, and some fine decorated woodcut initials. 18th century mottled calf, gold-tooled spine, red sprinkled edges. [32], 330, [24] lvs.
€ 1,500
First edition of an apologetical collection of citations from Augustine's Confessions compiled by the Spanish Jesuit Jerome Torres (Hieronymus Torrensis, 1527-1611), then professor of theology at the University of Dillingen. He selected passages from all the works of Saint Augustine to provide a systematic overview of authorized Catholic religious belief following the principle of "loci communes" (a term taken from Melanchthons overview of Protestant belief), especially concerning certain questions under debate in the second half of the sixteenth century - after the Council of Trent.
With an extensive manuscript prize certificate in Latin on the first free endleaf ("E figiris ad infimam Classem Grammatices gradum faciens Secundus probus ac ingenius adolescens Johannes Vlaming Amstelodamum"), including 6 Latin hexameters, ending with "Sum Fratris Joannes Bolsteni 1779". With a stamp of the "Bibliotheca Conventus - Vorden" at the foot of the title-page and an old owner's inscription in ink on the title-page dated 1679. Calf partly detached from the boards at the turn-ins. Slight marginal water stains in the first leaves. Otherwise a good copy of a Catholic prize book with an interesting provenance and a manuscript prize certificate. Adams A2177; Bucher, Dillingen 241; De Backer-Sommervogel VIII, pp. 127-128, no. 3; VD16 A4172; cf. De Prijs is het bewijs 75 (different prize book from the Megen Latin School, in 1666, also with ms. certificate and no prize-binding).
Related Subjects: