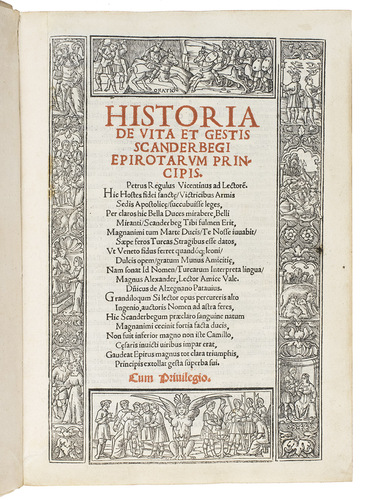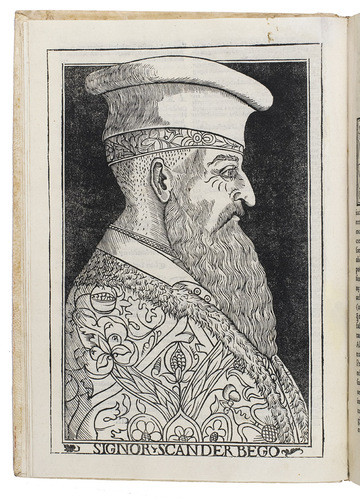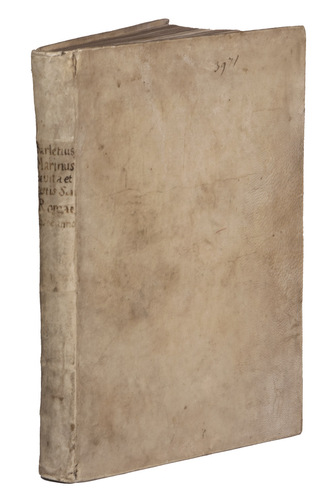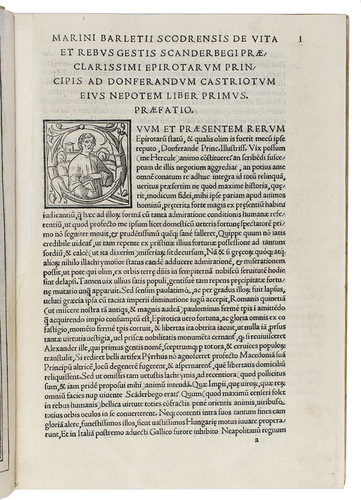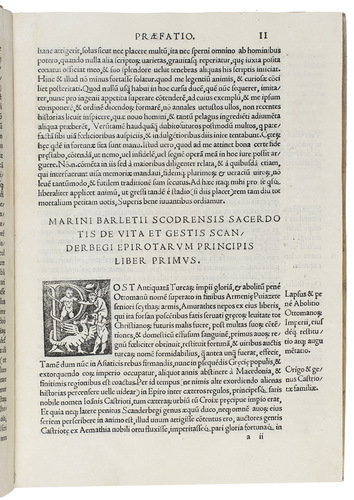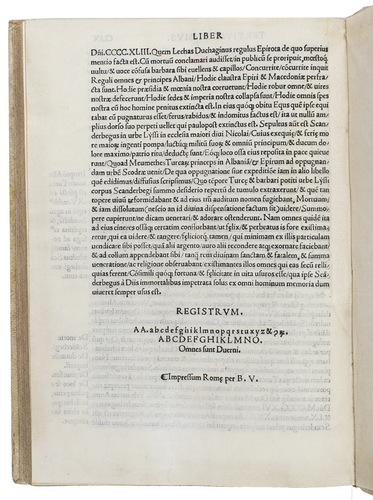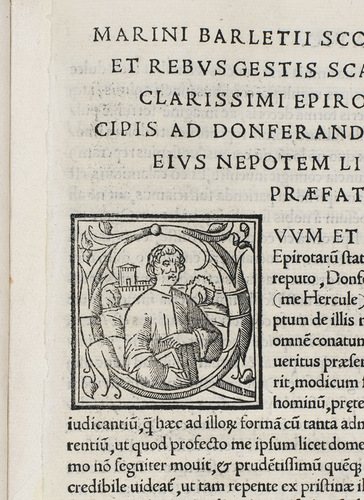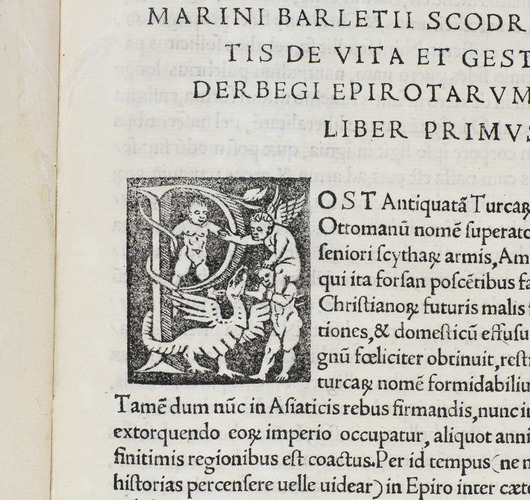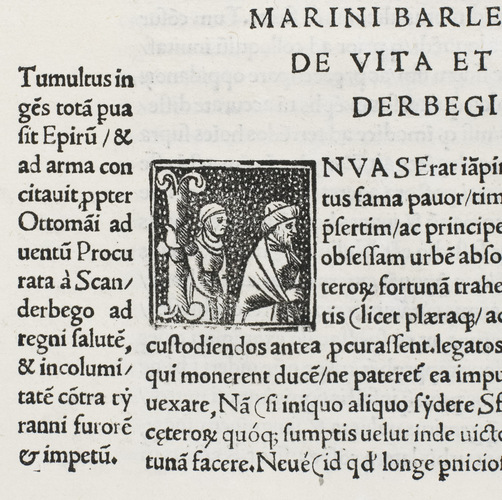 BARLETI, Marin.
Historia de vita et gestis Scanderbegi epirotarum principis.
Rome, [Bernardino Vitali], [ca. 1508-1510]. Folio. With a full-page woodcut portrait of Skanderbeg (25.5 x 16.5 cm), a woodcut decorative frame on the title-page, and woodcut decorated initials of various sizes throughout. Contemporary? vellum, with a manuscript title on the spine. [4], CLIX [1] pp.
€ 25,000
First edition of this famous biography of the national hero of Albania, Georg Kastriota, named Skanderbeg (1405-1468), by the only Albanian historian before the nineteenth century, Marin Barleti, (Marinus Barletius, Shkodra ca. 1450 - Rome 1512). The Historia de vita et gestis Scanderbegi Epirotarvm principis is a biography of George Castriota, also known as Scanderbeg, who was a national hero in Albania. Marin Barleti was a historian, author, and priest from Scodra.
Skanderbeg was the national leader in the struggle with and wars against the Turks. In 1415 and again in 1423 he was sent to the Sultan in Constantinople as a hostage where he converted to Islam and was named Iskender (Skanderbeg is a derivative of this name). In the 1440's he was sent by Sultan Murad II in his Osmanian army to his native country, Albania. Once there, he left the Turkish army in November 1443 and abandoned the Sultan to become the leader - and hero - of the struggle for independence of Albania. Scanderbeg was born into a noble family but was taken hostage by the Ottoman sultan, Murad II, when he was young. He later rebelled against the Ottomans in 1443 and led a successful military campaign that expelled them from Albania. He managed to maintain Albania's independence for 25 years, but after his death, the country fell back under Ottoman control. Barleti's work highlights Scanderbeg's influence on the political landscape of Albania, the Balkan Peninsula, and Europe. The book's title page features a wood engraving of the Castriota family emblem, a two-headed eagle, while the detailed table of contents and preface list the author's name. The book includes a wood-engraved portrait of Scanderbeg and was likely published in Rome in 1508-10 by the Venetian printer Bernardino dei Vitali, as indicated by the colophon. The book gained widespread popularity throughout Europe and was translated into several languages, serving as the basis for other works about Scanderbeg's life, such as Jacques de Lavardin's Histoire de Georges Castriot Surnommé Scanderbeg, Roy d'Albanie, which was published in France in 1576 and reprinted in numerous editions. Barletis work is still the basis for all research on Skanderbeg and for the Skanderbeg cult which played such an important role in the awakening of Albanian nationalism in the nineteenth and early twentieth centuries.
Barletis' biography of Skanderbeg is his best known work, however the exact date of its printing is still under debate. Most bibliographers suggest a date between 1508 and 1510. Norton, however, in his Italian printers, claims that printing could be later than 1515 or even as late as 1522, on evidence of a change in type (pp. 103-4). Little is known of Barletis life; he was still living in Shkodra at the time of its second siege by the Turcs. In 1479 he went to Italy to study history. In 1504 he published his history of the siege of Shkodra (De obsidione Scodrensi), printed in Venice by Bernardino de' Vitali, the same printer who printed this biography. De' Vitali only makes himself known to us on the verso of the last leaf, and then by his initials only: "Impressum Romae per B.V.".
With a manuscript annotation on the front board "3971" in brown ink and a few marginal notes. With an ex libris of Jean Michel Cantacuzène on the front pastedown. The binding shows very slight signs of wear, internally only occasionally lightly stained without affecting the text. Overall in very good condition. Adams I, B216; Fan Stylian Noli, George Scanderbec (New York 1947); GW, III 409a; ISTC, ib00128800; Mortimer, Italian books I, 43 (with a full-page repr. of the portrait); Petrovitch, Scanderbec (Georges Castriota), Essai de bibliogr. raisonnée (1881; repr. 1967), p. 3-5; Pellechet, 1848; Sander I, 780 and VI, pl. 794; Sinker, 214; USTC 997244 and 812332; WorldCat 645065473.
Related Subjects: