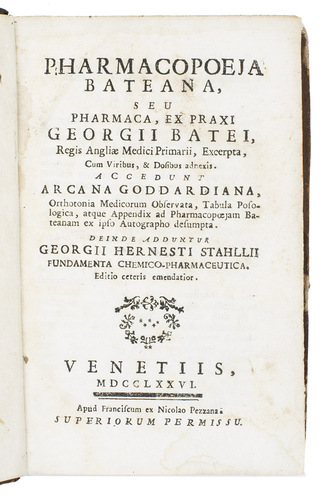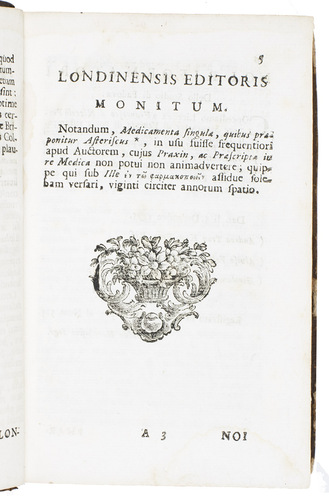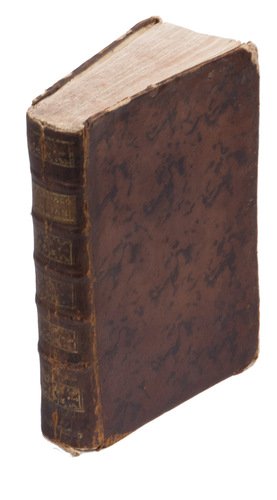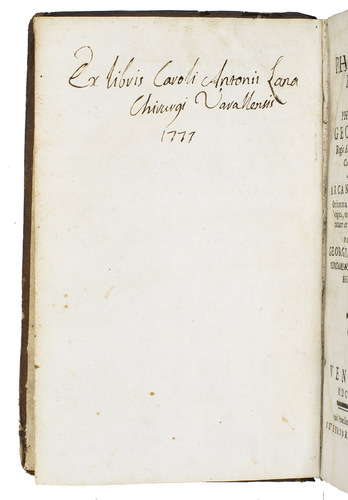 BATE, George.
Pharmacopoeia Bateana, seu pharmaca, ex praxi Georgii Batei ... excerpta, cum viribus, & dosibus annexis. Accedunt Arcana Goddardiana, Orthotonia medicorum observata, Tabula posologica, atque appendix ad Pharmacopoeiam bateanam, ex ipso autographo desumpta. Deinde adduntur Georgii Hernesti Stahllii fundamenta chemico pharmaceutica. Editio ceteris emendatior.
(2) Joannes JUNCKER. Conspectus formularum medicarum exhibens tabulis XVI. Tam methodum rationalem, quam remediorum specimina, ex praxi Stahlliana potissimum desumpta, et therapeiae generali accommodata.
(3) Georg Ernst STAHL (Benjamin Roth SCHOLTIUS, ed.). D. Georg. Ern. Stahllii consiliarii, et archiatri Regii Borussici primarii fundamenta chemico-pharmaceutica generalia. Accessit manuductio ad encheirises artis pharmaceuticae specialis.Venice, Franciscus and Nicolas Pezzana, 1776. 3 works in 1 volume. 8vo. Contemporary mottled calf, gold-tooled spine, brown morocco spine label. 224; VIII, 214; [2 blank]; 48 pp.
€ 650
Ad. 1. Later Venetian edition of the Latin Pharmacopoeia Bateana, an internationally authoritative collection of pharmacological recipes and prescriptions compiled posthumously by James Shipton from the papers of the British physician George Bate (1608-1668), originally published in 1688.
Ad. 2. The title-page to ad 1 doesnt mention the Conspectus formularum medicarum, first published in Halle in 1723, but it matches ads 1 and 3 in format and style and the Wellcome Library has the three bound together, so they were probably issued together. The work contains 16 "Tabulae" with a manual how to prepare and use some medicines.
Ad. 3. The added work by Georg Ernst Stahl (1659-1734), noted on the ad 1 title-page, had been first published in Herrnstadt, Germany in 1721 and appeared in the Pharmacopoeia Bateana beginning with the 1741 edition (Venice, Jo. Gabriel Hertz). Here the Fundamenta are added under a separate title-page. However the three works in this book all have their own page numbers and signatures and in this case also their own title-page and could therefore have been published separately, the first title page of ad 1 show that it was meant that these three works were meant to be issued in this volume.
With an owner's inscription dated 1777 from "Caroli Antonii Chirurgi Varallensis" on the verso of the first flyleaf. Wellcome II, p. 113.
Related Subjects: