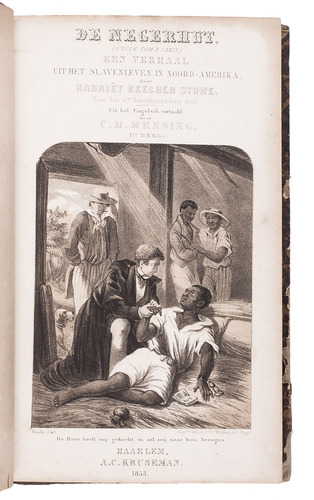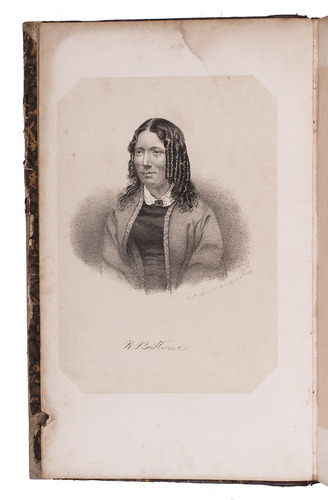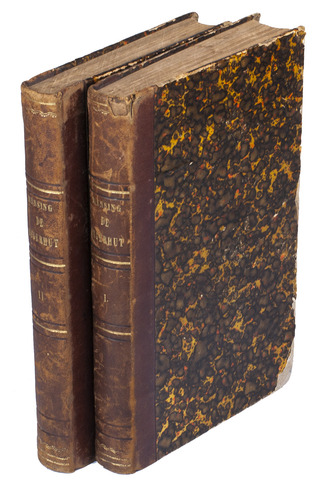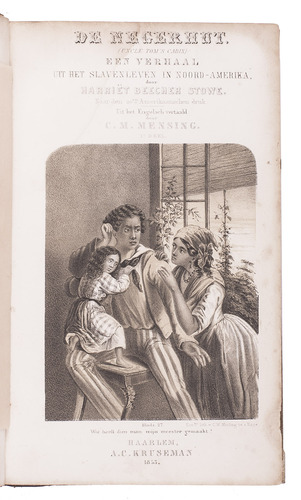 BEECHER STOWE, Harriet.
De negerhut. (Uncle Tom's cabin.) Een verhaal uit het slavenleven in Noord-Amerika.
Haarlem, A.C. Kruseman, 1853. 2 volumes. 8vo. With a tinted lithographed title-page in each volume and a tinted lithographed author's portrait as frontispiece in the first volume. Contemporary half sheepskin. [1], [1 blank], IV, 368; [1], [1 blank], 403, [1 blank] pp.
€ 1,250
Very rare first edition of the second(?) Dutch translation of the famous anti-slavery novel Uncle Tom's cabin by the abolitionist writer Harriet Beecher Stowe (1811-1896), translated by C.M. Mensing. Another equally rare Dutch translation was published in Ghent (Belgium), without a year of publication, but generally thought to have been published in 1852, the same year as the original English edition published in Boston. The novel became extremely popular in the Netherlands. Kruseman printed 1100 copies of this translation, which sold out almost immediately (a first edition of a novel would normally consist of 300 copies).
Slightly browned, some spots. Bindings slightly worn along the extremities, corners damaged. Overall in very good condition. Huisman, Verhalen van vrijheid, pp. 60-61; NCC (3 copies); WorldCat (1 additional copy).
Related Subjects: