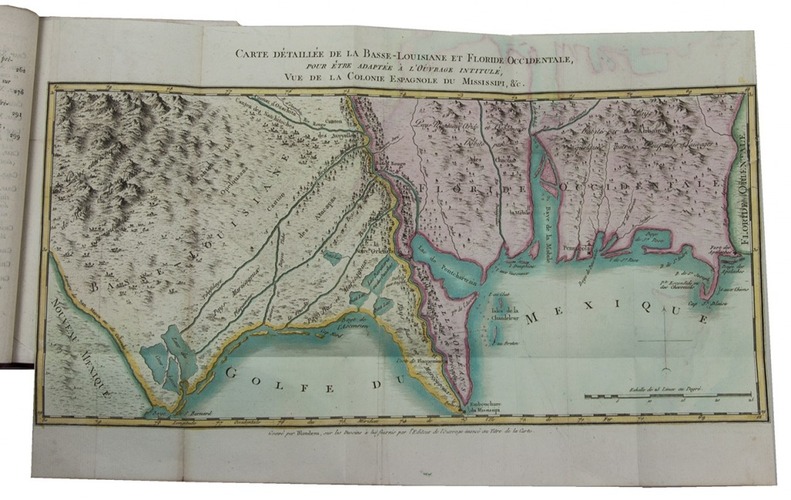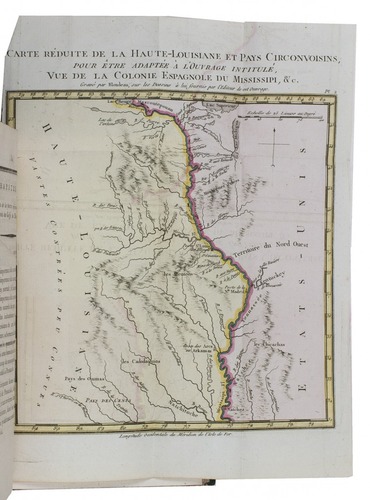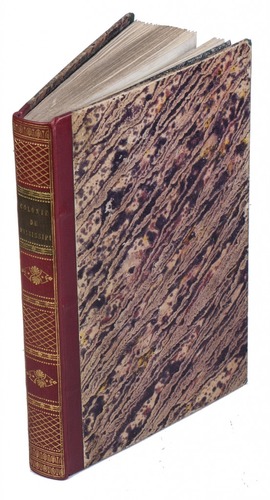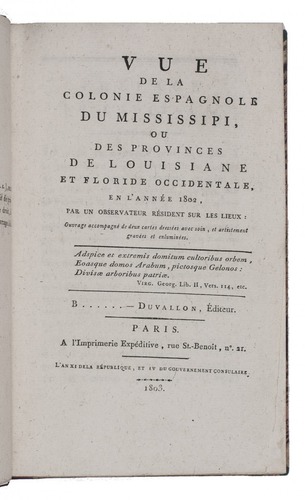 BERQUIN-DUVALLON, Pierre-Louis.
Vue de la colonie Espagnole du Mississipi, ou des provinces de Louisiane et Floride Occidentale, en l'année 1802...
Paris, Imprimerie expéditive, 1803. 8vo. With 2 folding engraved maps of the Louisiana territory by Alexandre Blondeau after Berquin-Duvallon, both coloured by hand. Modern red half morocco, richly gold-tooled spine. XX, 318, 5, [5] pp.
€ 3,500
First and only edition in the original French, of a travel account of the territories of Louisiana and West Florida, then a French possession but administered by Spain. Pierre-Louis Berquin-Duvallon (1769-post 1814) was one of the many French plantation holders who had fled the Haitian Revolution on Saint-Domingue and settled in Louisiana. Embittered by his experience, he wrote an extremely negative report of Louisiana and its inhabitants, who had refused to admit the refugees' slaves. Nevertheless, after describing the geography and economy of the territories, Berquin-Duvallon gives a colourful account of the cities and their inhabitants, particularly of New Orleans. He found the latter to be a filthy place, unworthy to be titled a city, full of ramshackle buildings and streets that for the greater part of the year turn into open sewers. Its citizens fared no better, as he considered them to be noisy and amoral, they preferred drinking wine to conversation and only sought profit instead of education. The nightlife of New Orleans is particularly mentioned, with its gambling and endless dancing where the low orders indiscriminately mix: black and white, freeman and slave. In five specific chapters, the former plantation owner Berquin-Duvallon describes the various racial groups in the colony: white "creoles", white foreigners, freed people of colour and slaves.
With some insignificant wear to the extremities of the boards and some offsetting of the colouring of the maps onto the header; a very good copy. Leclerc, Bibliotheca Americana, 1038; Sabin 4962; Streeter coll. 1530; Howes 389.
Related Subjects: