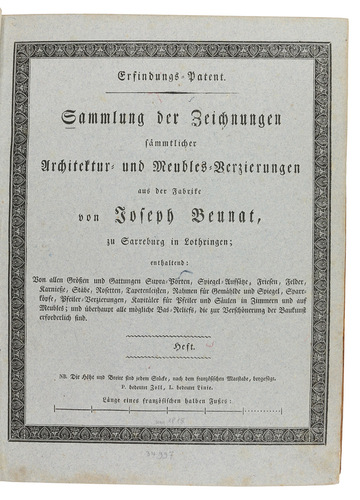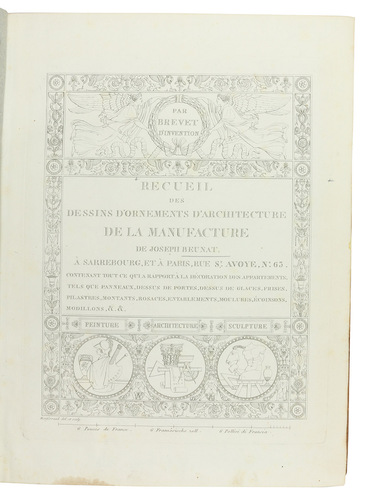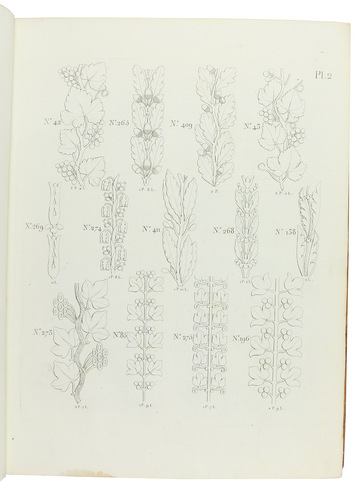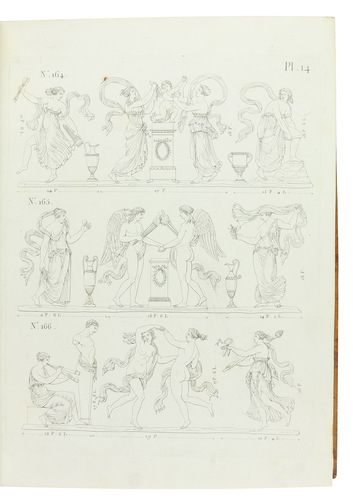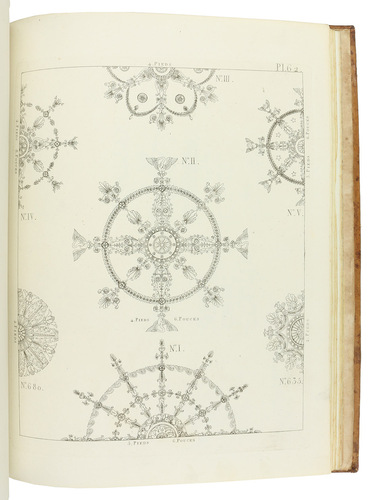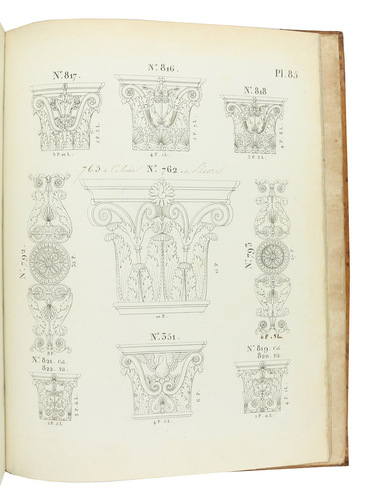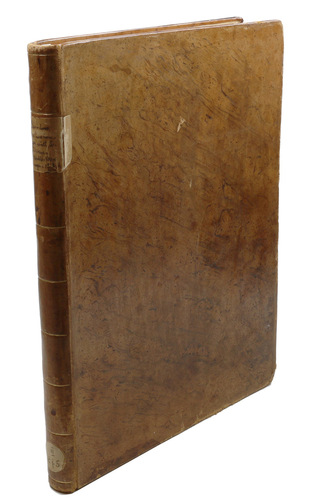 BEUNAT, Joseph.
Recueil des dessins dornaments darchitecture de la manufacture de Joseph Beunat. A Sarrebourg, et a Paris, Rue St. Avoye, no. 63. Contenant tout ce qui rapport a la decoration des apartments ...
Sarrebourg and Paris, [ca. 1814]. Large 4to (32.5 x 25 cm). Engraved series of 86 prints (including the decorative title-page) with many hundreds of different designs. Contemporary German tree calf, flat spine with contemporary manuscript paper label in ink. With the original publishers grey printed wrappers bound in, with the title in German.
€ 6,500
An important trade catalogue of furniture ornament and interior decorative designs manufactured by a patented process at Beunats factory in Sarrebourg in Alsace. Beunat was the first to manufacture and distribute pre-fabricated moulded elements of ornamentation. His designs were in the French Empire style, pioneered by the architectural duo Percier and Fontaine. Beunats trade catalogue shows about 800 decorative designs for friezes, panel ornaments, pilasters, columns, mouldings, candelabras, vases, heads, mythological figures and motives, rosettes, frames for pictures and mirrors, doorways, etc. There are also a handful of designs of entire rooms together with floor plans. The designs were offered in plasterwork as stucco decorations for interiors, but some must also have been offered in bronze as furniture ornament. The plates are finely detailed measured drawings. The present copy demonstrates Beunats international ambitions. The plates and title-page are French, while the wrappers give all the necessary information in German. There is a German summary of the designs contained in the catalogue, as well as practical information indicating that the measurements are in French units, with a scale. There is also a reference to Beunats "Erfindungs-Patent". We could not locate another copy with the German wrappers. Some of the plates are dated "1812", some "1813", the latest date is "18 December 1813". Plates 83 and 85 have neat manuscript additions in ink. Some of the plates were engraved by Louis Marie Normand, August Montferrand or A. P. Giraud.
With the stamp of the Donaueschingen Fürstenberg library on the back of the title-page. In very good condition. Kat. der Ornamentstichslg. Berlin 1387 (with only 72 plates, dated 1812).
Related Subjects: