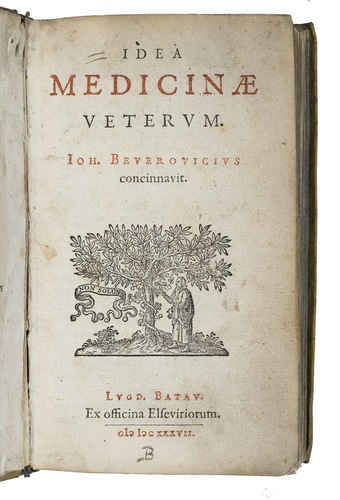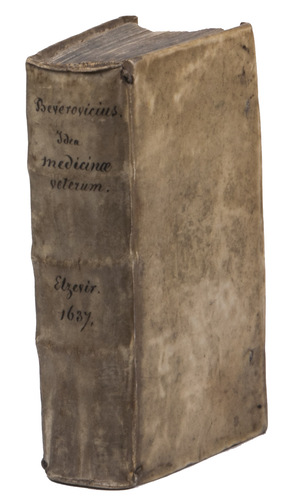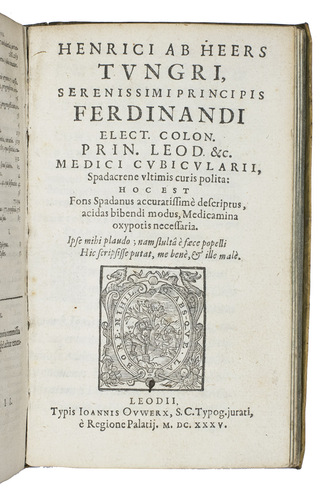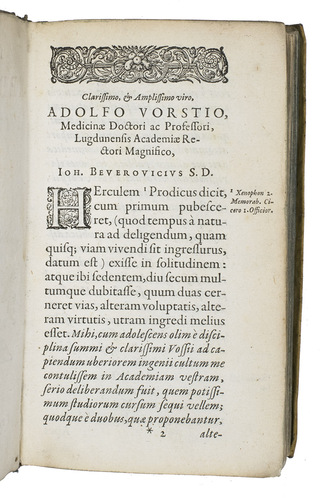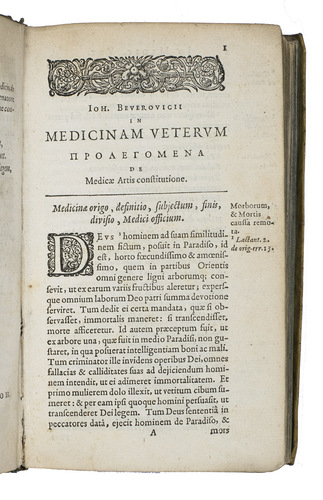 BEVERWIJCK, Johannes van.
Idea medicinae veterum.
Leiden, Officina Elzeviriorum, 1637. Title-page in red and black with the Elzeviers' "non solus" tree, grape vine and man device, a woodcut headpiece (plus 1 repeat) and woodcut decorated initials. With: (2) HEER(S), Henrick de. Spadacrene ultimis curis polita: hoc est Fons Spadanus accuratissimè descriptus, acidas bibendi modus Medicamina oxypotis necessaria.
Liège, Johannes Ouwerx, 1635. With Ouwerx's woodcut device on the title-page, woodcut headpieces, tailpieces and decorated initials.
2 works in 1 volume. 8vo. Contemporary vellum. [8], 390, [10]; [24], 128 pp.
€ 2,950
Ad 1: Rare first and only edition of one of Van Beverwijck's first publications, giving a series of quotations concerning medical matters from non-medical authors from antiquity, writing in Greek and Latin. The text is in Latin, but the Greek sources are quoted in the original Greek. Johan van Beverwijk (1594-1647) studied medicine in Leiden and several other European cities. He earned his doctorate in medicine at the University of Padua. In 1618 he returned to his home town Dordrecht where he became town physician and lector in medicine. His other works include Schat der gesondheyt (1636), Schat der ongesondheyt, ofte geneeskonste van de sieckten (1642) en Heel-konste (1645). They functioned as medical encyclopedias and, since he published in both Latin and Dutch, reached a large and very diverse audience. They made him as famous as his kinsman, Andreas Vesalius.
Ad 2: Very rare third edition of a rare work on the therapeutic and medicinal use of the waters of the city of Spa (in Liège province in what is now Belgium), written by Henrick de Heer(s) (1570-1636). First printed in 1614 at Liège by A. de Coswarem, who also printed the second edition of 1622, it led to a violent controversy with Joh. Bart. van Helmont, who attacked De Heer's work in his own work on the same subject (1624; see: Thorndike VII, p. 229). De Heers was born to a patrician family of Tongres in the province of Liège. He was distinguished by his knowledge of philosophy and the mathematics, and travelled in Germany, Spain, Italy, France and England. After taking his medical degree, he settled in Liège as town physician in 1605. He also served as court physician to Ernest Ferdinand, Elector of Cologne. Every year De Heer spent some weeks at Spa, and wrote the present book based on his observations and experiences. At least 7 editions followed to 1689, and a French translation appeared in 1646 (reprinted in 1654 and 1739).
Overall in good condition. Ad 1: BMN p. 1; Krivatsy 1201; Wellcome I, 836; Willems 453; ad 2: De Theux cols. 58 & 122; Ferguson I, p. 372.
Related Subjects: