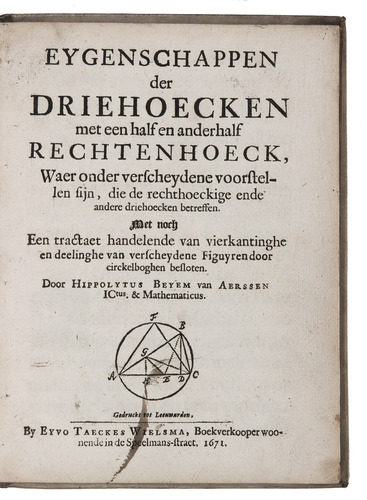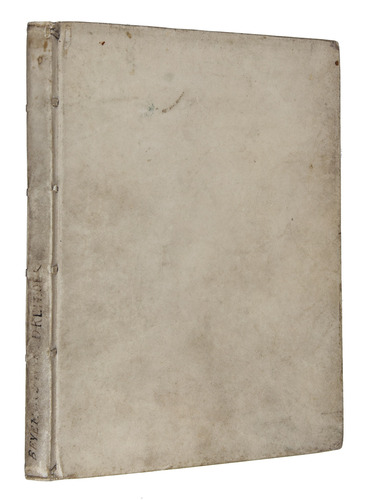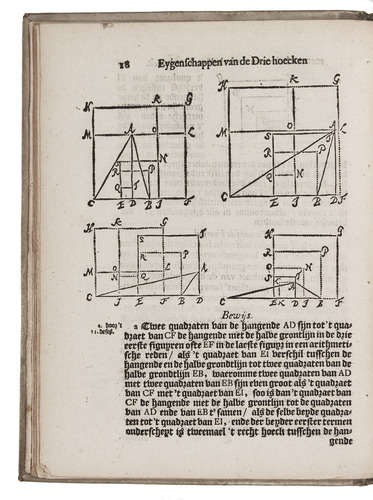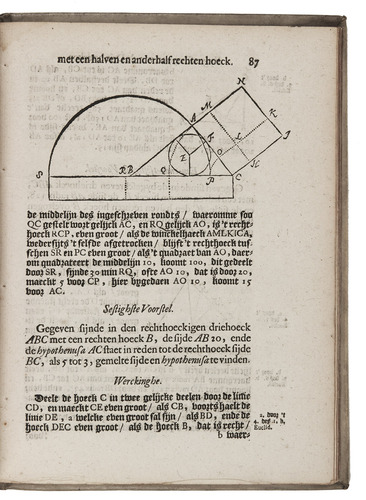 BEYEM VAN AERSSEN, Hippolytus.
Eygenschappen der driehoecken met een half en anderhalf rechtenhoeck, waer onder verscheydene voorstellen sijn, die de rechthoeckige ende andere driehoecken betreffen. Met noch een tractaet handelende van vierkantinghe en deelinghe van verscheydene figuyren door circkelboghen besloten.
Leeuwarden, Eyvo Taeckes Wielsman (colophon: printed by Schelte Jochems), 1671. 4to. With a woodcut diagram on title-page, numerous woodcut diagrams in text. Contemporary vellum. [8], 102, [4], 103-117, [3] pp.
€ 2,250
Geometry textbook by the otherwise unknown author Hippolytus Beyem van Aerssen, printed in Leeuwarden. The volume contains two treatises, the first part deals with triangles and some aspects of rectangles, the second treatise is on geometrical figures within circles as well as some remarks on the squaring of the circle. The final leaf contains errata.
Minor ink stain on title-page, page 11 with small holes and some loss of text, diagram on page 62 pasted into text, faint marginal water stain in some parts. Clean and well-preserved copy. Bierens de Haan 306; for the author: V.d. Aa, Bijvoegsel, p. 16.
Related Subjects: