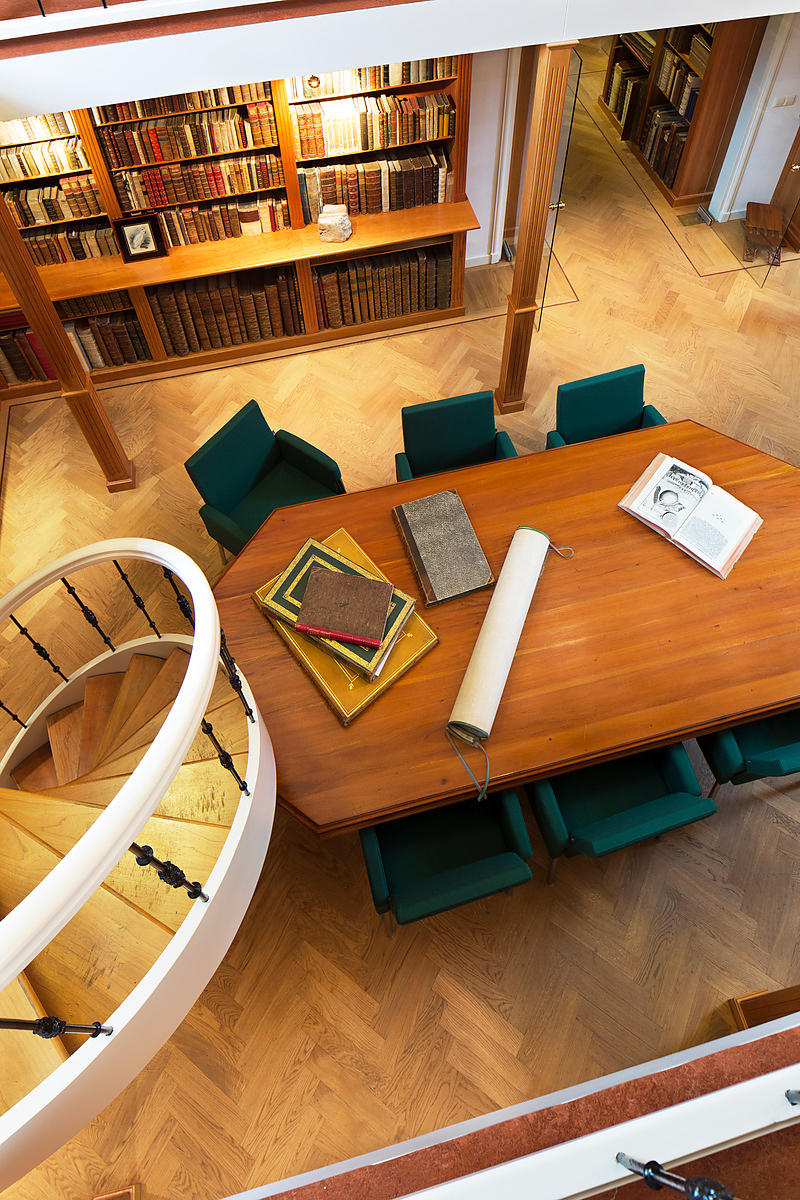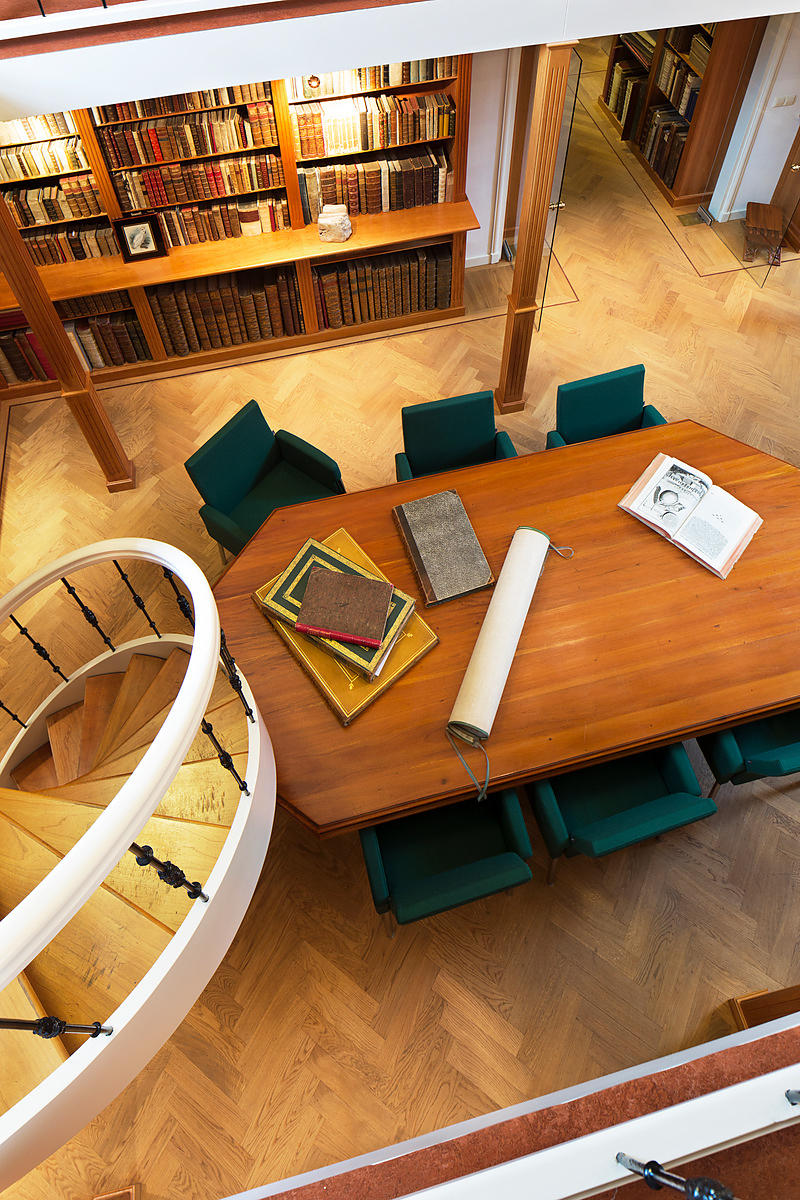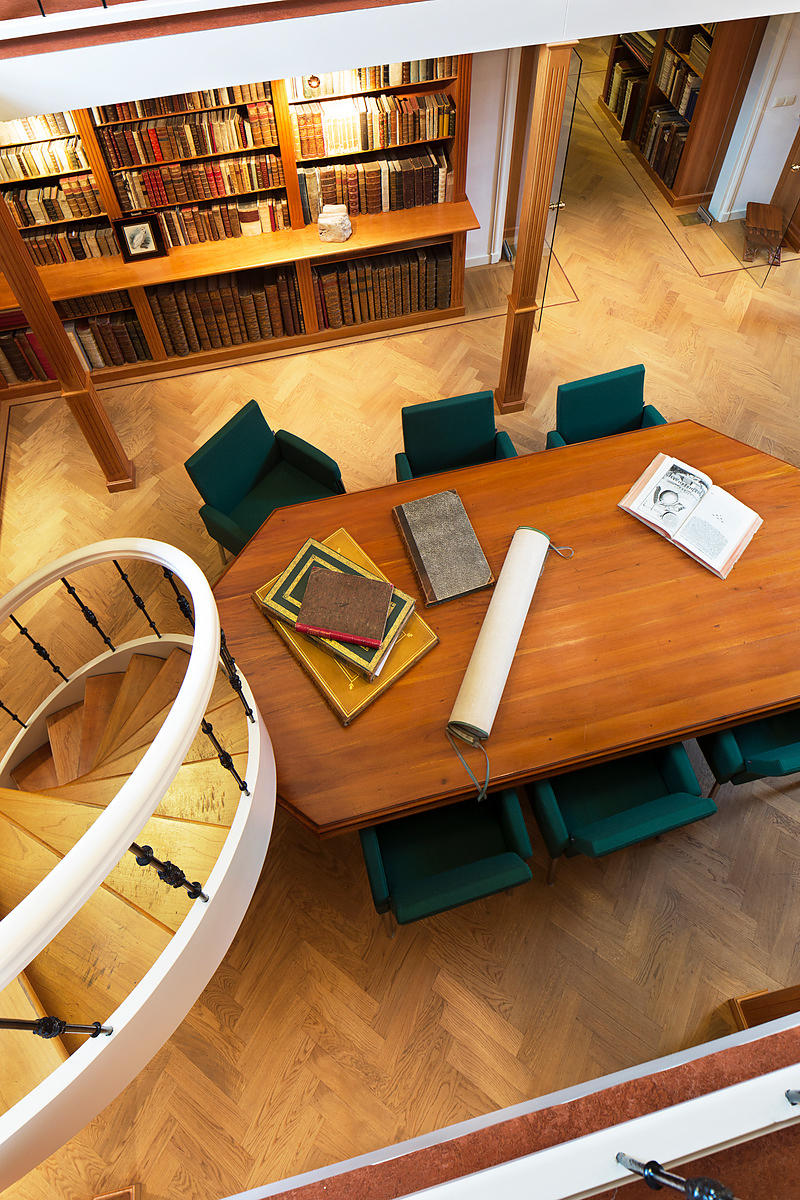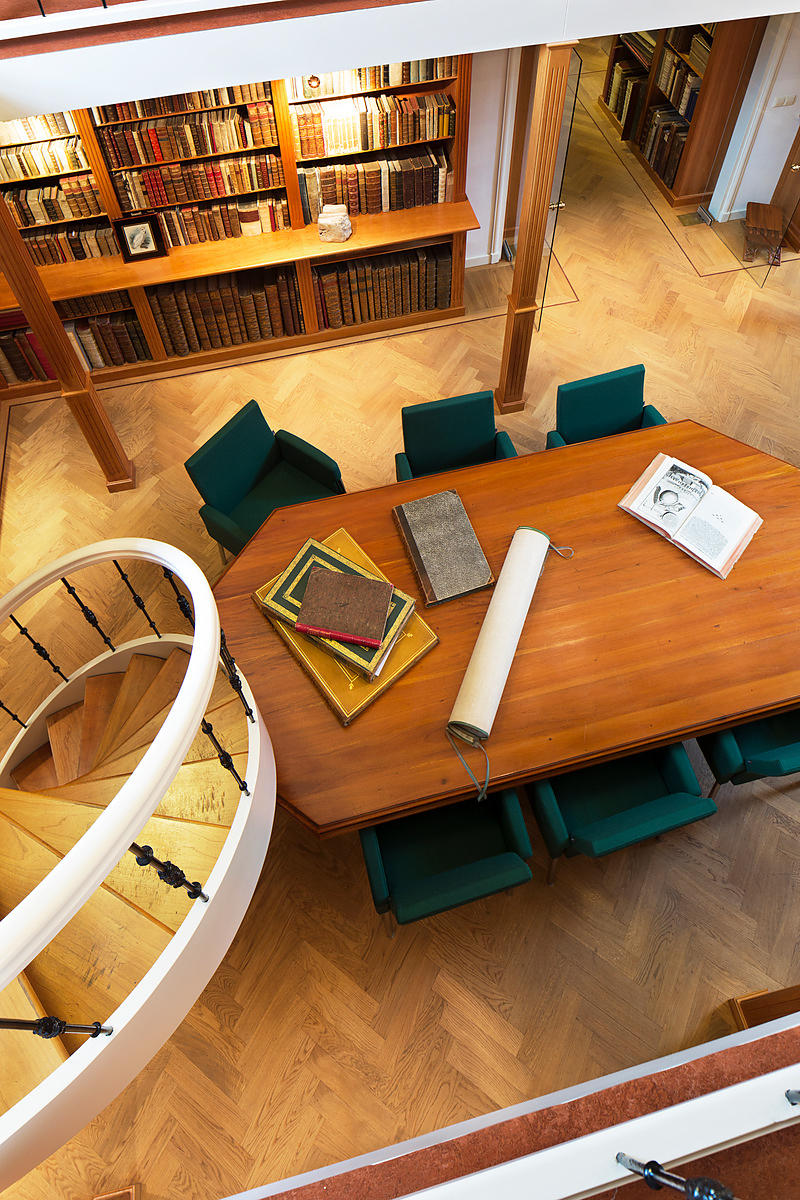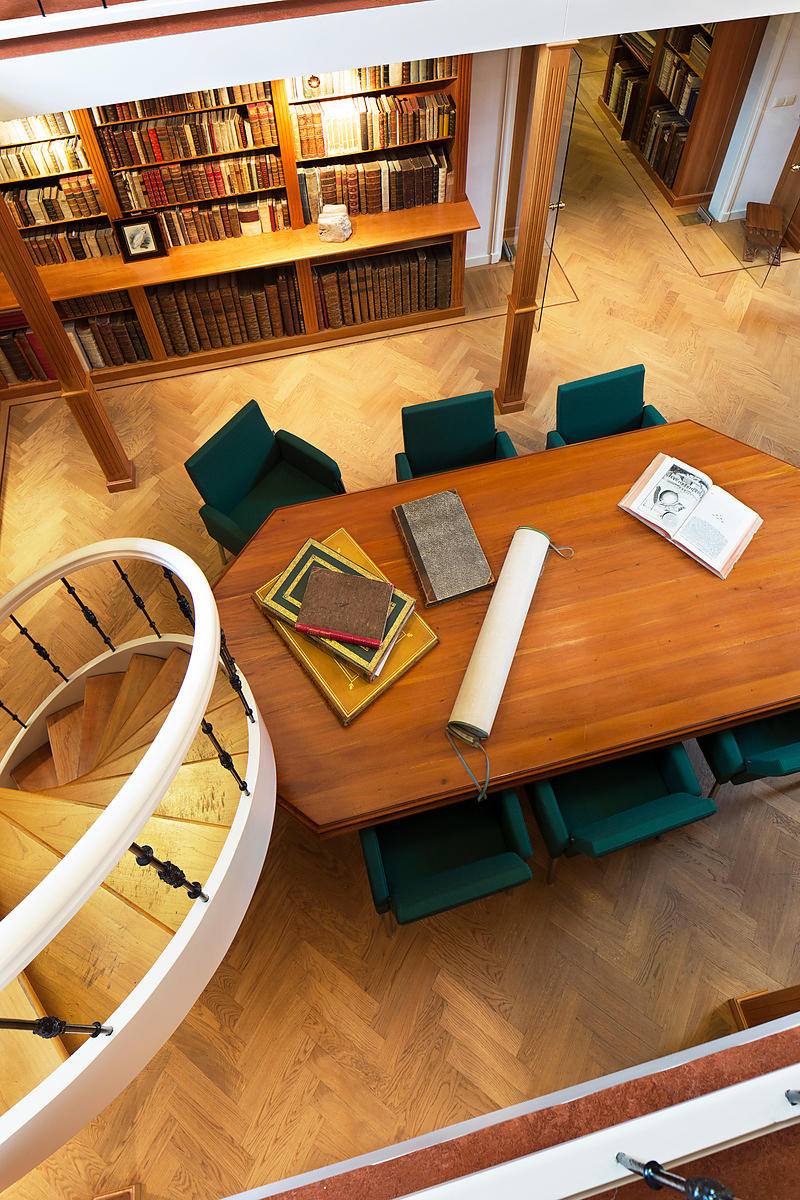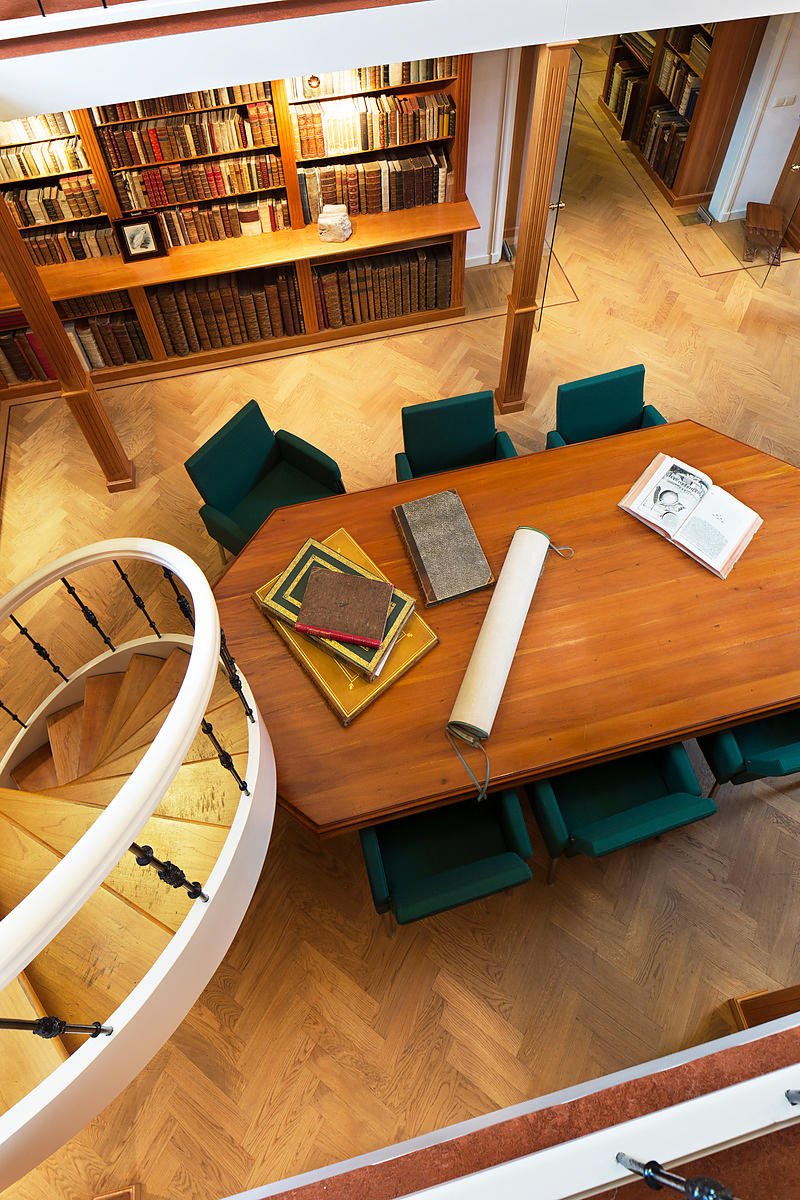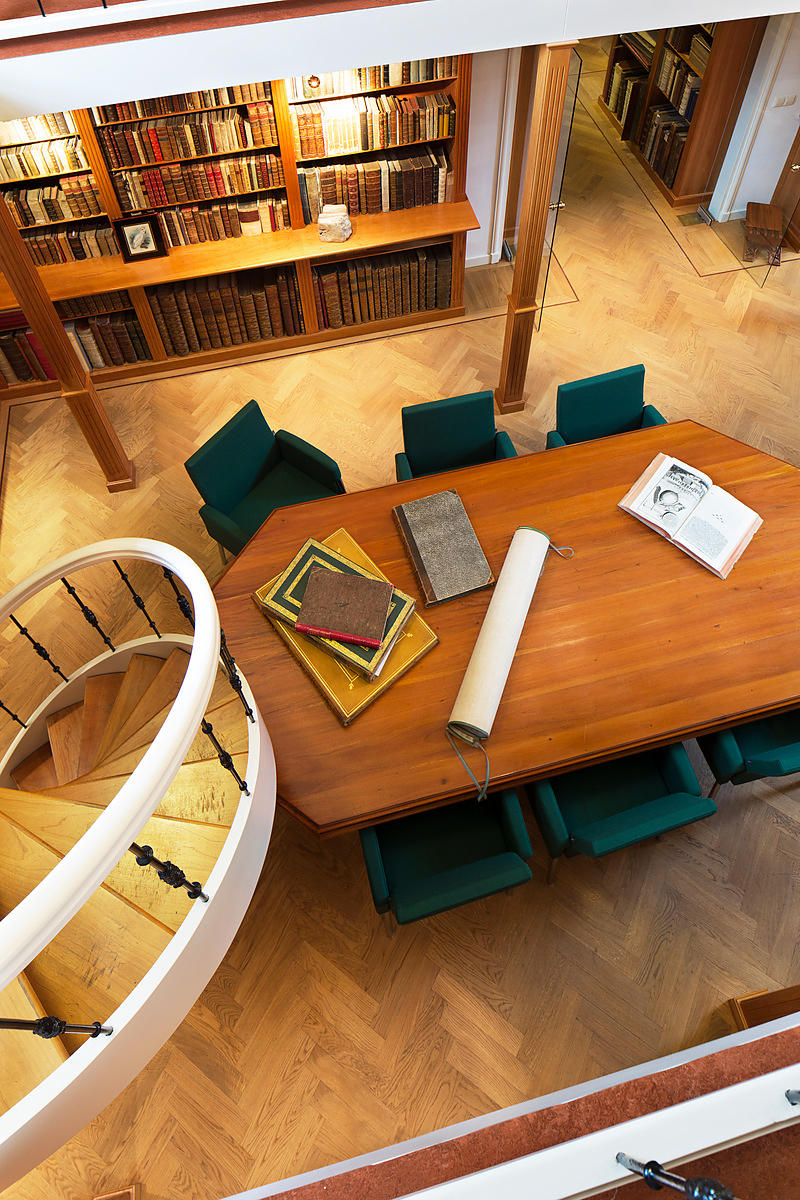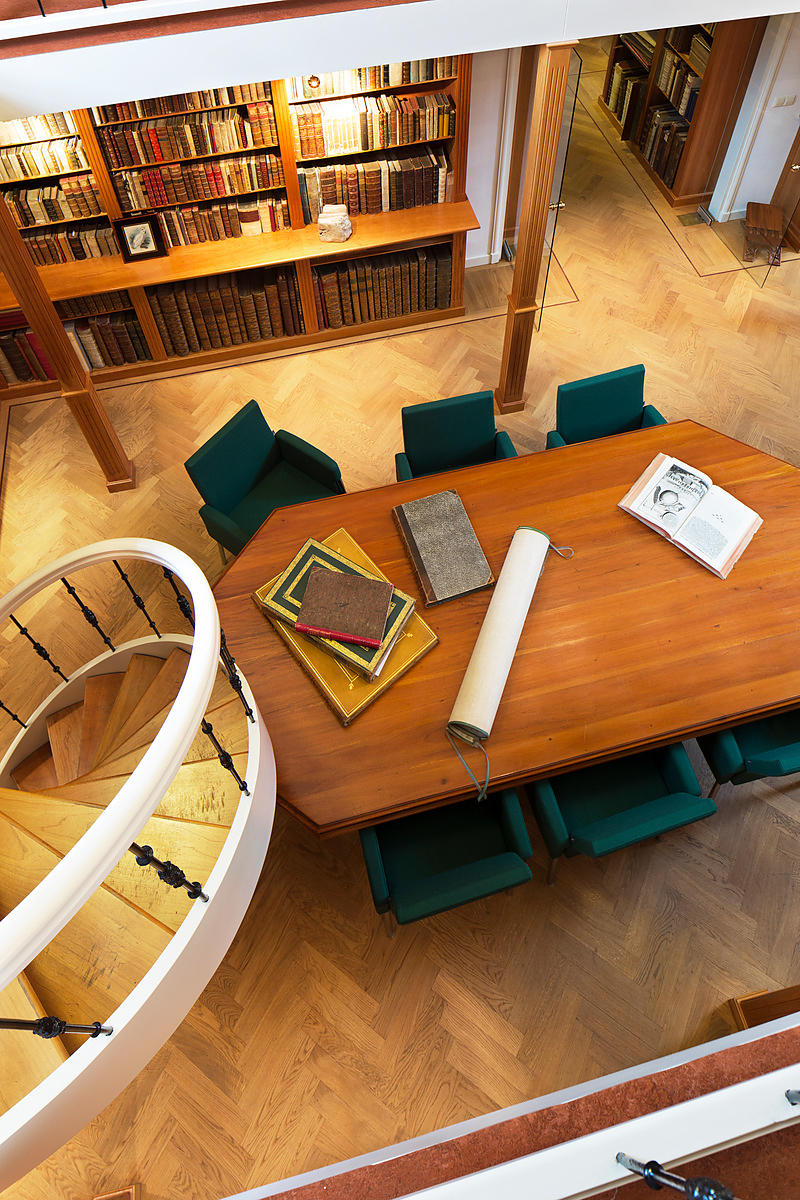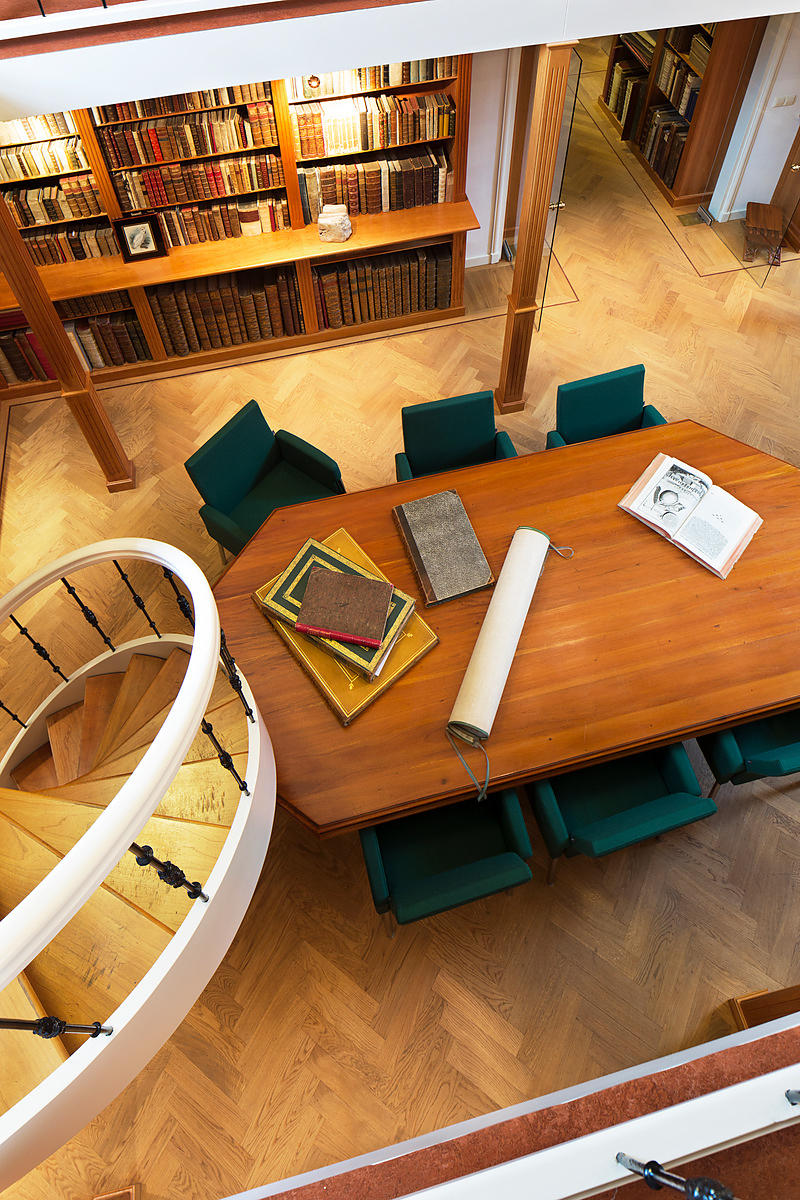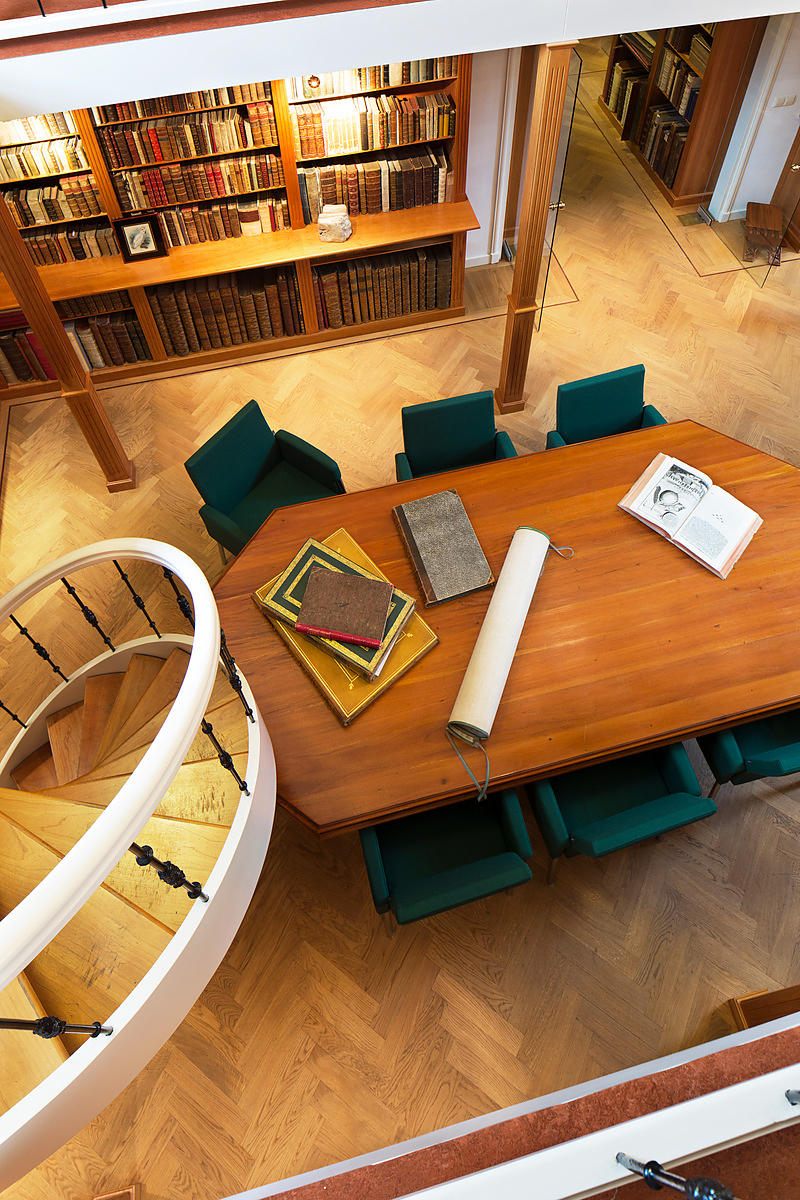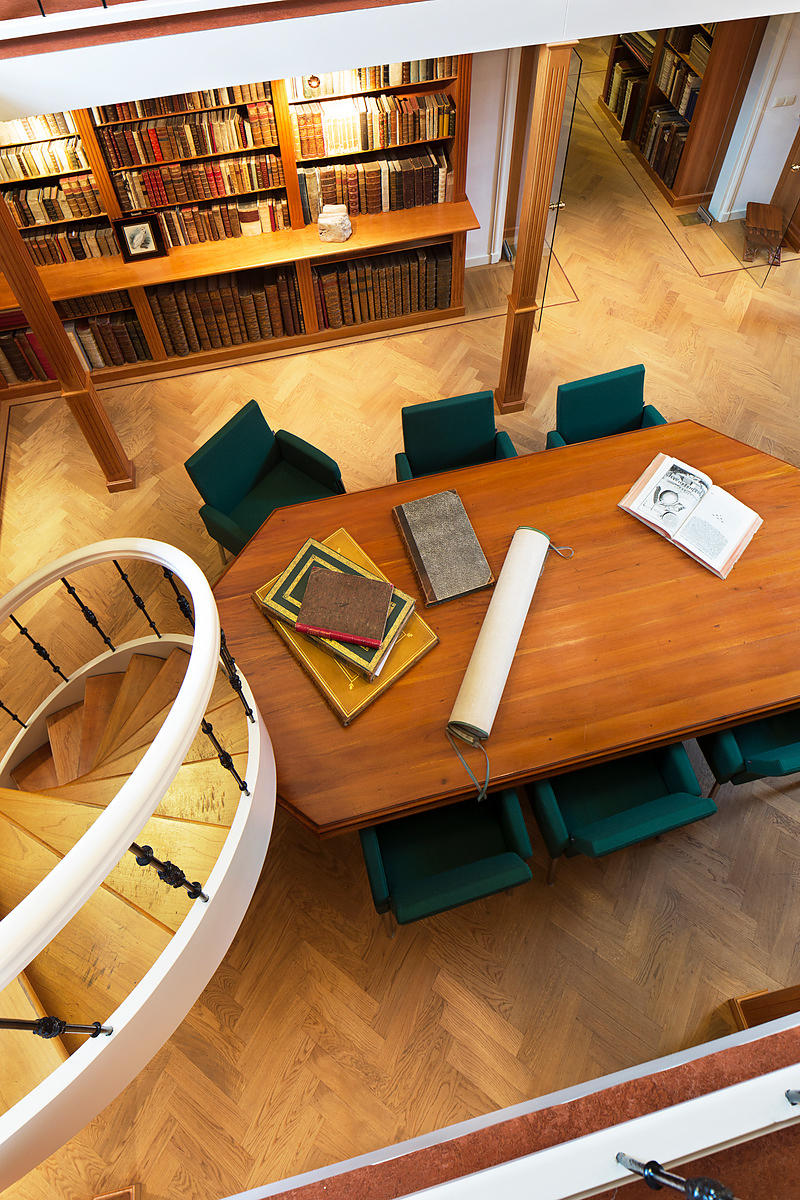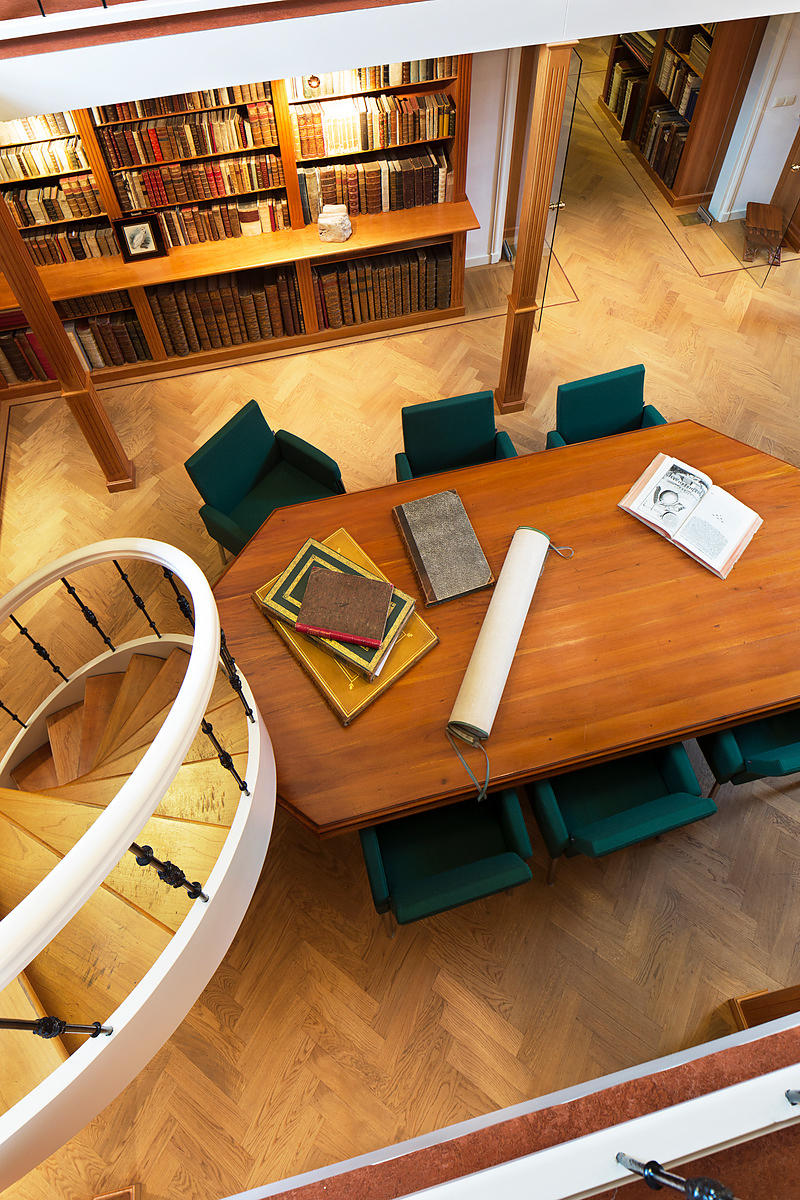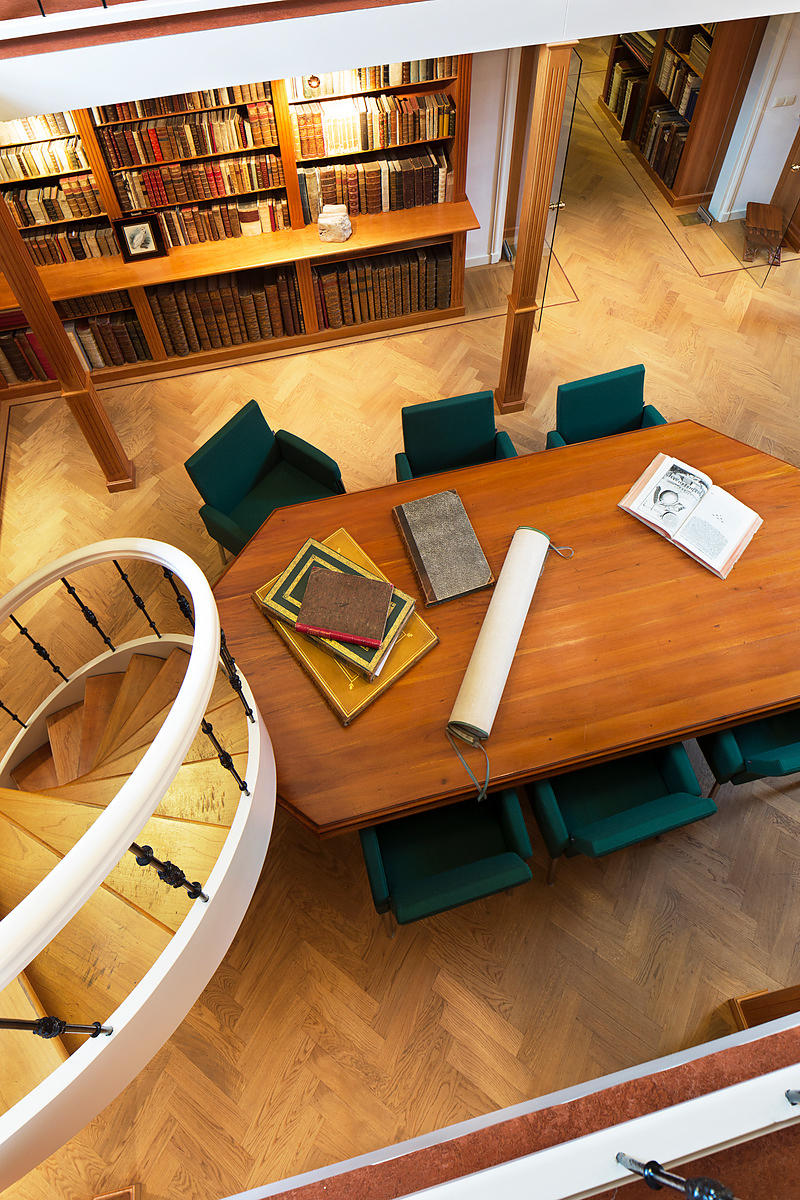 BONAVENTURA, SAINT and others.
Egregium opus subtilitate et devoto exercitio precellens parvoru[m] opusculoru[m]. doctoris seraphici Sancti Bonaventure [Opuscula]. Prima[-Secunda] pars.
[colophon:] Strasbourg, [printer of the 1483 Jordanus de Quedlinburg (= Georg Husner)], 1495 (vol. 2: 18 December 1495). 2 volumes. Folio (21 x 30 cm). With two title-pages, the 2 volumes including 2 full-page woodcuts plus 2 repeats, one showing the Tree of Life (with 2 repeats), and 1 (partly hand-coloured) showing a seraph with the names of Christian virtues on the feathers of its six wings. Set in a gothic rotunda type with running heads and other headings in a larger rotunda. Contemporary and stylistically uniform (though volume 2[?] is about 2 cm[?] shorter than volume 1[?]) richly blind-tooled pigskin over wooden boards. 393, [1 blank]; 371, [1 blank] ll.
€ 15,000
Rare incunable containing the Bonaventura Opuscula, a collection of abbreviated theological and philosophical works by or formerly ascribed to Saint Bonaventura (ca. 1217 - 1274) or concerning him. The Opuscula is here divided into two volumes, together containing 73 texts (23 in volume 1, 50 in volume 2). It includes Bonaventuras most important works. Saint Bonaventure, born Giovanni di Fidanza, was a leading medieval scholastic theologian and philosopher.
Although Bonaventura wrote many of the texts in the Opuscula it also includes many written by others but attributed to Bonaventura in the Middle Ages. These are now usually listed as pseudo-Bonaventure: the actual authors of some have been identified but others remain anonymous.
Theological highlights in the Opuscula include Sententiae sententiarum Petri Lombardi carmine digestiae, containing Bonaventuras commentary on Petrus Lombards Sententiae, and his two most important works: Breviloquium and Itinerarium mentis in Deum.
In it Bonaventura allegorically interprets the six wings of the angelic seraph Francis as representing the six ways of approaching God. De sex alis seraphim also outlines this idea, now with a full-page woodcut of the seraph with its six wings. Both works depict human life as the process of reaching (mystical knowledge of) God. One of the essential spiritual exercise for reaching God is meditating on the Passion of Christ.
From the Redemptorist monastery in Hennef-Geistingen, Germany, established 1903. Annotations in the book itself include an inscription on Eee6v of vol. 2, and one explaining the abbreviations in the text on Eee6r. Each volumes has a manuscript index on the recto of the first free endleaf (in volume 1 also the front paste-down). Both volumes contain some marginal annotations, predominantly in two different contemporary hands, mostly noting source references. Bindings and edges a little soiled, edges slightly worn, with some cracks in the hinges but structurally sound , some leaves a little browned, some (water) stains, especially in the first and last leaves of both volumes, but otherwise in good condition. A beautiful two-volume incunable with a collection of abbreviated texts by one of the most important theologians of the Middle Ages. BMC I, p. 144; Bod-Inc B-418; BSB-Ink B-673; HC 3468; Goff B928; ISTC ib00928000; Proctor 639; GW 4648. For a more detailed list of the contents of this book, please send us an inquiry.
Related Subjects: