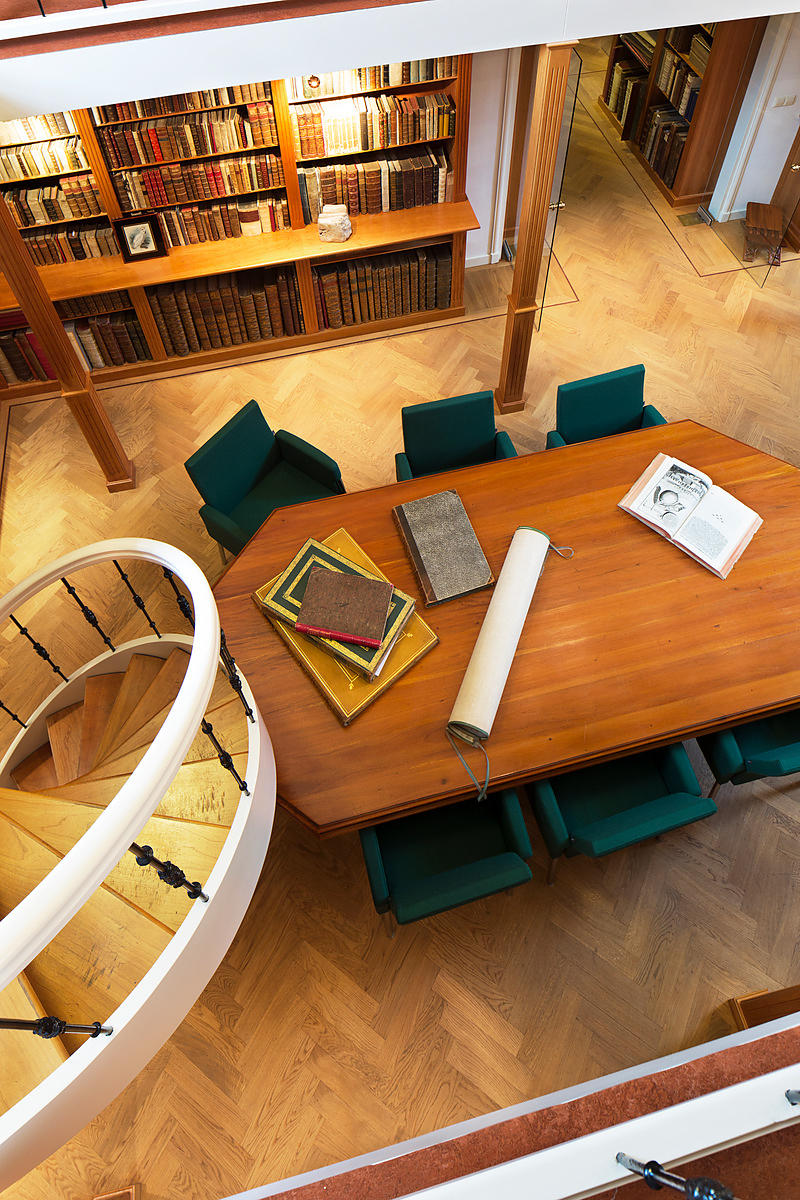 BRY, Theodor de; with Johann Theodor de BRY & Johann Israel de BRY.
[Map of the north polar region:] Conterfactur der 3 Schiffarten welche di Hollander dürch das Mitnachtischen Mer nemlich beij Norwegen Mosca Nova Zembla und durch Waygats noch den Orientallischen Indien suhrgenomen hatten allen klerlich mit puneten angezeichnet.
[Frankfurt am Main, Matthaeus Becker, 1599]. Oblong 1mo (whole sheet; plate mark 28 x 36.5 cm). Engraved map of the Arctic on watermarked laid paper in an azimuthal equidistant polar projection with parallels and meridians, the arctic circle, a reticulated scale of degrees. Coloured by a contemporary hand. Trimmed to the plate mark and mounted on later paper. In a passe-partout.
€ 8,500
Map of the north polar region by Theodor de Bry (1528-1598) and his family, showing the Arctic Sea, Scandinavia (including Iceland), Novaya Zemlya (Nova Zembla), Greenland, Davis Strait, the imaginary island "Frisland" (south of Iceland) and parts of the coasts of Canada and Siberia. Based on the manuscript map by the legendary Dutch polar explorer Willem Barentsz, which he made during his third and fatal voyage to the north in 1596 in search of a Northeast passage.
The present copy is in the rare first state, before the addition of the Latin text and with most of the text in the cartouches and some of the topographic names not yet filled in. Even some German text is still missing, for example just left of the cartouche below right the name "Somer Meer" should be present but is not.
De Bry engraved his map after a very similar map by Baptiste van Deutecum, published at Amsterdam in 1598, unless De Bry and Van Deutecom worked together from Barentszs materials. De Bry translated the Dutch text into German, omitted one of the three cartouches (an oval one above the rectangular one at lower right: it contained the text "Auctore Wilhelmo Bernardo [= Willem Barentsz], ... Baptista à Doetechum ... 1598") and changed quite a few details. He must have done this immediately after Van Deutecum's map was first published, because the present German map was published for the first time in 1599 at Frankfurt am Main and the present plate was revised by 1601.
The map in its present first state appeared in volume III, titled Dritter Theil Indiae Orientali (Frankfurt am Main, Matthaeus Becker, 1599). Two years later the Latin edition appeared, titled Tertia pars Indiae Orientalis (Frankfurt am Main, Matthaeus Becker, 1601), with the Arctic map in its second state. This second state adds the Latin title Deliniatio cartae trium navigationum ... The present first state is very rare, let alone a contemporary hand-coloured copy.
In very good condition. One barely visible smoothed out fold and a faint stamp on verso. William B. Ginsberg, Printed maps of Scandinavia and the Arctic, 1482-1601, no. 47; for the second state: BM Printed maps, I, p. 696, no. 982 (7.); Efmov 23; TMC 9, p. 10; cf. Church 208; Howgego B179.
Related Subjects: