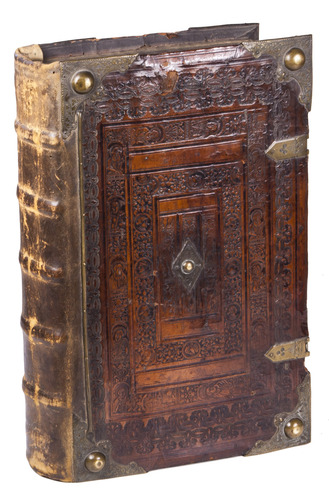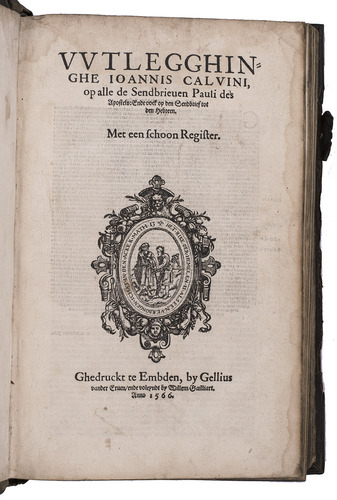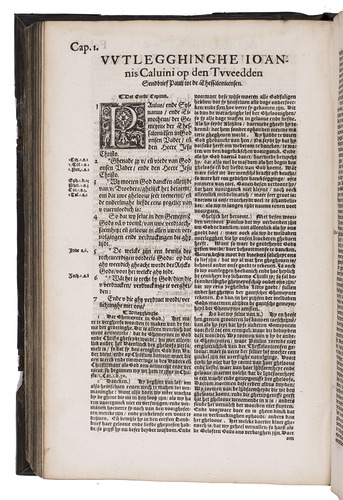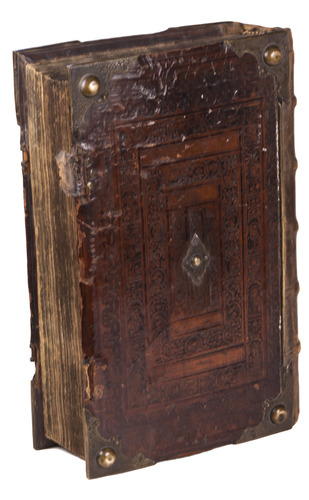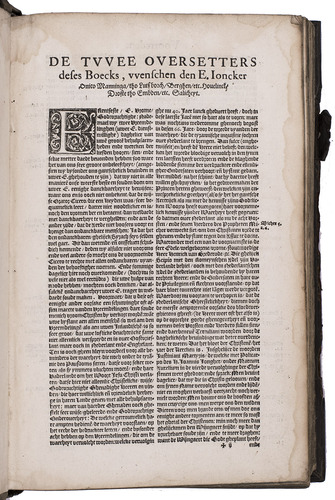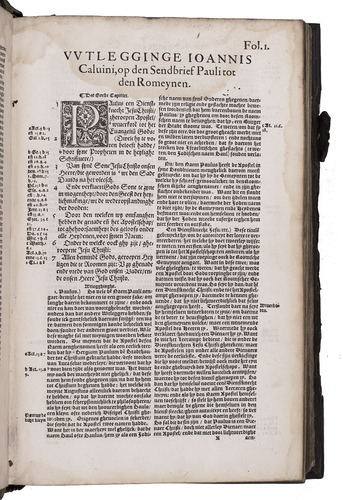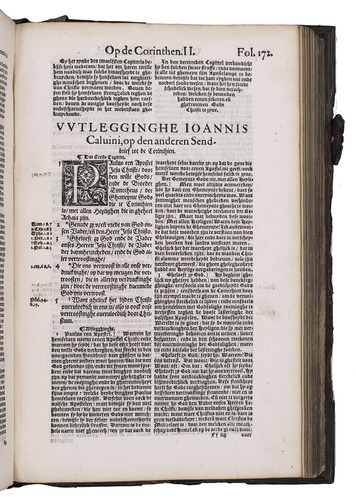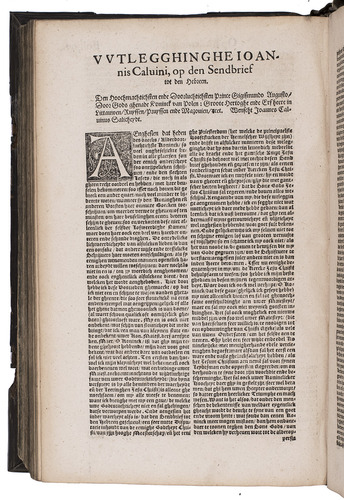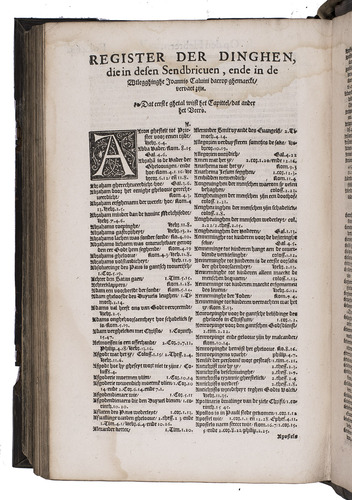 CALVIN, Jean.
Uutlegghinghe ... op alle de Sendbrieven Pauli des Apostels: ende oock op den Sendbrief tot den Hebreen. Met een schoon register.
Emden, Gillis van der Erve and Willem Gailliart, 1566. Folio. With Van der Erve's woodcut device on title-page and several woodcut decorated initials. Contemporary blind-tooled calf over bevelled wooden boards, each board in a panel design with 4 different rolls, engraved brass catchplates (remains of straps but clasps lost), later(?) brass decorated corner and centre pieces, each with a boss, rebacked. The rolls show (from outside to inside) decorative crests and foliage, 4 half-length portraits with mottos, and 4 nude putti, 1 with a saint's halo. [6], "464" [= 462], [16] ll.
€ 8,500
Rare first edition of the first Dutch translation of Calvin's commentaries on the Epistles of Saint Paul and the Epistle to the Hebrews. By 1539 Calvin had planned to write commentaries on all the Pauline Epistles, and he began with the book of Romans (first published in 1540). In 1551 all parts were finished and published together with the Epistle to the Hebrews as In omnes D. Pauli epistolas, atque etia in epistola ad Hebraeos commentaria luculentissima.
It was translated into Dutch by Johannes Dyrkinus (ca. 1530-before 1592) and Johannes Florianus (1522-1585) and contains a new preface by Calvin addressed to Simon Grynaeus as well as a dedication to Unico Manninga. "... although Calvin was read and certainly influential in the Netherlands from an early date, surprisingly few of his works were translated into Dutch before 1572" (Pettegree, p. 230). It was printed and published in Emden by Gillis van der Erve and Willem Gailliart. "Emden printing represented possibly the most important, certainly the community's most individual contribution to the shaping of Dutch Protestantism in this period" (Pettegree, p. 87).
Some insignificant water stains; rebacked; clasps missing. Although there are some small holes and (especially on the back board) small gouges and cuts in the leather covering the boards, the tooling remains extremely crisp and clear. Good copy of Calvin's commentaries on the Epistles of Saint Paul. Erichson, p. 31; Pettegree, Emden 161; STCN (7 copies); Typ. Batava 935; USTC 401254; cf. NNBW IV, cols. 547-550 & 604-605.
Related Subjects: