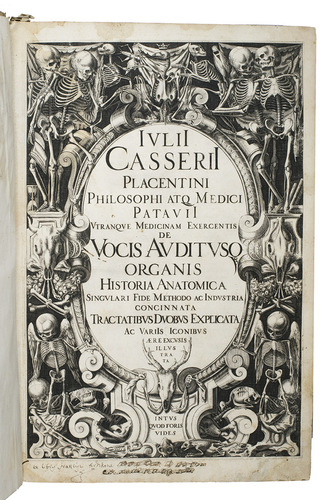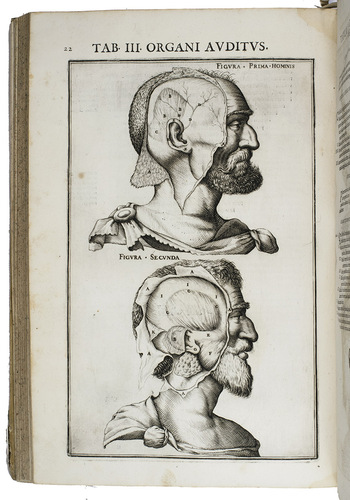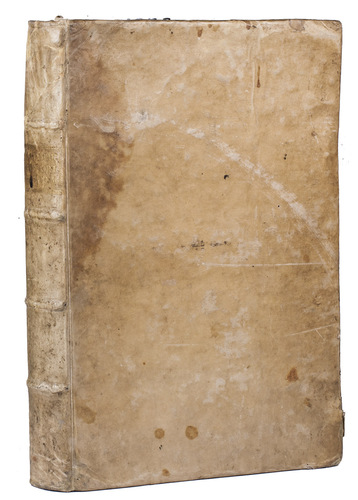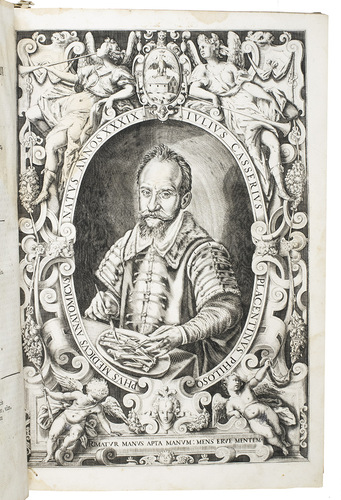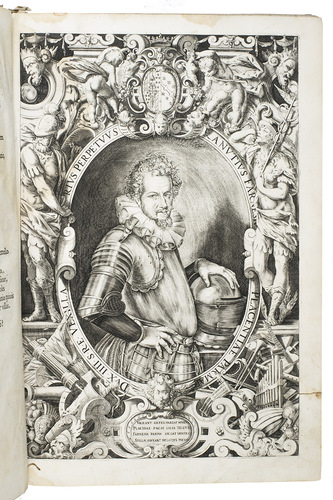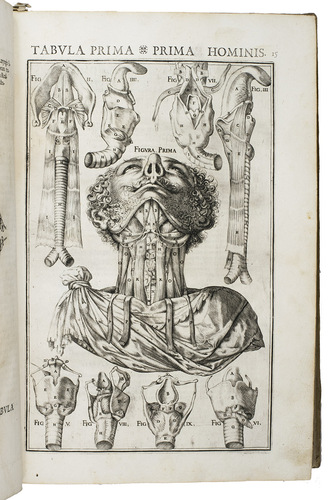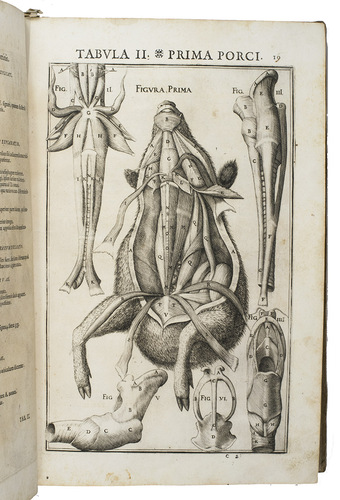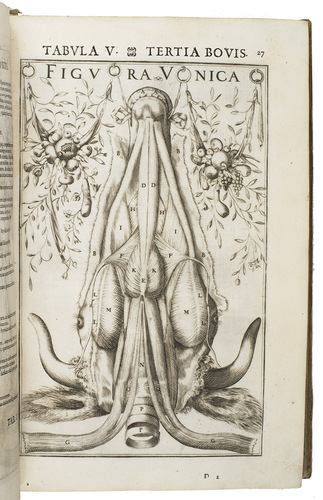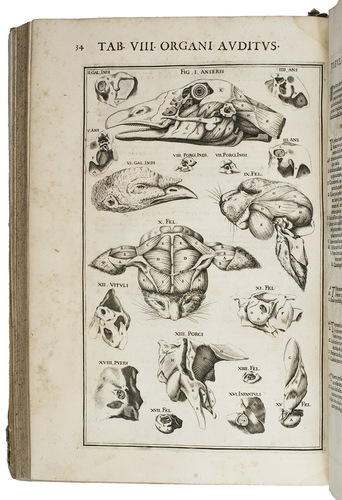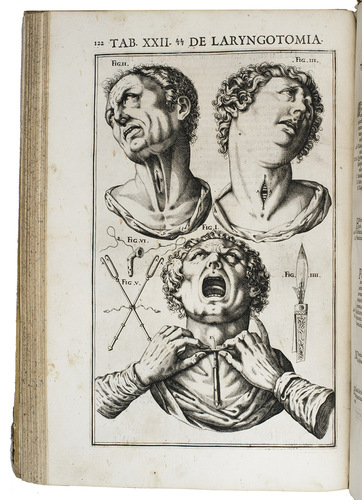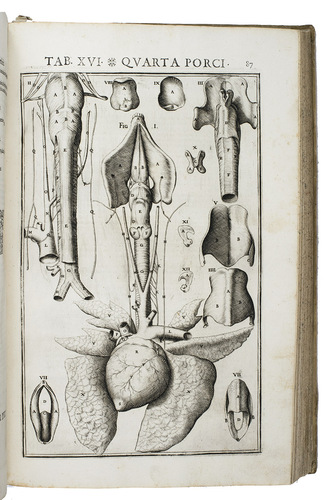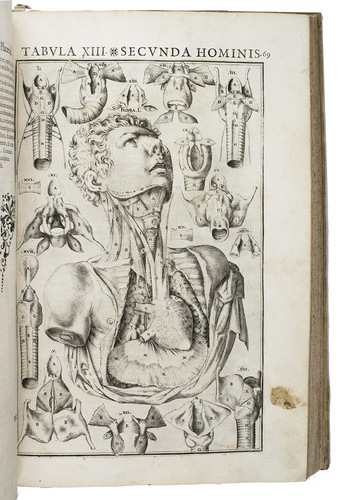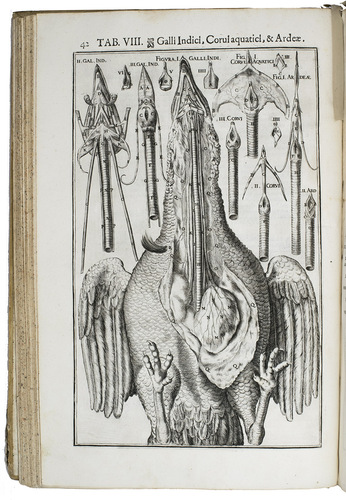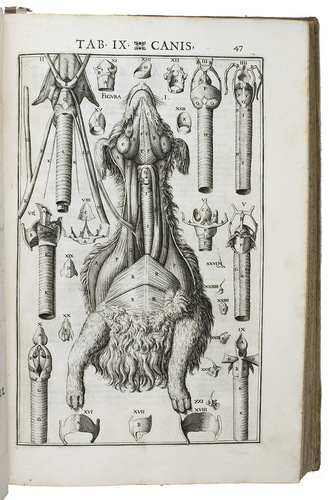 CASSERIO, Giulio (Julius CASSERIUS).
De vocis auditusq[ue] organis historia anatomica singulari fide methodo ac industria concinnata tractatibus duobus explicata ...
(Colophons: Ferrara, Victorius Baldinus, 1601 & "1600" [= 1601]). 2 parts in 1 volume. Royal folio (40.5 x 27.5 cm). Engraved title-page with the title in a large oval scrollwork cartouche surrounded by and incorporating dozens of skeletons and skulls of people and animals, 2 full-page engraved portraits (of the dedicatee Ranuccio I Farnese, Duke of Parma, and the author) and 34 full-page anatomical engravings on integral leaves. 17th-century sheepskin parchment. [60], 191, [1 blank]; 126, [1], [1 blank] pp. including engraved title-page, 2 portraits, and illustrations.
€ 27,500
Beautiful first edition of a ground-breaking work on the anatomy of the vocal and auditory organs, written by the well-known anatomist and surgeon Giulio Casserio (1561?-1616). It was his first publication and contains 2 separate treatises that were issued together, the first on the anatomy of the larynx and the second on hearing and the anatomy of the ear. Although the colophon of the first part is dated 1601 and that of the second part 1600, the second treatise also refers to observations made in 1601. "As did many of the anatomists who preceded him, Casseri followed Galen, noting that the first part of his own method was the true anatomical method, the one Galen treated in the first book and the first passage of De usu partium" (Klestinec). Casserio made some important contributions to the science of the anatomy of the sense organs, particularly the vocal and auditory organs. He based much of his work on zoötomic research and many of the 34 large and beautifully designed engravings show zoötomic subjects, including the vocals organs of a grasshopper, a dog, a rat and a frog. His research covered both the superficial and deep muscles and includes the first precise description of the two cricothyroid muscles.
With 3 owners' inscriptions at the foot of the title-page, 2 struck through but partly legible and the third reading "ex libri Francisci Ardinone". With some marginal worm holes and a water stain in the gutter margin of the first 3 preliminary quires and an occasional leaf with browned patches, but still a good copy and with large margins. The binding has some stains, minor abrasions, and repairs to the upper part of the spine, but is also still good. An important and magnificent medical work with spectacular anatomical engravings. Garrison & Morton 286; Krivatsky 2199; LeFanu, Notable medical books, p. 57; Norman 410; Roberts & Tomlinson, pp. 259-263; Wellcome 1333.
Related Subjects: