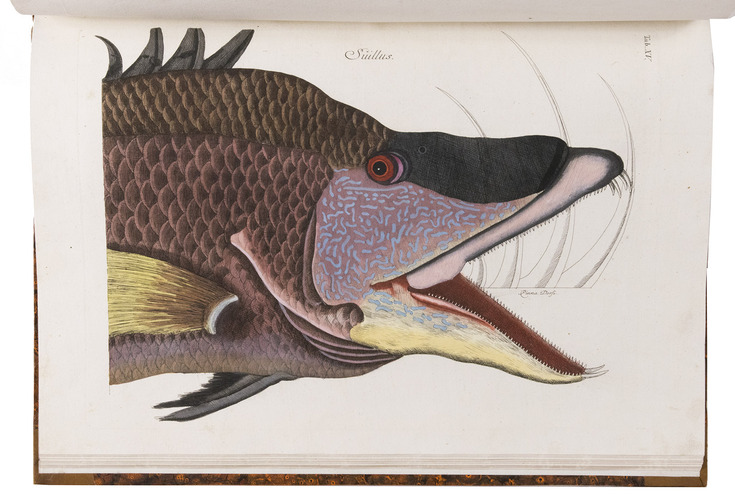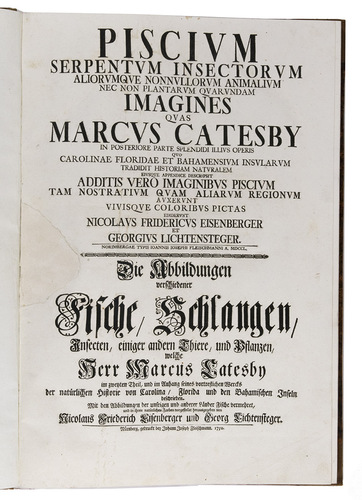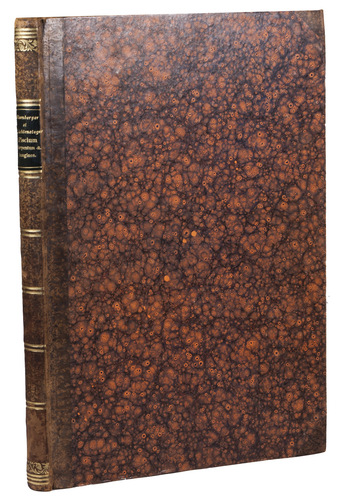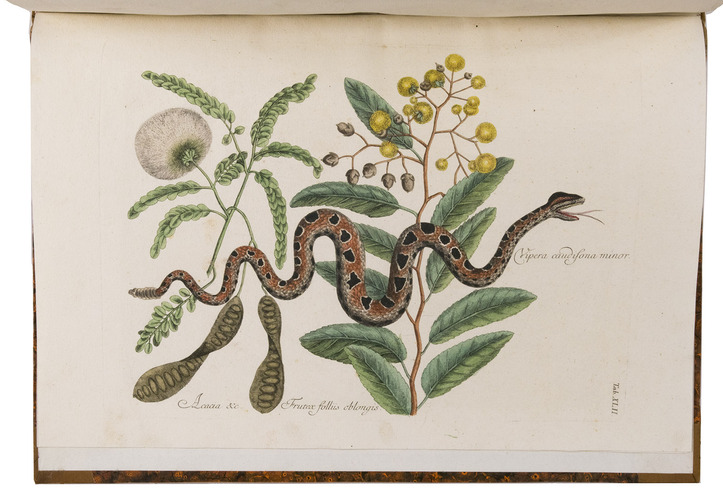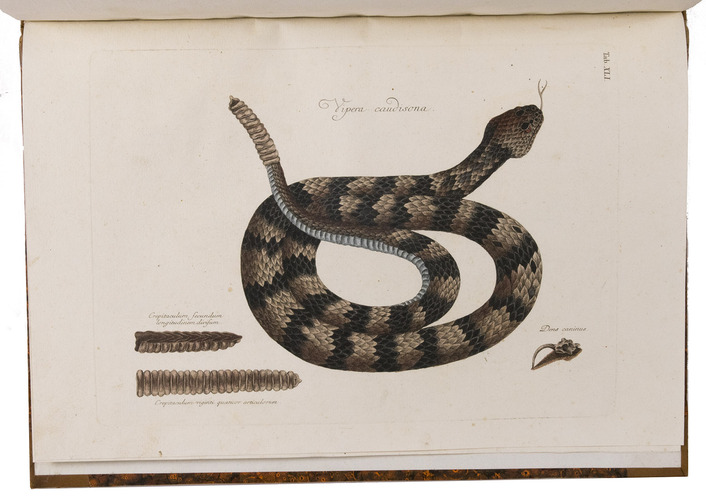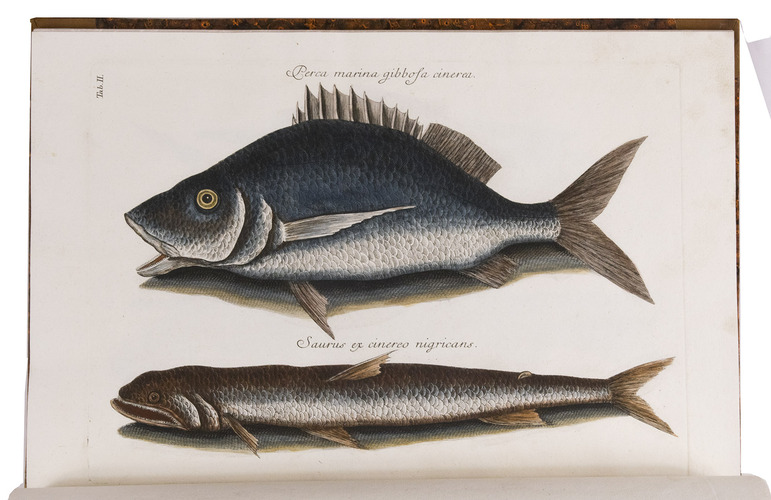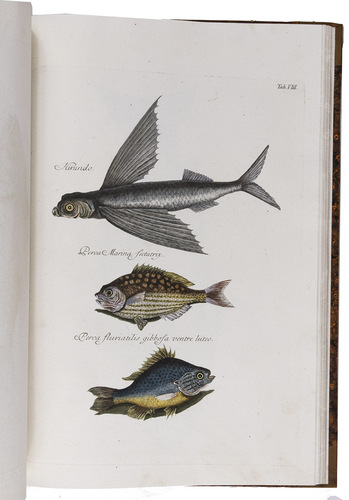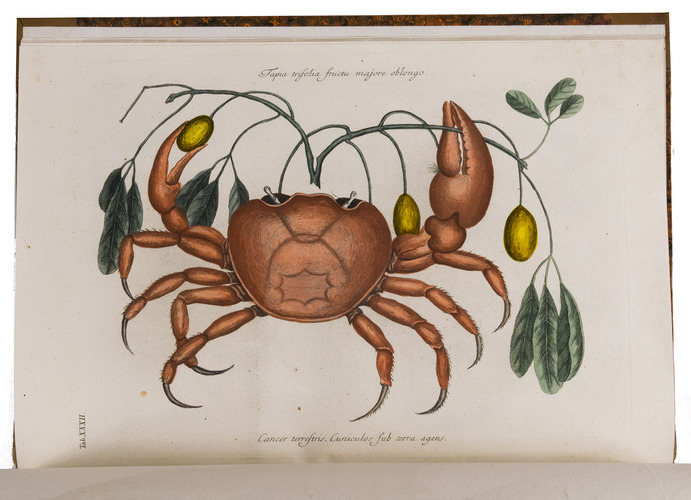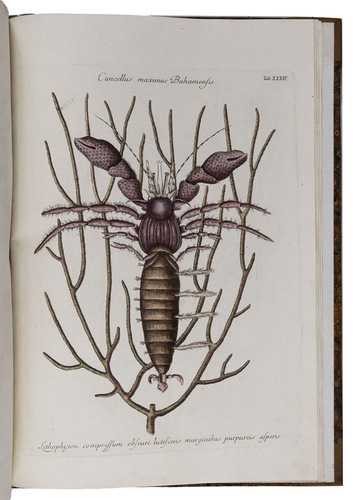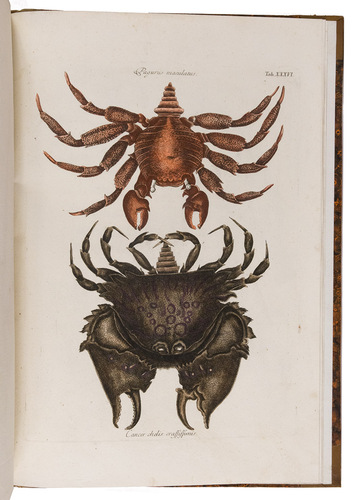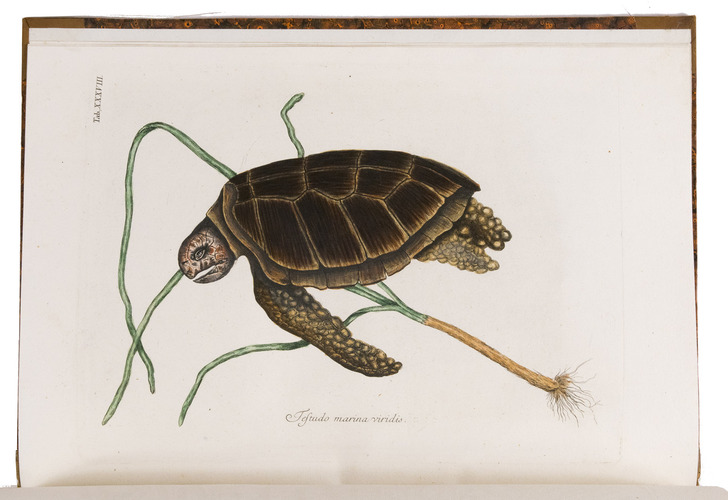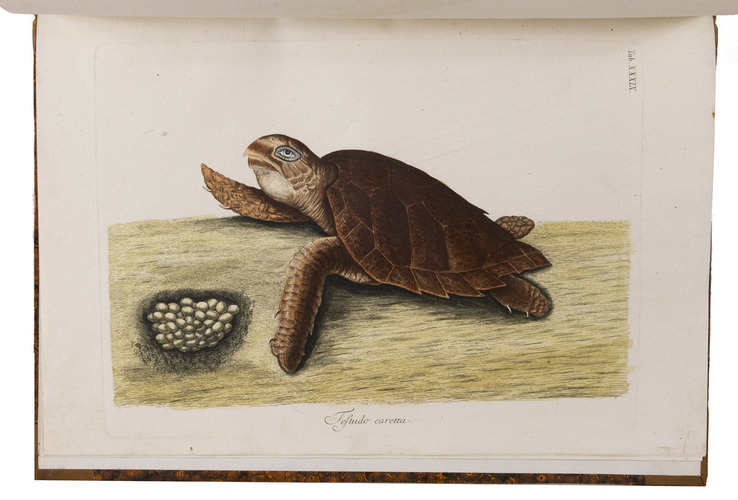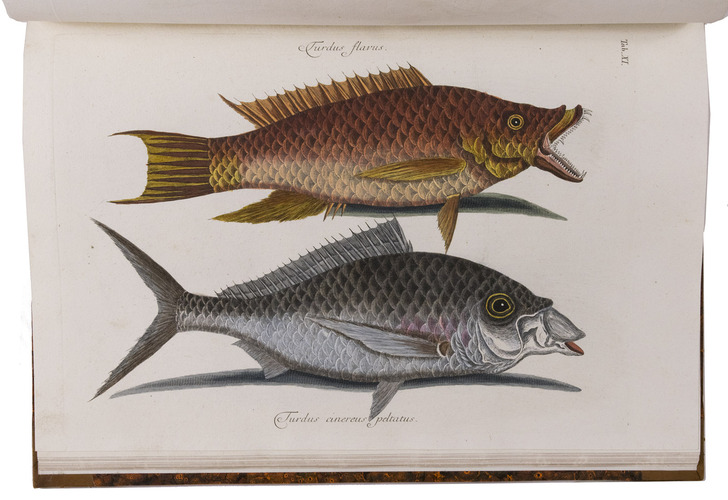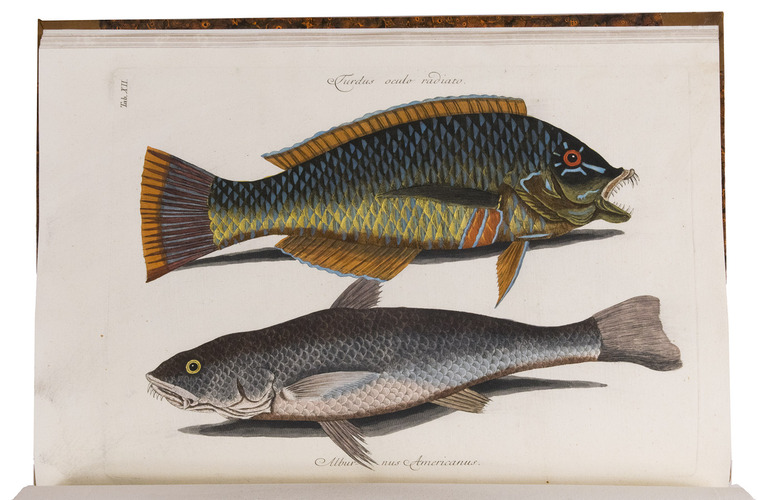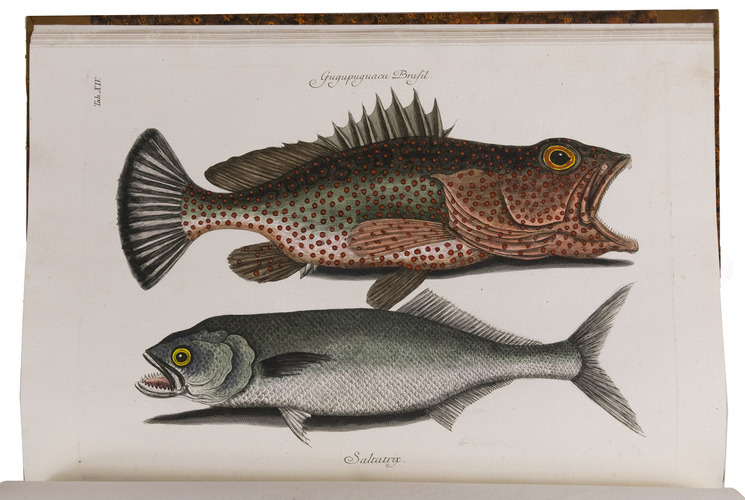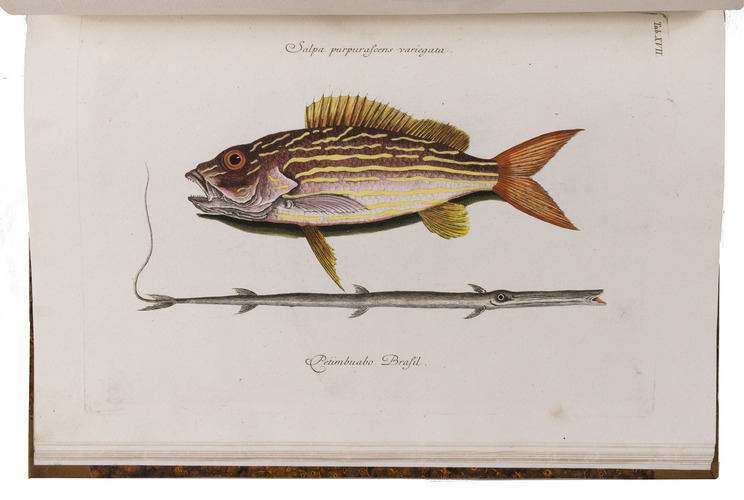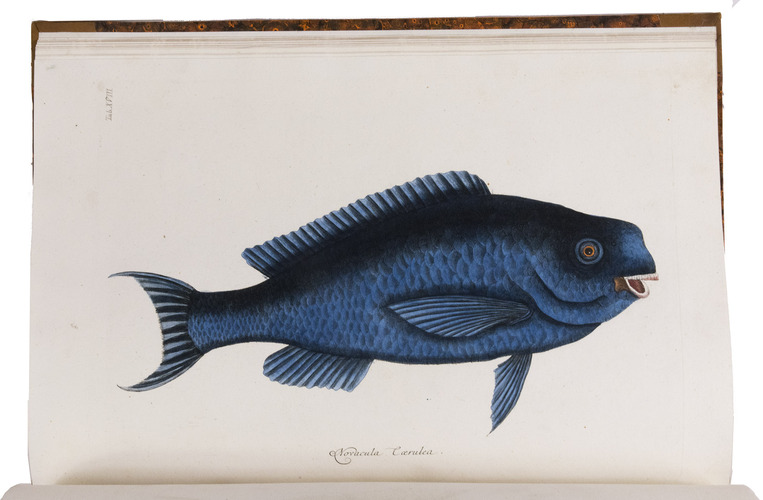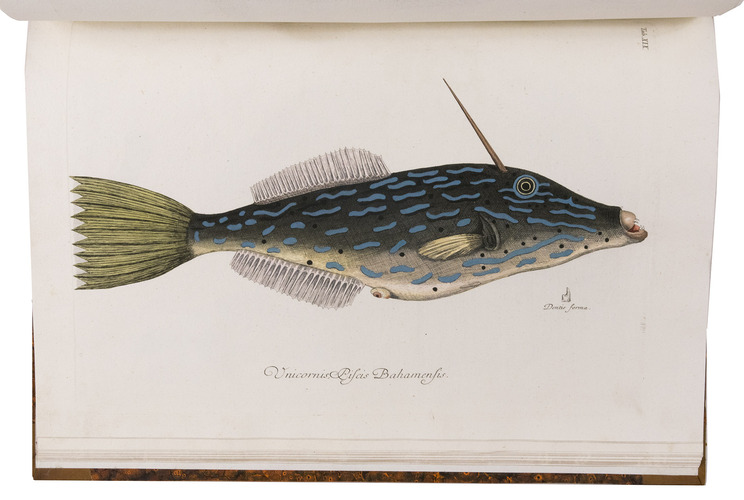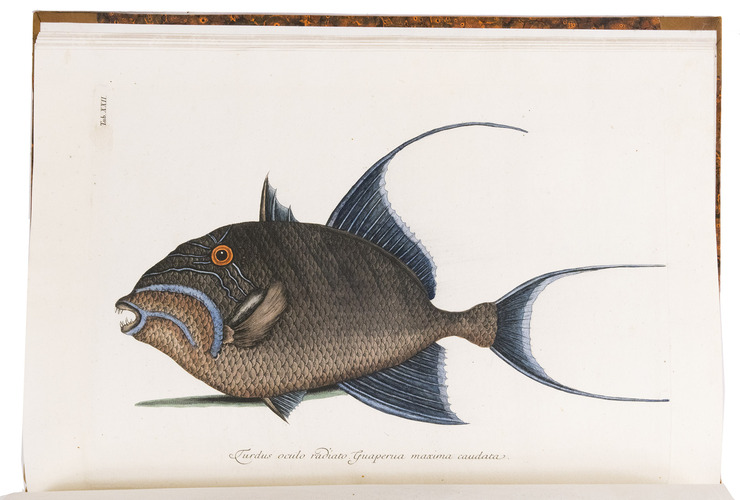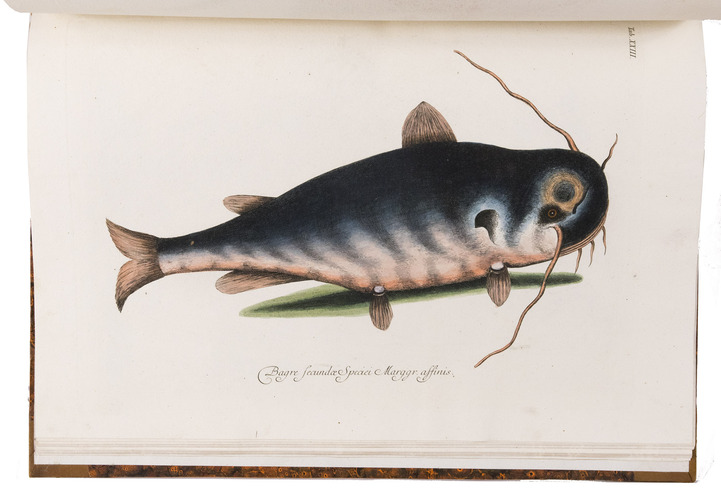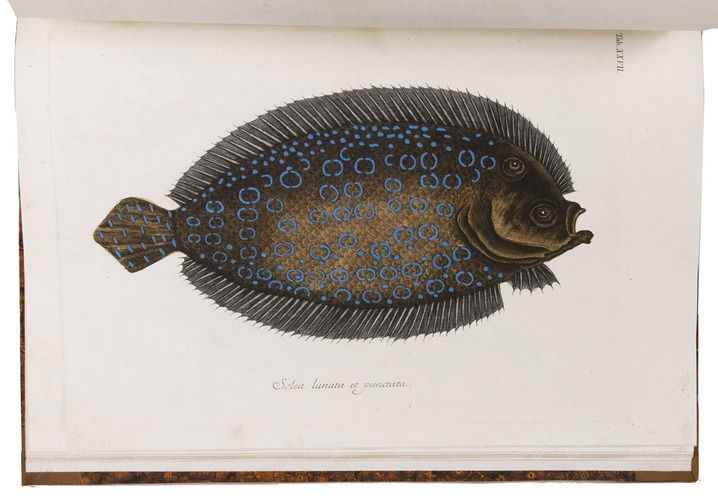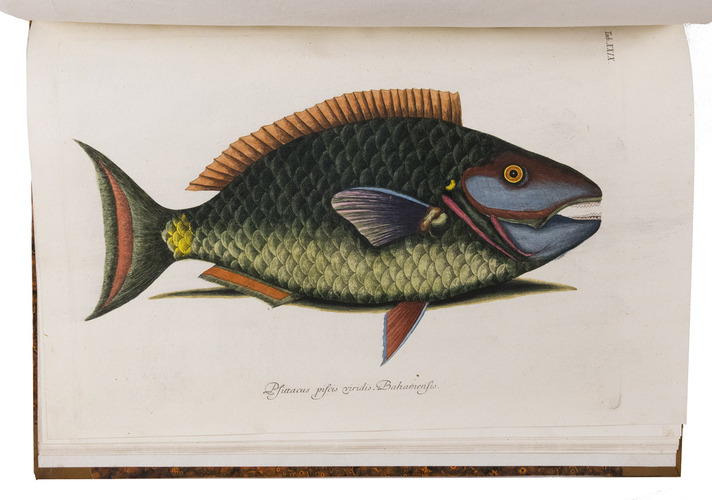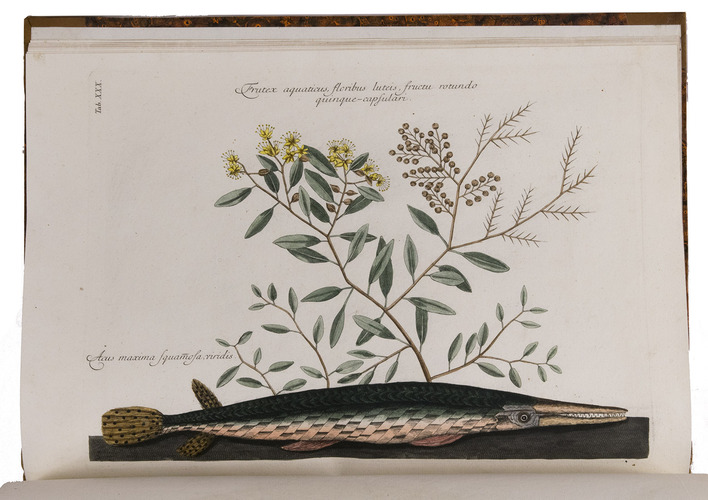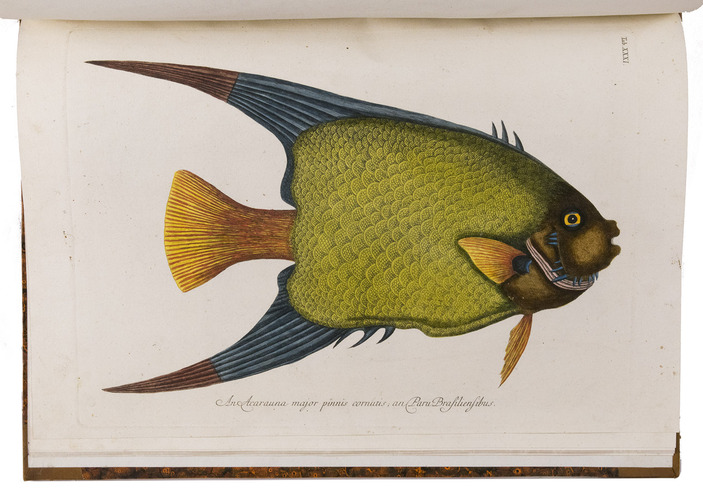 CATESBY, Mark, Nicolaus Friederich EISENBERGER and Georg LICHTENSTEGER.
Piscium serpentum insectorum aliorumque nonnullorum animalium nec non plantarum quarundam imagines ... | Die Abbildungen verschiedener Fische, Schlangen, Insecten, einiger andern Thiere, und Pflanzen...
Nürnberg, Johann Joseph Fleischmann, 1750. Folio. With 42 hand-coloured copperplate engravings (34.5 x 25 cm). Early nineteenth-century period-style half leather binding with marbled boards, title in gold-tooling to board in gilt lettering. [2], 42, [84] pp.
€ 29,500
An unusually fresh copy, with its splendidly hand-coloured engraved plates, of one of the most remarkable works on fishes and reptiles of the New World before Audubon. Its author, Mark Catesby (1683-1749) was exceptionally skilled in distinguishing various species of animals. He seldom depicted or named animals that were not later recognized as valid species by specialists, which is a much better track record than nearly every other naturalist who has worked in North America to this day. Catesby was truly a gifted and meticulous observer of nature. Many of the fish plates and nearly all of the other plates include plants, which are also described in the parallel Latin and German text. This first German edition was published irregularly in parts between 1750 and 1757. This may explain why the number of plates varies per copy, see Nissen ZBI. The present copy contains 42 hand-coloured copperplate engravings, 31 of them showing fishes, followed by 6 plates of crustaceans, 3 of turtles and two of snakes.
The present volume is the crowning outcome of his work in the New World. For the following two decades, Catesby dedicated his time to preparing and publishing his Natural History. The publication was funded by subscriptions from his "Encouragers," as well as an interest-free loan from a fellow of the Royal Society. Catesby taught himself how to etch the copper plates used in the publication. He completed the first part of the publication in May 1729. The following two volumes appeared until 1747, when Catesby produced a supplement to the publication using material sent to him by friends in America. While not all of the plates in Natural History are by Catesby, several, such as the famous image of Magnolia grandiflora, were created by Georg Ehret. Catesby's original preparatory drawings for the Natural History of Carolina, Florida, and the Bahama Islands are currently held in the Royal Library and Windsor Castle.
Light wear to spine and boards and a small paper repair to title page, not affecting the text. Otherwise in very good condition. Alden & Landis, 750/51; Hunt, 485; JCB, 925; Nissen ZBI, 846; Nissen Schöne Fischbücher, 39; Sabin, 11512, 11515, 22090; VD18 10061614.
Related Subjects: