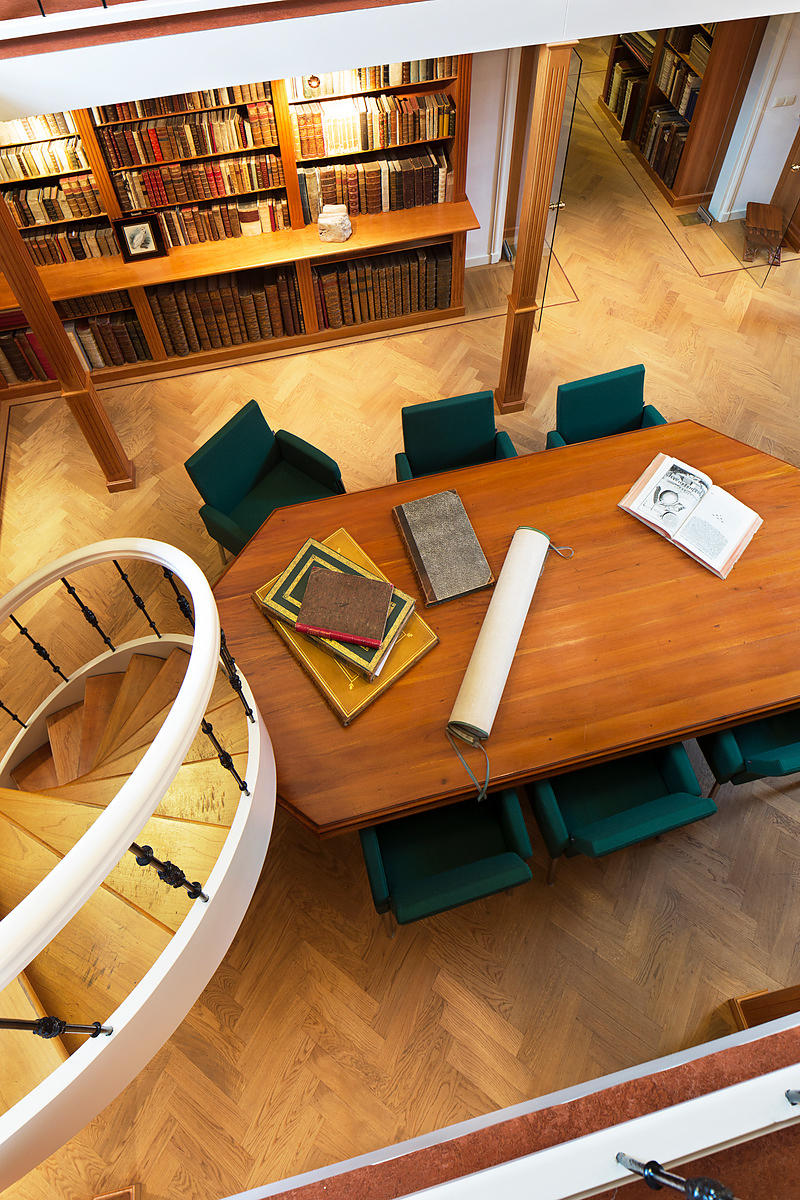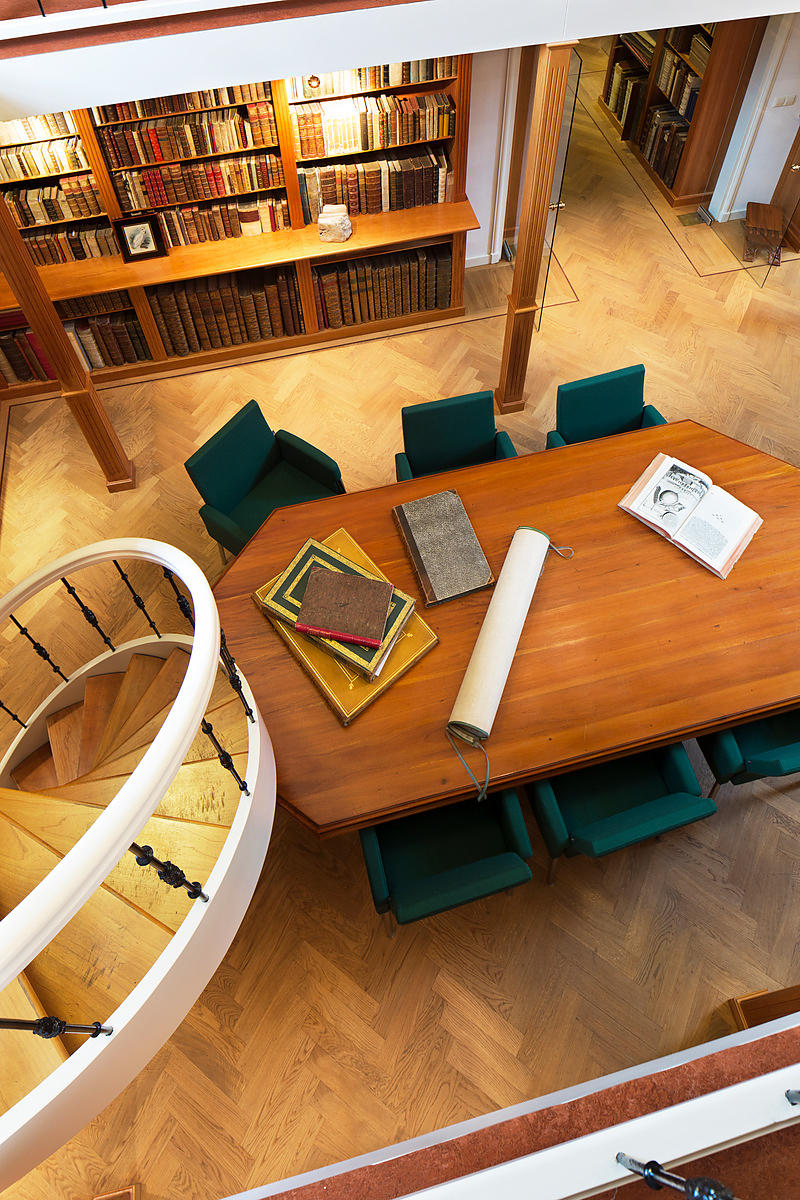 CHRYSOLORAS, Manuel or Emanuel.
. [In Greek:] Erotemata ... [in Latin:] Erotemata Chrysolorae. De anomalis verbis. De formatione temporum ex libro Chalcondylae: Quartus Gazae de constructione. De encleticis. Sententiae monostichi ex variis poetis. Cato.
Venice, Victor Raban, 1540. Small 8vo. Small woodcut printer's device (crowned mermaid in a cartouche on title-page and the same (larger) device on the recto of the last leaf below the colophon. Later half calf, spine with black title-label, red marbled edges. 270, [1], [1 blank] pp.
€ 2,500
Early edition in Greek of a grammar and vocabulary of the Greek language based on the question and answer method (like a catechism), written by Manuel Chrysoloras (ca. 1355-1415) to teach the Florentines Greek, first published in abbreviated form in Greek and Latin ca. 1471 and in Greek alone ca. 1488/94, and more extensively in 1512. The Byzantine emperor Manuel II Palaeologus, impressed by Chrysolorass diplomatic skills and great intelligence, sent him to Italy in 1390 to solicit aid for the Byzantine Greeks in their strife with the Ottoman Turks. He was born into a wealthy and powerful family in Byzantine Constantinople and his diplomacy brought the Byzantines support that led to their successful war (1396-1403), which warded of the Ottoman invasion until Manuels death.
The present 1540 edition is Rabans third, preceded by those of 1531 and 1537.
Chrysoloras taught at many universities: first at Florence until 1396, Bologna until 1400 and later at Venice, Paris and Rome. He died in 1415 in Constance, Germany. It is supposed that he was at the age of 40-45 when he came to Italy and that he was born in Greece around 1353 in Constantinople as the son of.
With the owners signature of Sr. Nicolai de'Gualdo on title-page, and many manuscript notes in margins. Recased, with the manuscript notes in margins shaved, and some water stains, but still in good condition. EDIT 16, CNCE 12136; USTC 822002; cf. BMC STC Italian, p. 172; S. Mergiali-Sahas, "Manuel Chrysoloras: an ideal model of a scholar ambassador", in: Byzantine studies/Etudes Byzantines, 3 (1998), pp. 1-12; Ritter 476 (Strasbourg 4to edition 1516); I. Thompson, "Manuel Chrysoloras and the early Italian Renaissance", in: Greek, Roman and Byzantine studies, 7 (1966), pp. 63-82; Lydia Thorn-Wikkert, Manuel Chrysoloras (ca. 1350-1415): eine Biographie des byzantinischen Intellektuellen vor dem Hintergrund der hellenistischen Studien in der italienischen Renaissance (2006); K.W. Tikkanen, "Chrysoloras Erotemata, and the evolution of grammatical descriptions", in: Dutz & Schmitter, Beiträge zur Geschichte der Sprachwissenschaft, 28 (2018), pp. 33-56 (1512 ed. on p. 41).
Related Subjects: