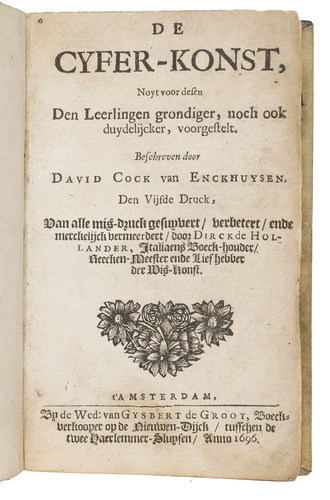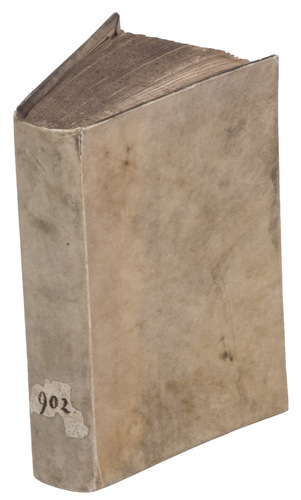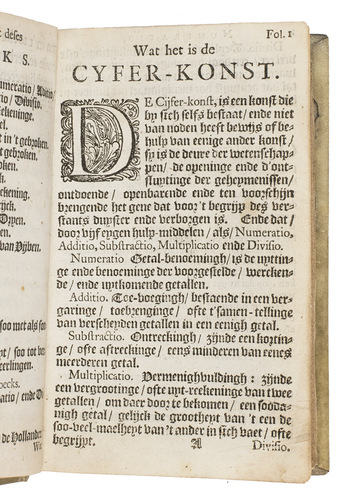 COCK, David.
De cyfer-konst, noyt voor desen den leerlingen grondiger, noch ook duydelijcker, voorgestelt. ... Den vijfde druck, van alle mis-druck gesuyvert, verbetert, ende merckelijck vermeerdert, door Dirck de Hollander...
Amsterdam, widow of Gysbert de Groot, 1696. Small 8vo (15 x 9.5 cm). 19th-century(?) sheepskin parchment. [8], 374 pp.
€ 1,950
Second copy located of the 1696 edition of Dirck de Hollander's standard revision of a standard Dutch mathematical exercise book (with answers) for use in schools. The present edition describes itself as the fifth, but is at least the tenth and probably little changed from the 1685 edition, which also called itself the fifth. All 17th-century editions are very rare, the STCN recording 3 copies of one (1664) and no more than 2 copies of any other (some are not recorded in the STCN at all). The simple assignments are designed to teach basic arithmetic and bookkeeping for practical commercial purposes. David Cock was an Arnhem school master, active as such in at least the years 1641 to 1652. His present text book was his most successful work, with many further editions and adaptations to 1799.
Slightly browned, but still in good condition. Boards slightly warped. A valuable window into 17th-century Dutch education and training for trade and commerce. Bierens de Haan 902; Muller, Pop. proza 1050; STCN (1 copy); WorldCat (same copy); cf. Bywater & Yamey, pp. 103-104.
Related Subjects: