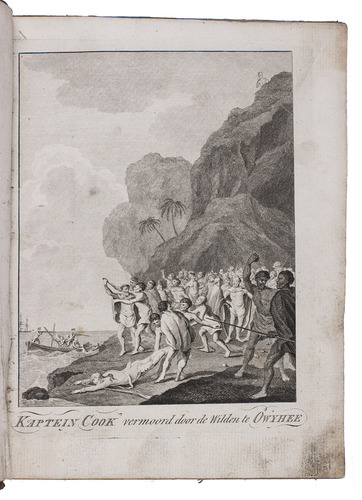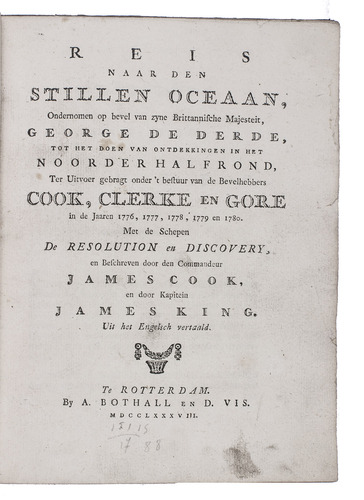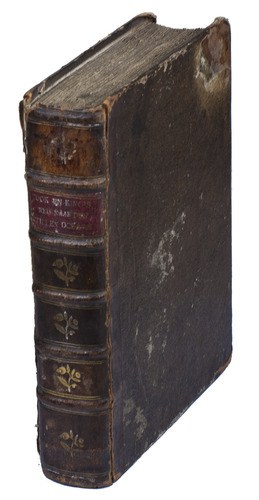 COOK, James and James KING.
Reis naar den Stillen Oceaan, ... tot het doen van ontdekkingen in het noorder halfrond, ter uitvoering gebragt onder 't bestuur van de bevelhebbers Cook, Clerke en Gore in de jaaren 1776, 1777, 1779 en 1780. Met de schepen de Resolution en Discovery, ...
Rotterdam, Abraham Bothall and Dirk Vis II, 1788. 4to. With an engraved frontispiece. Contemporary half tanned sheepskin, gold-tooled spine. XVI, 611, [1 blank]
€ 1,650
First edition, with the imprint changed to 1788 by pen, of the Dutch translation of Cook's account of his third and last voyage, with an engraved frontispiece depicting Cook's death by the native inhabitants of "Owyhee" (Hawaii). Cook (1728-1779) volunteered in 1776 for a third voyage "to investigate the coasts of the north Pacific, and to settle once and for all the question of the northwest passage" (Howgego). Via Cape of Good Hope, Tasmania and New Zealand they reached the Pacific Ocean, where they discovered and mapped several islands. They continued sailing north to the west coast of North America. Sailing south again they mapped some islands around Hawaii. After some natives had stolen one of the Discovery's boats, Cook came ashore with a small party. The meeting escalated and during retreat Cook was overpowered by some native inhabitants and killed. Clerke gained command and set out to Kamchatka, but died along the way and was buried at Petropavlovsk. James King and John Gore were now in command of the two ships, and started sailing back to Plymouth.
Title-page and engraved frontispiece somewhat smudged, some occasional spots and stains, but otherwise in good condition. Binding worn along the extremities, hinges cracked, damaged at the head of spine, sides scratched. Beddie 1562; Forbes 146; Howgego, to 1800, C175; Kroepelien 209; Sabin 16275; Tiele, Bibl. 268.
Related Subjects: