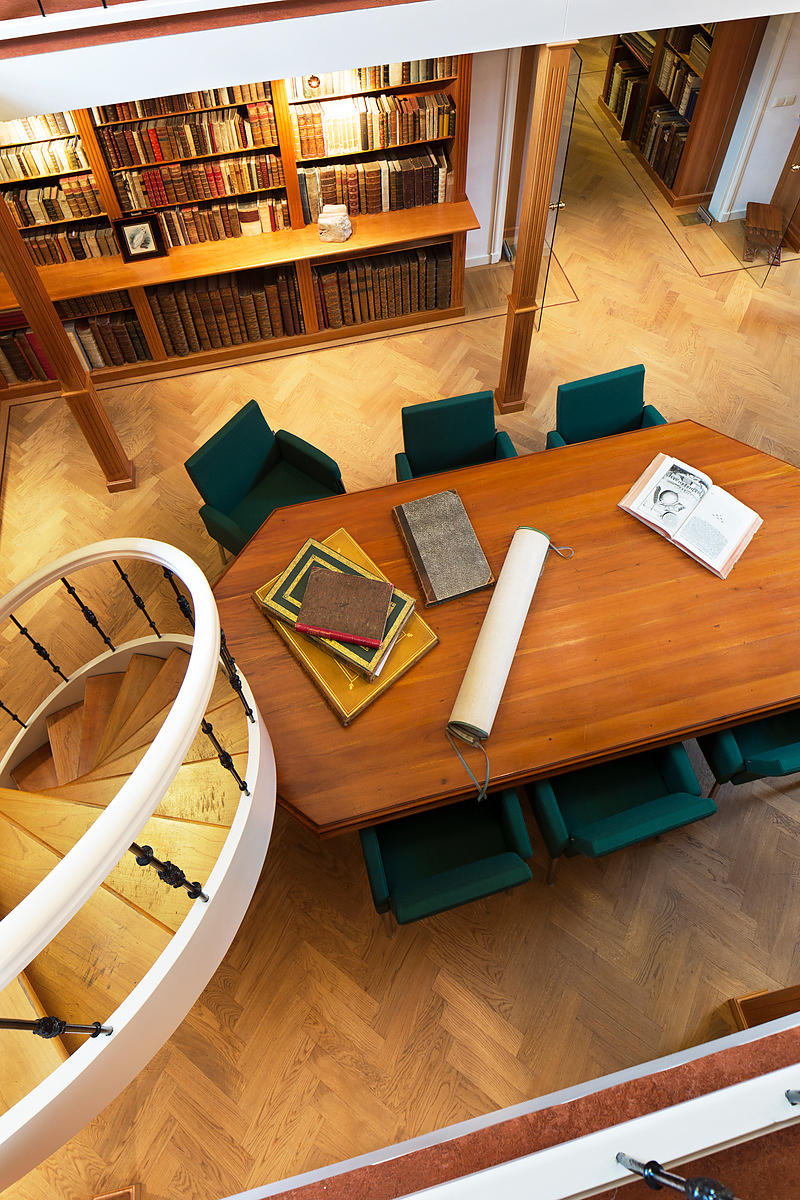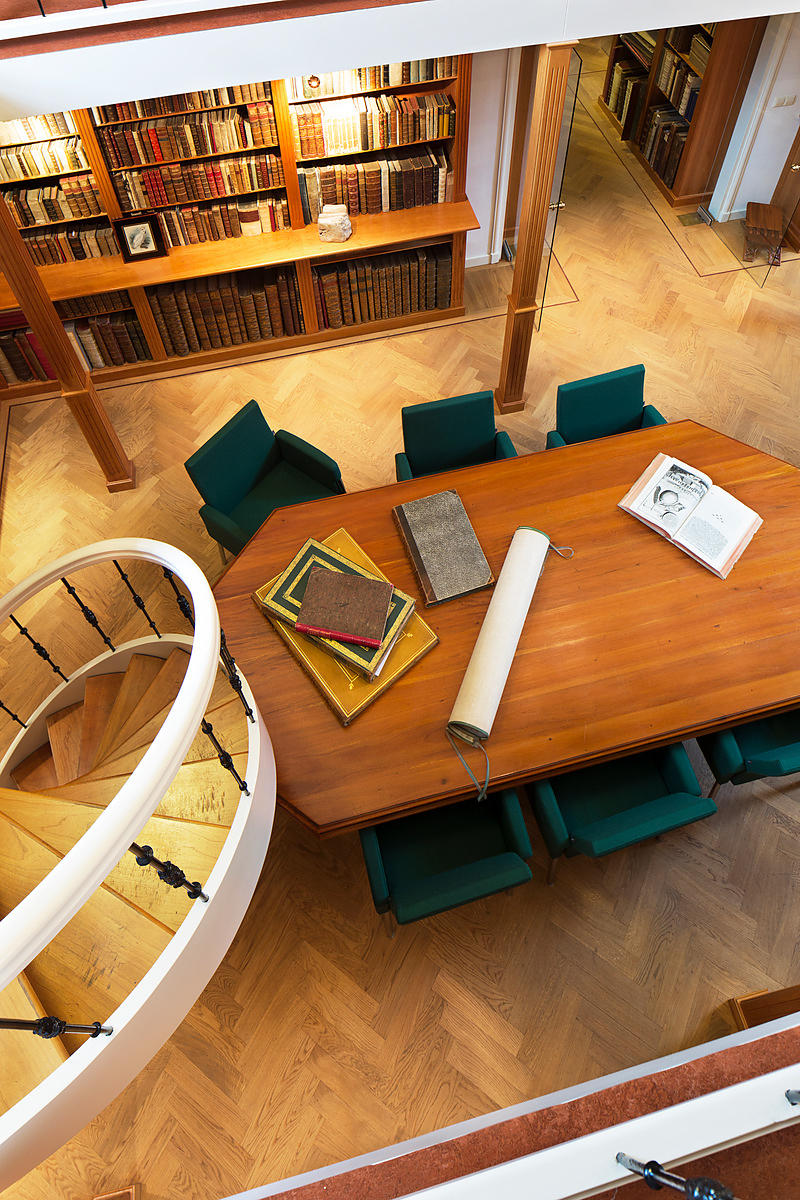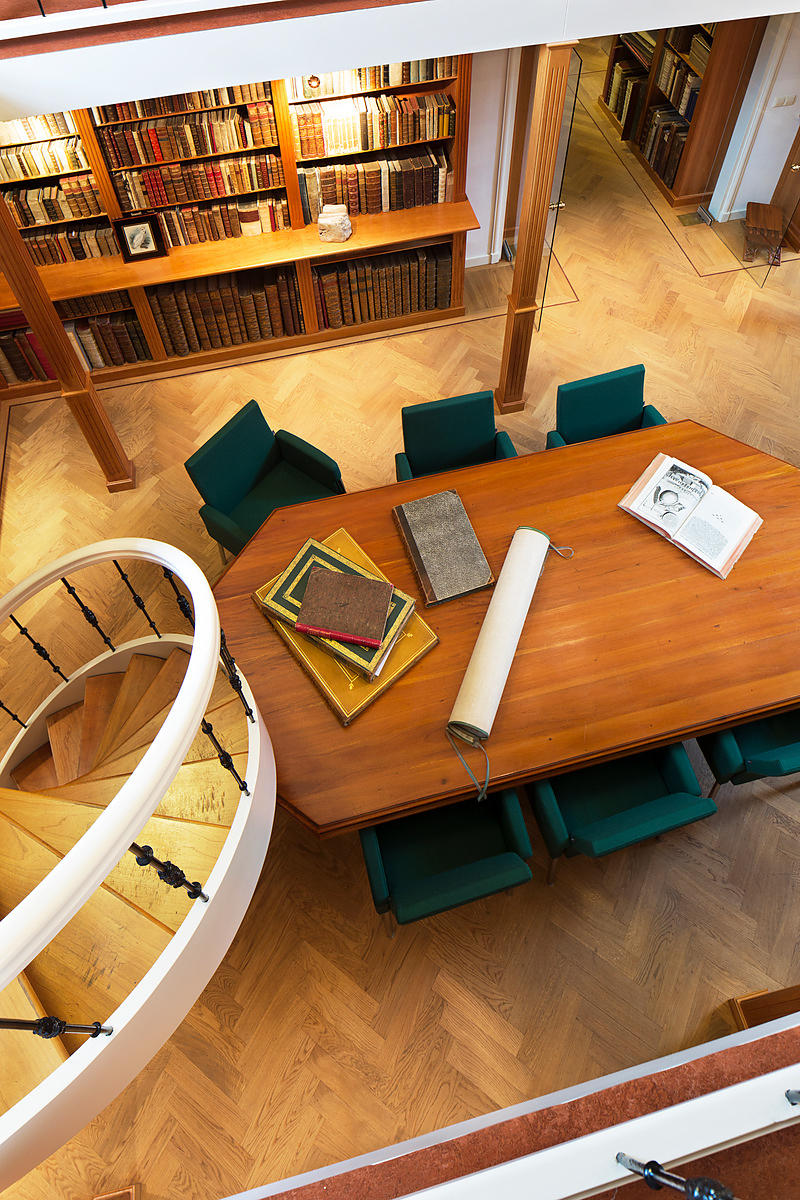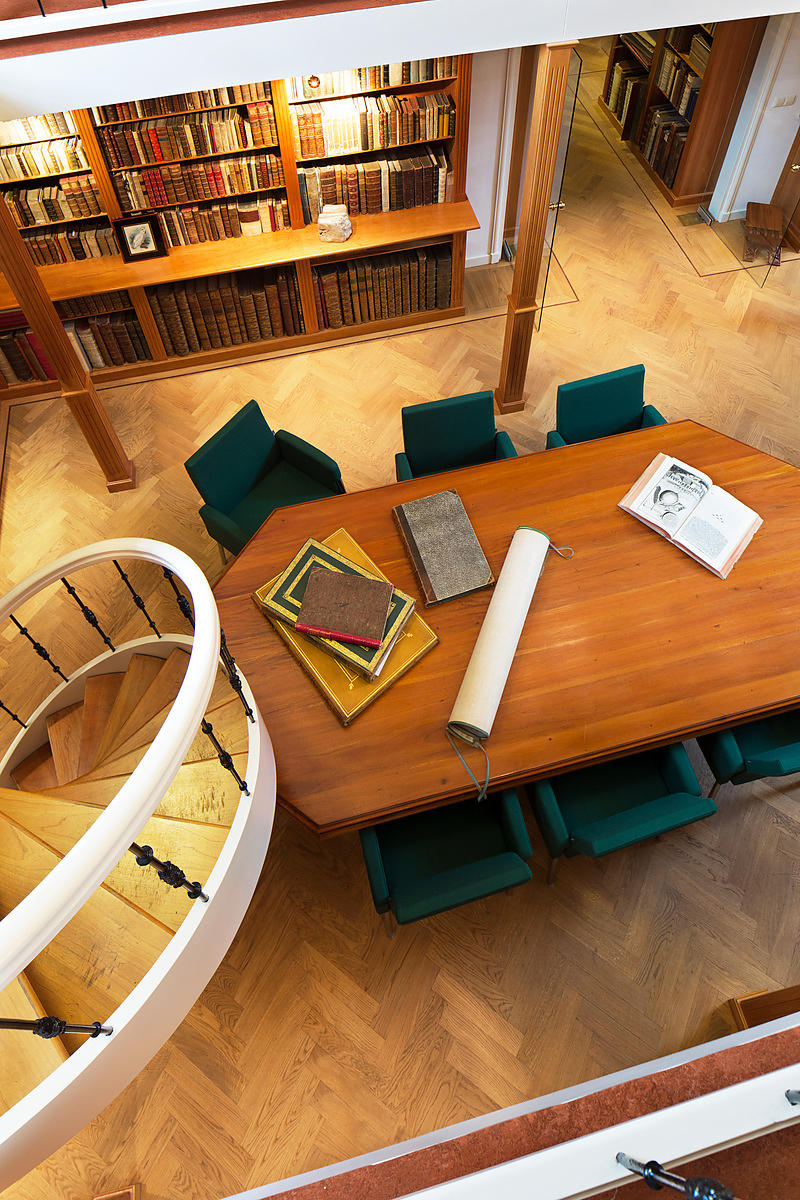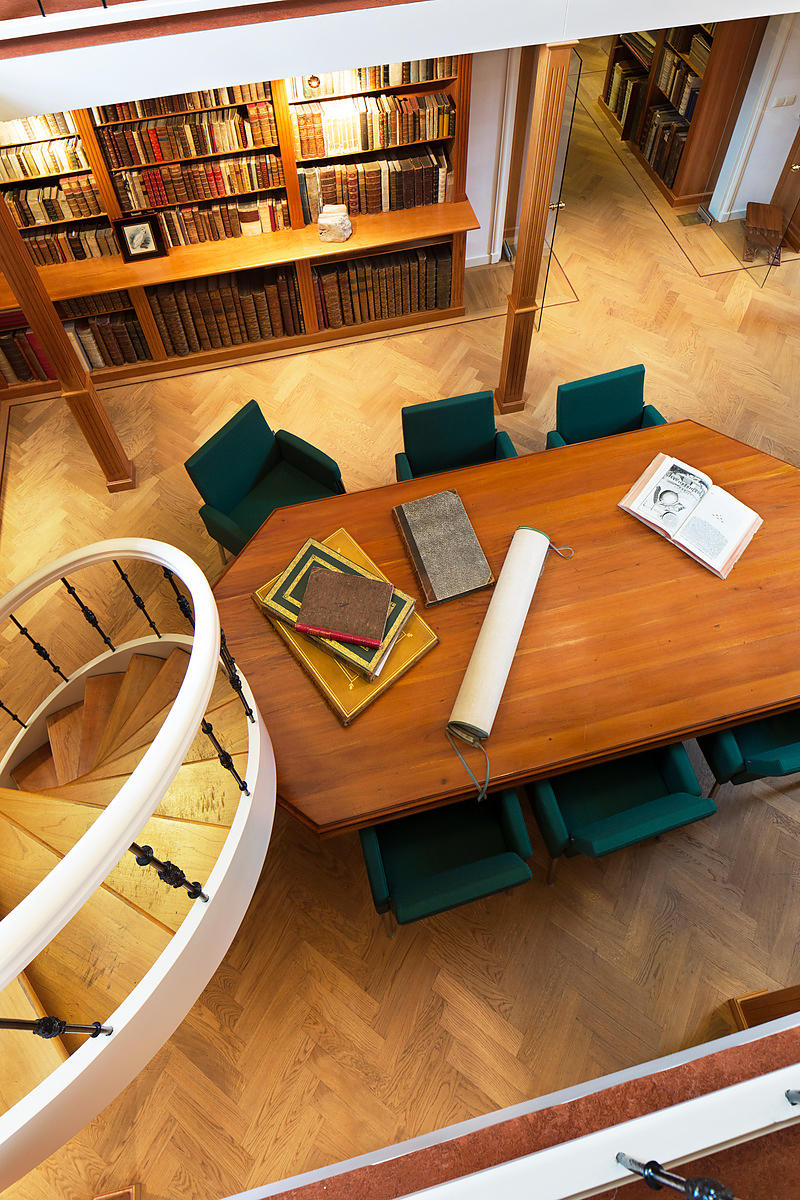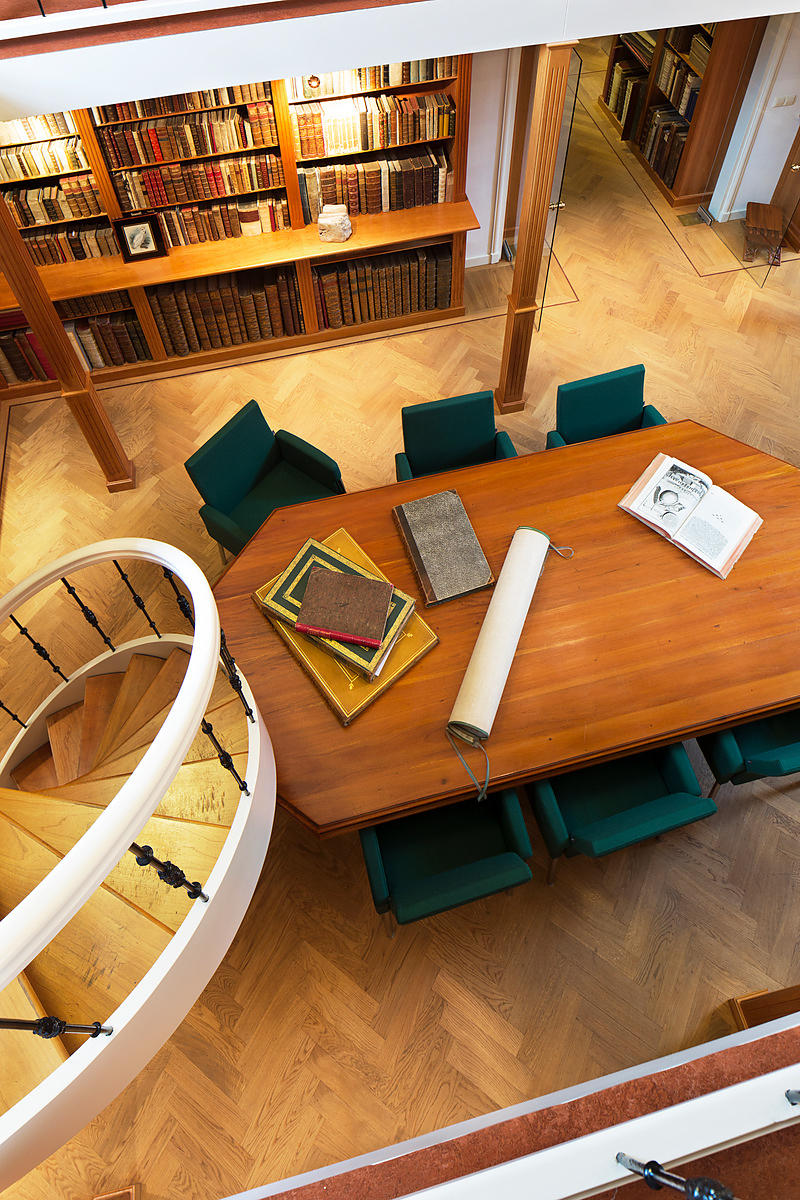 CUNAEUS, Petrus.
Sardi venales. Satyra Menippa. In huius seculi homines plerosque ineptè eruditos. In fine seorsim addita est ex eiusdem interpretatione D. Juliani Imperatoris Satyra in principes Romanos.
Leiden, Officina Plantiniana Raphelengii (= Franciscus II & Justus Raphelengius), 1612. With a general title-page in red and black and a separate title-page for the Satyra in Romanos Imperatores, each with Plantins small woodcut compasses device (circular, with motto "labore et constantia"); a woodcut medallion portrait of Julius Caesar, 2 woodcut decorated initials (1 series), 2 woodcut factotums.
Including: CUNAEUS, Petrus. D. Juliani Imperatoris Caesares, sive Satyra in Romanos Imperatores: ...
With: (2) [ROLEVINCK, Werner]. Opusculum de regimine rusticorum. Iam olim quidem rudi stylo, ab incerto auctore conscriptum, sed lectu dignissimum.
Mainz, Johann Albin, 1601. With a woodcut Jesuit IHS device on the title-page (motto: "laudabile nomen domini"), a woodcut headpiece, tailpieces (2 plus 1 repeat) and decorated initial, decorations built up from arabesque typographic ornaments, and each page in a frame of rules.
2 works in 1 volume. 12mo. Reversed parchment (made from a ca. 1600 calligraphic German proclamation(?) that shows through in mirror image, beginning with a 7 cm decorated initial: "Wir Diß...[?]"), sewn on 3 vellum tapes laced through the joints, with a hollow back, each board with a frame of blind double fillets, spine-title written in ink, remains of ties, blue edges. [24], 144, 154, [1], [1 blank]; [24], 238, [4 blank (except for the frame of rules)] pp.
€ 2,250
Ad 1: First edition of a pre-eminent 17th-century example of the neo-Latin literary genre of the Menippean satire. The fact that at least thirteen Latin editions appeared up to 1735 plus a Dutch translation in 1675 under the title, Gekken te koop, of schimp-schrift op de verkeerd-geleerden van onzen tijd, shows the 17th-century appreciation of Cunaeus's work. A modern critic (G. Hess) noted that the reintroduction of the Menippean satire by Petrus Cunaeus (together with Justus Lipsius's famous Somnium) forms the apogee of academic imitation in neo-Latin literature. Cunaeuss Sardi venales achieved this revival of the classical Menippean satire as we know it from the one and only specimen to survive, Seneca's Apocolocyntosis (Menippuss own works, from the third century BCE, are lost). Cunaeus successfully and critically reviews certain abusive tendencies in contemporary philology and theology.
Cunaeus took much more inspiration than Lipsius from personal emotions. Unlike Lipsius, he also dared to deal not only with international, far-off philology, but also with vehement theological discussions going on at that moment on the floor of his own university in Leiden. His translation of the Roman Emperor Julian the Apostate's anti-Christian satire Caesares further indicates the provocative nature of his work. It has its own title-page, pagination and series of quire signatures, so it could have been sold separately, but it is mentioned on the Sardi venales title-page and the two are almost always found together.
Ad 2: Curious and rare later (fourth?) edition of the anonymously published Bauernspiegel by the famous Werner Rolevinck (1425-1502), Carthusian from Cologne and author of the important world history Fasciculum temporum. Rolevinck's Regimen rusticorum was first published in the 1470s (ca. 1472), probably in Cologne by Arnold Ther Hoernen. As a son of a farmer Rolevinck could describe the life of farmers from the inside, discussing several social questions connected with rural life in 15th-century Germany.
Ad 1 slightly and ad 2 more extensively browned, the latter with tears restored in a few preliminary leaves, otherwise in good condition. C. Matheeuwsen & C.L. Heesakkers (ed. & introd.), Two neo-Latin Menippean satires. Justus Lipsius: Somnium; Petrus Cunaeus: Sardi venales (= Textus minores 54) (1980); STCN (4 copies); (ad 2) VD 17 12:106500N (3 copies); WorldCat 642959373 (5 other copies); cf. (ad 2 - 1st ed) ISTC ir00292500.
Related Subjects: