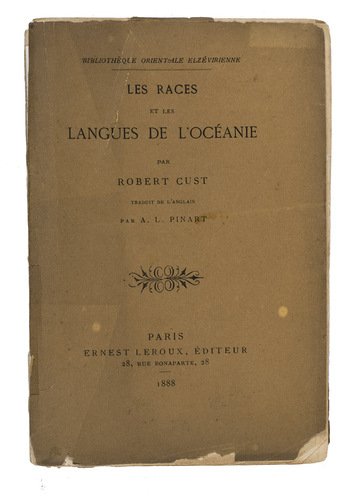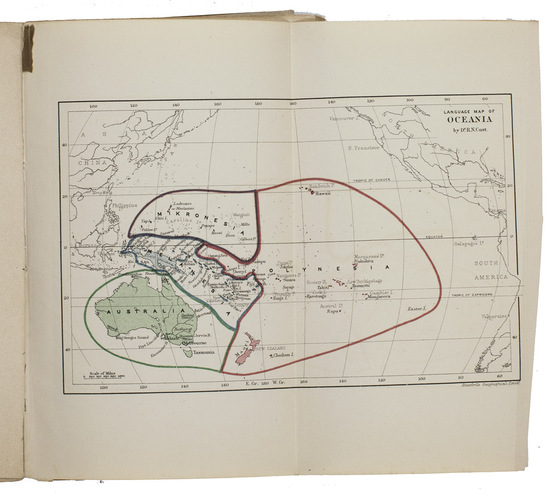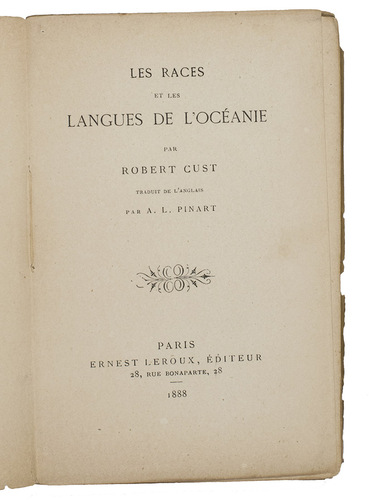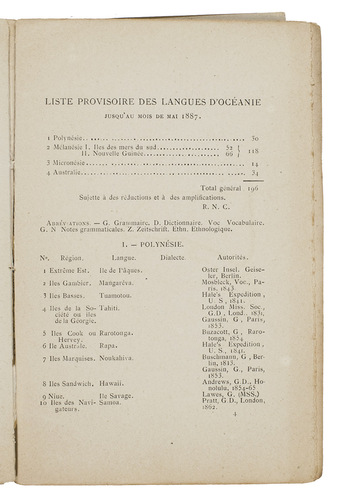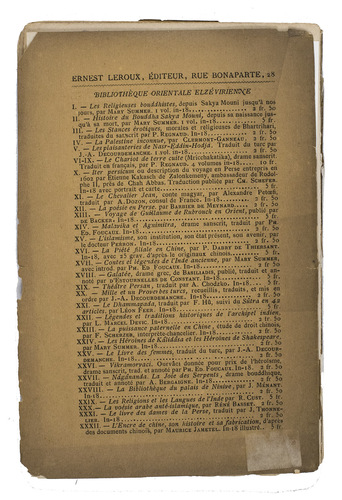 CUST, Robert Needham.
Les races et les langues de l'Océanie ... traduit de l'anglais par A.L. Pinart.
Paris, Ernest Leroux (back of half-title: Le Puy, printing office of Marchessou fils), 1888. 12mo (17 x 11.5 cm). With a folding chromolithographed language map of Oceania, 1 headpiece in 17th-century style. Original publisher's printed paper wrappers. [4], 71, [1 blank] pp.
€ 500
First French edition of Cust's essay on the languages of Oceania, translated by the French linguist and ethnologist Alphonse Pinart. Cust distinguishes 4 language families, corresponding with the geographical division of the region into Polynesia, Melanesia, Micronesia and Australia, which he then divides into smaller phylogenetic groups. The essay concludes with a provisional list of the languages of Oceania. It was first published as "The modern languages of Oceania" in the Journal of the Royal Asiatic Society of Great Britain and Ireland (July 1887). The present edition was published as number 56 in the series "Bibliothèque orientale Elzévirienne".
Robert Needham Cust (1821-1909), a prolific orientalist working for the East India Company, devoted the last decades of his life to the study of languages, publishing a great many learned books, articles and reviews.
Slightly browned, the wrapper more severely, but still in good condition with a few pencil marks. The spine of the wrapper is damaged, front wrapper slightly frayed, and some of the sewing has broken. O'Reilly & Reitman 5577; for the author: Prior, "Cust, Robert Needham (1821-1909)", in: ADNB (online ed.).
Related Subjects: