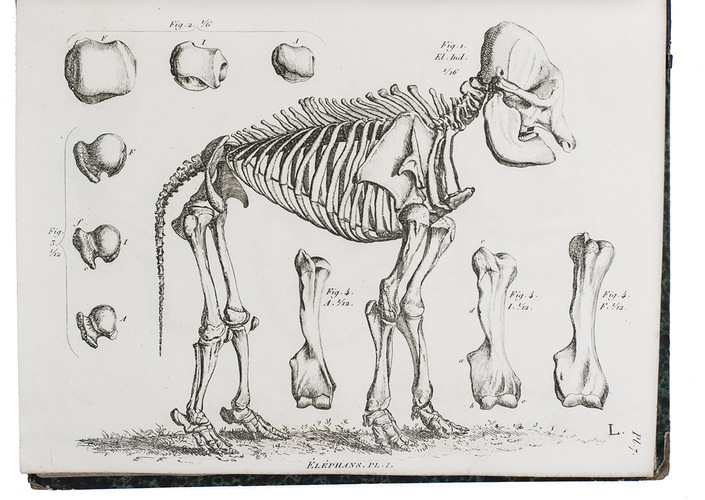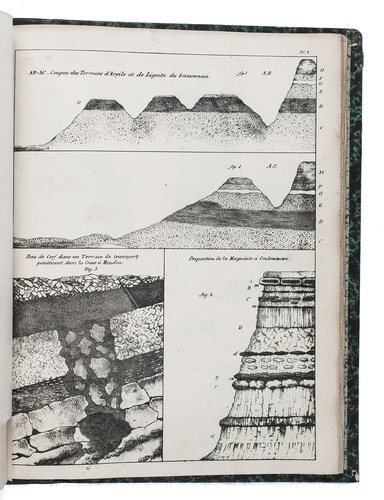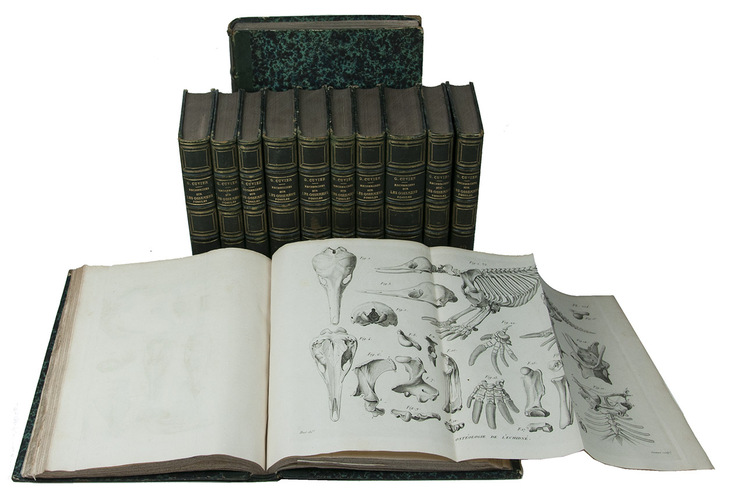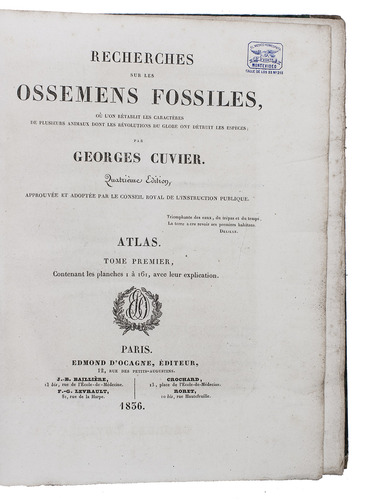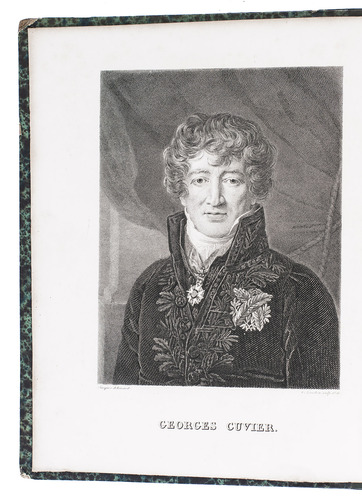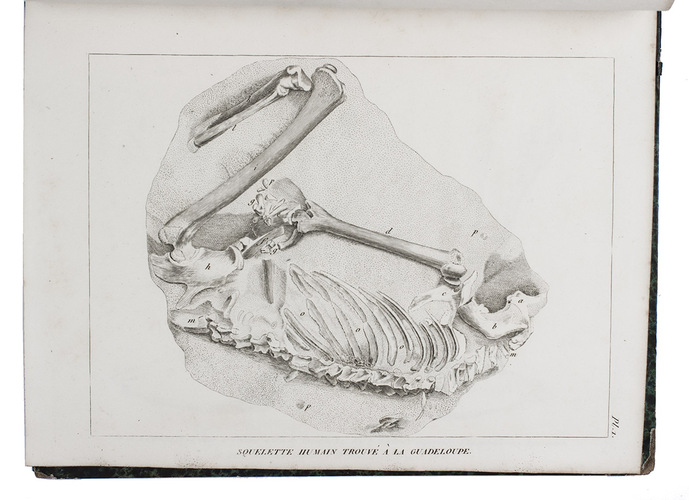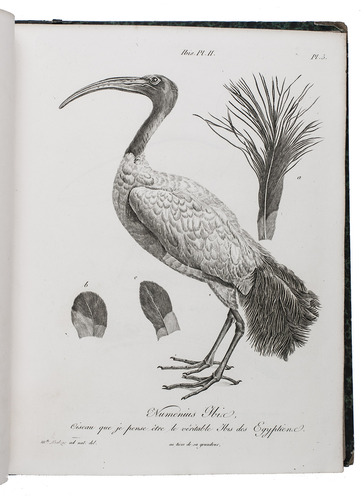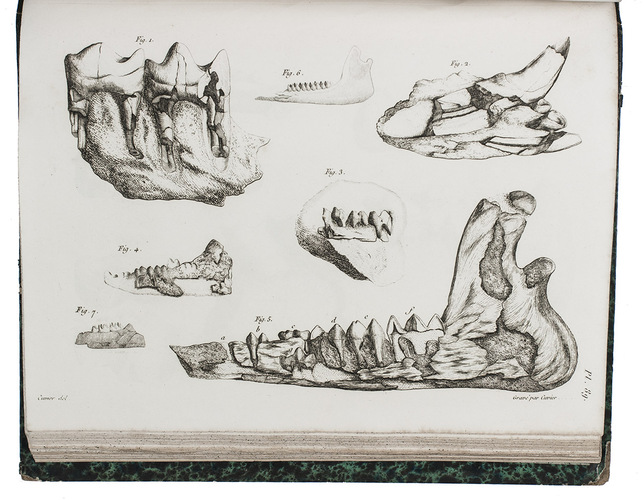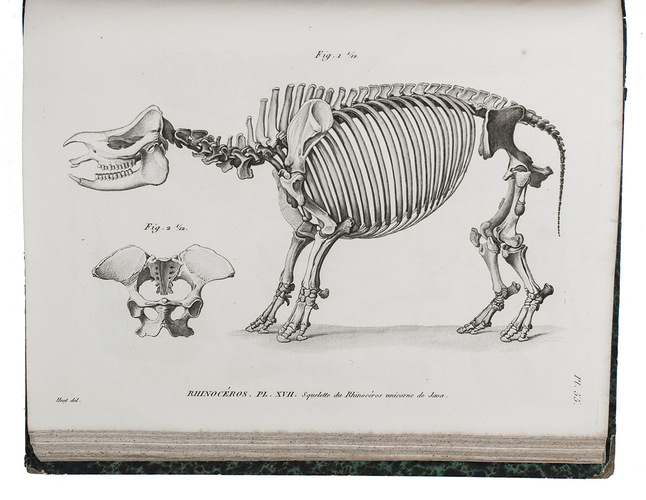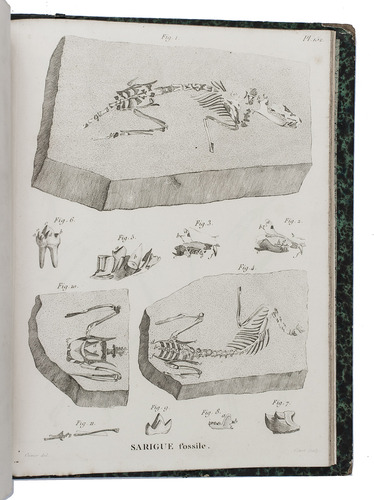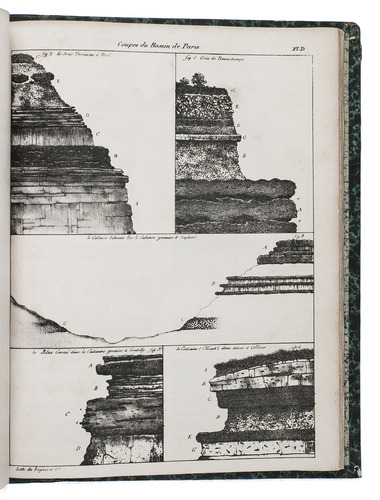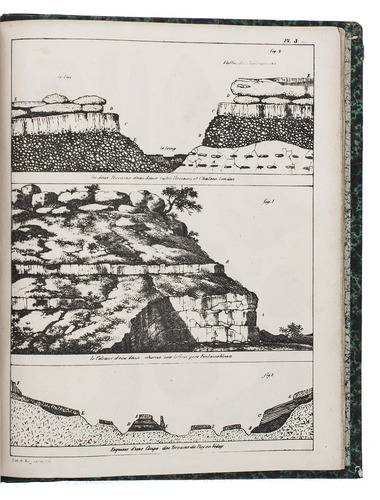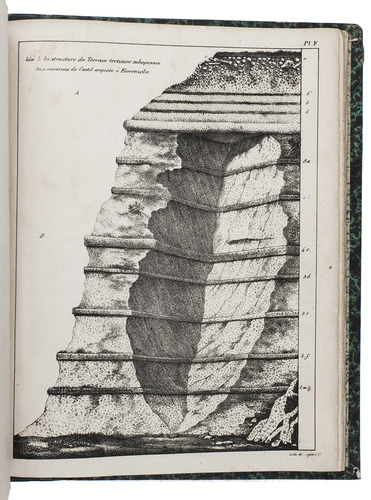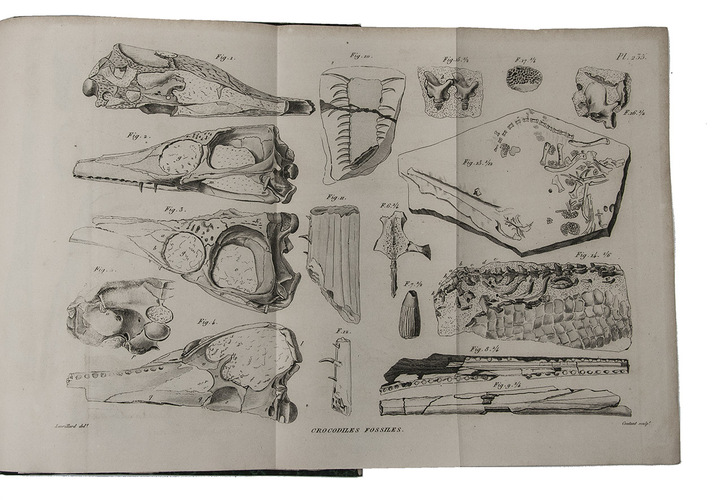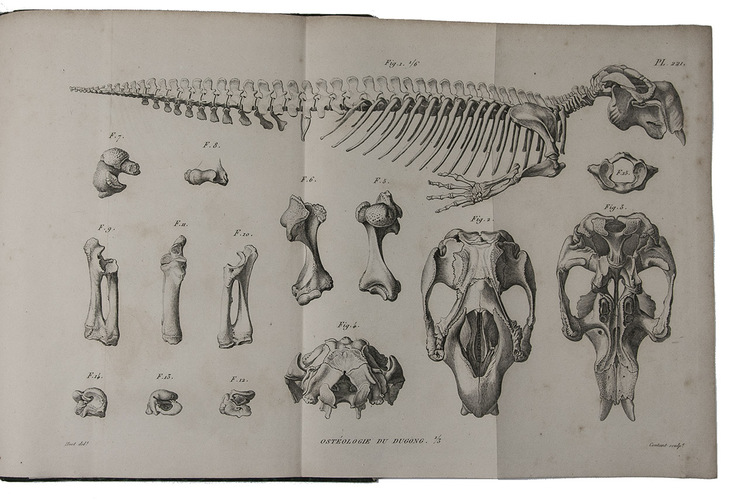 CUVIER, Georges.
Recherches sur les ossemens fossiles, où l'on rétablit les caractères de plusieurs animaux dont les revolutions du globe ont détruit les espèces. Quatrième edition.
Paris, Edmond d'Ocagne, J.B. Bailière, F.G. Levrault, Crochard, Roret, 1834-1836. 10 text volumes (8vo) (volume 8 in 2 parts) and 2 atlas volumes (4to). With engraved author's portrait, 260 [=261] numbered (partly folded) engraved plates and 18 plates numbered A-F (no plate I), including 2 hand-coloured engraved maps (1 folded), 1 engraved cross-section of the terrain of Paris and 15 lithographed plates. Uniform contemporary green half morocco, gold-tooled spines. [4], XXIV, 587; [4], 500; [4], 432; [4], IV, 691; [4], 687, [1]; [4], 452; [4], 533, [1]; [4], 462, [1]; [4], 332; [4], 501, [1 blank], [1]; [4], 494, [1]; [4], 94; 106 pp.
€ 3,375
Fourth and most extensive edition of a fundamental classic of vertebrate palaeontology by the French naturalist and zoologist Georges Cuvier (1769-1832), edited by his brother Friedrich Cuvier. "In the whole literature of comparative anatomy and palaeontology there is scarcely any work that can rank with this great masterpiece of Cuvier."
"We follow him in his attempts to identify the remains of the fossil mammalian by comparison with existing mammalian species, and we realize with him the necessity of a thorough examination of the bony skeleton of existing mammals before such a comparison can be effected" (Zittel).
From the library of the 19th-century Uruguayan homeopath Dr. Juan Christiano d'Korth who set up a practice at Montevideo in 1847. With his name on the spines and library stamps on the title-pages. In very good condition, fly-leafs browned and corners of the bindings slightly bumped. BMC NH, p. 409; Nissen, ZBI 1011; Ward 568; Zittel, pp. 135-139; cf. Horblit 20b (ed. 1812).
Related Subjects: