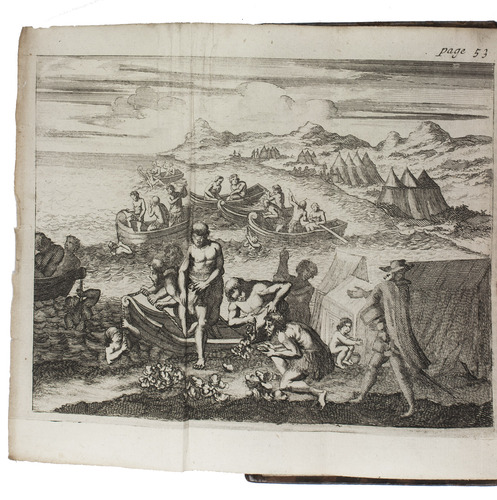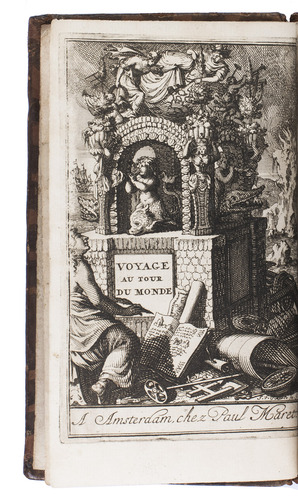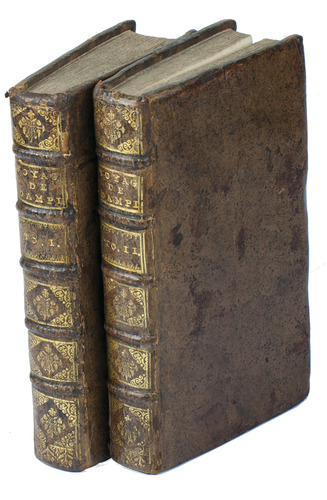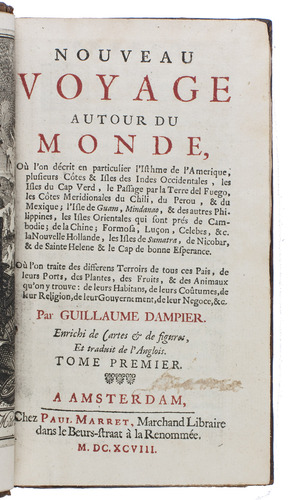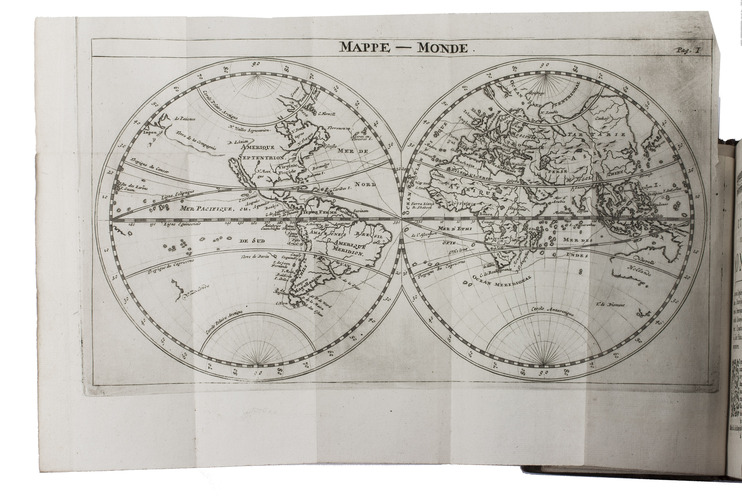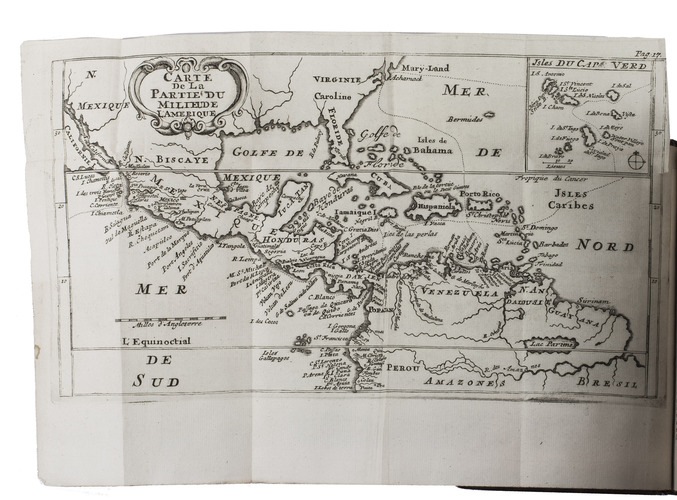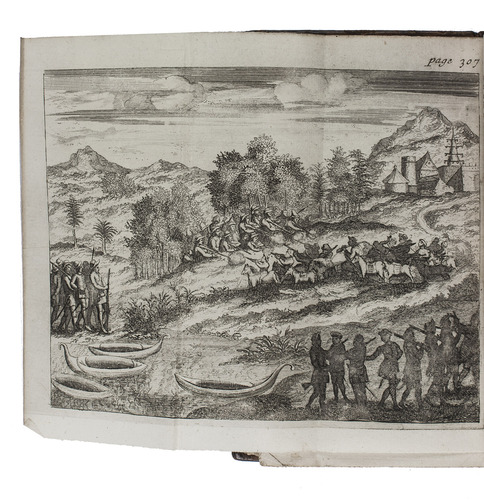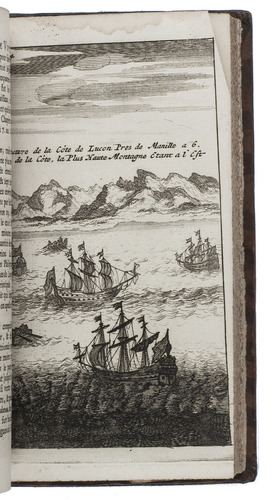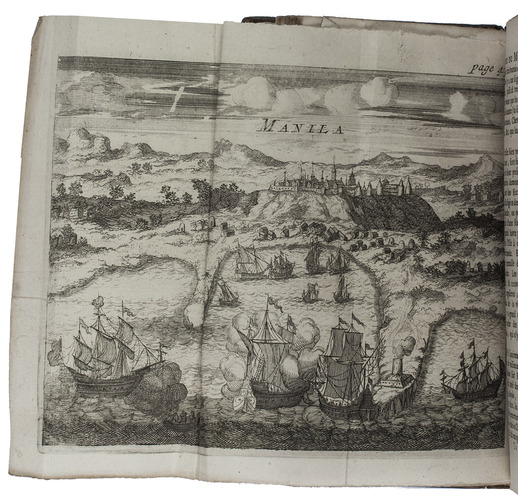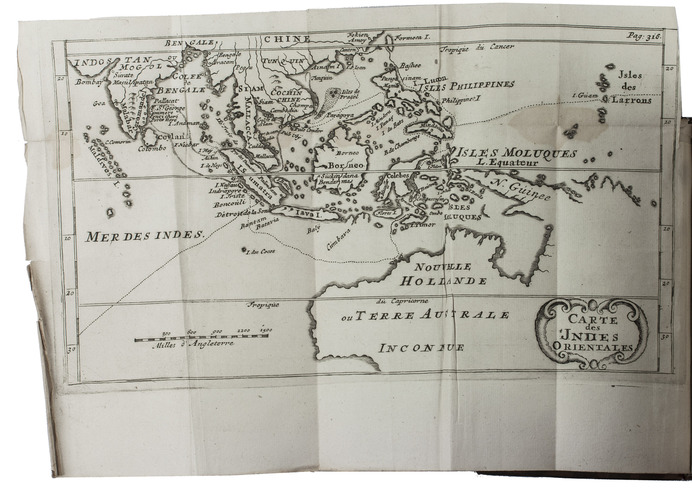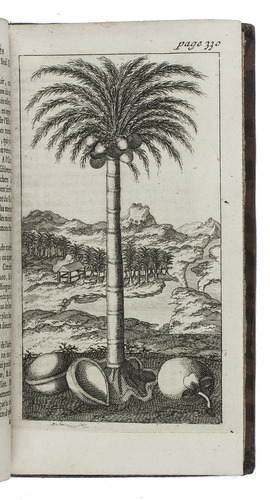 DAMPIER, William.
Nouveau voyage autour du monde, où l'on décrit en particulier l'Isthme de l'Amerique, plusieurs côtes & isles des Indes Occidentales, les Isles du Cap Verd, le passage par la Terre del Fuego, les côtes meridionales du Chili, du Perou, & du Mexique; l'Isle de Guam, Mindanao, & des autres Philippines, les isles orientales qui sont prés de Cambodie; de la Chine; Formosa, Luçon, Celebes, &c. la Nouvelle Hollande, les isles de Sumatra, de Nicobar, & de Sainte Helene & le Cap de Bonne Esperance.
Amsterdam, Paul Marret, 1698. 2 volumes. 12mo. With the same engraved frontispiece in both volumes, 6 engraved maps (including 4 folding), and 7 engraved plates (including 3 folding). Contemporary sprinkled calf, gold-tooled spine and board edges. [10], 315; [1 blank]; [2], "316", [1], 317-616, [4] pp.
€ 14,500
First French edition of William Dampier's account of his voyage around the world and especially to the south seas in the years 1683 to 1691. Dampier (1651-1715) sailed to Sierra Leone, from there to the Falkland Islands, Cape Horn, Peru, Guatemala, Mexico, the Philippines, Vietnam, China, Indonesia, and further to New Guinea, in the area which was to become known as Dampier Land. He went ashore in Australia, sailed on to Sumatra, the Cape of Good Hope, and back to Europe. Although John Brooke probably shipwrecked on the Australian coast in 1621 without knowing what it was, Dampier was otherwise the first Englishman to set foot in Australia. Dampier had spent several years as a buccaneer, but in the present book he diplomatically made no attempt to exploit the more sensational aspects of his adventures, concentrating on hydrographic, geographic and scientific details. This helped him establish his legitimacy, bringing immediate academic acclaim rather than condemnation as a pirate.
With bookplates. The edge of 2 folding plates slightly tattered (not affecting the image) and a few minor marginal stains, but otherwise in very good condition. The bindings with minor stains and worn at the extremities and hinges but still good. First French edition of an account of an important voyage around the world, including the first successful English landing in Australia. Hill I, pp. 75-78; Howgego D7; Sabin 18381.
Related Subjects: