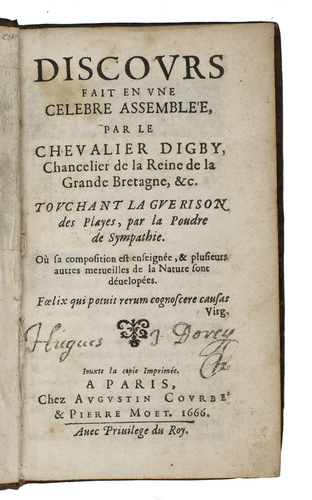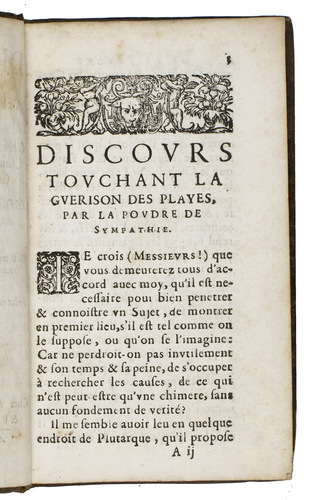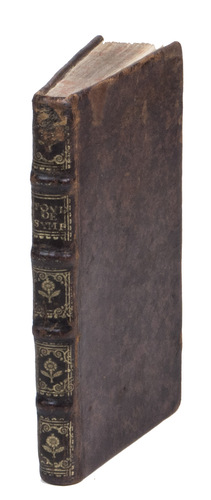 DIGBY, Kenelm.
Discours fait en une celebre assemblée, par le Chevalier Digby Chancelier de la Reine de la Grande Bretagne, &c. touchant la guerison des playes, par la poudre de sympathie. Ou sa composition et enseignée, & plusieurs autres merveilles de la nature sont dévelopées.
Paris, Augustin Courbé & Pierre Moet, 1666. 12mo. With woodcut initial and head-piece. Contemporary calf over boards. 160 pp.
€ 600
Rare third edition of this curious treatise on the cure and healing of wounds by means of the "Powder of Sympathy" by Sir Kenelm Digby (1603-1665), not only an English courtier and diplomat, but also a highly reputed natural philosopher, astrologer. For his versatility, he is described in John Pointer's Oxoniensis Academia (1749) as the "Magazine of all Arts and Sciences, or (as one stiles him) the Ornament of this Nation". Digby was regarded as an eccentric by contemporaries, partly because of his effusive personality, and partly because of his interests in scientific matters. He was in touch with the leading intellectuals of the time, and was highly regarded by them; he was a founding member of the Royal Society.
Binding shows some minor signs of wear, top of the spine is slightly damaged, ownership label on the front pastedown "Ex Libris J. Oberti, M.D." and an ownership inscription on the title-page "Hugues J. Dovey R.", minor foxing and/or tiny marks throughout, without affecting the text. Overall in good condition. Caillet, 3124; Wellcome, II, p. 468; cf. D. Rubin, Sir Kenelm Digby. A Bibliography (1991), 104.
Related Subjects: