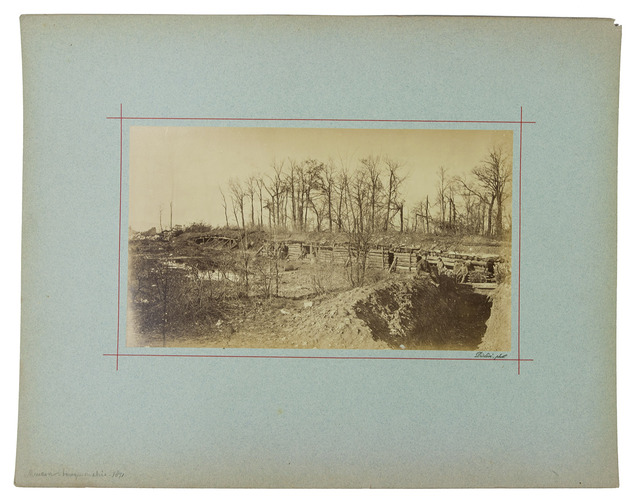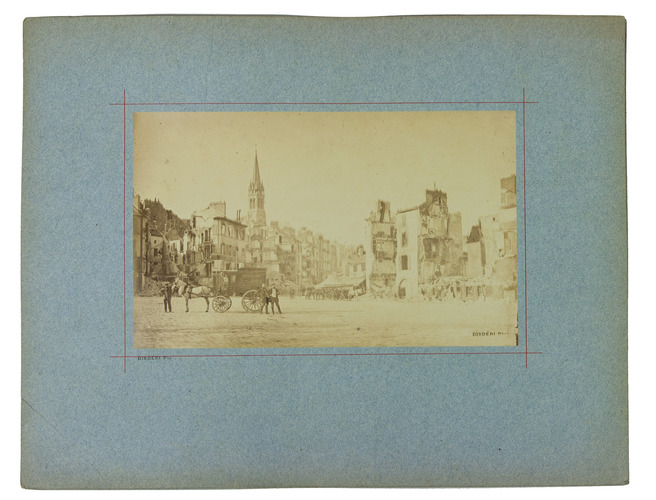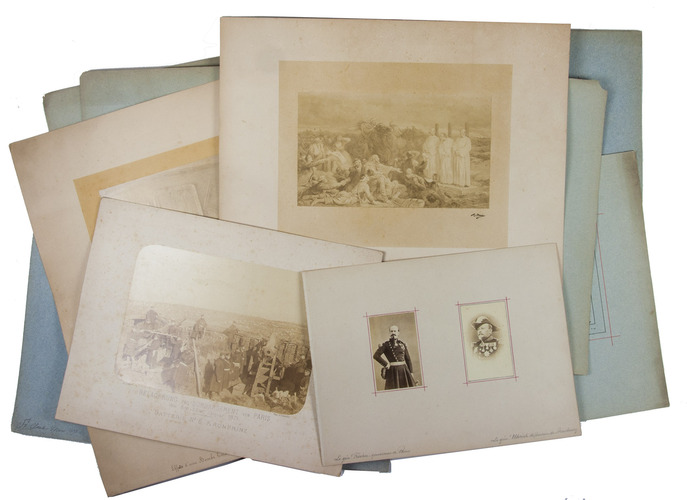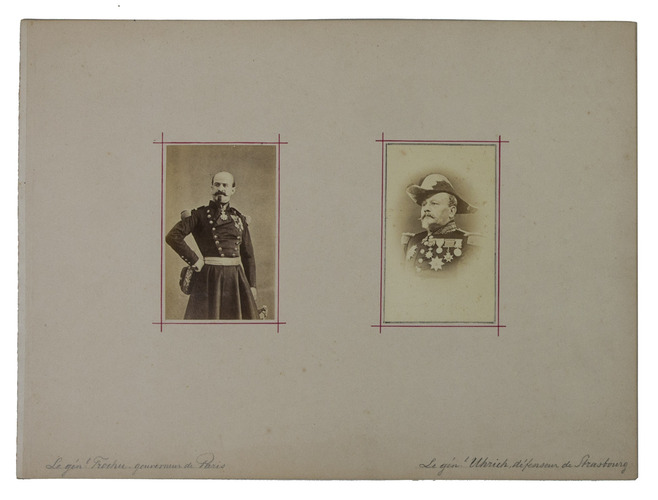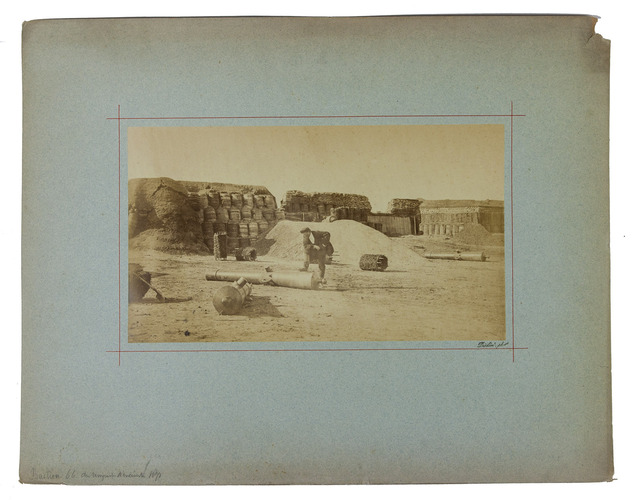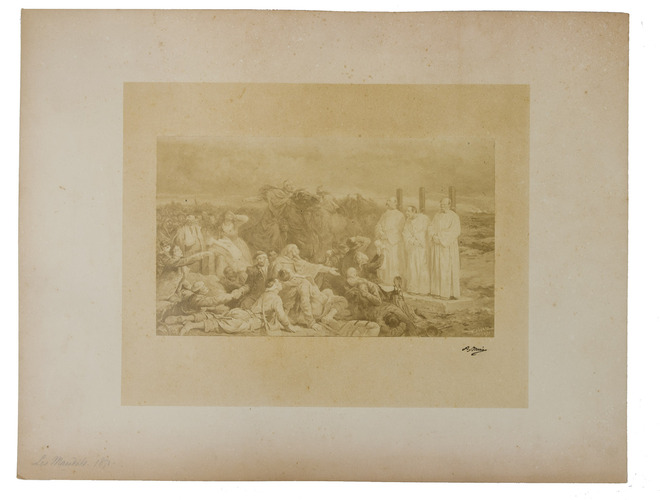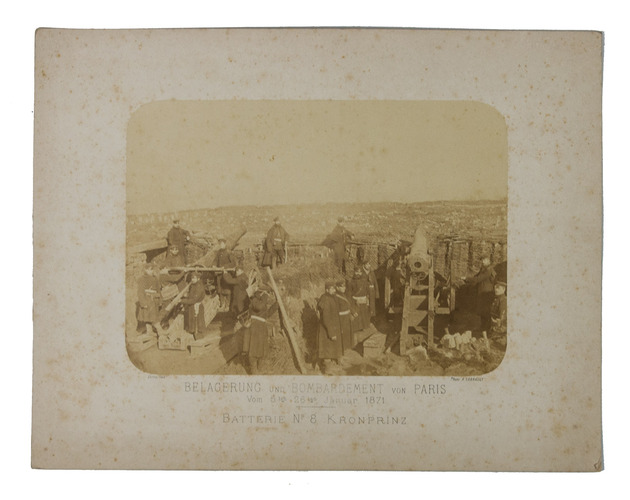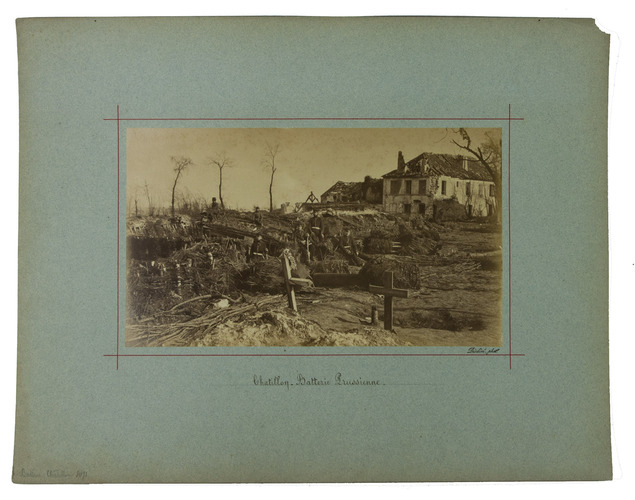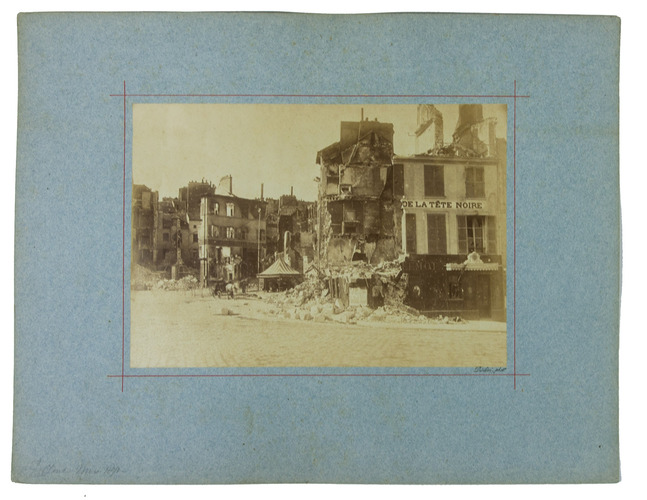 DISDÉRI, André.
[Collection of 12 photographs of Paris and surroundings just after the Franco-Prussian War (1870-1871)].
[Paris], André Disdéri, 1871. Seven albumen prints by Disdéri (measuring 10/20 x 29 cm), mounted on blue stiff paper leaves, with a caption in pencil in the lower left corner; three albumen prints, each mounted on a white stiff paper leaf, including one by A. Serrault with printed text underneath; and two small portraits of carte de visite format (89 x 54 mm), probably by Disdéri, mounted together on one stiff paper leaf.
€ 1,800
A total of 12 albumen prints, including 9 by the French photographer André-Adolphe-Eugène Disdéri (1819-1889), all relating to the Franco-Prussian War (1870-1871). Disdéri's photographs depict Paris and surroundings (Saint-Cloud, Point du jour, Meudon) in March 1871, just after the War, and show demolished buildings and barracks, abandoned ramparts and a Prussian artillery battery. The two small portraits depict General Louis Jules Trochu (1815-1896), Governor of Paris from 1870, and General Jean-Jacques Alexis Uhrich (1802-1886), who defended Strasbourg. The portraits are in the typical carte de visite style, which Disdéri patented in 1854. The other photographs show a German garrison during the bombing of Paris, signed A. Serrault, Versailles; a photograph of a destroyed room at the École polytechnique after the bombing; and a drawing or painting called "Les maudits", signed Adrien Marie, 1870.
Photographs slightly discoloured, stiff paper leaves slightly browned along the margins, otherwise in good condition. Hannavy, Encyclopedia of nineteenth-century photography, pp. 417-420.
Related Subjects: