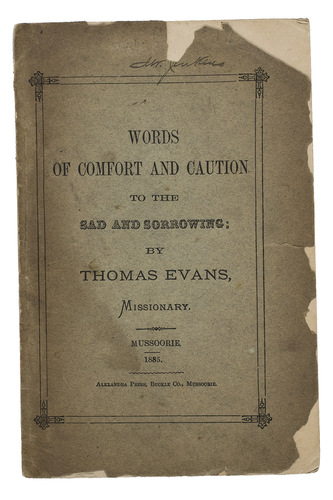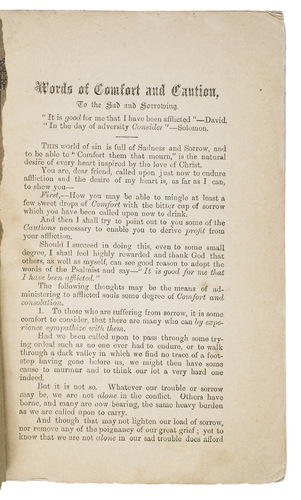 EVANS, Thomas.
Words of comfort and caution to the sad and sorrowing.
Mussoorie, India, Alexandra Press, Buckle Co., 1885. 8vo. Original publisher's printed wrappers. 28 pp.
€ 2,500
The only known copy of the only known work by Welsh missionary in India Thomas Evans. He likely wrote and published this book, offering words of comfort based on Christian scripture, while he was on medical leave in Mussoorie, making the book a very rare specimen of nineteenth century provincial printing in India.
Thomas Evans (1826-1906) was a Welsh missionary working for the Baptist Missionary Society in India from 1855 until his death in 1906. Shortly after his arrival in India, he started learning Hindi and subsequently became known as an open-air preacher. In 1861 after moving to Delhi, he was invited to join the government as secretary of the famine fund to relieve suffering caused by the draught of the previous year. Evans suffered from various health issues, which only worsened during his open-air preaching and other missionary work around India. He was granted furlough several times on account of his health. On some of these occasions he returned to visit Wales and on others he chose to stay in India, for example during the 1880's in Mussoorie. Evans's poor health and the passing of his first wife, among other things, might have caused sadness and sorrows to have been a constant burden on his mind. In his Words of comfort and caution to the sad and sorrowing, he appealed to those in pain not to despair and brood over ones sorrows and trials (p. 20) but to face it head on and deal with whatever causes the sorrow. His son-in-law, David Hooper, published Evans's biography, titled A Welshman in India: a record of the life of Thomas Evans..., in 1908.
With an owner's inscription on the front wrapper in brown ink: "Mr. Jenkins". Wrappers worn, with a tear in the back wrapper, internally slightly browned, otherwise in good condition. Not in WorldCat; for the author: D. Ben Rees (ed.), Vehicles of grace and hope: Welsh missionaries in India, 1800-1970, p. 47.
Related Subjects: