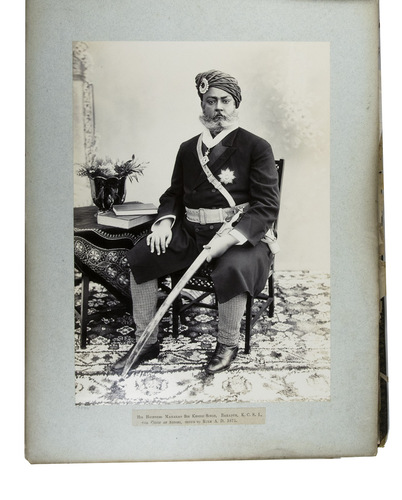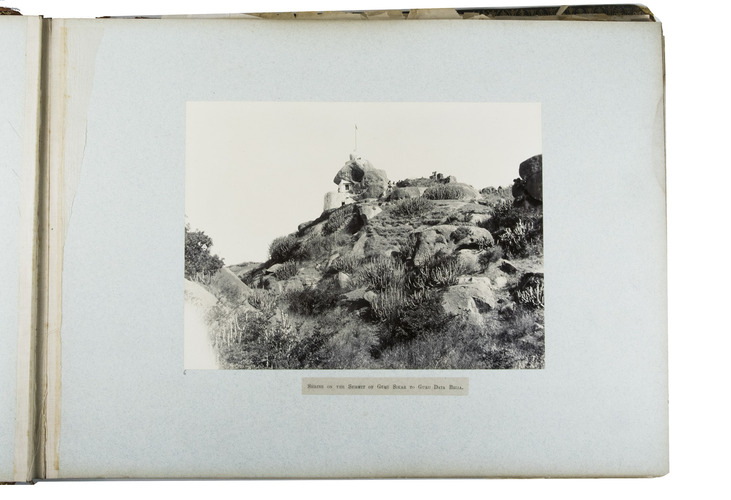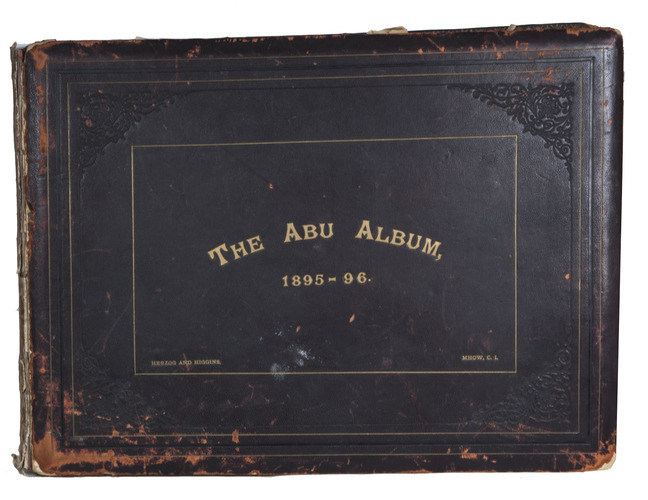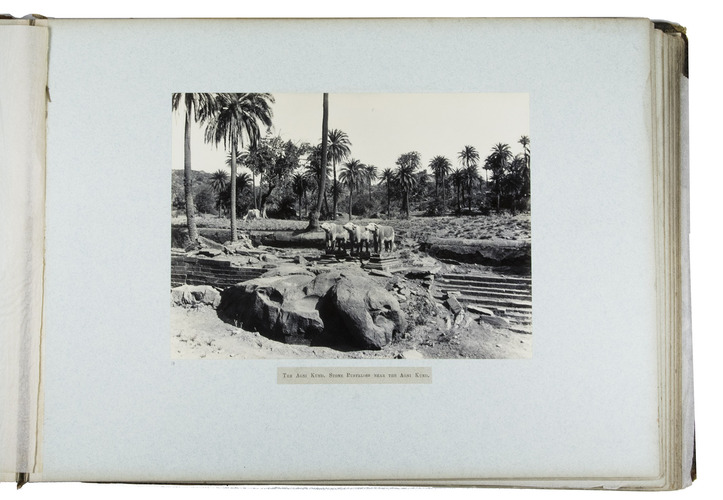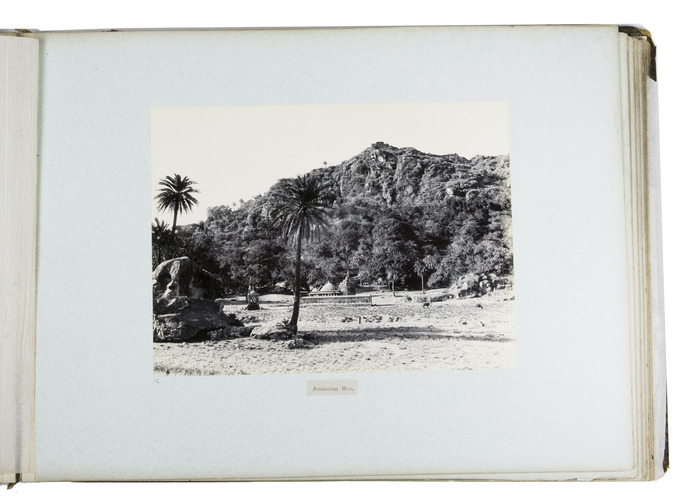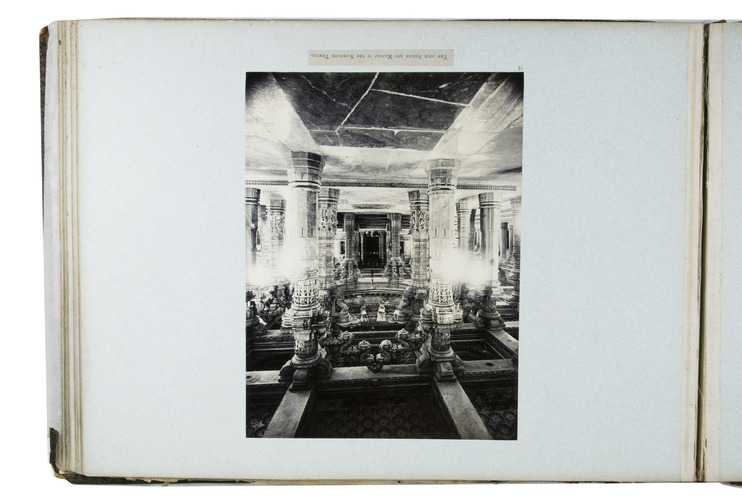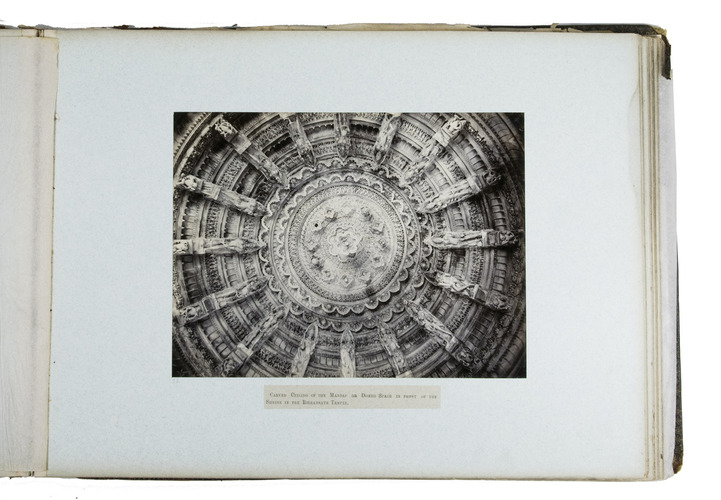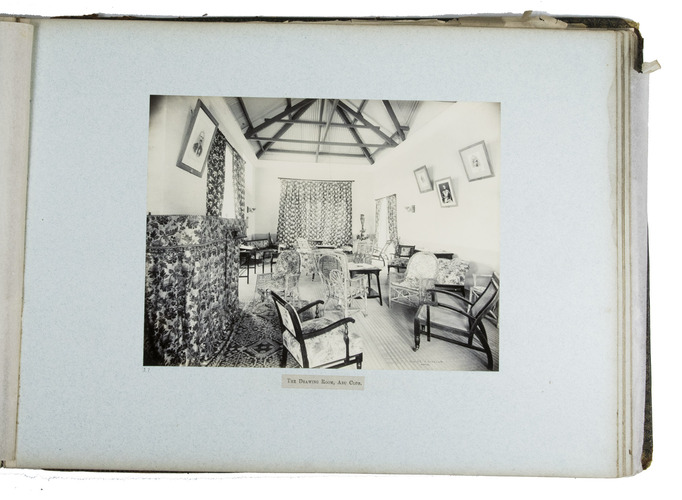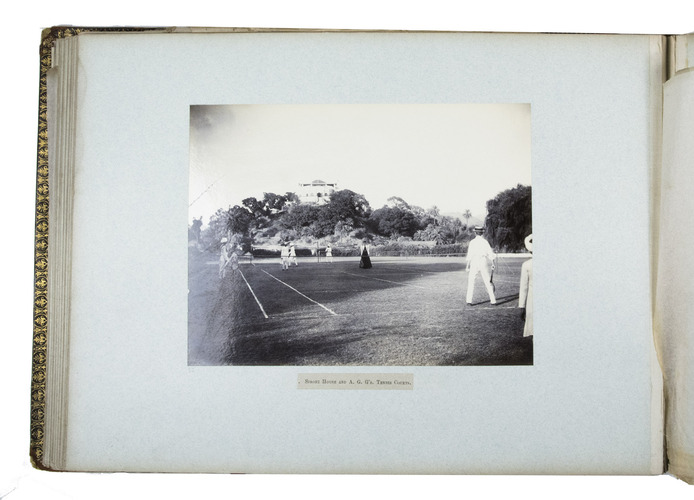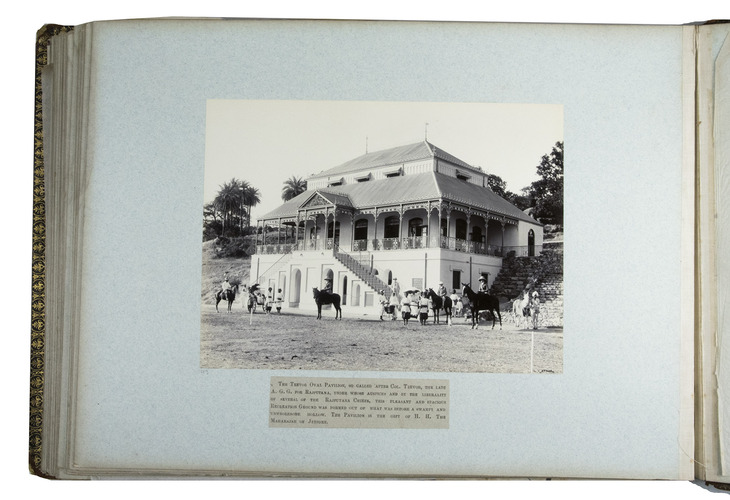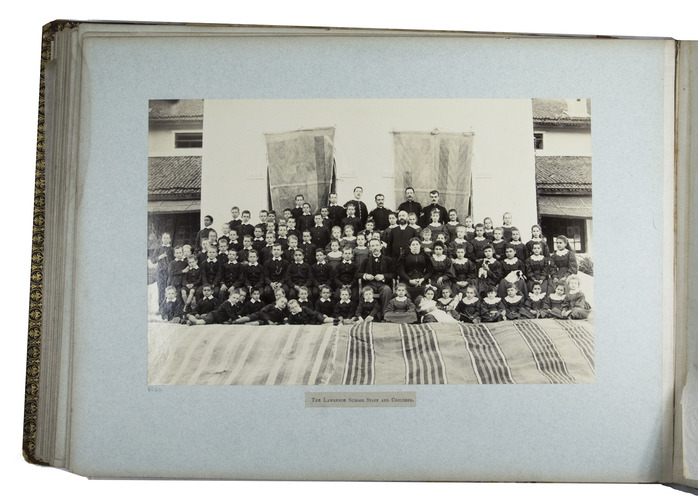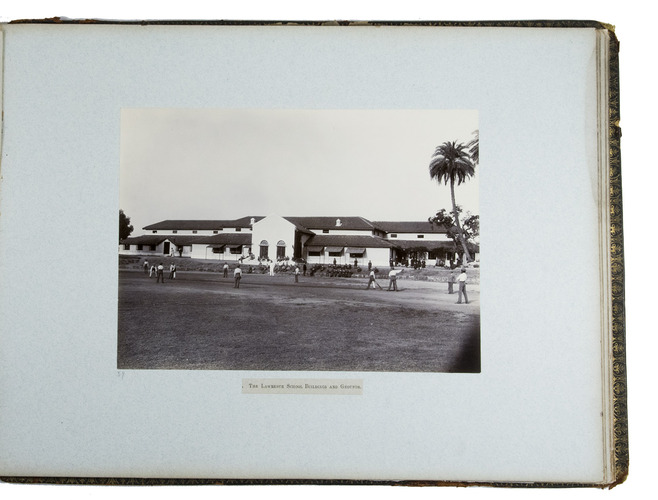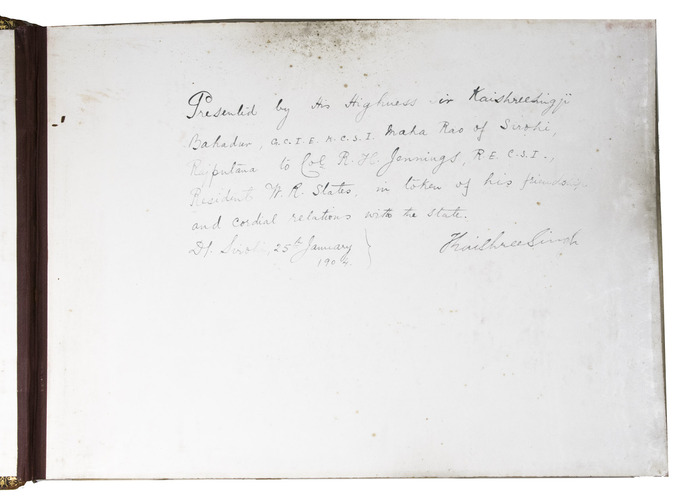 HERZOG, P.A. & P. HIGGINS (photos).
[Title on front cover:] The Abu album, 1895-96.
Mhow, Central India, Herzog & Higgins, 1896 (presented in 1904). Oblong folio (35 x 50 cm). With 43 gelatin silver photographs including one two-part panorama and a portrait of the Maharao of Sirohi. All ca. 21 x 28 cm. Mounted on rectos and versos of thick card album leaves, with protective tissue papers, with printed captions pasted below. Contemporary blind-tooled morocco, title in gold on front cover, gilt edges. [22] ll.
€ 12,500
Important diplomatic presentation album with 43 photographs of Mount Abu (Rajasthan) by British-Indian photography duo P.A. Herzog & P. Higgins. The present album is hand signed by the Maharao of Sirohi, Sir Kaishri Singh-ji Bahadur (1857-1920) and dedicated to Colonel Robert Henry Jennings (1839-1915), Resident of the Western Rajputana States. Maharao Kaishri Singh ruled over the Sirohi Princely State, including Mount Abu, from 1875 to 1920. Robert Henry Jennings was an important diplomat for the British in the "Great Game". Mount Abu was the place in Rajahstan where the elite would come together, such as the Maharao, colonel Jennings and the prince of Afghanistan. Jennings had his residence there. It was a hill station at a beautiful lake on a mountain surrounded by lush rainforest and a cooler climate in summer.
The series of photographs starts with a very high quality, sharp and deep portrait of Maharao Kaishri Singh, after which a series of attractive, high quality photos follows, depicting Jain temples, views of the Adhar Devi Shrine, Abu Club and Cricket ground (the club was founded in 1872), the Lawrence School and the Railway School.
Little is known about the P.A. Herzog & P. Higgins photography firm in India. Herzog was an assistant to John Blees in Jabulpur, who published an instructional manual on the subject. Both worked for Lala Deen Dayal and Johnson & Hoffman before opening their own studio at Mhow (Central India) in 1894 and continued until 1921. As official photographers for many important events, including official visits and Durbahs, they preserved an important record of the British Raj and were considered a very successful commercial photographic studio.
With a manuscript presentation inscription in ink on front endpaper: "Presented by His highness Sir Kaishreesingji Bahadur, G.C.I.E.K.C.S.I. maha Rao of Sirohi, Rajpulana to Col. R.H. Jennings, R.E.C.S.I., Resident N.R. States, in token of his friendship and cordial relations with the state. Dp. Sirohi, 25th January 1904 - Kaishree Singh".
Spine detached but retained, covers heavily rubbed. For Herzog & Higgins see: John Falconer, A biographical dictionary of 19th century photographers in South and South-East Asia; Commercial, India, Mhow, 1894-1921; for the Maharao of Sirohi see: www.indianrajputs.com.
Related Subjects: