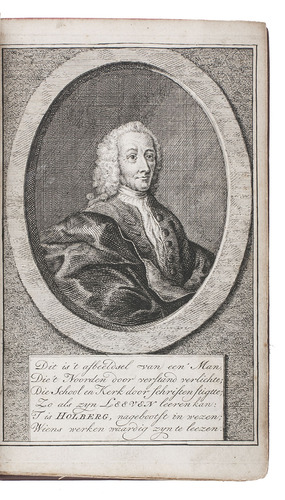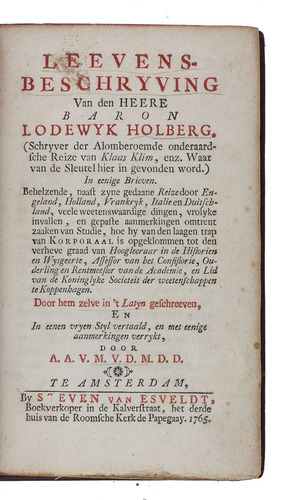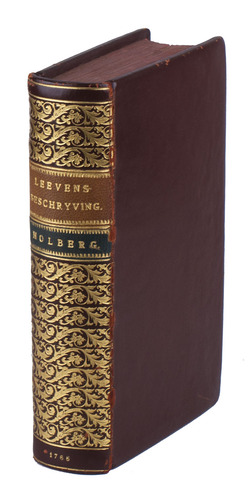 HOLBERG, Ludvig.
Leevensbeschryving van den heere Baron Lodewyk Holberg.
Amsterdam, Steven van Esveldt, 1765. 8vo. With engraved frontispiece portrait of Holberg. Brown calf (ca. 1900?), richly gold-tooled spine. [1], [1 blank], IX, [1], 386, [2] pp. plus engraved portrait.
€ 1,250
First Dutch edition of the autobiography of the multitalented Ludvig Holberg (1684-1754), famous in Denmark both for his fine satirical plays comparable with Moliere's and for his important contributions to legal thought. A follower of Voltaire (another satirical playwright with a good legal mind), Holberg helped bring Enlightenment ideas to Denmark. Outside Denmark he is best known for his only novel, an imaginary voyage with elements of fantasy and science fiction known in English as Niels Klim's underground travels. His present autobiography is "candid, concise, and extremely readable, mingling jest with earnest in an altogether delightful fashion" (William Morton Payne, Ludvig Holberg). His powers of observation and analysis make his account of his travels in England, France and Italy far more than a travelogue.
With a small hole in 1 leaf, occasional minor foxing or superficial stains and an occasional small marginal defect (1 tear repaired) but otherwise in very good condition. The binding is worn at the hinges but still good. The genuine voyages of the author of a famous imaginary voyage. Ehrencron-Müller, Bibl. Holbergs skrifter; STCN (5 copies).
Related Subjects: