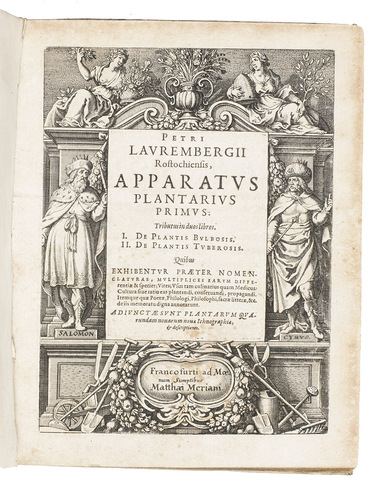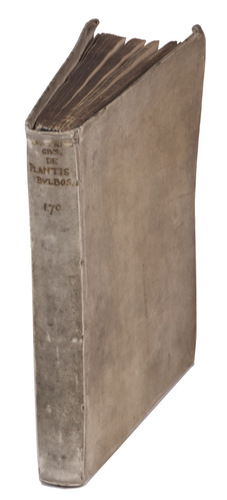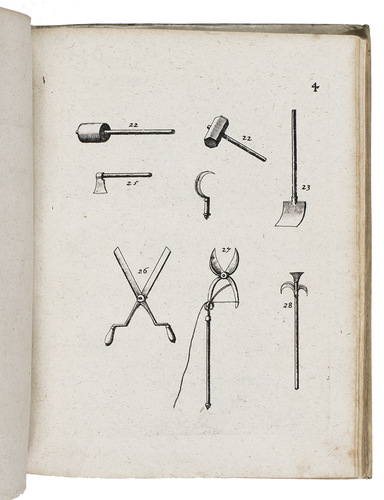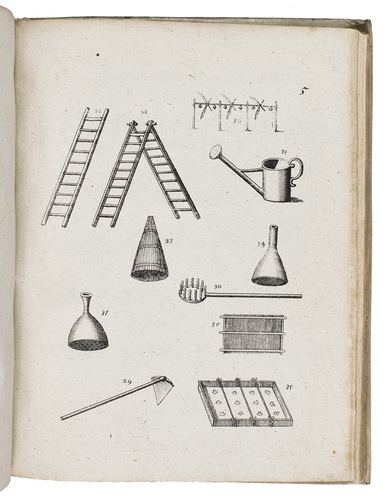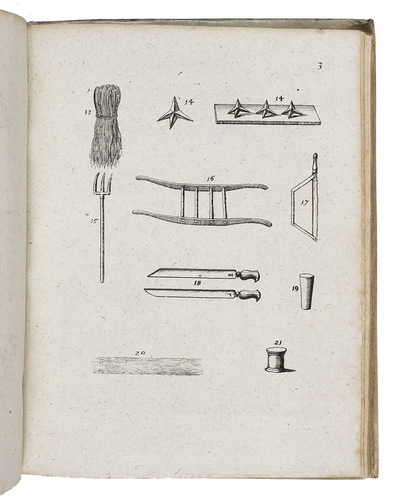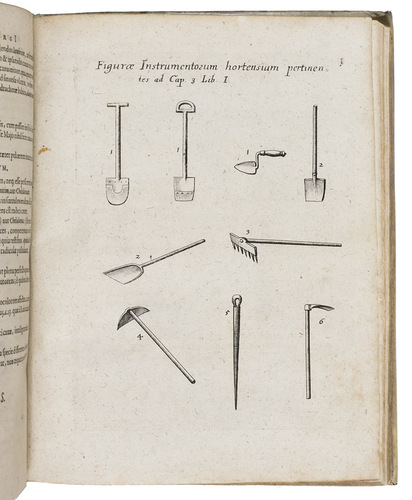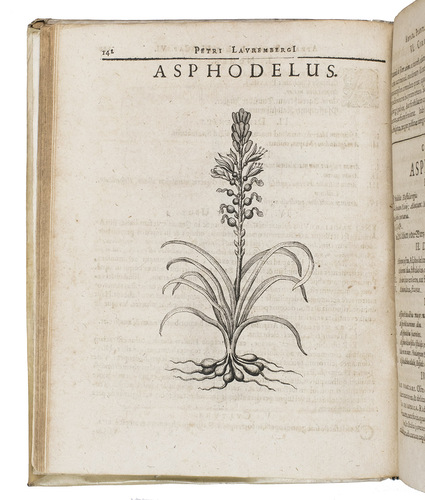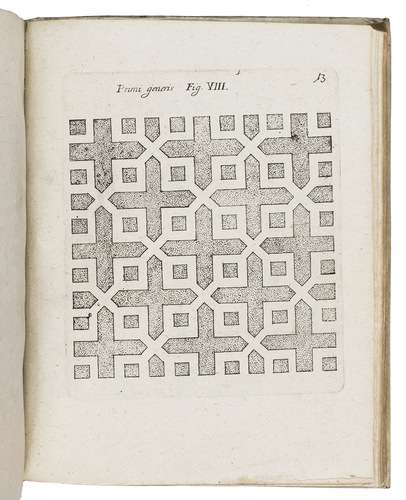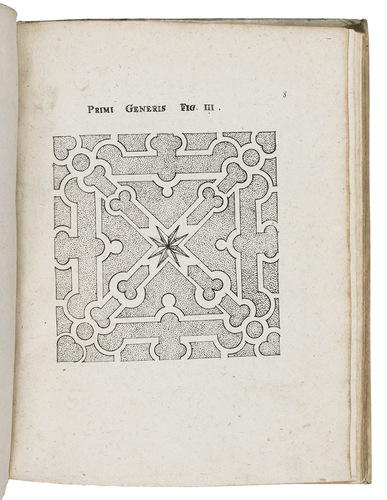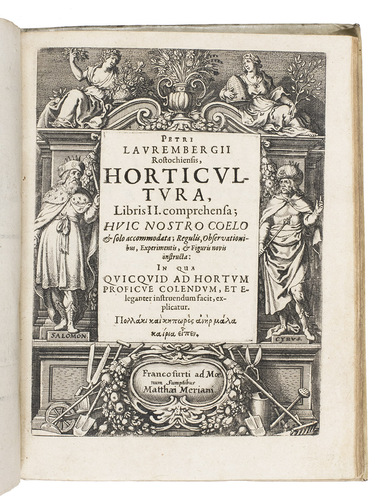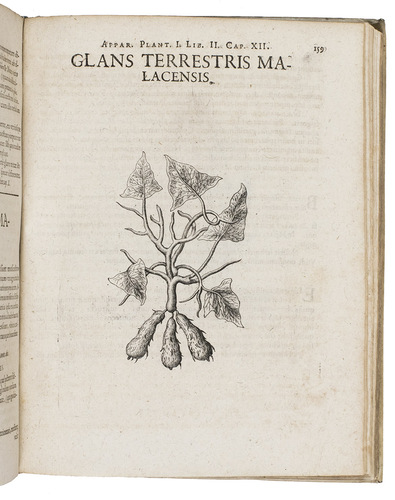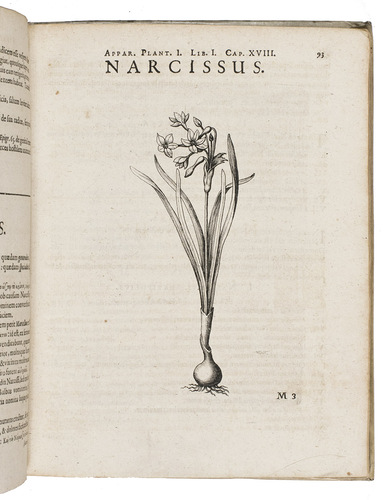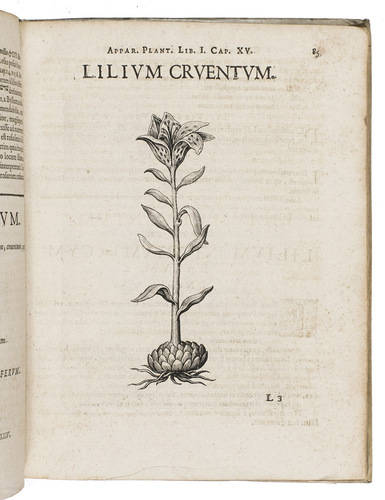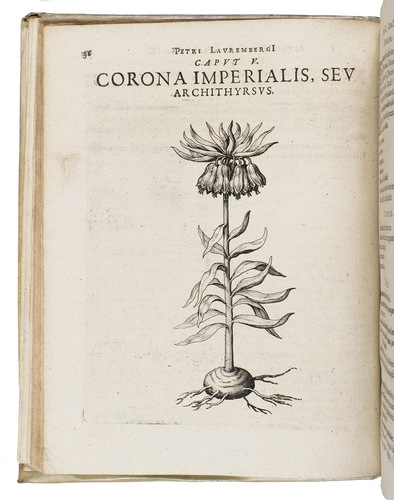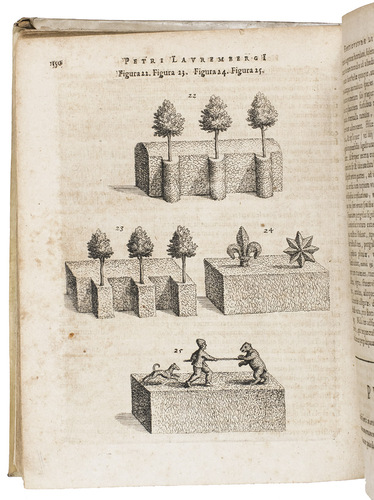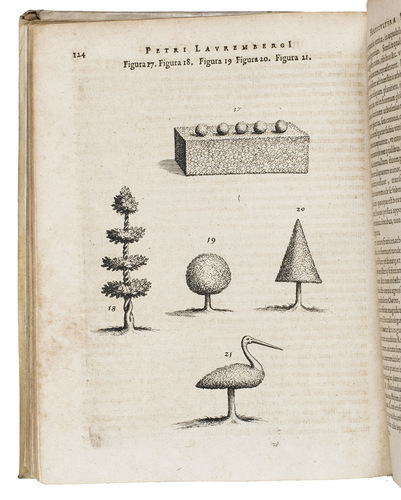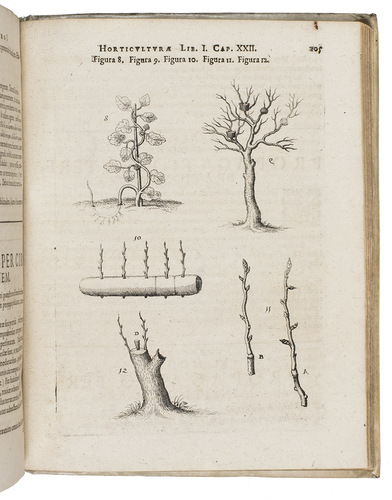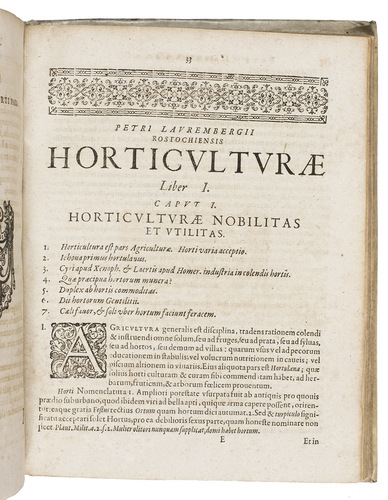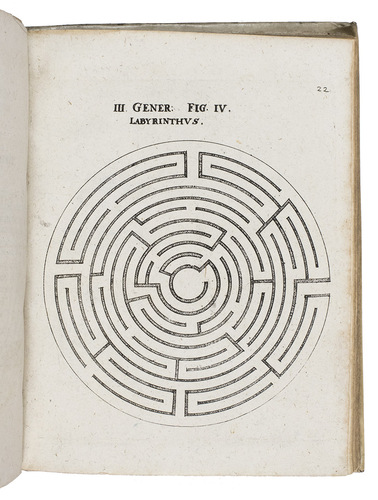 LAUREMBERG, Peter.
Petri Laurembergii Rostochiensis, Apparatus plantarius primus. Tributus in duos libros. I. De plantis bulbosis. II. De plantis tuberosis. Quibus exhibentur praeter nomenclaturas, Multiplices earum differentiae & species. Adiunctae sunt plantarum quarundam novarum novae ichnographiae, & descriptiones
Frankfurt am Main, Matthaeus Merian, [1632]. 2 works bound in one volume. 4to. Illustrated title pages (18,0 x 13,5 cm), headpieces, initials, 63 copperplate illustrations, endpieces.
With: (2): LAUREMBERG, Peter. Petri Laurembergii Rostochiensis, Horticultura libris II. comprehensa; huic nostro coelo & solo accommodata regulis, observationibus, experimentis, & figuris novis instructa: In qua quicquid ad hortum proficue colendum, et eleganter instruendum facit, explicatur (Frankfurt am Main, Matthaeus Merian, [1631]).
Vellum with a manuscript title on the spine. 168, [44]; 196 pp.
€ 6,500
First editions of the two primary botanical works by Peter Lauremberg, a scientist from Rostock (1585-1639), feature copperplate illustrations engraved either by Matthäus Merian the Elder or from his workshop. These works provide guidance on garden design, including valuable explanations about soil science, fertilization, pest control, planting beds, fruit cultivation, and garden tools, among other topics. They are widely regarded as highly influential works during their time. Lauremberg describes his own experiments and experiences, offering numerous well-founded and scientific instructions for cultivating and planting a wide range of beneficial plants. Additionally, he discusses the cultivation of fruit, flower, and herb gardens, as well as topiary and mazes. Merian's exquisite copperplate illustrations showcase garden tools used in the garden, as well as decorative figures for trimming bushes, hedges, and mazes, along with lilies.
This innovative horticultural treatise, featuring examples of garden design, was directly influenced by Vredeman de Vries. Lauremberg's notable contribution lies in his experimental proof of facts that were not yet accepted by botanists. The first part of the work primarily focuses on plant reproduction, compatibility between plants, propagation through seeds, stolons, and cuttings, as well as pruning, irrigation, and cultural techniques. The second part centers on orchards, flower gardens, herb gardens, and concludes with a list of medicinal plants. Merian's attractive plates illustrate contemporary gardening tools, 13 examples of raised beds (referred to as "pulvillus," similar to geometric plots in botanical gardens), four labyrinths of different shapes, and various garden tablets inscribed with mottoes, a backgammon board, and a sundial. The textual illustrations depict grafting and pruning techniques, along with intriguing topiary scenes. The allegorical title page combines emblematic figures and horticultural instruments within an architectural frame.
Light wear to binding and book block slightly detached. Some browning and foxing, otherwise in good condition. (I): Dünnhaupt 2555, 37.1; Hunt 221; Nissen BBI 1146; Wellcome 3681; (II): Dünnhaupt 2555, 36.1; Hunt 219; Nissen BBI 1147; USTC 2518789 (8 copies); VD17 23:261366M (7 copies); Wellcome 3682; Worldcat 255783855 (17 copies).
Related Subjects: