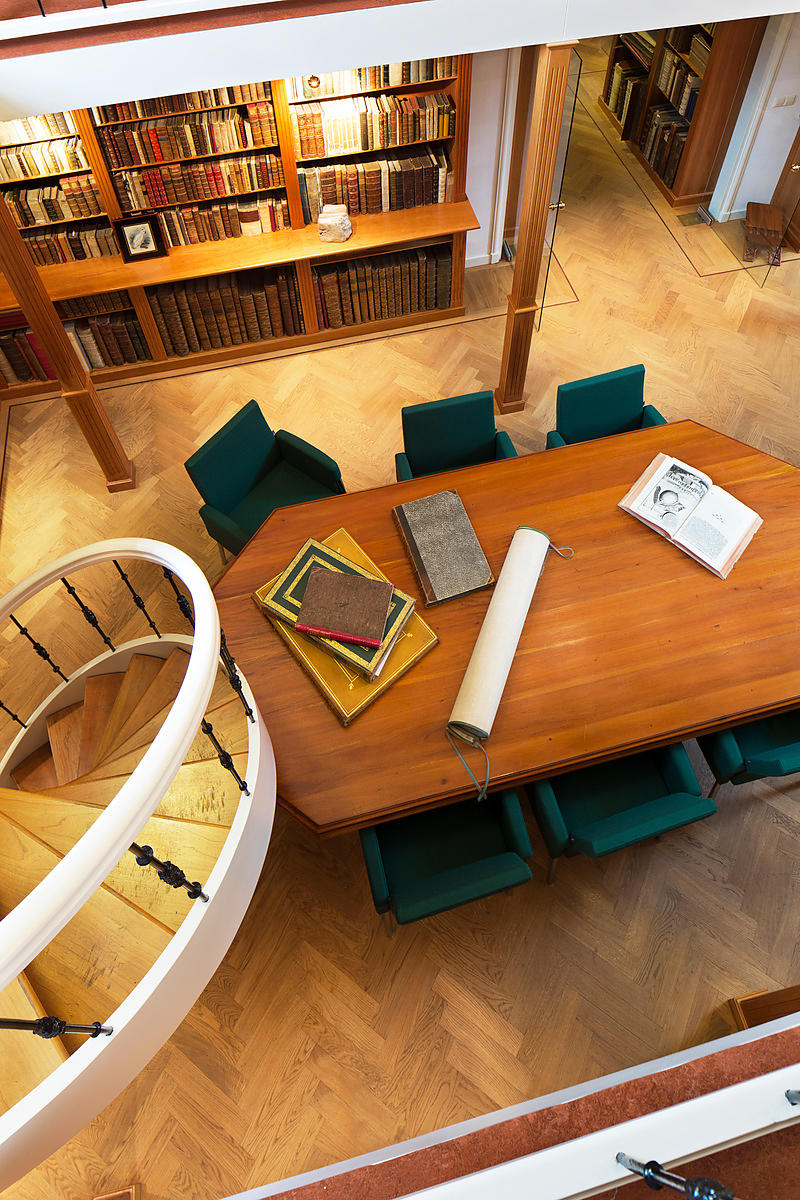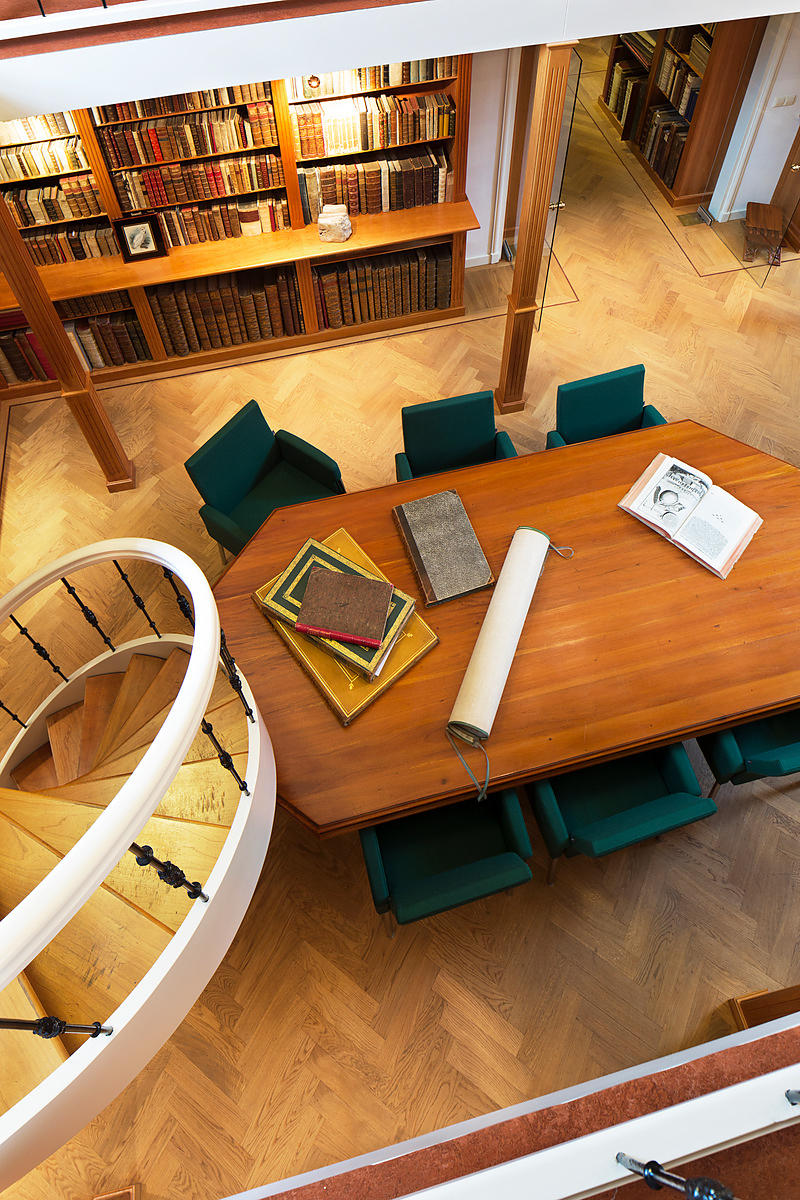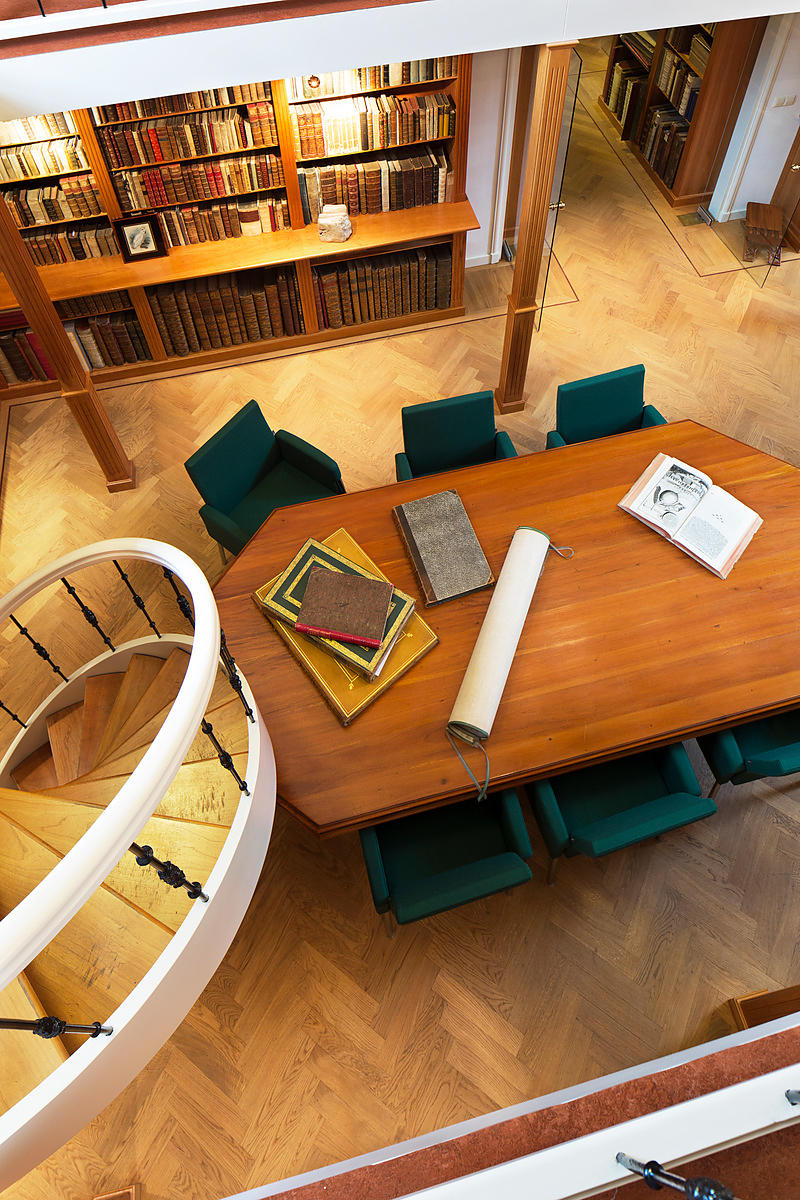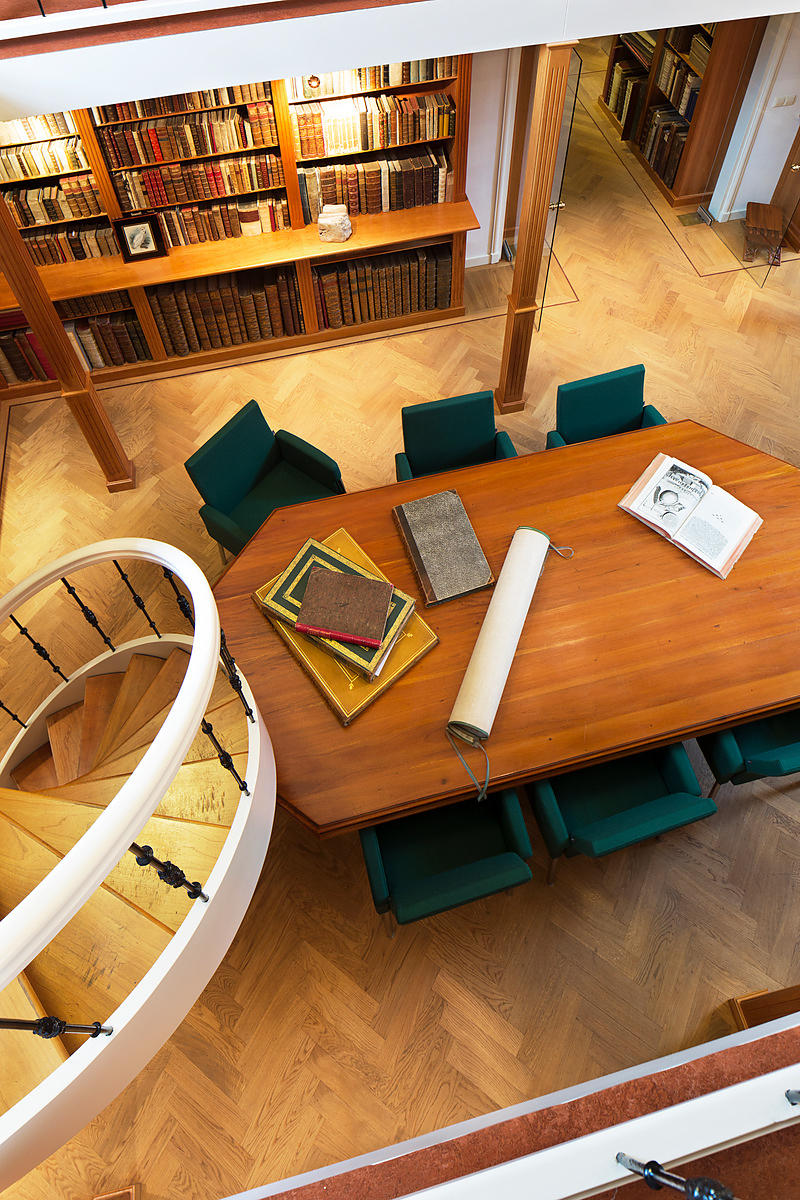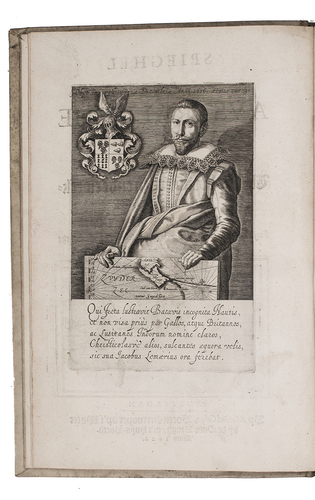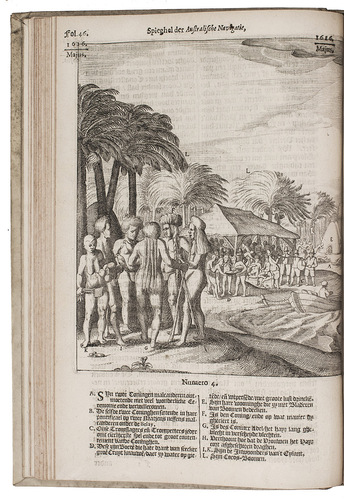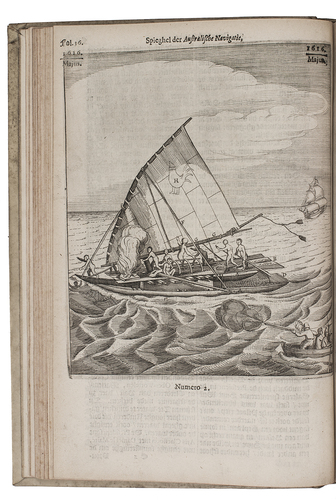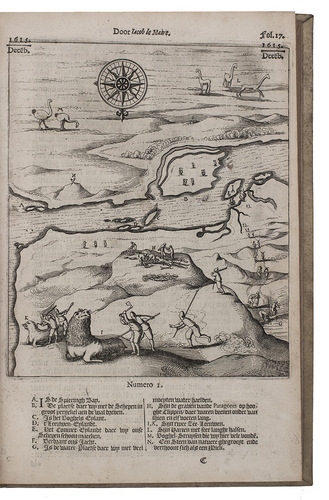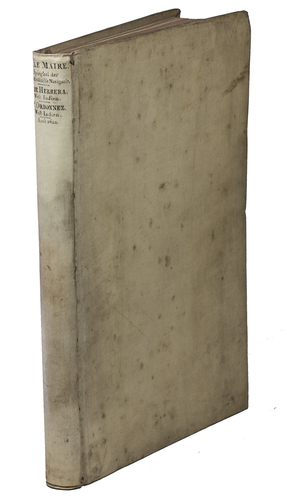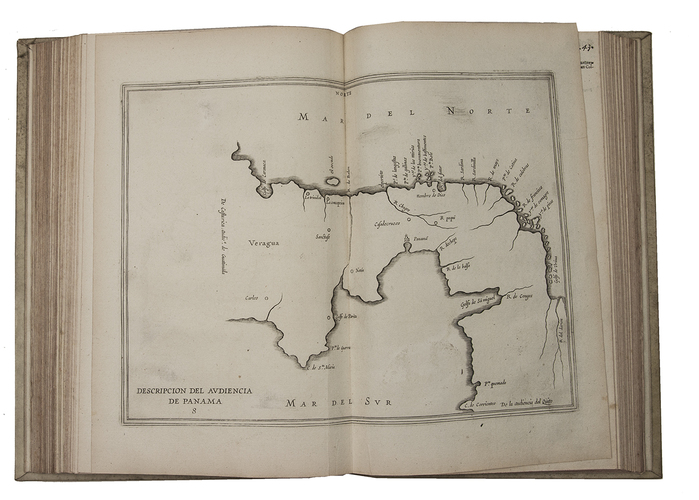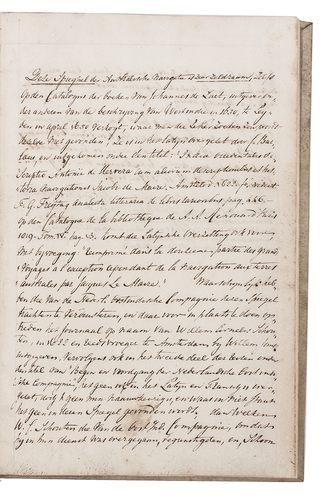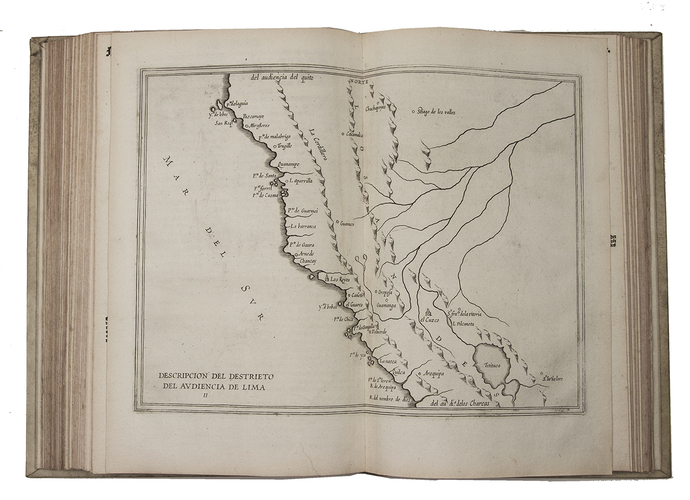 LE MAIRE, Jacob.
Spieghel der Australische navigatie, ...
Amsterdam, Michiel Colijn, 1622. With an engraved world map on the title-page, engraved portrait of the author on the back of the title-page, 3 double-page engraved maps, 5 nearly full-page numbered engraved views on integral leaves.
With:
(2) HERRERA Y TORDESILLAS, Antonio de. Nieuwe werelt, anders ghenaempt West-Indien. [engraved title-page:] Descriptio Indiae Occidentlis.
Amsterdam, Michiel Colijn, 1622. With engraved Latin title-page and 14 numbered double-page engraved maps.
(3) ORDONEZ DE CEBALLOS, Pedro. Eyghentlijcke beschryvinghe van West-Indien: ...
Amsterdam, Michiel Colijn, 1621. With a woodcut view on the title-page. 3 volumes bound as 1. Small folio (28.5 x 20 cm). 19th-century vellum. [16], 72 pp., 73-85 ll.; 8, 111, [1 blank]; 29, [1 blank] pp.
€ 28,000
First edition, in the original Dutch, of Jacob Maire's journal of his famous 1615-1617 voyage to circumnavigate the globe, together with the first Dutch edition of Herrera's description of the New World, and the first Dutch edition of Ordóñez de Caballos's description of the what was then called the West Indies (in fact including material on South and Central America). Le Maire's discoveries showed for the first time that Tierra del Fuego was an island and advanced our topographic knowledge on many other matters. The three works together include 19 maps and give the most detailed and up-to-date information then available about the topography of the Americas and parts of New Guinea, the East Indies and the Pacific islands. It also contains the first two maps to show the Baja peninsula and southern California as an island, an error that was copied for more than a century. These two new maps also show the non-existent northwest passage. Maps A-C (Tierra del Fuego, the South Pacific and the coast of New Guinea) include the route of Le Maire's voyage. The map of the Americas (with parts of the coasts of China and West Africa) includes the meridians that divided the world between Spain and Portugal according to the 1494 Treaty of Tordesillas .
With the bookplate of the great Dutch book collector Isaac Meulman (1807-1868) and several owners' inscriptions. With a few leaves trimmed close to the folio number but with no loss beyond one full point, and an occasional minor spot, smudge or small stain, but otherwise in very good condition. The boards are slightly bowed and show a few spots and smudges, with one corner bumped, but the binding is otherwise very good. A milestone in the history of exploration, especially for the America's, with 19 maps including the first two to show California as an island. Alden & Landis 622/77, 622/69, 621/93; Howgego L84; Palau 114296; Robert, Bibl. of Australia 433 & p. 109 between 529 & 530; Sabin 14348, 14352, 14353, 31542, 44059; Tiele, Bibl. 479.
Related Subjects: