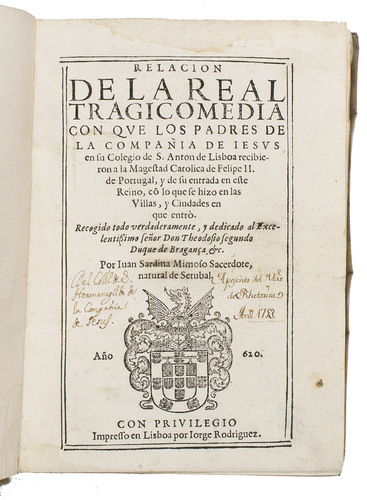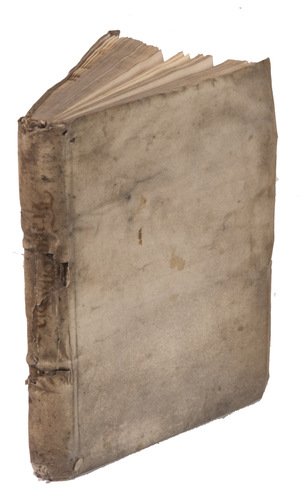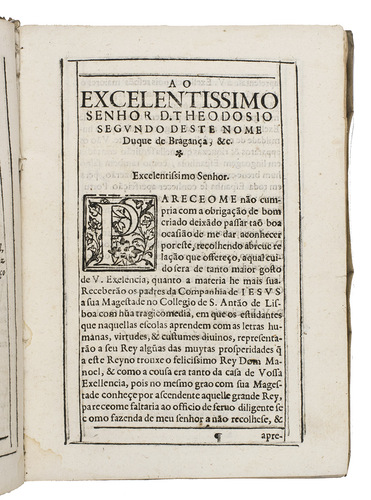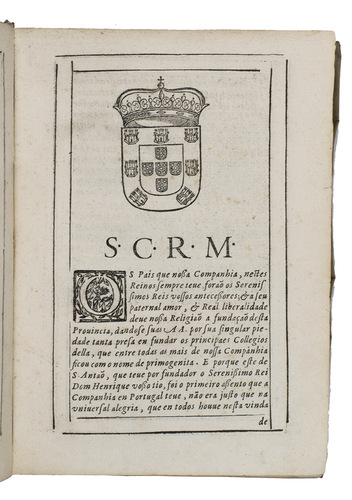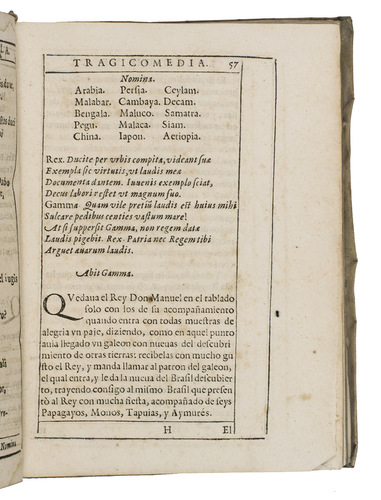 MIMOSO, João Sardina.
Relacion de la real tragicomedia ...
Lisbon, Jorge Rodriguez, 1620. 4to. With the elaborate woodcut coat-of-arms of the dedicatee, the Duke of Braganza, on the title-page, and the woodcut coat of arms of Portugal and/or King Philip II of Portugal at the head of his dedication on leaf [6]r, all text is set within a double fillet frame, and with woodcut decorated initials. Contemporary parchment binding with manuscript title on spine. [10], 163, [1] ll.
€ 9,500
First and only edition of a captivating account of a tragicomedy play, written by João Sardina Mimoso, a priest from Setubal near Lisbon. It is a detailed account in Spanish, Portuguese and Latin, of an early play on the discovery of Brazil by the Portuguese, which was originally written by Antonio de Sousa (ca. 1591?-after 1619), who was a Jesuit. "Included is a section in which a ship captain announces the news of the discovery of Brazil. He has with him Tapuia and Aimore Indians, parrots and monkeys. They all sing a Chorus Brasilicus, in Portuguese and Tupi. Next there is a dialogue between the King (Manuel I of Portugal), who speaks Portuguese, and a monkey who speaks alternately in Portuguese and Tupi." (Borba de Moraes). King Manuel I of Portugal (1469-1521) began the Portuguese colonisation of the Americas and Portuguese India, and oversaw the establishment of a vast trade empire across Africa and Asia. This was made possibly by his sponsorship of numerous renowned Portuguese explorers and navigators, including Vasco da Gama, Pedro Álvares Cabral, and Afonso de Albuquerque.
The play was staged by the Jesuits at the College of Saint Anthony (Collegio de Santo Antaõ) in Lisbon on the occasion of the entry of King Philip III of Spain as King of Portugal in Lisbon in August 1619. The present work not only offers specific information about the staging of the play, such as the stage's dimensions, the colours of curtains and backgrounds, but also includes a more general account of these entrance celebrations (ll. 126-163).
WIth a manuscript owners inscription on the first free flyleaf: "Del Coll. de S. Hermenegildo de la Compañia de Jésus. Aposento del M[agistr]o de Rhetorica. Año 1753 [or 1793]." [= The College of San Hermenegildo in Sevilla, the book was probably kept in the room of the master of rhetoric]. The spine shows some signs of wear and the back boards shows some brush markings in black paint, internally slightly water stained (not affecting the text) and occasionally very slightly browned. Otherwise in very good condition. Alden & Landis 620/142; Antonio, Bibliotheca Hispana Nova, vol. 1, p. 777; Backer-Sommervogel IV, 1862-63; Barbosa Machado vol. 1, p. 397; Borba de Moraes II, 571-2; Fréches, Théâtre neo-latin au Portugal, p. 172; Garcia Peres, Catalogo razonado biografico, p. 385; Iberian Books 60251, 127055, 127056; Innocencio DBP vol. 10, p. 346 6644; Maggs, Bibliotheca Brasiliensis 114; Marinha, Impr. Sec. XVII, 531; Palau 302072, 319792, 319931; Pinto de Mattos (revisto e prefaciado, 1878) p. 385; Porbase 246988 (5 copies) http://id.bnportugal.gov.pt/bib/porbase/246988; Sabin 69184; Silva, Condessa de Arambuja, 2344; USTC 5011023, 5111482, 5111484.
Related Subjects: