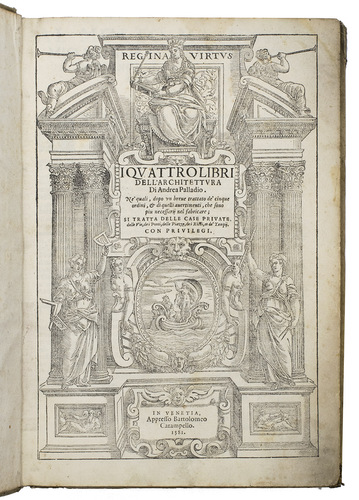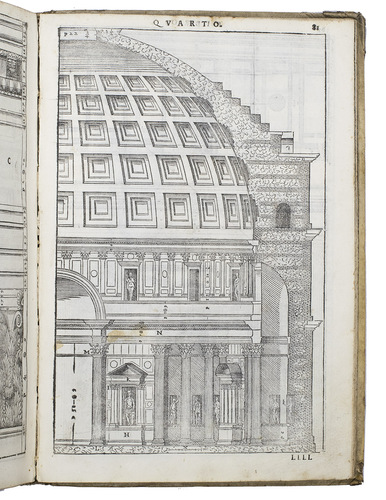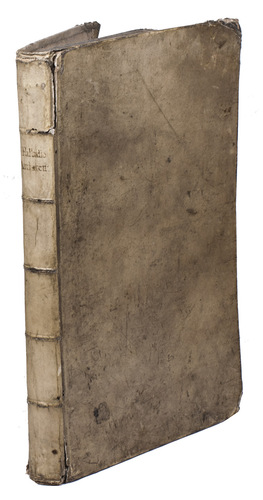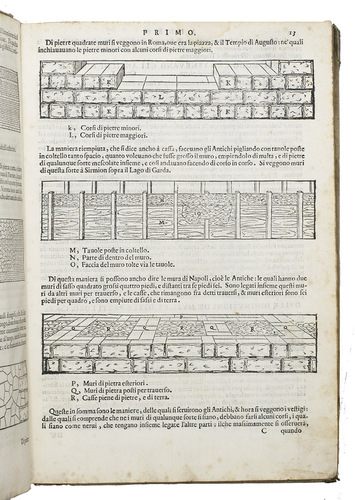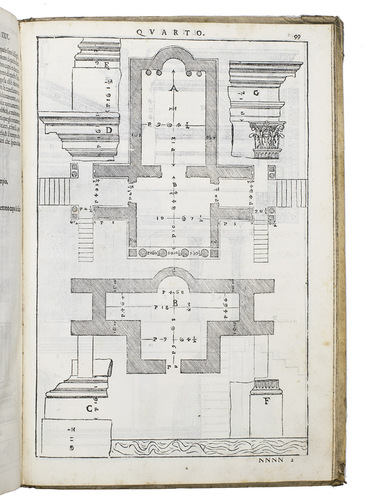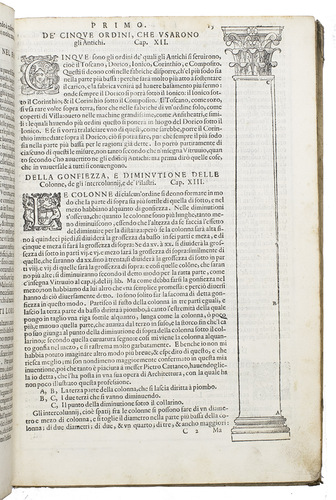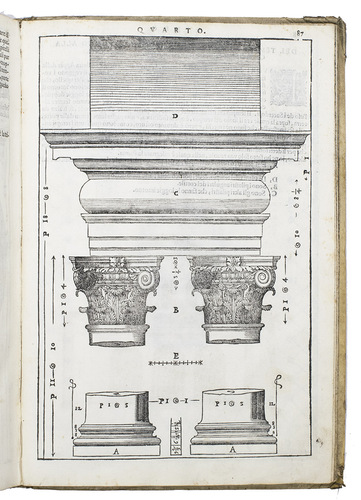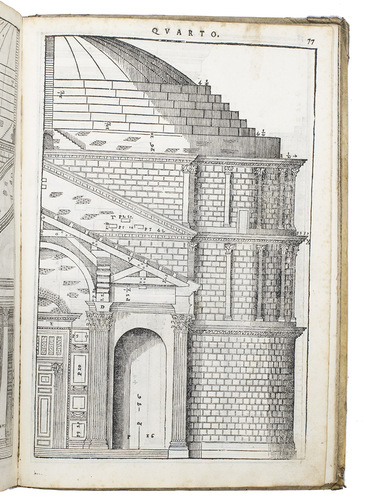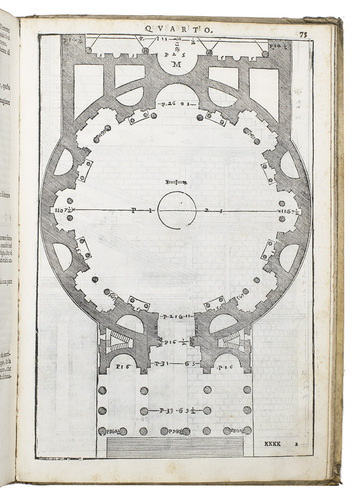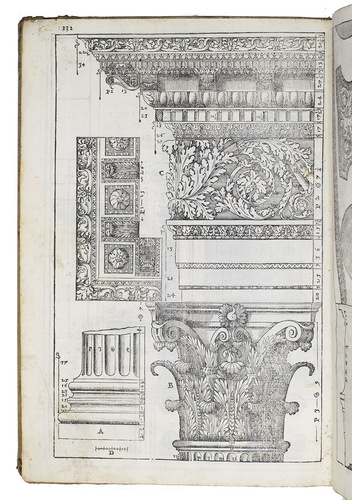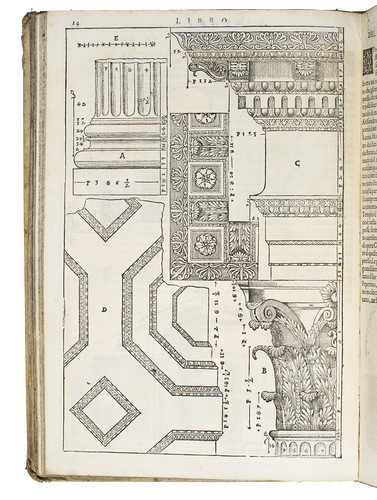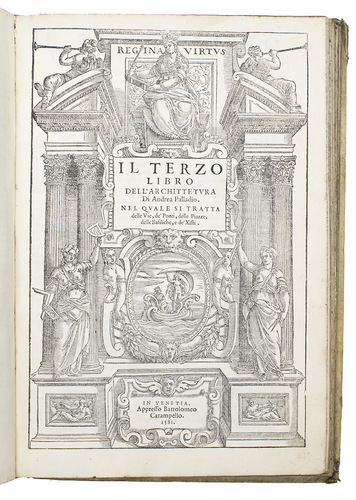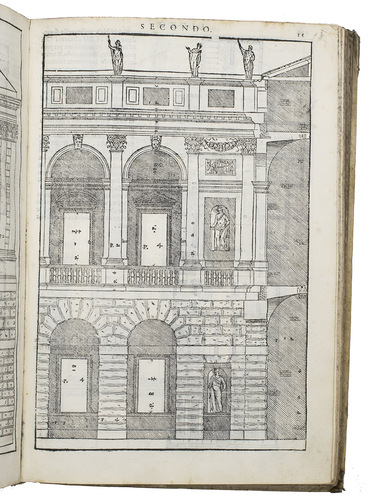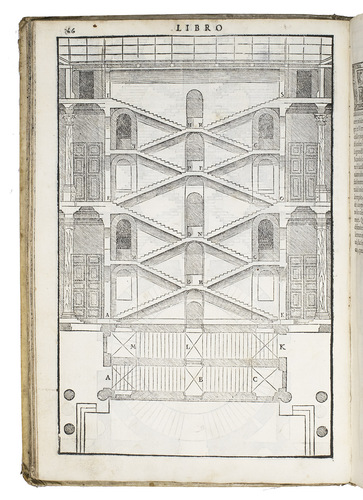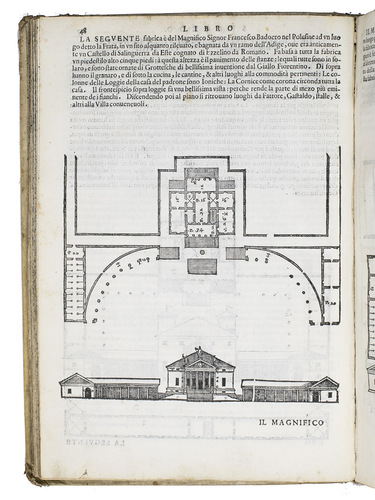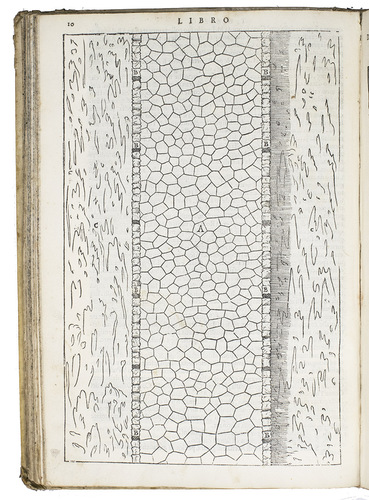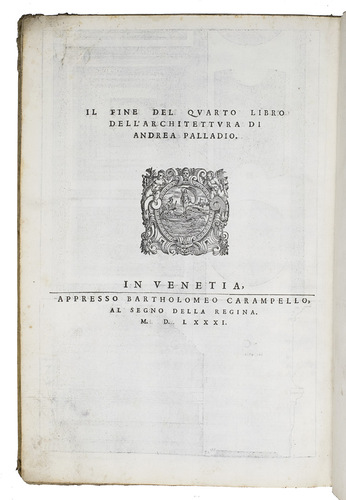 PALLADIO, Andrea.
I quattro libri dell'architettura di Andrea Palladio. Ne' quali, dopo un breve trattato de' cinque ordini, et di quelli avertimenti che sono piu necessari nel fabricare; si tratta delle case private, delle vie, de i ponti, delle piazze, de i xisti, et de' tempii.
Venice, Bartolomeo Carampello, 1581. Folio. 4 volumes bound as 1. With 4 title-pages, each with the same richly decorated woodcut architectural frame, more than 200 woodcut illustrations, Carampellos woodcut device, woodcut headpieces and decorative initials. 67, [1 blank], 78, [2 blank], 46, [1], [1 blank], 133, [1], [2 blank] pp.
€ 7,500
Second edition of a one of the most influential texts on Renaissance architecture, first published (with the same woodcuts) in 1570. It is divided into four books that cover a range of topics, including: the choice of materials, construction techniques and the various architectural orders; a series of architectural projects by Andrea Palladio, including city palaces, villas and other buildings; the construction of streets, bridges, squares and basilicas; and surveys of ancient Roman buildings. This work secured Palladios as once of the most influential sources for Western architecture, his works being valued for their high Renaissance calm and harmony. The elements of Italian Renaissance architecture had already been used by other architects before Palladio, but his innovative refinements created his own new and distinctive style.
The first book of his present four books of architecture, dedicated to Giacomo Angarano, discusses the selection of materials, construction techniques, and different architectural orders, including the Tuscan, Doric, Ionic, Corinthian and Composite. It also illustrates various architectural elements, such as bases, columns, architraves, arches, capitals, entablatures, vaulted ceilings, floors, doors, windows, fireplaces, roofs and stairs. The second book features a collection of architectural projects by Palladio, including city palaces, villas (13 were completed according to the project and others partially completed or unfinished), and other unaccomplished projects. The third book, dedicated to Emanuele Filiberto di Savoia, describes the construction of straight stone-paved streets, wooden and stone bridges, ancient squares built by the Greeks and Romans, and basilicas, including the basilica designed by Vitruvius in Fano and the Palladian Basilica in Vicenza. The fourth book includes surveys of ancient Roman buildings, among them rectangular temples in various locations, a rectangular Roman basilica, and various central temples or basilicas in Rome and nearby areas.
Palladios lasting influence on architectural style in many parts of the world was exercised less through his actual buildings than through his textbook (PMM, p. 55). Thomas Jefferson, a fan of Palladio, referred to this text as "the Bible" of architecture and used it as a reference when designing his own Monticello residence in a neo-Palladian style. The impact of this text on architectural style around the world is said to be even greater than the influence of Palladio's actual buildings.
Text and illustrations in very good condition; binding somewhat worn, with cracks at the head and foot of the hinges, but still good. Adams P101; BAL 2384; Berlin Kat. 2594; Cicognara 595; EDIT16 23738; Fowler 213; Millard IV 66; PMM 92; RIBA 2384; Schlosser 377; USTC 846303; WorldCat 939437982.
Related Subjects: