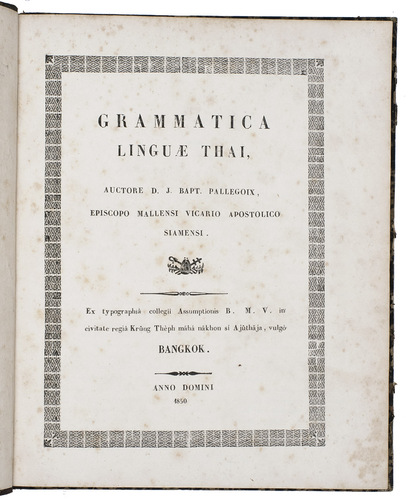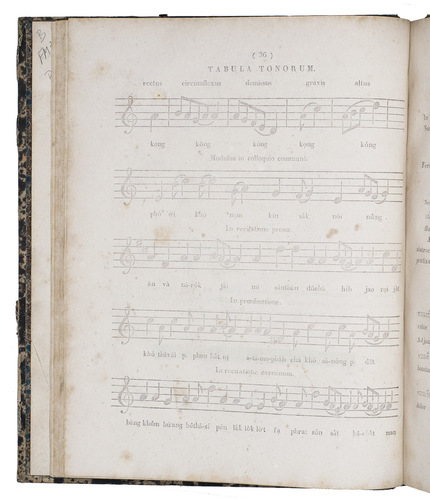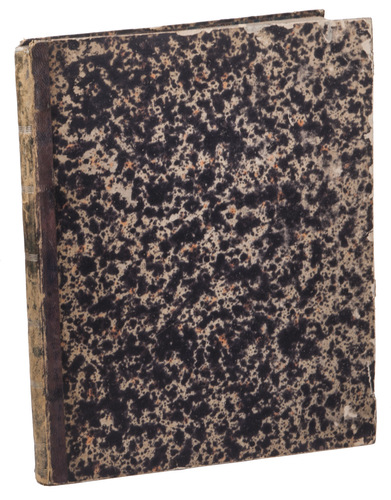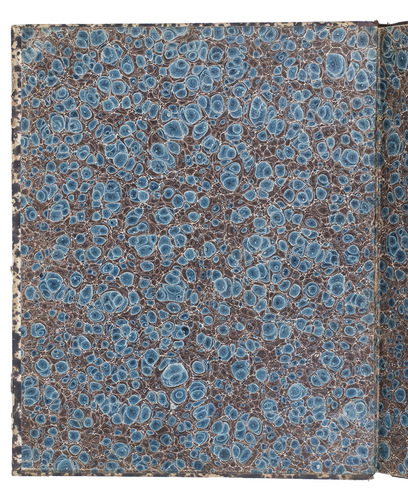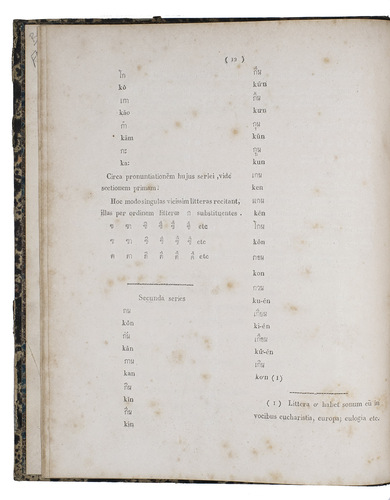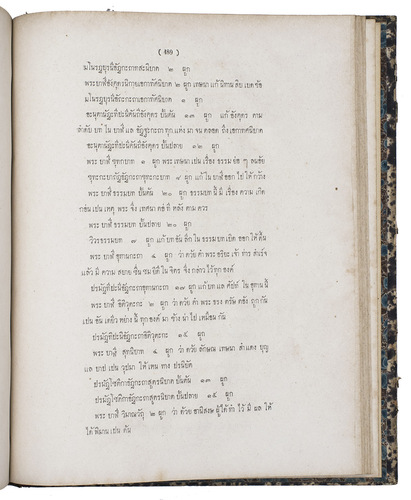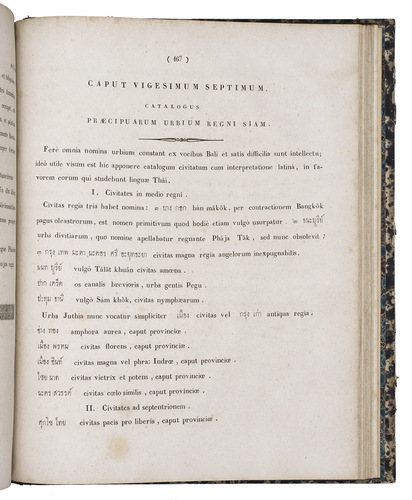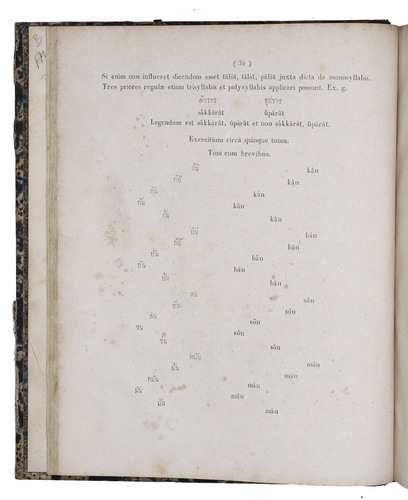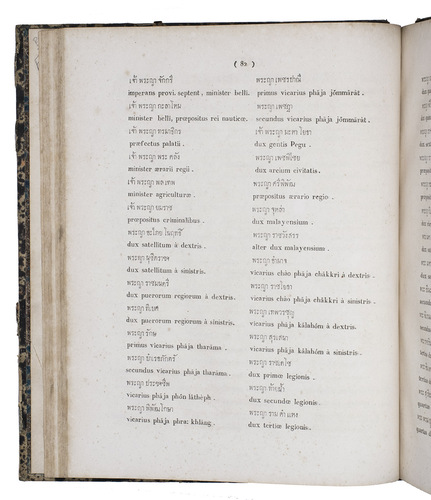 PALLEGOIX, Denis-Jean-Baptiste.
Grammatica liguae Thai, auctore D.J. Bapt. Pallegoix, episcopo mallensi vicario apostolico Siamensi.
Bangkok, ex typographia collegii assumptionis B.M.V., 1850. 4to. Title in a frame built up from of typographic ornaments, the texts is set in Thai and Latin script and with one page (p. 36) of music notation. Contemporary half gold-tooled mottled sheepskin, decorated paper over boards, marbled endpapers. [2], 241, [3] pp.
€ 12,500
Original extremely rare edition of the first Siamese grammar (Thai), one of the first works printed in the capital of present-day Thailand. According to Brunet, only twenty-seven copies of this precious grammar reached Europe.
Pallegoix opens his book with a comprehensive description of the origin and character of the Thai language: "[...] it may be noted that the Thai language, like the Lao language, derives its origin from the Brahmins coming from the eastern part of India. [...] As for the nature of the Thai language, it must be known that it consists mostly of monosyllabic words and not a few polysyllabic words taken from Sanskrit or Balinese. It includes the main parts of speech such as nouns, adjectives, verbs, etc. from which phrases are composed; but the principal character of this language consists in the fact that the monosyllables are joined together" (p. 1). The grammar then delves into a study of the vowels and consonants and the correct pronunciation as well as a detailed description of the accents used in the Thai language. Pallegoix devotes much space to a description of the intricate system of the correct usage of titles and the various styles of conversion in Thai. For without a proper grasp of these concepts, a learner of Thai would potentially risk insulting a conversational partner.
Jean-Baptiste Pallegoix, who was born in Combertault, France in 1805, served as the vicar apostolic of Eastern Siam. After being ordained as a priest of the Société des Missions Etrangères on May 31, 1828, he was appointed as Coadjutor Vicar Apostolic of Siam and titular bishop of Mallus on June 3, 1838. He was consecrated as bishop on the same day by Jean-Paul-Hilaire-Michel Courvezy, the vicar apostolic of Siam. In 1841, he succeeded Courvezy and became the vicar apostolic of Eastern Siam. King Mongkut held Bishop Pallegoix in high regard, and they frequently discussed various topics. The king even attended Pallegoix's funeral in 1861 personally.
The spine is faded and somewhat rubbed, the edges of the boards show signs of wear, somewhat foxed throughout. Otherwise in good condition. Cordier, Indosinica, 855, WorldCat 255024435.
Related Subjects: