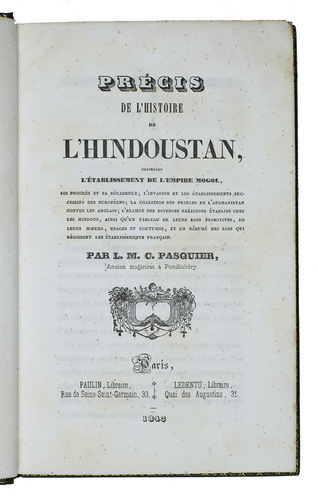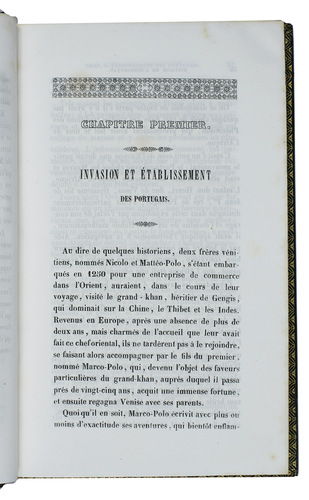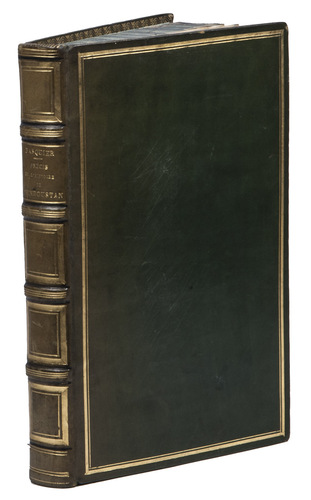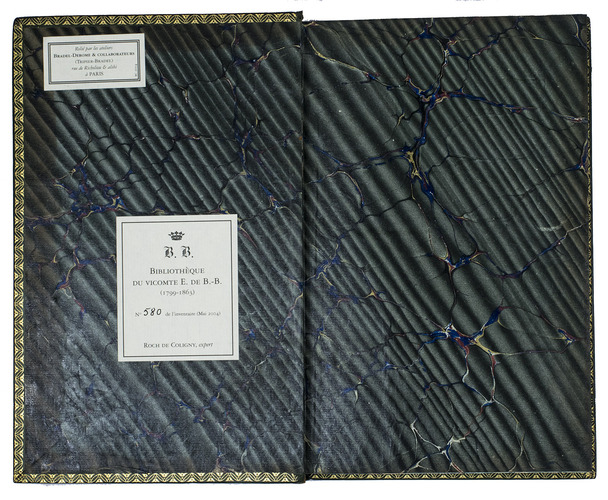 PASQUIER, L.M.C.
Précis de l'histoire de l'Hindoustan, contenant l'établissement de l'Empire Mogol, ses progrès et sa décadence, l'invasion et les établissements successifs des Européens, la coalition des princes de l'Afghanistan contre les Anglais, l'examen des diverses religions établies chez les Hindous, ainsi qu'un tableau de leurs lois primitives, de leurs moeurs, usages et coutumes, et un résumé des lois qui régissent les établissements français.
Paris, Paulin and Ledentu (facing the title-page: Arbois, Imprimerie d'Auguste Javel), 1843. 8vo. 19th-century green polished calf by Bradel-Derome (bookbinder's ticket on front paste-down. [4], 554 pp.
€ 3,750
First edition of an important and accurate history of Hindustan (meaning more or less the whole of India) as written by a former magistrate of Pondicherry (Puducherry). It describes how Europeans settled in India and established European trading posts here, but it also discusses the development of the Mughal Empire, which occupied most of India in the 16th and 17th centuries. In addition to these developments, Pasquier describes in this work the politics and jurisprudence, the Hindu religion and mythology, feats, customs, habits and other cultural aspects of Hindustani life, such as marriage, death, funerals, the caste system and its rules of politeness. Altogether a very important, comprehensive and interesting history of the Hindustan culture and history.
The book was formerly part of the library of Vicomte Eugène de Bourbon-Busset (1799-1863), who was Viscount of Busset and Count of Lignières, with its bookplate on the front paste-down. A small part of the back board a little shaved, spine a little discoloured, some leaves slightly stained or foxed, but overall in good condition.
Related Subjects: