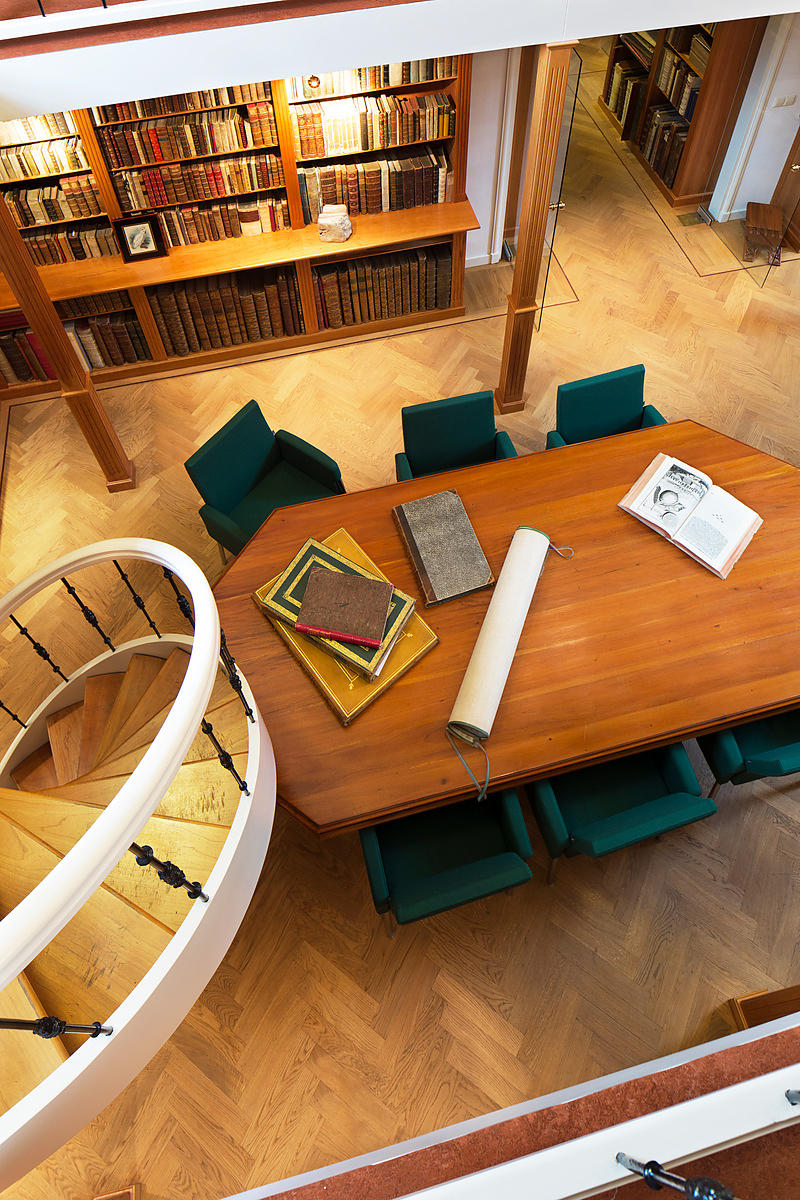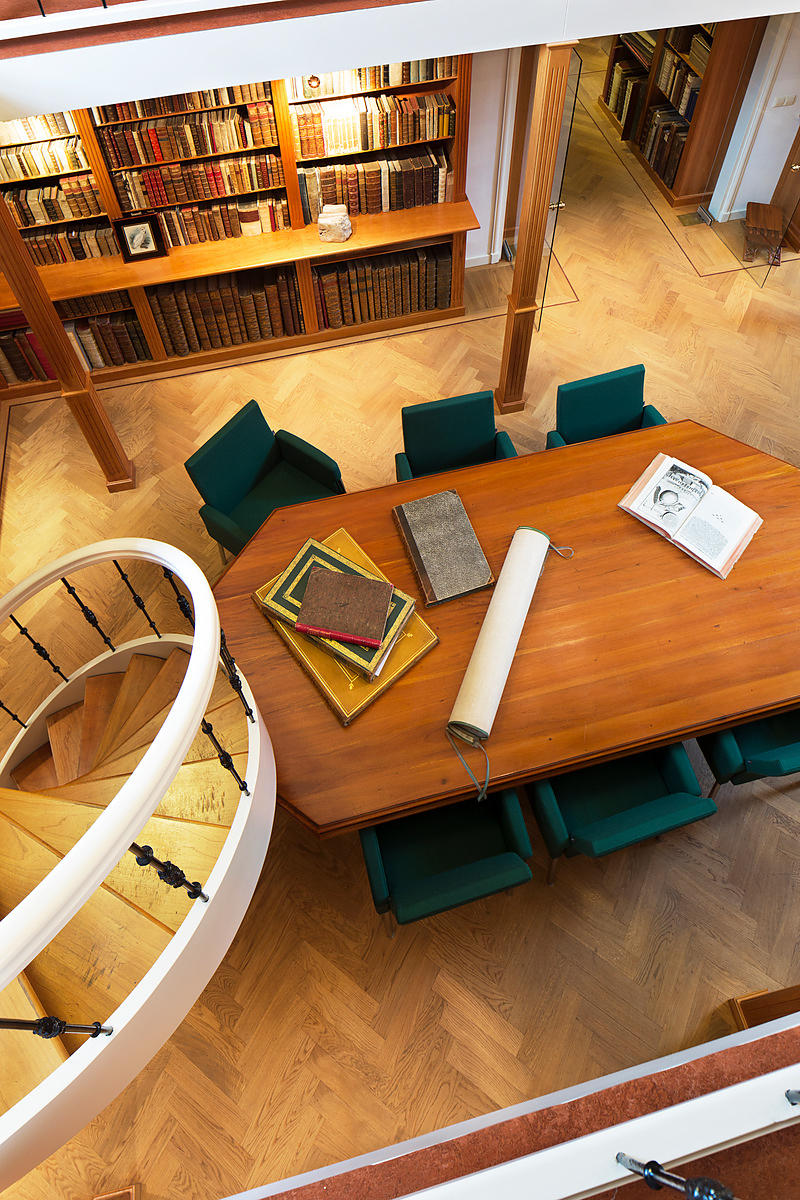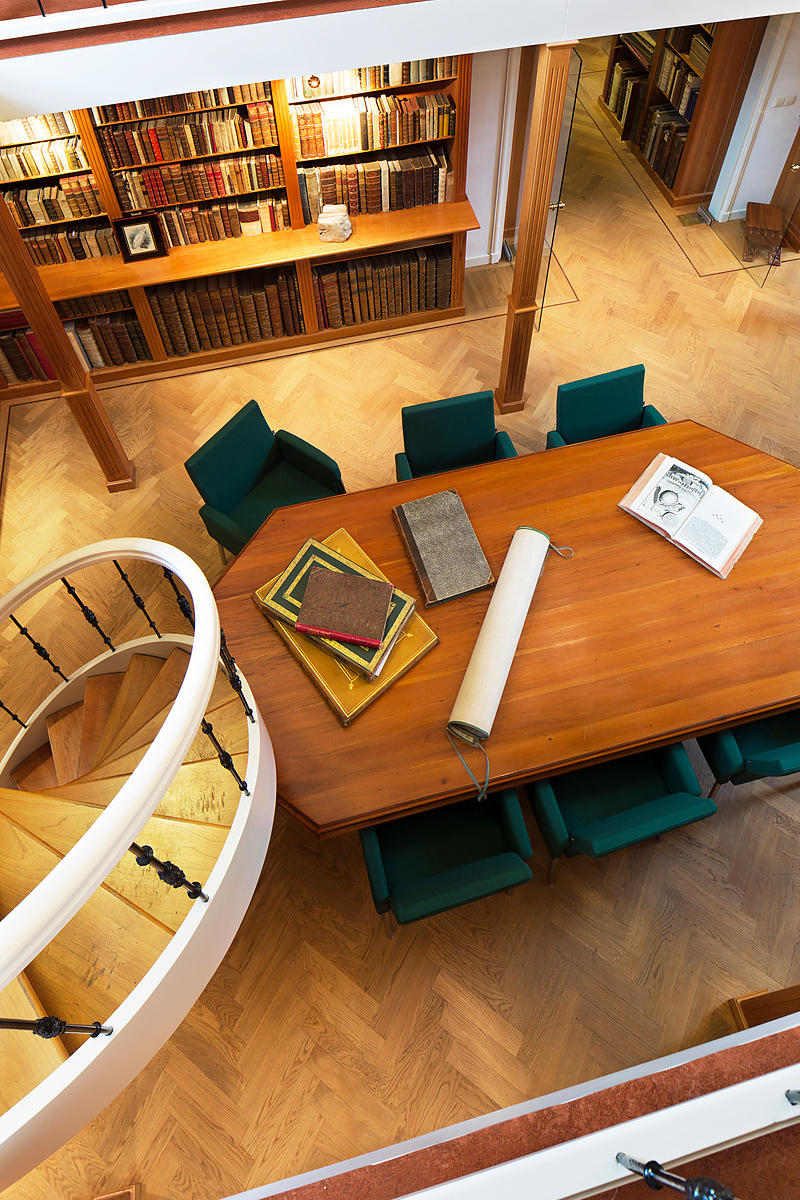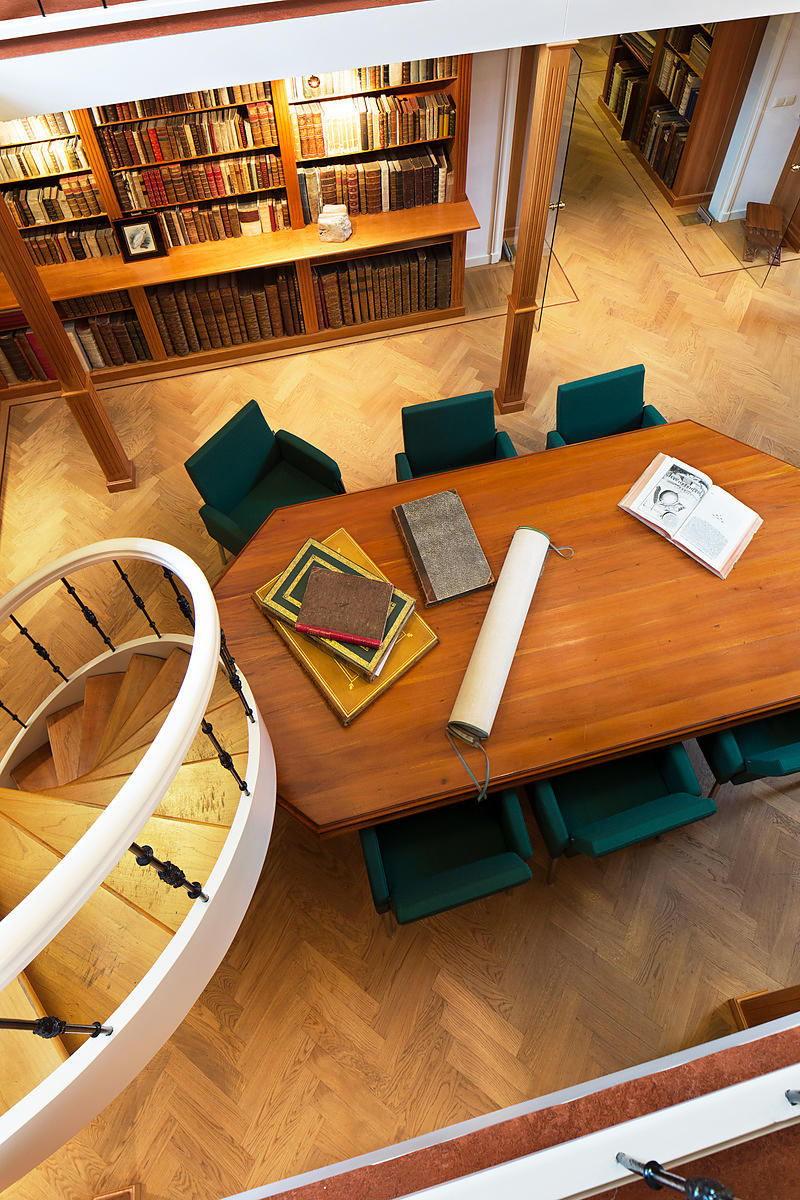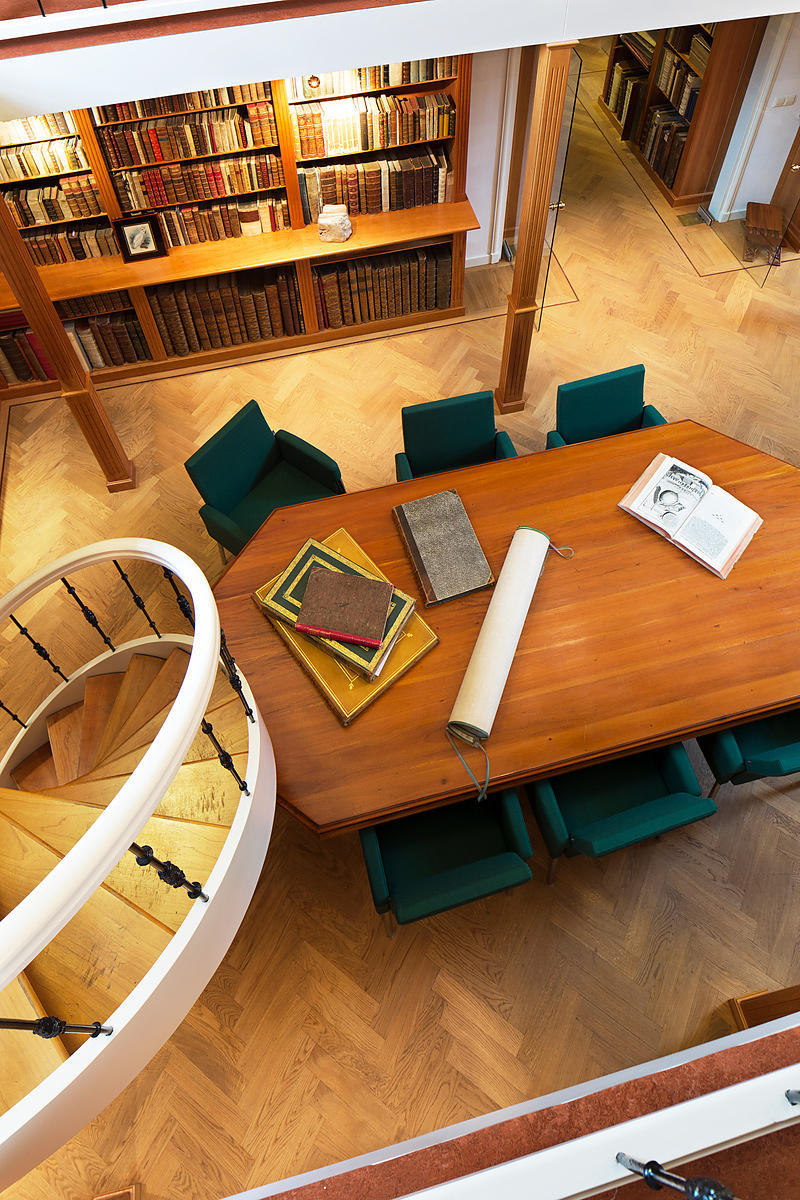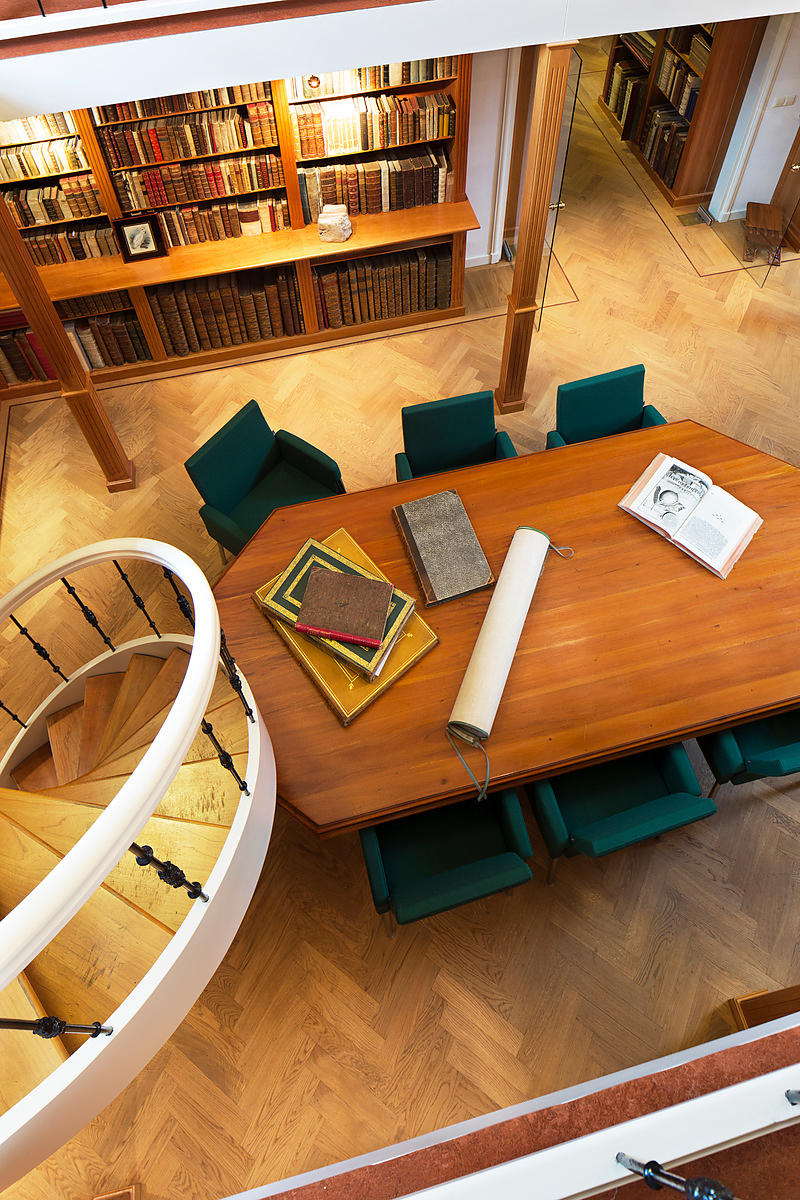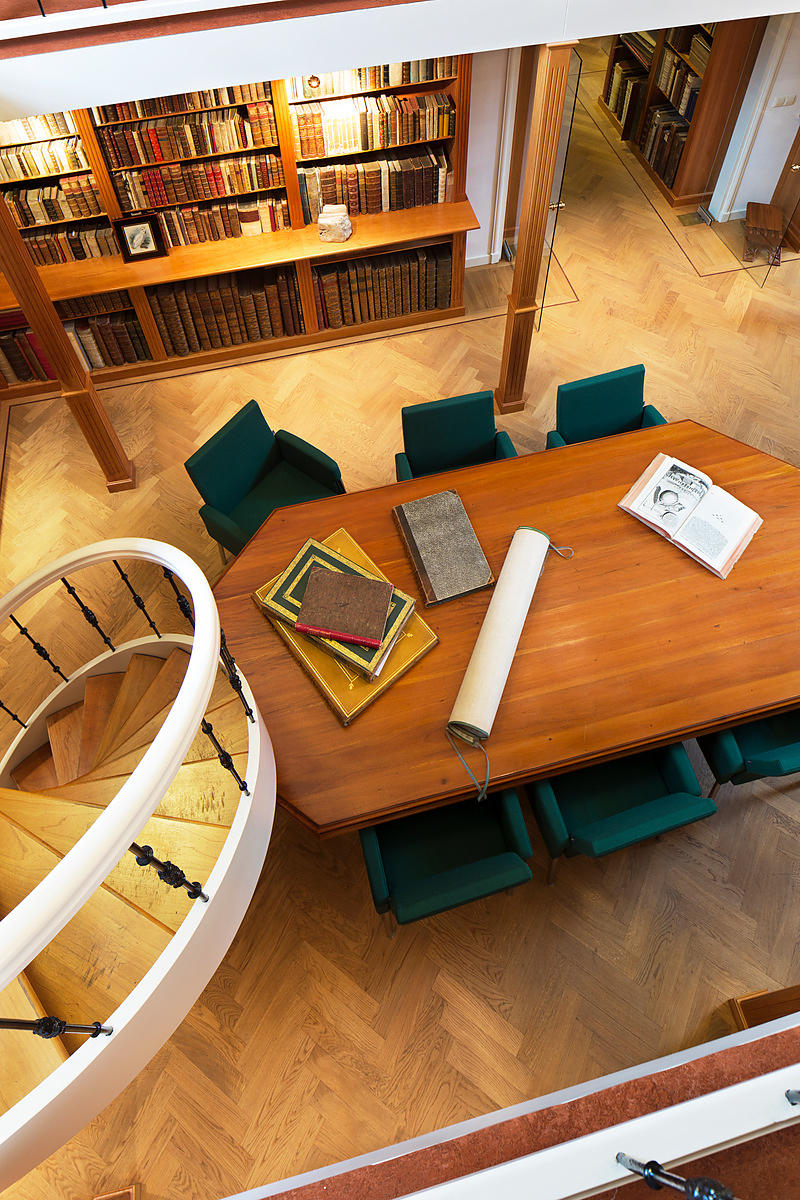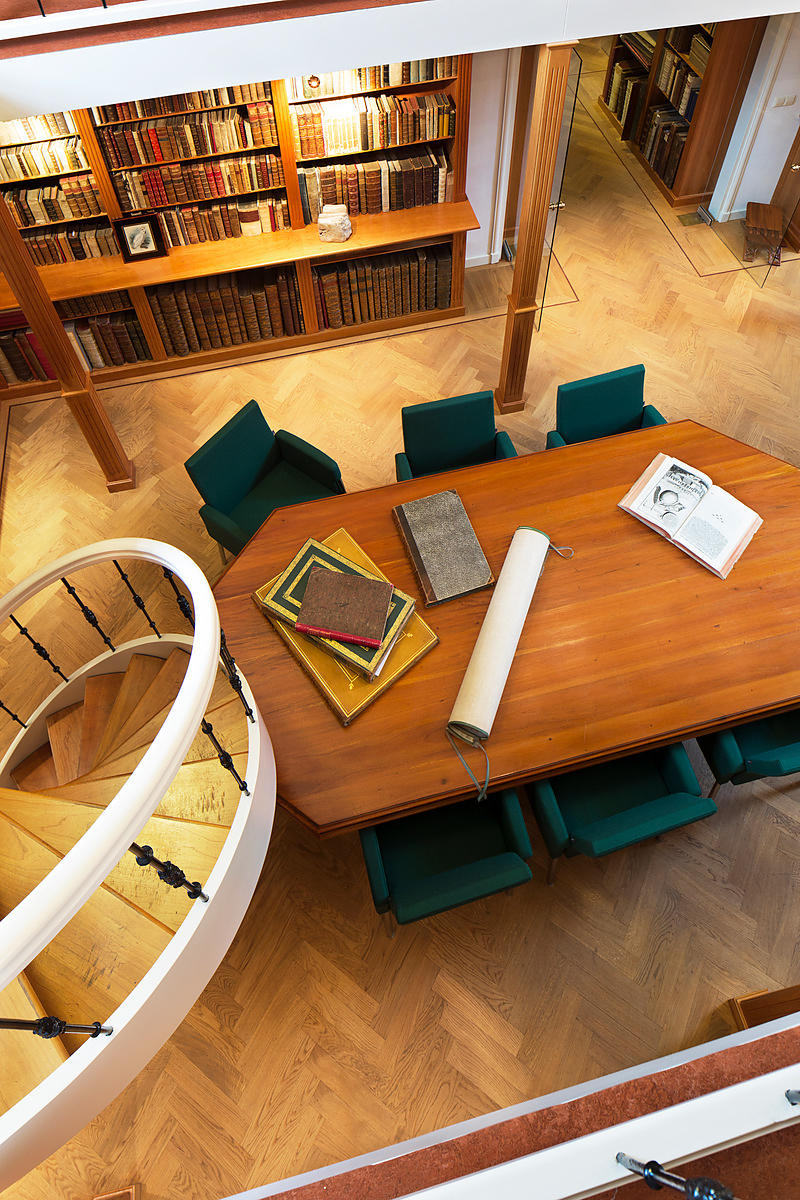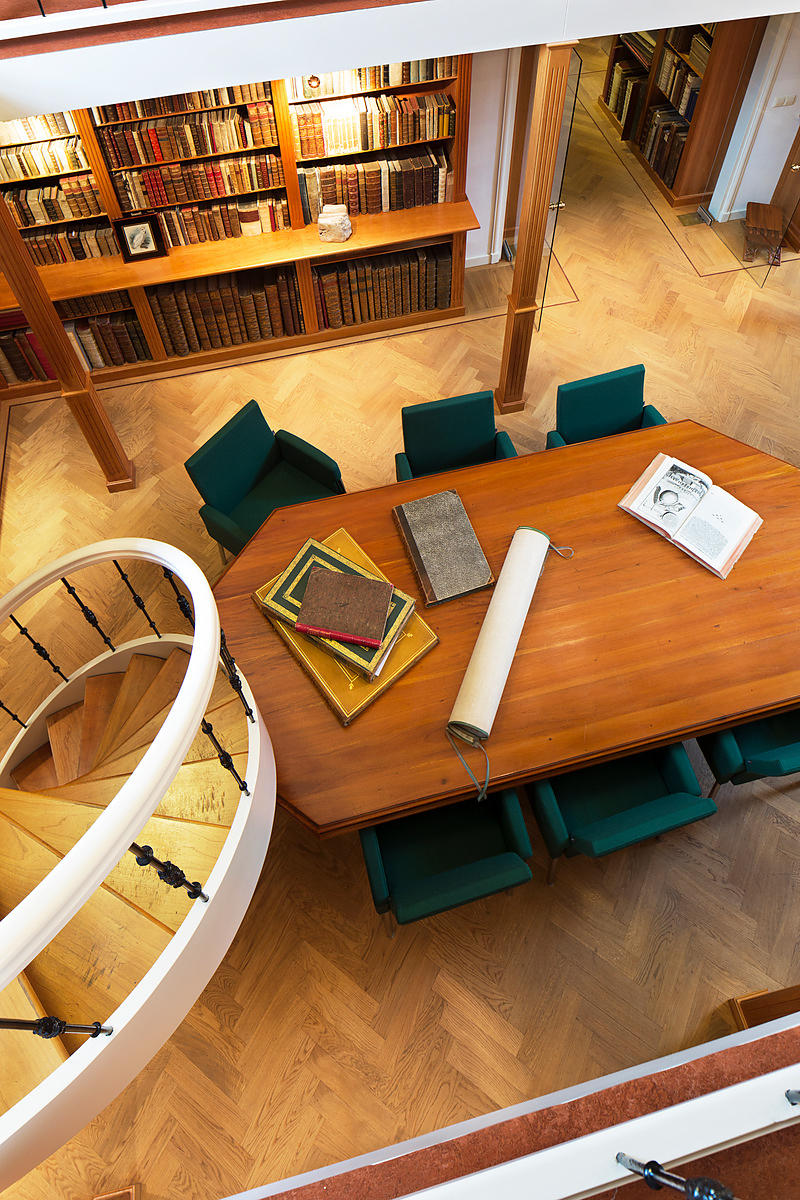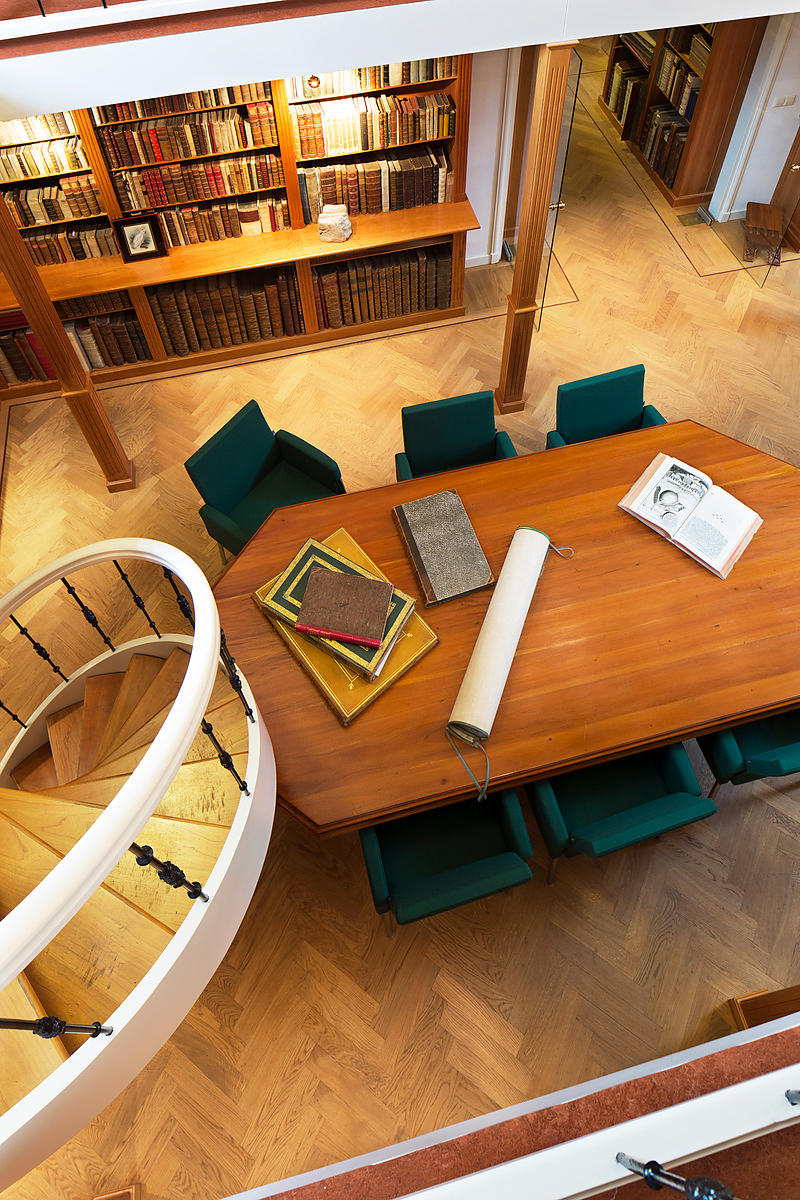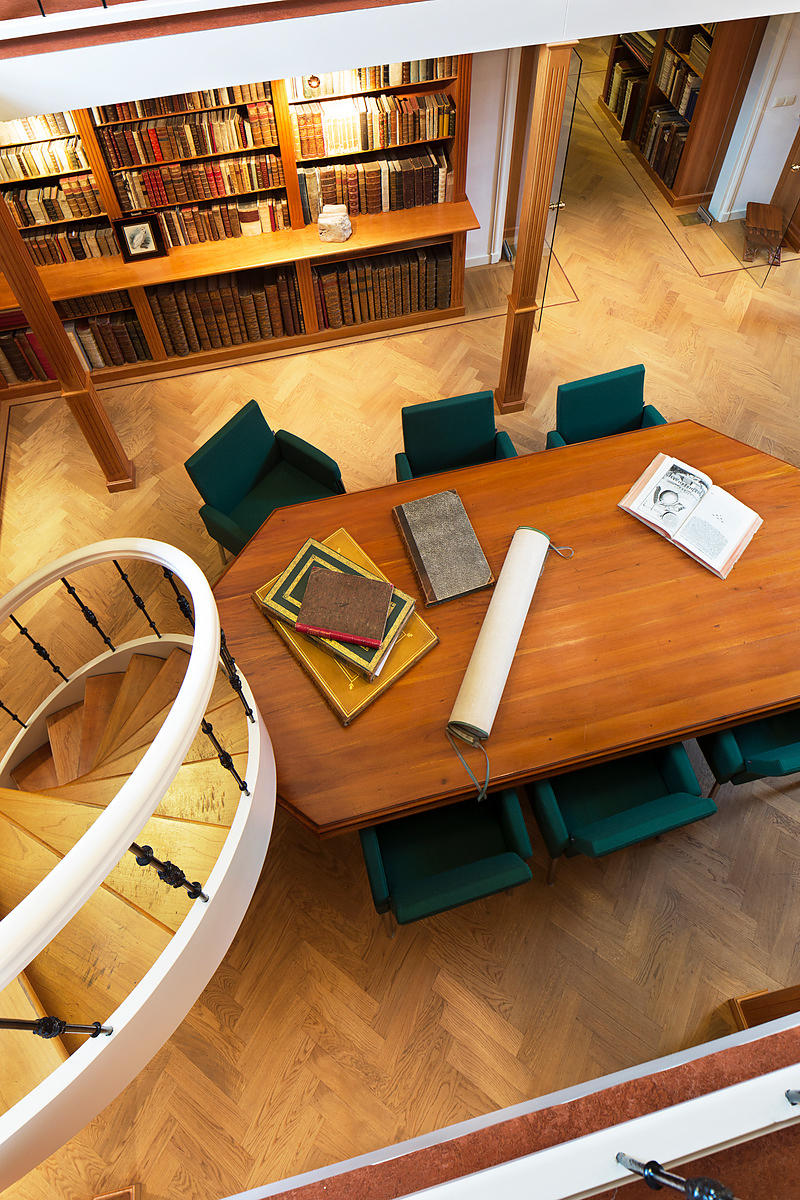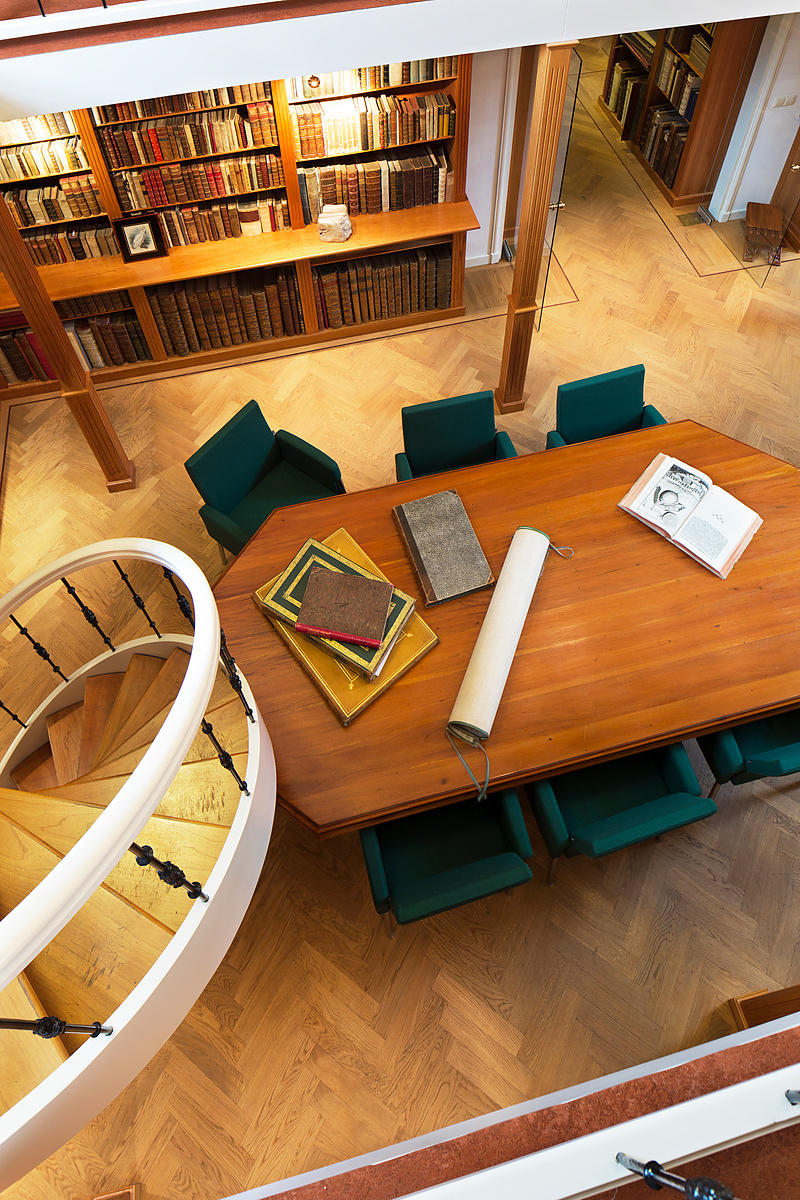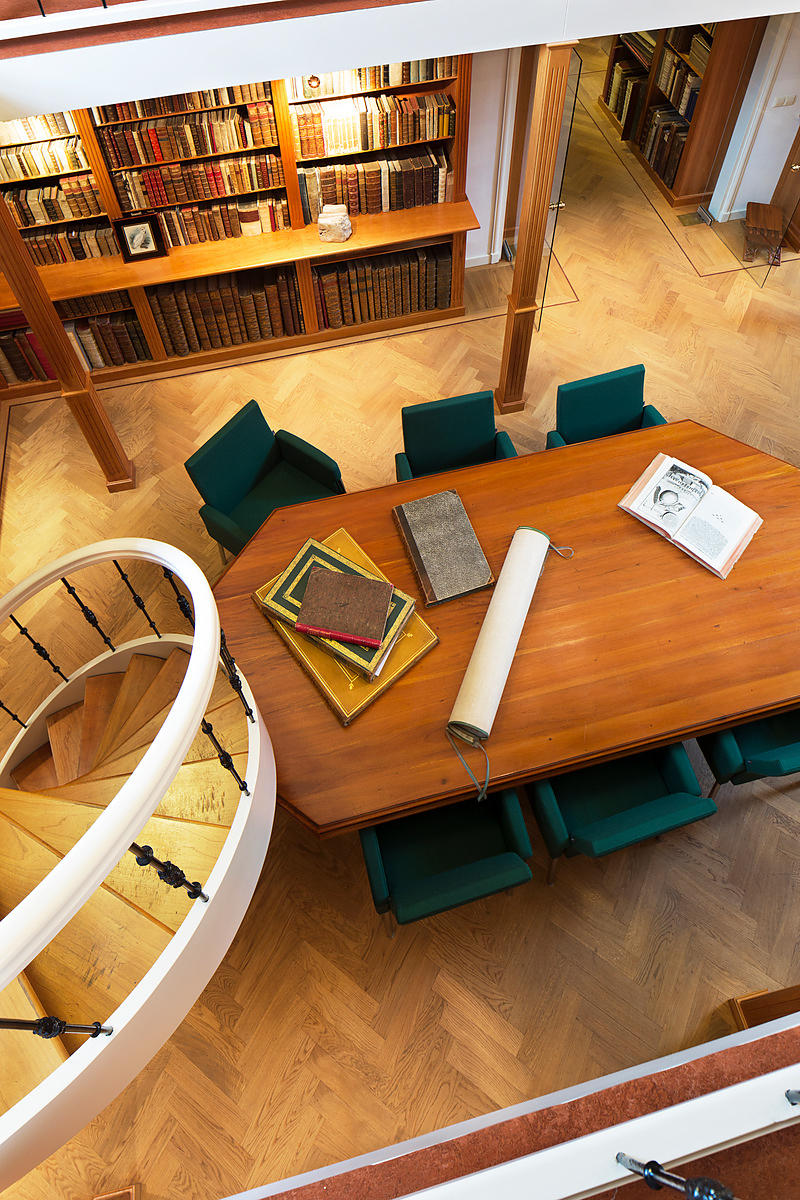 PROSPER DE RODÉS (RODEZ), Père.
Histoire genealogique des quelques C.L. Maisons de France avec le blason de leurs armoiries, le tout mis par ordre alphabétique.
Rodes Monastery, 1704. 2 volumes. Folio. French manuscript in ink on paper, with 236 (80+156) full-page hand-painted watercolour coats-of-arms. With a loose leaf with letterpress text reading "Société des lettres, sciences et arts de l'Aveyron" (established 1836) and with manuscript genealogical notes in French. Contemporary calf, not uniform. 409, [1]; 539, [2] pp.
€ 5,850
Thoroughly illustrated heraldic manuscript by the French Capuchin monk Père Prosper de Rodés of the Capuchin monastery in the Bishopric of Rodez in Aveyron, southern France. It provides genealogical information and usually also coats of arms rendered in watercolour for 279 French aristocratic families, including Amboise, Armagnac, Du Bellay, Champagne, Coligny, Estaing, Du Guesclin, Matignon, Polignac, Pompadour, Sully; Bassompierre, Bourbon, Colbert, Foix, Grimaldi, Molé, Montmorency, Monferrand, Montaigu, Montauban, Noailles, Rohan, Savoye, Sevigné, Le Tellier, and many more.
Père Prosper de Rodes wrote and compiled several manuscript genealogical works. Le Long recorded two in the library of the Capuchins in Toulouse in 1771, items 40578: Histoire de toutes les maisons principales de France (folio, 2 volumes) and 40579: Histoire généalogique de tous les Ducs & Pairs de France (folio, 1 volume). Waroquier de Méricourt records the former still at that library in 1787, and Haenel records the latter at the Stiftsbibliothek in St. Gallen, Switzerland in 1830. Only one of the two present volumes has a title-page, calling it volume V, with additions to the previous four volumes, and its reference to 150 families with their coats of arms agrees fairly well with the 156 coats of arms in that volume. The volume without a title-page is labelled "Tom. III" on the spine. Perhaps these two volumes were separated from the three recorded by Le Long before 1771, making five volumes in total. The Bibliothèque d'Etude et du Patrimoine de Toulouse now holds 4 genealogical manuscripts by Prosper de Rodés (Bibliothèque Municipale mss. 455-458), but the titles agree with neither those given by Le Long nor with ours.
With the bookplate of Hippolyte Justin de Barrau (1794-1863), historian, genealogist and founder of the Société des Lettres, Sciences et Arts de l'Aveyron, on the front paste-down of volume III. Tears repaired in the title-page of vol. V. Lacking the title-page and three preliminary leaves besides 10 other leaves which are lacking: vol. III, pp. 105-108, 159-160, 249-250; vol. V, pp. 6-7, 62-63, 146-149, 386-387, 410-411. Several repaired defects in the pages, part of pp. 400/401 torn off and missing, a hole in pp. 380/381, thumbing in the margins. Cf. Catalogue collectif de France (4 genealogical mss. by Prosper de Rodés: BM mss. 455-458); Le Long, Biblioth. hist. de la France, 40578-40579 (III, p. 716, 3 related Prosper de Rodés vols.); Louis-Charles de Waroquier de Méricourt de La Mothe de Combles, Tableau genealogique, historique, chronologique, heraldique et geographique de la noblesse, enrichi de gravures ..., Nyon, 1787, part 2, p. 379 (Le Long 40578, 2 vols.); Haenel, Catalogi librorum manuscriptorum, col. 480 (no. 372: Le Long 40579, 1 vol.); for the author: Apollinaire de Valence, Histoire des Capucins, I, 429.
Related Subjects: