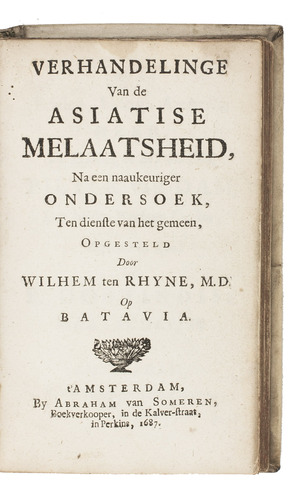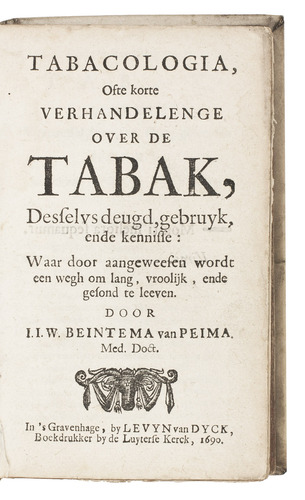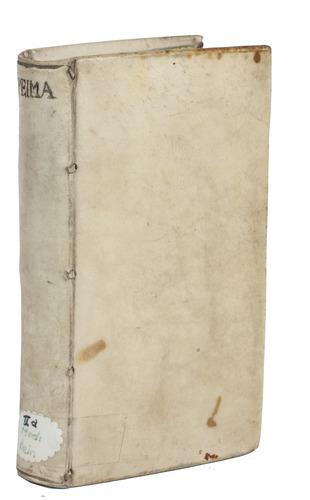 RHYNE, Willem ten.
Verhandelinge van de Asiatise melaatsheid, na een naaukeuriger ondersoek ten dienste van het gemeen.
Amsterdam, Abraham van Someren, 1687. With an ornament on the title-page.
With: (2) BEINTEMA VAN PEIMA, Joannes Ignatius Worp. Tabacologia, ofte korte verhandelenge over de tabak, desselvs deugd, gebruyk, ende kennisse: waar door aangeweesen wordt een wegh om lang, vroolijk, ende gesond te leeven.
The Hague, Levijn van Dijck, 1690. Lacking frontispiece. 2 works in 1 volume. 8vo. Contemporary vellum. [18], 181, [1 blank]; [12 (of 16)], 175, [1 blank] pp.
€ 15,000
Ad 1: Very rare first edition of an extensive treatise on leprosy, also called the Asian illness, by the resident physician of Deshima, Willem ten Rhyne (ca. 1647-1700). Ten Rhyne was "the first Deshima doctor to describe the medicine and culture of Japan to the West" (Bowers).' Besides writing this pioneer work on leprosy, Ten Rhyne was the first scholar to introduce knowledge of acupuncture and moxibustion to Europe in his Dissertatio de arthritide (1683), the earliest important Western report on acupuncture. He also wrote the first detailed study of tea and an account of the Cape of Good Hope and the lives of the Khoikhoi (dubbed Hottentots by the Dutch settlers) during the early days of Dutch settlement in the Cape.
Ad 2: First edition of a treatise on tobacco, discussing its virtues, uses and characteristics, by J.I.W. Beintema van Peima (1662-1694), professor of medicine. He calls tobacco one of God's herbs: it induces tranquility of mind in lonely or unhappy moods.
Ad. 2, on tobacco, lacks the blank leaf a1 and engraved frontispiece a2; ad 1, Ten Rhyne on leprosy, in very good condition. Ad 1: Bowers, Western medical pioneers in feudal Japan (1971), p. 31; Krivatsy 9605; Landwehr & V.d. Krogt, VOC 834; STCN (2 copies); ad 2: Arents 407.
Related Subjects: