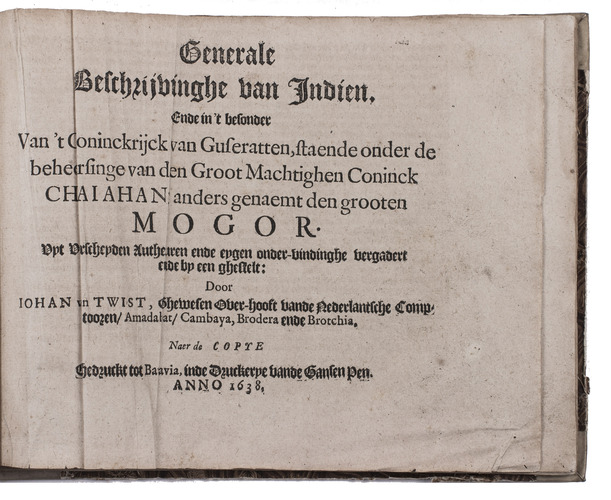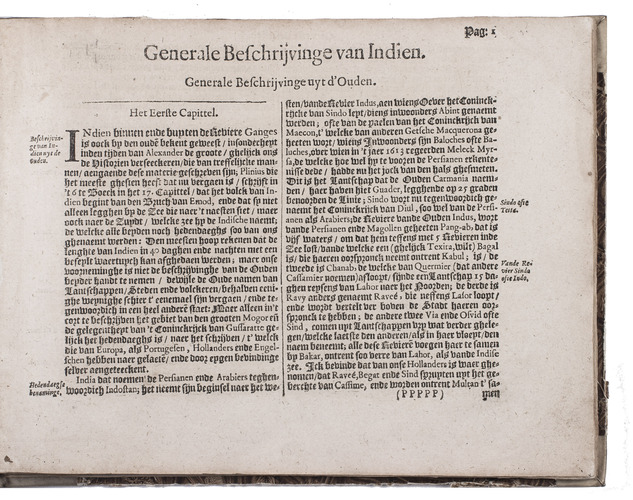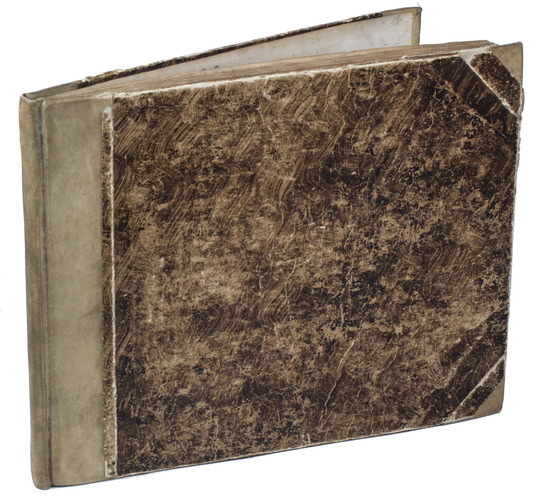 TWIST, Johan van.
Generale beschrijvinghe van Indien. Ende in 't besonder van 't Coninckrijck van Guseratten, staende onder de beheersinge van den groot machtighen coninck Chaiahan: anders genaemt den grooten Mogor. ...
Including:
- Corte beschrijvinghe van het coninckrijcke Cuncam, ofte Decam, staende onder de beheersinge, van den grootmachtigen Sultan, Mamedh, Idelxa, Coninck van Visiapour.
- Aenwijsinge van meest alle custen, drooghten ende reden, om door gansch Indien te seylen.
Batavia, Druckerye vande Gansen Pen, 1638 [= Amsterdam, J. Jansonius 1645]. 3 parts in 1 volume. Oblong 4to. Later half vellum. [12], 112 pp.
€ 1,750
General description of India and in particular of the Kingdoms of Gujarat and Deccam, by the director of the Dutch East India Company (VOC) in Northwest India: Johan van Twist. He was responsible for the Dutch activities in four cities of the Kingdom of Gujarat: Ahmedabad, Khambhat, Vadodara and Bharuch. The work covers topograpy, natural history, military force, the Royal court, politics, justice, religion and more. As can be expected from the viewpoint of the Dutch merchants the description is aimed chiefly in the profitable products that were available in the region, such as cotton, indigo. Included, with continuing pagination, is a work on sailing directions for the Indian Ocean.
The work was part of Commelin's Begin ende voortgangh, van de Vereenighde Nederlantsche ... Oost-indische Compagnie (Amsterdam, 1645), from which the present work was extracted. Although the title-page refers to "Batavia, Druckerye vande Gansen Pen, 1638", Landwehr & V.d. Krogt and Tiele remark that a Batavia edition is unknown, and the present edition of 1645 is the first.
Title-page a bit creased, p. 44 printed while folded, a few spots and slightly browned, very slight waterstain in inner margin in some leaves, minor worming in lower margin of a few leaves. Lach & Van Kley III, p. 473; Landwehr & V.d. Krogt, VOC 552; Tiele, Land- en Volkenkunde 1106.
Related Subjects: