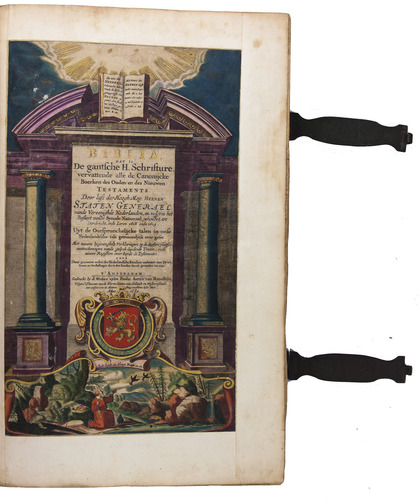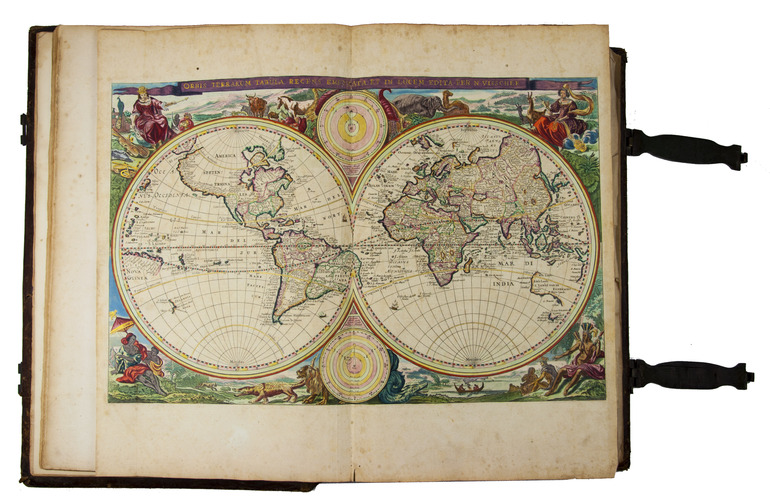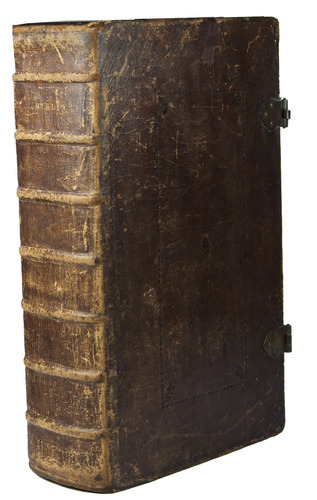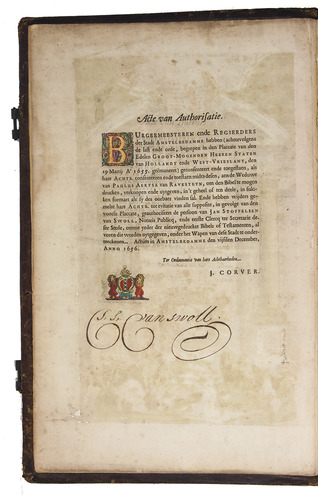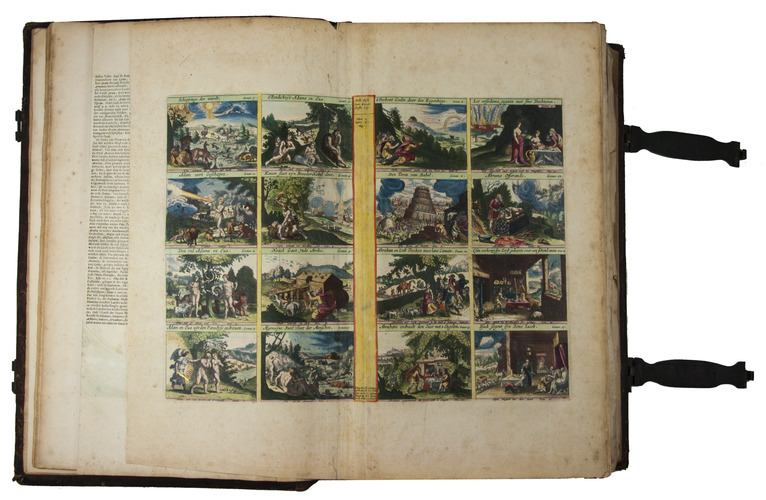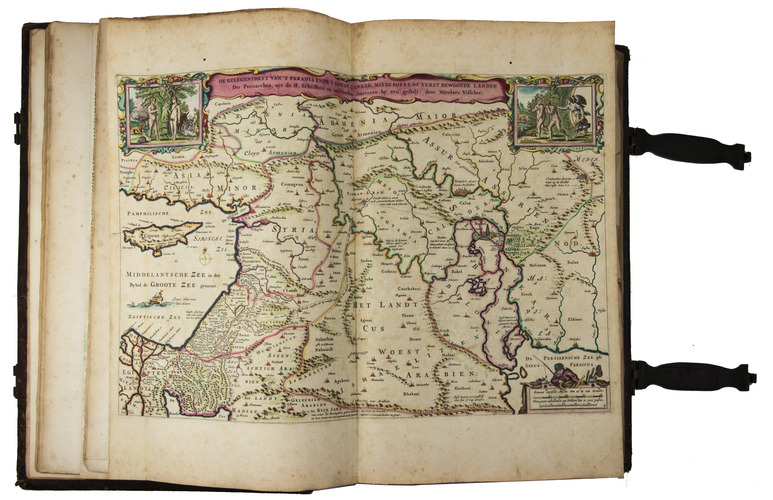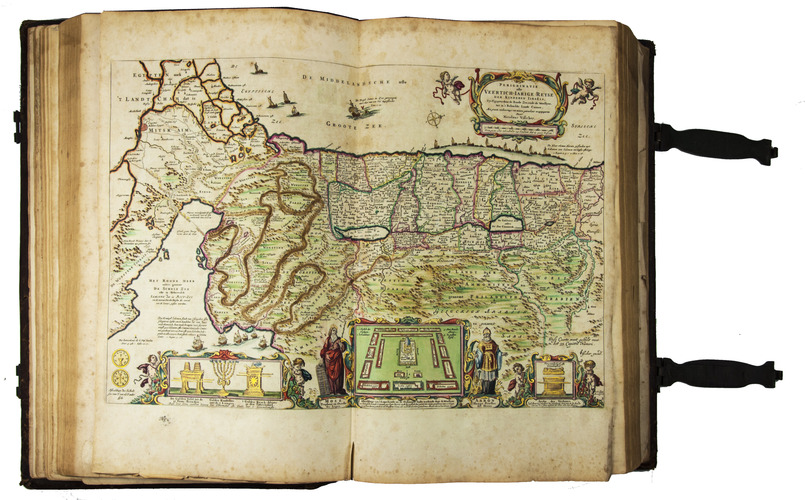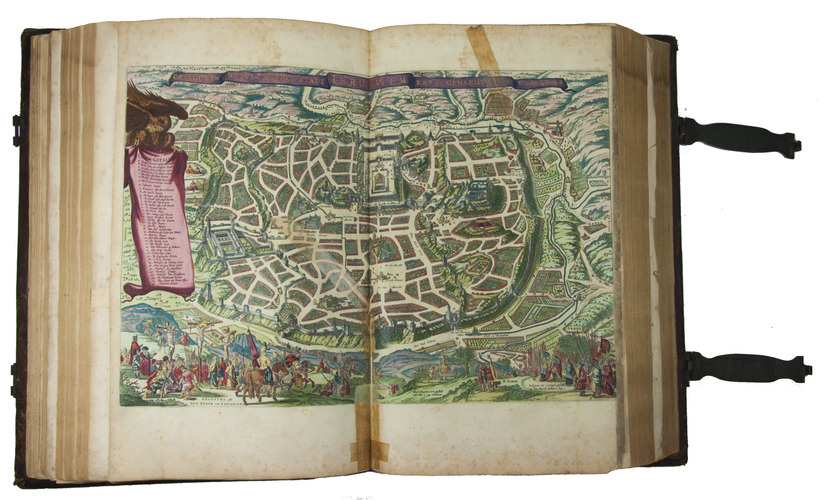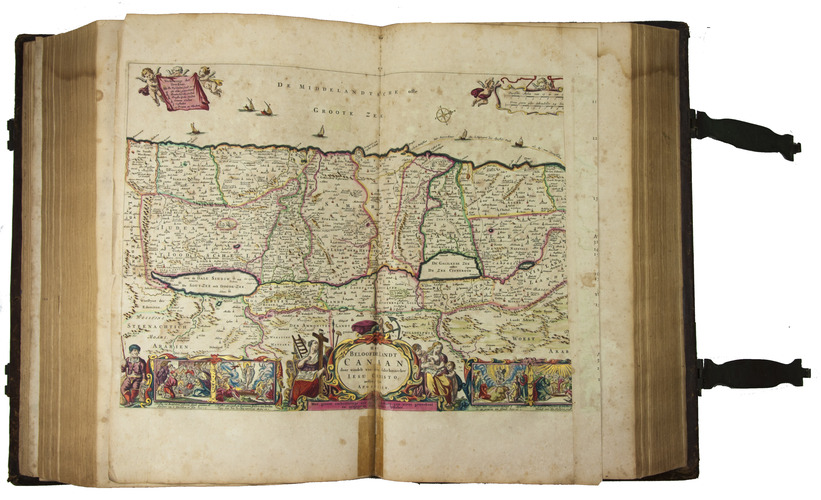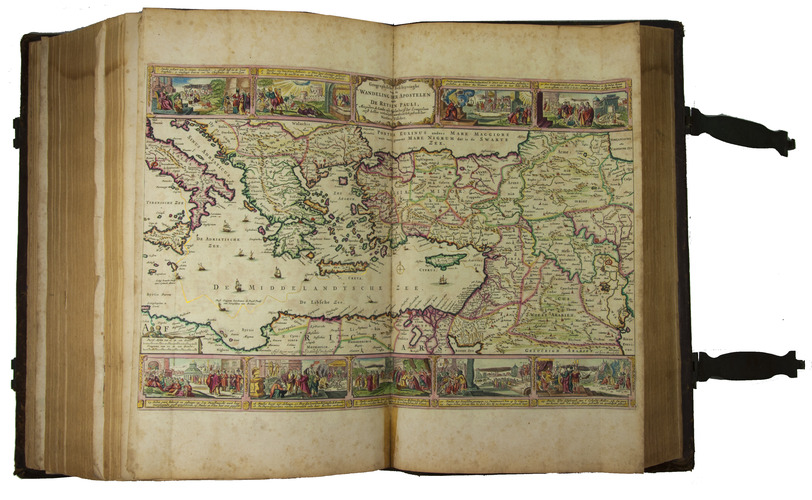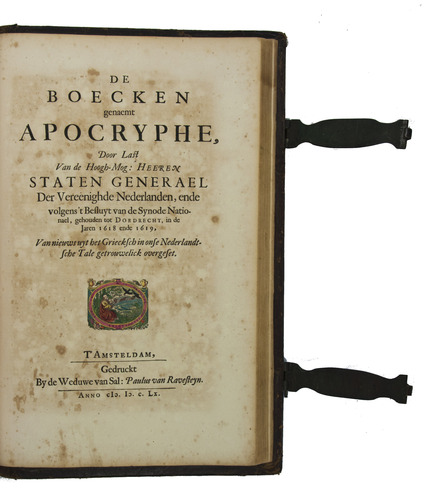 [BIBLE - DUTCH].
Biblia, dat is: de gantsche H. Schrifture, vervattende alle de canonijcke boecken des Ouden en des Nieuwen Testaments.
Amsterdam, widow of Paulus Aertsz. van Ravesteyn, 1660. 3 parts in 1 volume. Large folio (45 x 30 cm). With an integral engraved general title-page, 6 double-page engraved maps, including a world map and a plan of Jerusalem, and 96 Bible illustrations published by Frederick de Wit (engraved by Cornelis Danckerts after Matthäus Merian?) on 6 double-page plates. The engraved title-page, devices on the letterpress title-pages, maps, illustrations, and many of the woodcut decorations and initials (including all those on the back of the maps) coloured by a contemporary hand with extensive use of gold. Later (ca. 1800?) blind-tooled calf, 2 pair of brass fastenings. Modern (ca. 1900?) endpapers. [20], 302, [2], 149; 164, [10]; [2], 66 ll.
€ 45,000
Extra-illustrated and hand-coloured large folio edition of the Dutch Statenbijbel (States Bible), the translation officially authorized by the Dutch Reformed Church and published with a privilege from the States General of the Dutch Republic. The 1619 Synod of Dordrecht established a committee to prepare the new translation, and leading Dutch scholars worked on it for nearly twenty years before Paulus Aertsz. van Ravesteyn (ca. 1586-1655) published the first edition in 1637.
The 6 maps and the 96 engraved illustrations were produced for insertion in folio editions of the States Bible, but in Van Ravesteyn's 1657 edition maps 2-6 by Nicolaas Visser I were originally accompanied by an older world map by his father Claes Jansz. Visser. The younger Visser's present new world map replaced it ca. 1663. De Wit's series of illustrations seems to be quite rare.
With owners inscriptions. The tattered margins of the half-title and title-page were reinforced and extended with slips of paper at an early date, there are tears (repaired) into two maps and one text leaf, and other leaves have marginal defects, some repaired. The paper shows some browning and foxing. Still generally in good condition and with large margins. The binding is scuffed but structurally sound and most of the tooling remains clear. A stunning, large States Bible with 6 maps, 96 illustrations and many decorations and initials coloured by a contemporary hand with extensive gold. Poortman, Bijbel en prent I, p. 233 (cf. pp. 147, 151); cf. Darlow & Moule 3315; for the maps: Poortman & Augusteijn 27.1-6; for the prints: Poortman, Bijbel en prent 30.A.3.
Related Subjects: