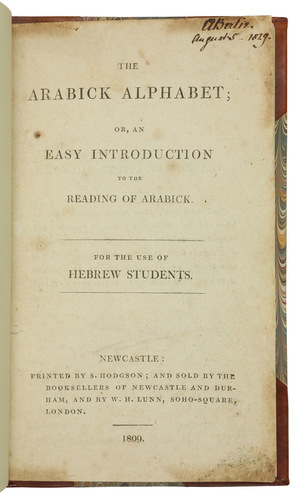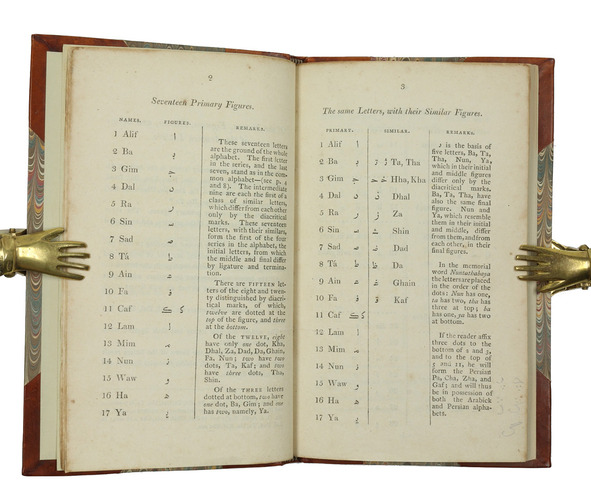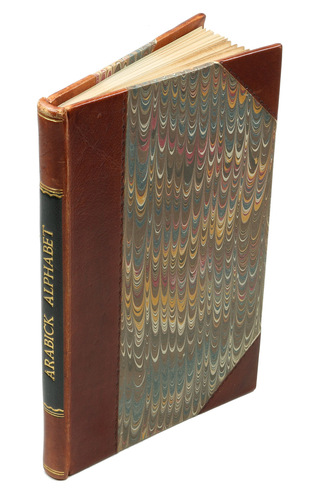 [BURGESS, Thomas].
The Arabick alphabet...
Newcastle, printed by S[arah]. Hodgson, 1809. Large 12mo. Twentieth-century half calf, marbled sides, with a blind-tooled roll where the calf covering (including the corners) meets the marbled paper, gold fillets on the smooth spine, black morocco spine label with the title in large gold capitals running up the spine, lettered in gold. With 22 sturdy blank leaves at the end and the bookbinders ticket of "Period Binders, Bath". V, [3], 20 pp.
€ 6,500
Rare first and only edition of an introduction to Arabic intended for students of Hebrew. As the author writes in his dedication to the Rev. John Frederick Usko, "The object of the following pages is to put the Hebrew student in possession of just so much Arabick as may enable him to profit by the illustrations of Hebrew words in the Lexicons of Simonis and others." The text looks at the construction of the alphabet itself, compares Hebrew and Arabic letters, and similarly verbs and their tenses. It gives a synopsis of the letters of the Arabic alphabet, each with its initial, medial, final and stand-alone forms and gives some information on diacritical marks. Thomas Burgess (1756-1837), Prebendary of Durham, was Bishop of St. Davids (Wales) from 1803 to 1825 and then of Salisbury.
With some contemporary handwritten annotations in ink and an owners inscription on the title-page "A Bertiz | August 5, 1829". Not recorded in auction records. An unusual Newcastle imprint, printed by a woman who had taken over her late husbands printing office. Its curious that this small provincial printing office had a fount of Arabic type. WorldCat 35518227 & 55524381.
Related Subjects: