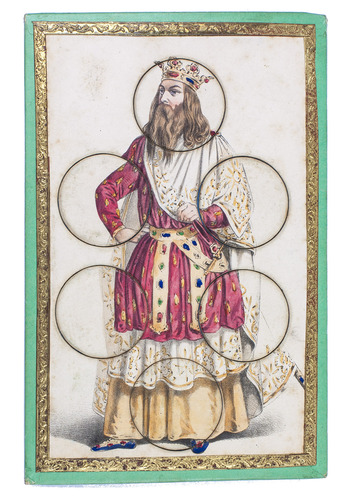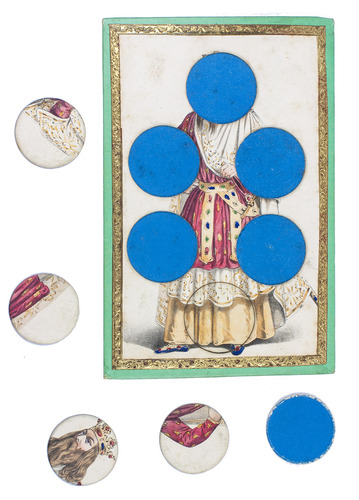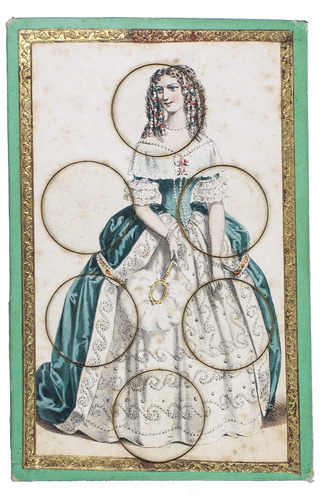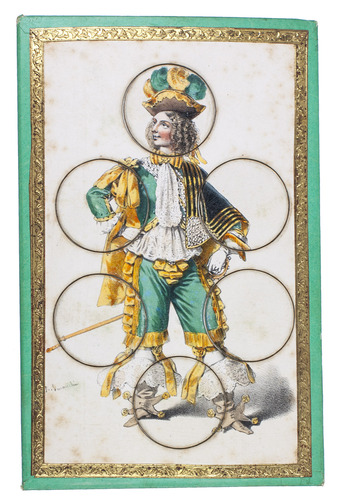 [GAME - PUZZLE - KING AND COURTIERS - FRANCE].
[Puzzle game of filling in the heads and parts of the costumes of a king, a young lady in a green dress, and a young man in a yellow and green outfit].
[Paris], R. Lacouchin, [ca. 1840]. 3 puzzles. 19.5 x 13 cm. With 3 finely lithographed plates mounted on 3 thick green paperboard cards. The lithographs are framed with a gold-coloured ornamental border. The images on the cards are all beautifully hand coloured and the 3 cards depict respectively a crowned king in ornate robes, a beautiful young lady in a green dress, and a young man (or possibly a court jester?) in an extravagant yellow and green outfit. Each card has 6 large circular movable pieces to be removed or inserted as the game demands in various circumstances.
€ 6,000
Three beautiful and complete puzzle cards with round, movable pieces, for example for a game of metamorphosis or lotto. While no rules are present or other specific indications given, the cards with their beautiful, coloured illustrations are quite intriguing by themselves.
The illustration of the young man in the yellow and green outfit is signed "R. Lacouchin". Slightly foxed, otherwise in very good condition.
Related Subjects: