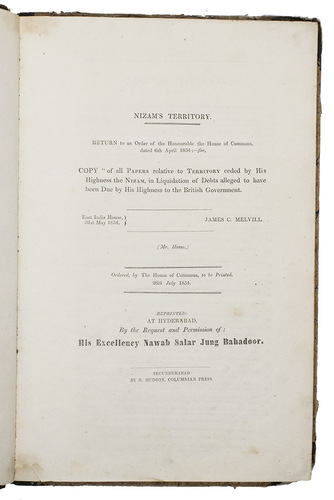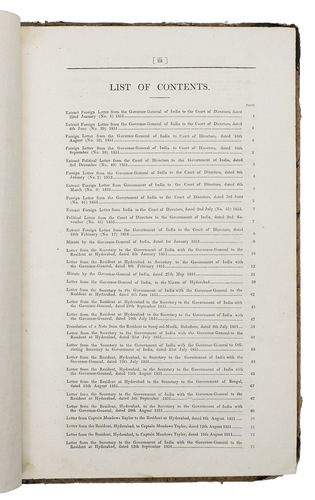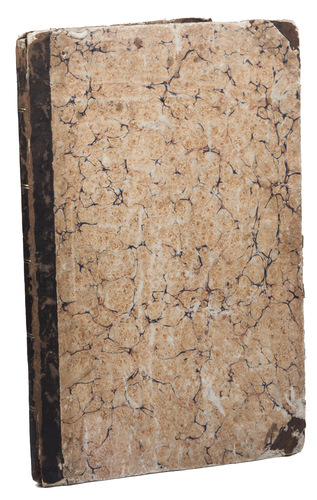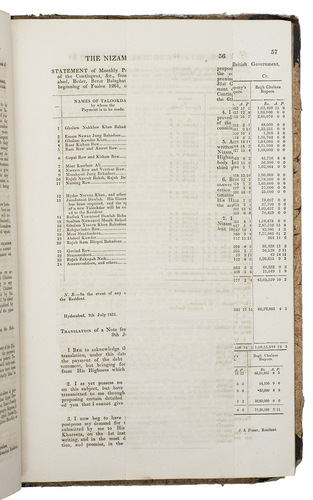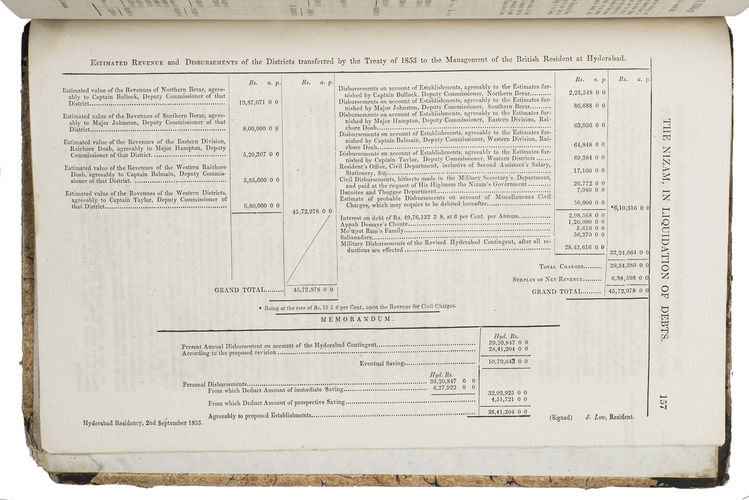 [HYDERABAD PRINTING - BRITISH GOVERNMENT PAPERS regarding Nizam's territory].
Nizam's territory. Return to an order of the honourable the house of commons, dated 6th April 1854; for, copy of all papers relative to territory ceded by His Highness the Nizam, in liquidation of debts alleged to have been due by His Highness to the British Government.
Secunderabad [near Hyderabad], R. Hudson, Columbian Press, 1854. 33 x ca. 22 cm. Contemporary half calf and orange and blue marbled paper over paper-boards, with gold-tooled double fillets on the spine and red sprinkled edges. IV, 162 pp.
€ 4,500
The extremely rare Hyderabad edition of the official British papers relating to the so-called Hyderabad debt crisis, during which Lord Dalhousie, the Governor-General of India, and General James Stuart Fraser, the British Resident in Hyderabad, orchestrated a "shakedown" of the Nizam of Hyderabad, who owed the British an astounding 7.4 million rupees. This resulted in the Nizam of Hyderabad having to cede the wealthy cotton-growing province of Berar to the British to clear his debts. This account was re-published by the Columbian Press in Secunderabad "by the request and permission of His Excellency Nawab Salar Jung Bahadoor", the Prime Minister of the Hyderabad State, who believed that the papers portrayed Dalhousie and Fraser in a bad light. Nawab Sir Mir Turab Ali Khan, Salar Jung I (1829-1883), also known as Salar Jung I, was an Indian nobleman who served as Prime Minister of Hyderabad State between 1853 and 1883 and was also the regent for the sixth Nizam, Asaf Jah VI from 1869 to 1883.
The present work is the ultimate insiders account, from the British perspective, of the crisis surrounding the Nizam's staggering debt to the British government, featuring transcriptions or summaries of all the official correspondence and documents that Lord Dalhousie, General Fraser, and other colonial senior officials.
The present work is extremely rare in this "India (Secunderabad/Hyderabad) edition", we have not been able to trace any other copies on the market or institutionally. Supposedly, the Salar Jung Museum in Hyderabad holds a copy of the same edition, but we were not able to verify it.
With an owner's inscription "Margaret D. Stubbs" and an orange printer's label "Secunderabad, Columbian Press, R. Hudson", both on the front pastedown. The binding is somewhat worn, without affecting its structural integrity, the outer margin of 6 leaves (between pp. 52-69, and pp. 83-84) are folded in. With a minor tear in the foot margin of the title-page (near the gutter) and occasionally very slight staining. Otherwise in good condition. H.G. Briggs, The Nizam, his history and relations with the British Government (London 1861); Kumari Sarjini Regani, The cession of Berar, in: Indian History Congress vol. 20 (1957) pp. 525-259; cf. (Published in Britain) WorldCat 941776603 (1 copy).
Related Subjects: