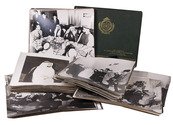 [ABU DHABI – STATE VISITS TO PAKISTAN].
[Photograph archive and album. Album title]: Visit to Lahore of His Highness Skeikh Zayed bin Sultan Alnahayyani the ruler of Abudhabi (16th to 28th November, 1967).
[Pakistan, 1967-1971]. An archive of 183 photographs: 133 loose black and white photographic prints (ca. 30 x 25 cm), 30 smaller ones (ca. 5 x 6 cm) numbered and mounted together on a single sheet of paper, and 20 additional prints in the album. Further with numerous rolls of original medium format negatives.Original black half morocco album, green cloth sides with title and emblem of the United Bank Limited Pakistan on the front board.
Full description
€ 125,000