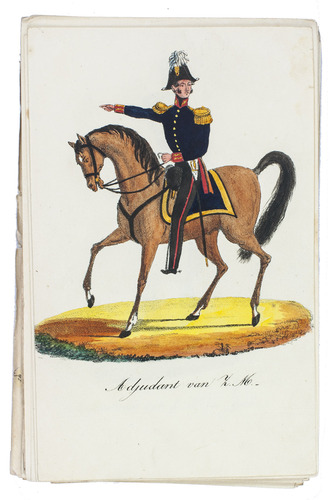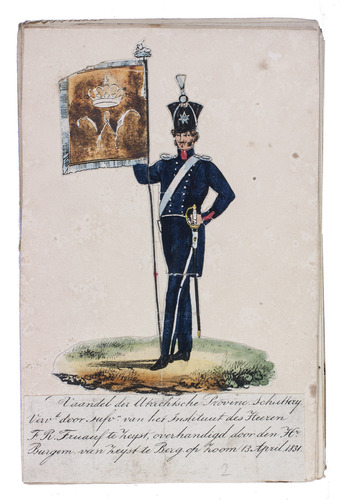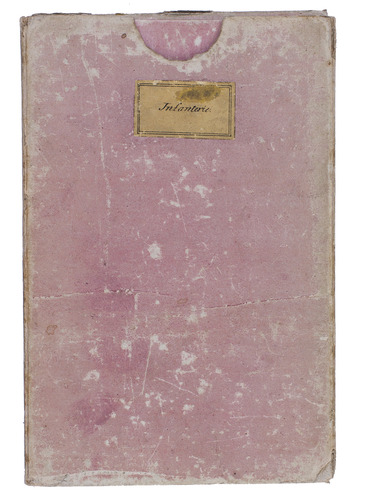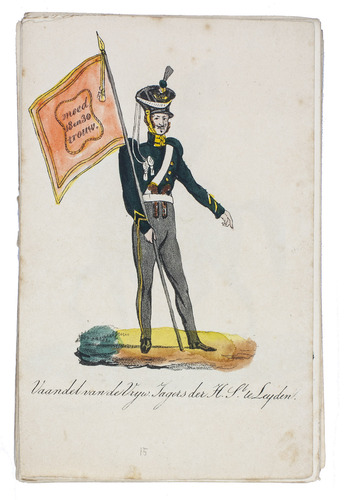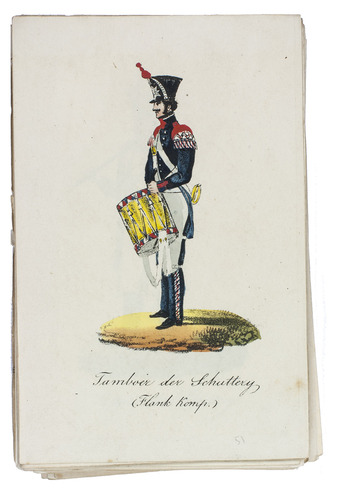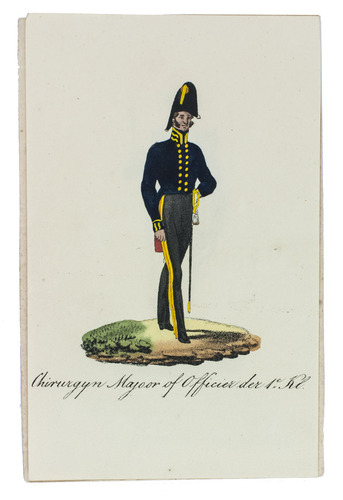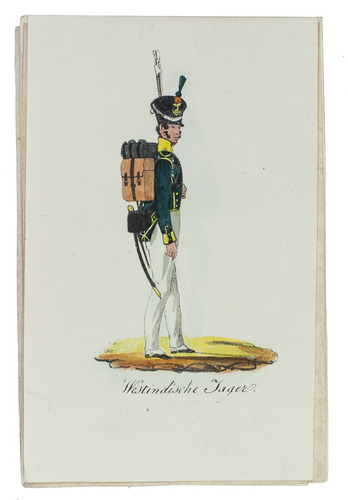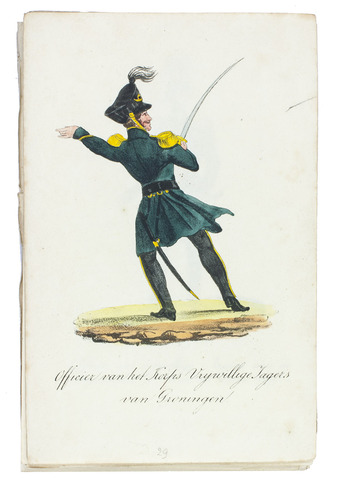 [MILITARY UNIFORMS].
[De schutter- en jagerkorpsen. De legerkorpsen | Infanterie. De Oost- en West-Indische korpsen en marine | Kavallerie, artillerie, genie, etc.].
[Utrecht, Johannes Paulus Houtman, 1831-1832]. 8vo (17.5 x 11.5 cm). 73 unnumbered lithographed prints plus 3 duplicates (leaf size 17 x 11 cm) with a brief caption in a round-hand script below each image, showing Dutch military personnel (including 1 woman) in their uniforms, the cavalry often shown on horseback and many others with flags, musical instruments, swords, firearms, backpacks, etc., coloured by a contemporary hand, probably for the publisher. Contemporary paperboard portfolio in a paperboard slipcase. [73] prints plus [3] duplicates.
€ 3,950
Rare series of lithographed costume prints, with fine and delicate images of the uniforms of all sections of the Dutch army and navy, including the overseas corps in the Dutch East and West Indies, all coloured by a contemporary hand, many in bright colours. They come from the most extensive Dutch print series of military uniforms ever published, with 165 known prints, but no set containing all 165 is known and the prints are not numbered. Each print shows a single figure, including 5 with cavalrymen on horseback. The only woman in our set, a "marketenster", carries a tapped keg and a funnel-shaped cup to provide jenever (Dutch gin) for the soldiers. Nine figures carry military flags, five have musical instruments and many carry swords, firearms or backpacks. 4 prints show army uniforms in the Dutch East and West Indies, while 2 show navy uniforms.
In 13 prints the printed images with their captions have been cut out of the print and each mounted on an 8vo leaf of laid paper. These mounting leaves are somewhat browned, one or two badly, without affecting the print itself. 4 other leaves have their margins cut down, but 2 of these are duplicates. The printed image has been slightly shaved in 2 of the cut-down leaves and in one of the prints that has been cut out and mounted, but these affect only the tip of a bayonette in 1 print and one edge of the ground below the figure in 2 prints. The prints and their colouring generally remain in very good condition. The portfolio and slipcase are somewhat rubbed but still in good condition. A set of 73 rare prints of Dutch military uniforms, this copy providing some new information concerning the publishing history of the series. Atlas Van Stolk 6823; Landwehr, Color plates 320; Muller, Historieplaten 6481 & suppl. 6481; WorldCat (3 copies); not in Colas; Hiler; Lipperheide.
Related Subjects: