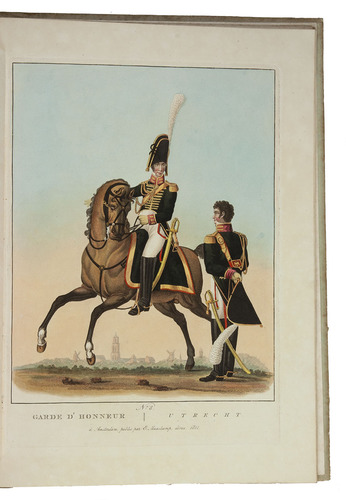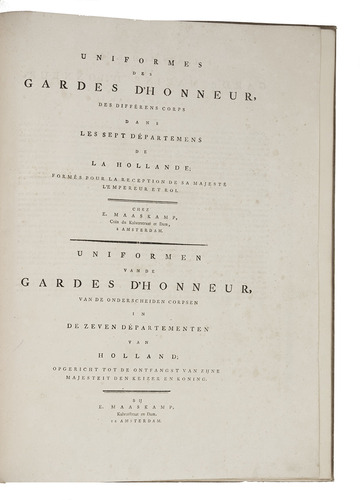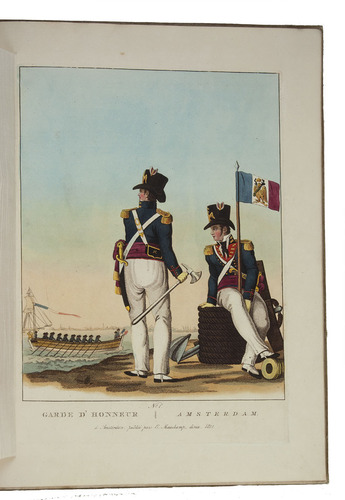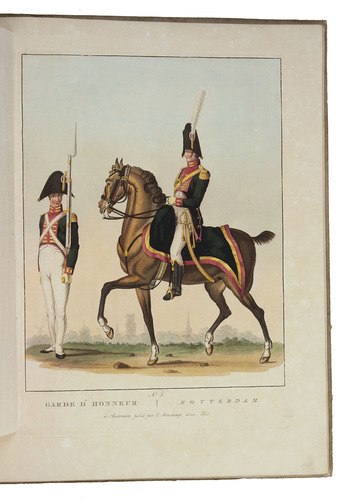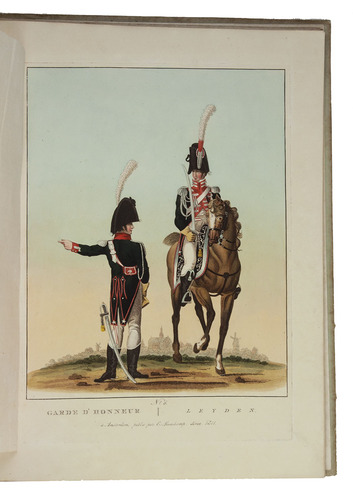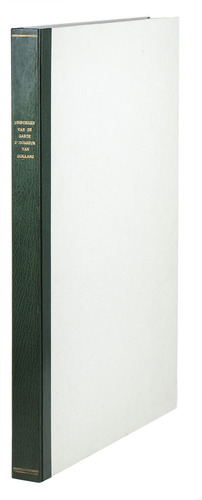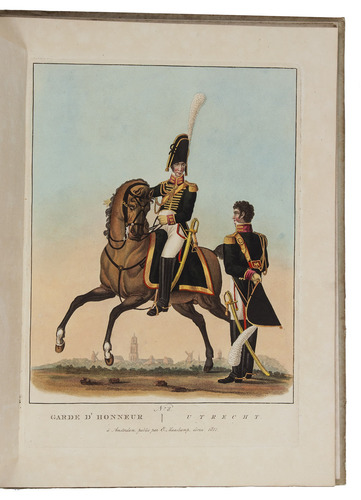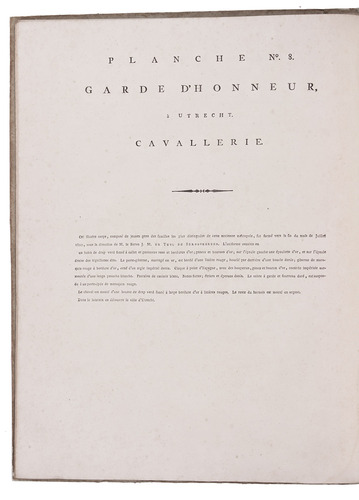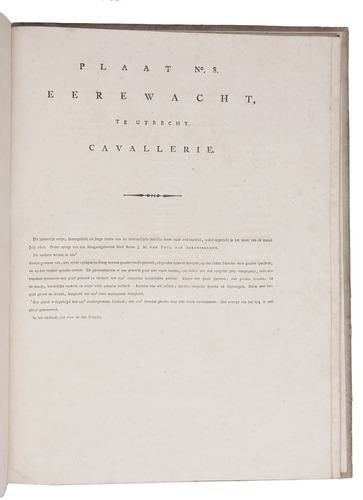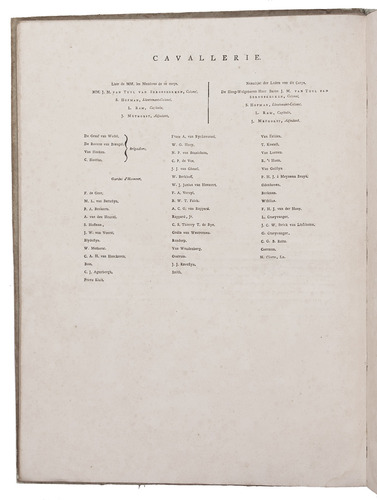 [MILITARY UNIFORMS].
Uniformes des gardes d'honneur des différens corps dans les sept départemens de la Hollande; formés pour la réception de ... l'Empereur et Roi. ...| Uniformen van de gardes d'honneur, van de onderscheiden corpsen in de zeven départementen van Holland; opgericht tot de ontfangst van ... den Keizer en Koning.
Amsterdam, Evert Maaskamp, [1811]. Royal folio (42.5 x 32 cm). With 12 aquatint costume plates (plate size 32.5 x 23 cm), in the publisher's original hand-colouring, with the original tissue guard leaf tipped onto each plate. Recent boards, with the original plain paper wrappers laid down. Kept in a matching green half morocco clamshell box. [48] pp.
€ 12,500
Beautifully coloured copy (with both a wide variety of bright colours and subtle shading) of the rare first (and only early) edition of a series of large aquatint plates showing the uniforms of Napoleon's honour guards (cavalry, infantry and marine) in 11 Dutch cities, with the letterpress leaves providing both an explanation of the figures in the plates (in French and Dutch) and a list of the names of all the guards for each city. Since each city appears to have developed its own uniforms, the colours and style vary greatly. "Not only visually attractive but also extremely rare" (Legermuseum); "l'original est de la plus grande rareté" (Colas).
When the French Revolutionary army toppled the Dutch Republican government in 1795 they found much support in the population and established the nominally independent Batavian Republic under French-sympathisers. After Napoleon declared himself Emperor in 1804 he established his brother Louis Napoleon as King of the Netherlands in 1806, but finding him more partial to his subjects than to the French he recalled him in 1810 and annexed the Netherlands. The honour guard was first set up under Louis Napoleon's reign to receive him when he toured his realm, but it was reconstituted in the form shown here in preparation for the Emperor Napoleon's visit to the recently annexed Netherlands.
Book and binding in fine condition, with only an occasional very minor spot, tiny hole or smudge. The old wrappers mounted on the new binding are tattered. Colas 2937 note; Landwehr, Colour plates 457 (2 copies); Legermuseum, Boek van de maand, oktober 2011; WorldCat (5 copies).
Related Subjects: