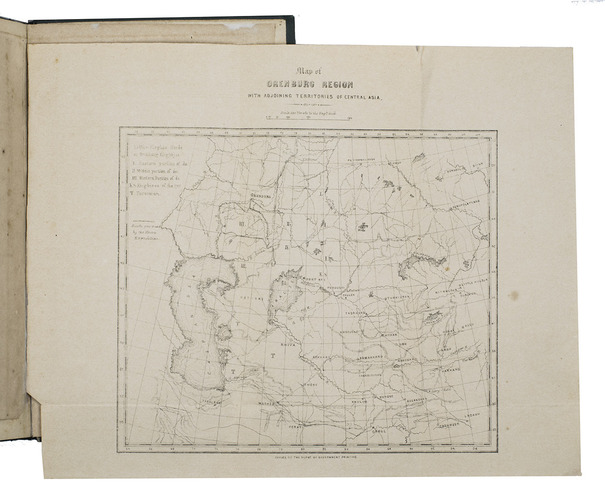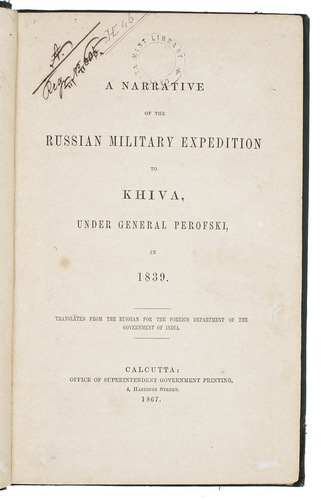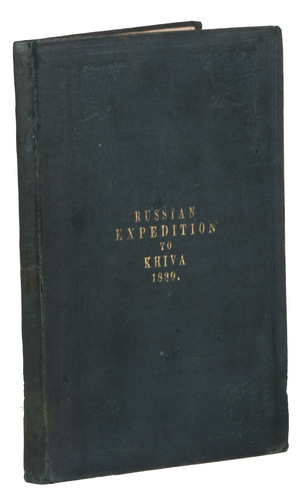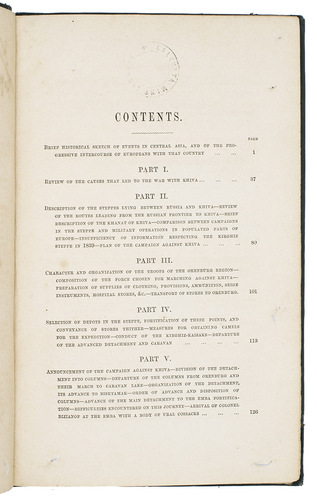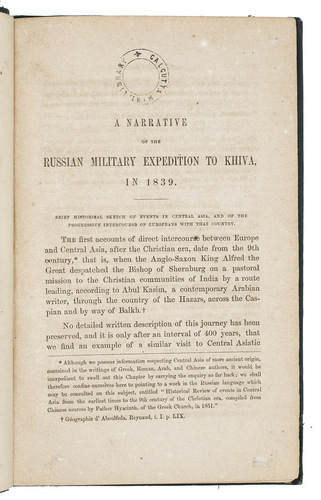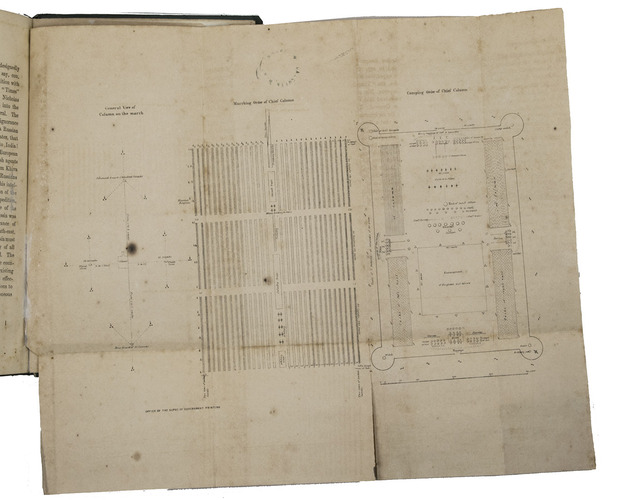 [PEROVSKY, Vasily Aleksyeevic].
A narrative of the Russian military expedition to Khiva, under General Perofski in 1839.
Calcutta, Office of superintendent government printing, 1867. 8°. With 1 folding plate (plan of the camp, with the positions of the troops) and 1 folding map of the region Orenburg, Kazachstan. Original publishers green cloth; re-backed with original backstrip laid down. [2], ii, 182 pp.
€ 4,750
Rare first (and only early) edition of the English translation, probably made by J. Michell, of a Russian account of the 1839 Khivan campaign in Uzbekistan under the command of the military governor of Orenburg, Vasily Aleksyeevich Perovsky (1794-1857).
The Russo-Khivan War of 1839-1840 was a failed Russian attempt to conquer the capital of the Khanate of Khiva, now Uzbekistan. Perovsky had been unable to convince Petersburg of the necessity of moving against Khiva until news arrived that the British were launching what came to be called the First Afghan War in 1839. A British move against Kabul required a Russian counter-move toward Central Asia, and Khiva was the obvious target. Its purpose was to overthrow the existing khan and replace him with another more receptive to Russian pressures.
Vasily Perovsky set out from Orenburg, the capital of Kazachstan in November 1839 with a force of 5000 men and 10,000 camels; a 1250-kilometer long march across an inhospitable steppe. Meeting unusually cold weather, Perovskys force was compelled to turn back in February 1840, having lost 1000 men and almost all the camels. The survivors did not make it back to Orenburg until June. More than thirty years after the Russian defeat, Khiva was finally conquered during the Khivan campaign of 1873.
Ink stamp and shelf mark of Calcutta Mint Library at head of title, the stamp repeated on a few other pages, book label of Peter Hopkirk. Slightly browned, a few small marginal wormholes (some neatly repaired), small repairs to plate and endpapers, but otherwise in very good condition. Baumann, Russian-Soviet unconventional wars in the Caucasus, Central Asia, and Afghanistan, p. 80; Creswicke Rawlinson, England and Russia in the East, p. 139; Worldcat (1 copy).
Related Subjects: