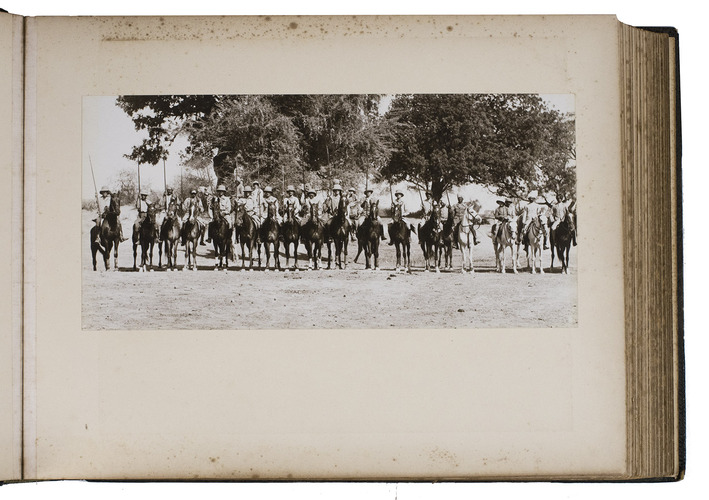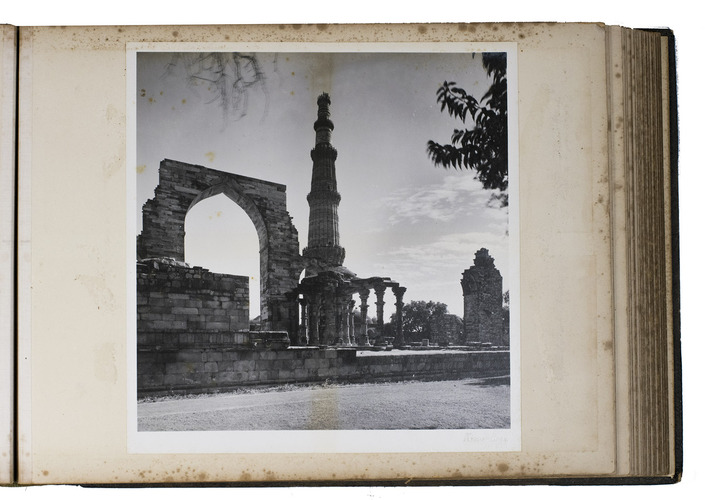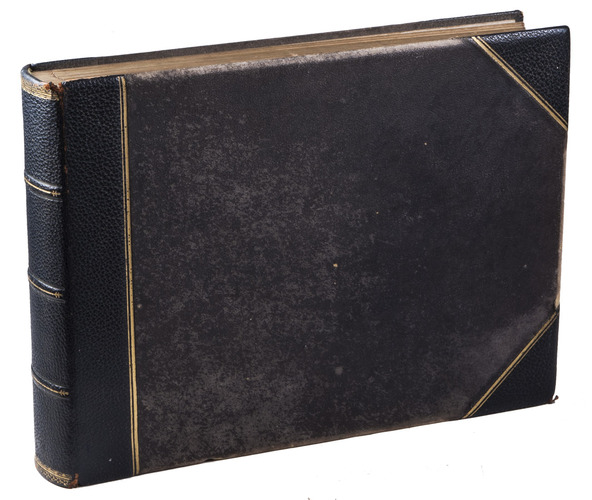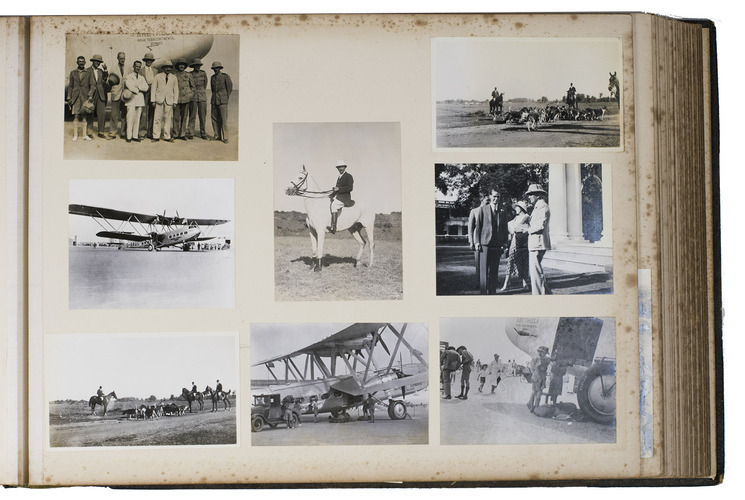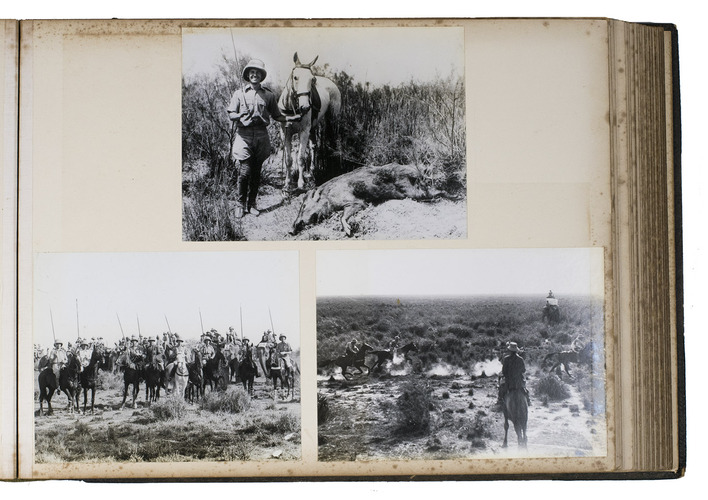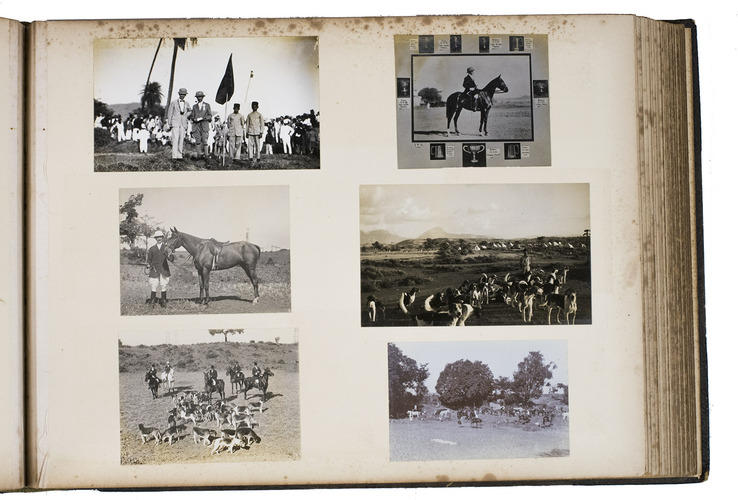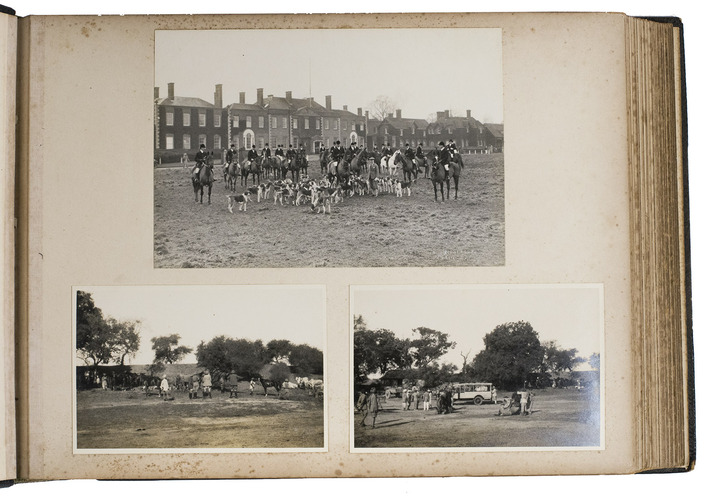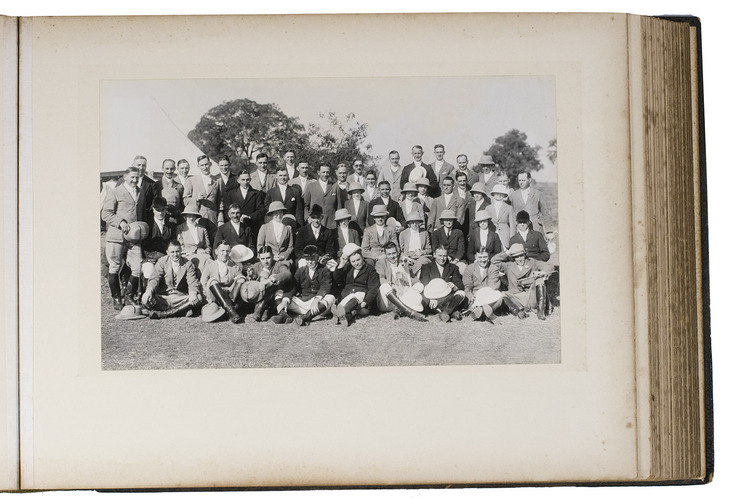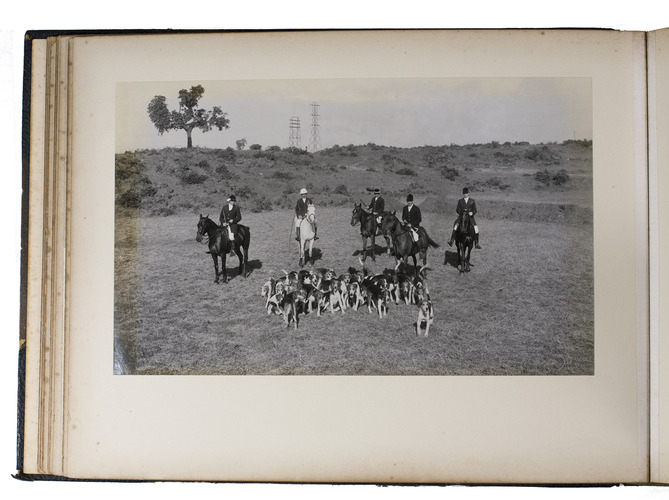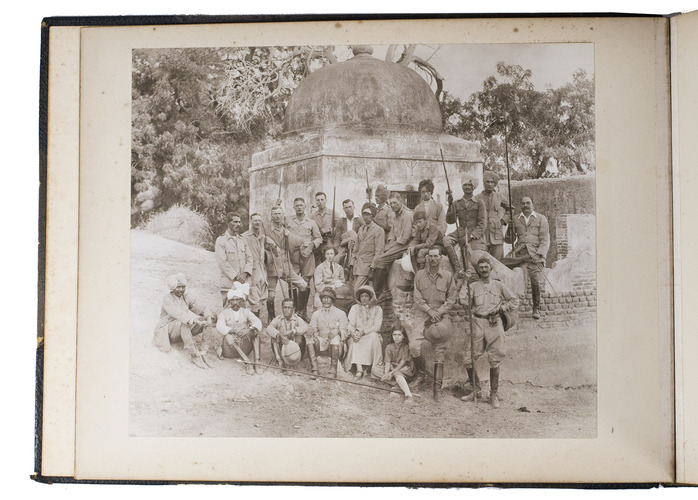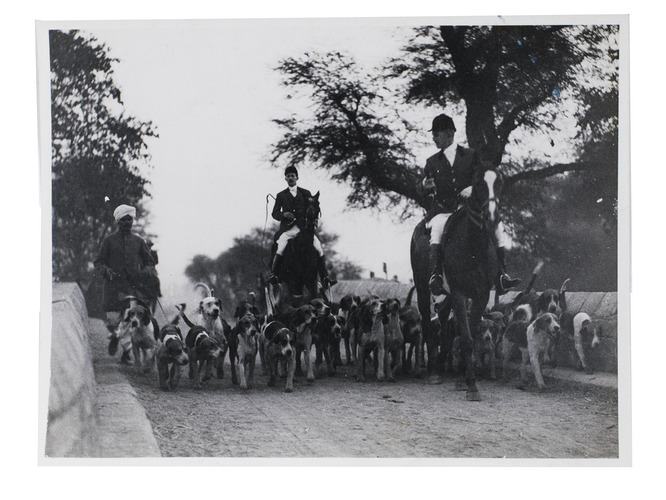 [PHOTOGRAPHY - INDIA - HUNTING].
[Photograph album showing hunting society in Britsh India].
[Cambridge, Mumbai, New Delhi], Scott & Wilkinson, Clifton & Co, Hamilton Studios and Kinsey Bros., [ca. 1933-1935]. With 105 photographs mounted in the album (ranging from 16 x 28 cm to 4 x 6 cm), 2 photographs loosely inserted and a watercolour mounted at the back (11.5 x 21 cm). Oblong half morocco photograph album by W. Johnson & sons, London. 53 ll.
€ 9,500
Unique photograph album showcasing the vigorous "fox" hunting scene in British India in the early 1930s, particularly around Delhi. Most of the photographs show members of the British upper class in India often mounted on horses or posing for a group photograph and accompanied by hounds. The album contains no titles, captions or inscriptions and the photographs do not seem to figure recurring individuals, which suggests that it was probably compiled to commemorate the hunting and or riding club and its activities in the early 1930s. Numerous photographs show groups of mostly men posing with hounds, at lunches and possibly a hunt ball, or mounted on horses at jumping events and even a few cup trophies. The very first photograph is by Scott & Wilkinson in Cambridge (active before 1933) and was therefore probably taken in England. The other inscribed photographs are by Clifton & Co. and Hamilton Studios from Bombay and Kinsey Bros., which started in New Delhi in 1935.
British life in India mirrored life in native Britain and included popular equestrian activities such as hunting. Starting in the second half of the 19th century, foxhounds were imported from Britain and subsequently bred in India. Regiments and brigades kept their own packs, but at the beginning of the 20th century, these had morphed into local hunts. Hounds were kept at over 12 hunting clubs, which included Delhi, Meerut, Narbuda Vale, Jaora, Poona, Bombay, Bangalore, Ooty, Madras, Lahore, Quetta, Peshawar and Karachi. Although the Indian silver fox was sometimes hunted, the most common prey was the golden jackal.
A different type of hunting popular in India was pig sticking: the chase of a wild boar on horseback with the spear. Several photographs in the album show pig sticking parties, either posing or in action and sometimes accompanied by spectators on elephants. In contrast to the jackal-hunt parties, the pigstick groups are composed of more military looking men and also include Indian men as opposed to the British-only hound groups.
Most photographs show the area around Delhi and include a hunt near Shah Alam's Tomb. A photograph of this event is loosely inserted in the album and dated 1933/34 on the back. Other photographs show the Rashtrapati Bhavan one group shows the Earl (later Marquess) of Willingdon, India's Governor-General from 1931 to 1936. Two images show the monumental Gateway of India (completed in 1924) in Bombay (Mumbai), which can also be seen in an aerial photograph. Several photographs show what is probably the airfield at Karachi, as it shows two airplanes loading mail on apparently the first voyage of the Indian Transcontinental Airways. Imperial Airways liner "Hanno", departing from Croydon, had left for Karachi on 1 July 1933 via Bahrain and Sharjah. In Karachi the cargo was transferred to the Transcontinental airliner "Arethusa", as can be seen on the photographs.
It is unclear why only half of the album was used. It is possible the compiler transferred to Kut in British Mesopotamia (Kut al-Imara in modern Iraq). A watercolour on the final page of the album is captioned "A river bank north of Kut".
Binding slightly rubbed and worn at the edges. Album leaves foxed throughout but most of the photographs in very good condition. The paper of the large photograph of the group near Shah Alam's Tomb is heavily damaged at the top and left side, but the image itself is undamaged. A unique collection of British-Indian hunting photographs in very good condition. Cf. Hamid, "Riding with the Peshawar Vale hunt" (thefridaytimes.com); Hunt, "Delhi", in: Ten cities that made an empire; "1933 Eastwards: Karachi to Calcutta" (indianairmails.com); Lucas, Hunt and working terriers, pp. 116-120; Mitter, et al., The artful pose.
Related Subjects: