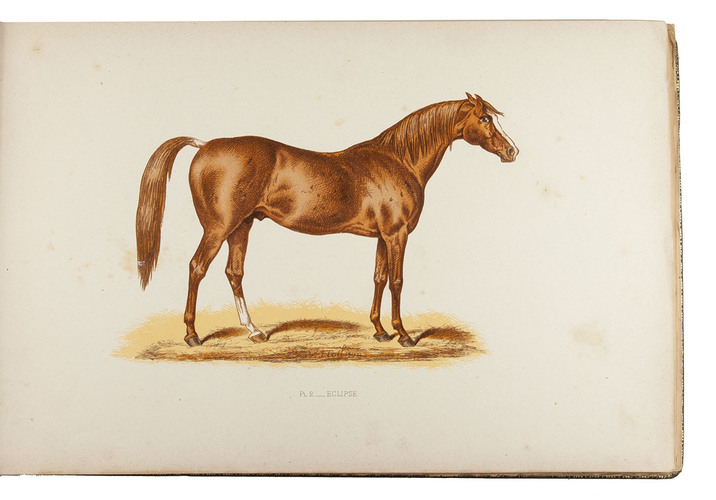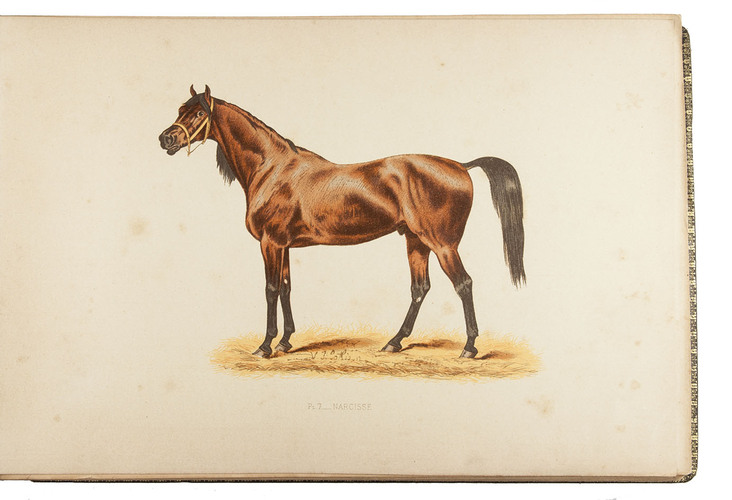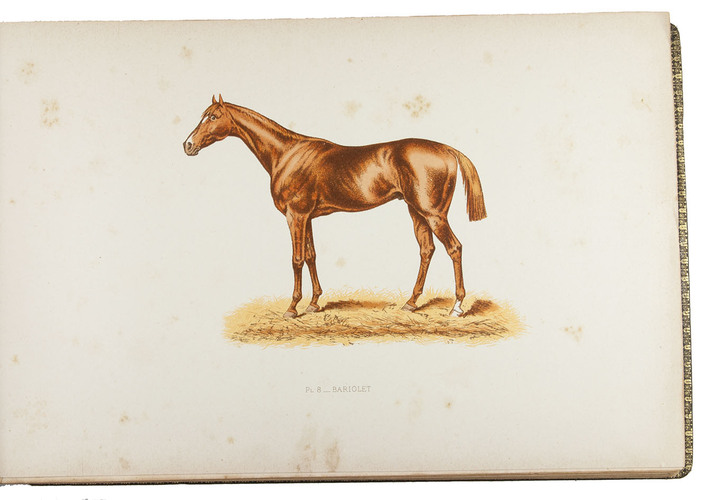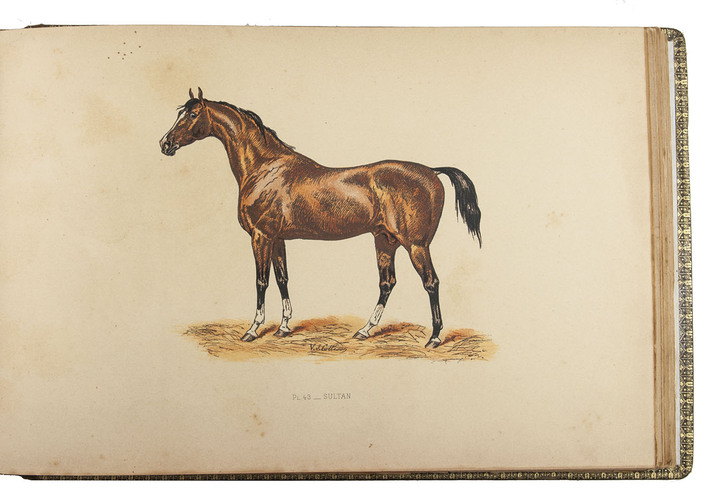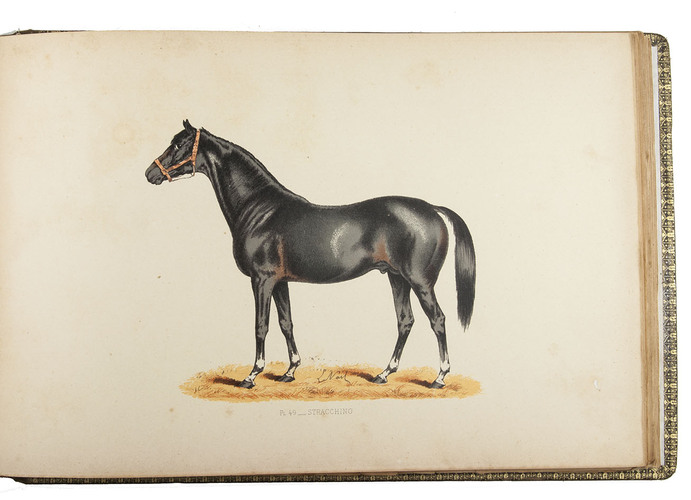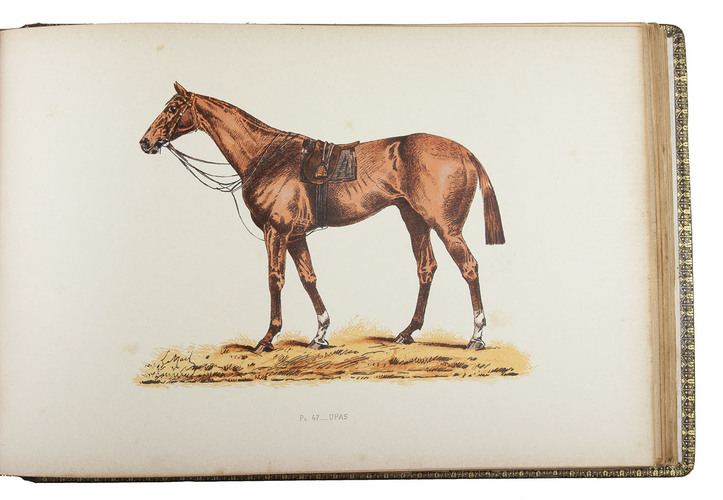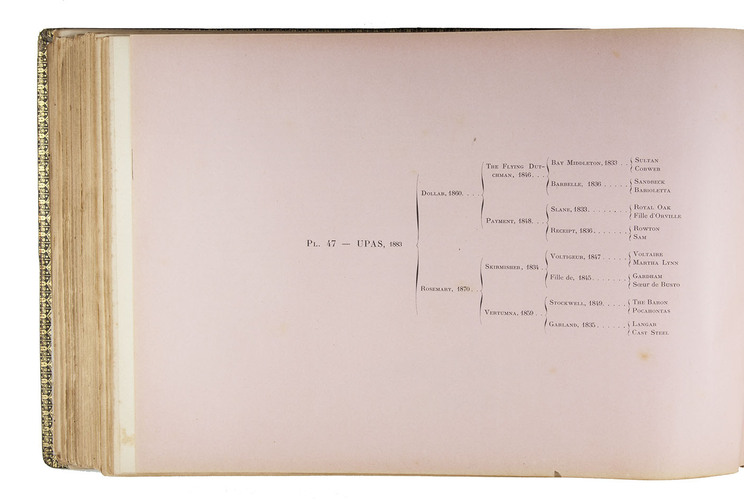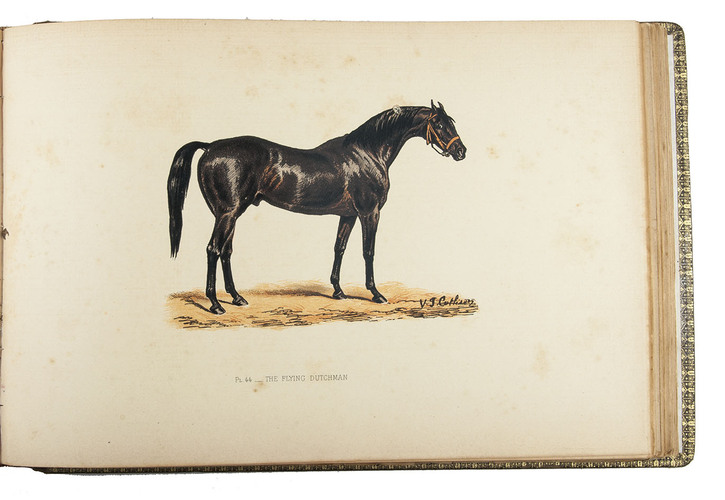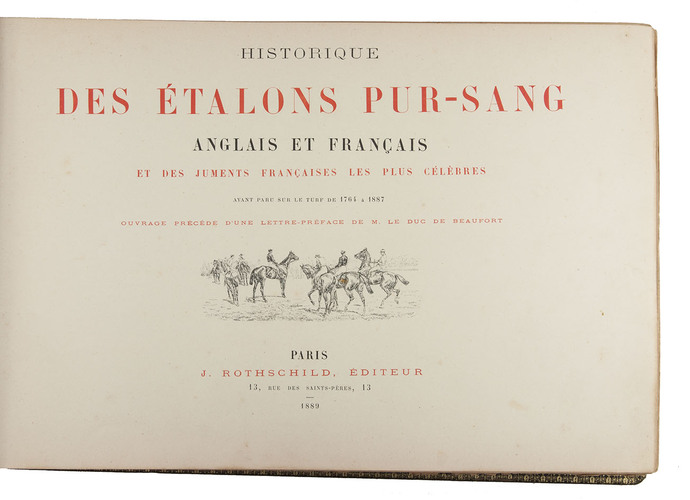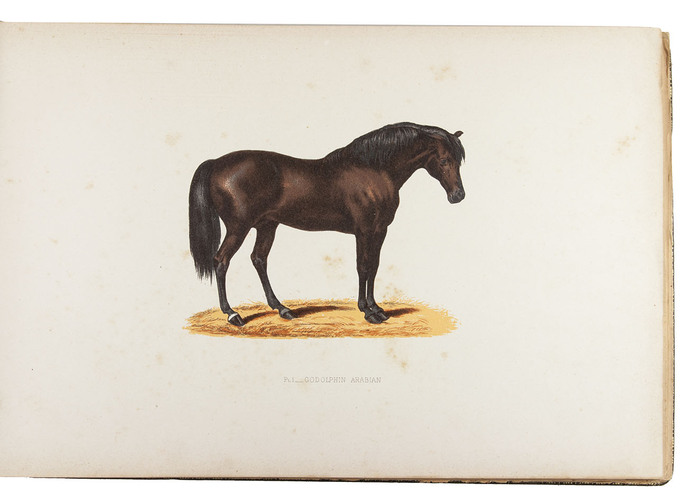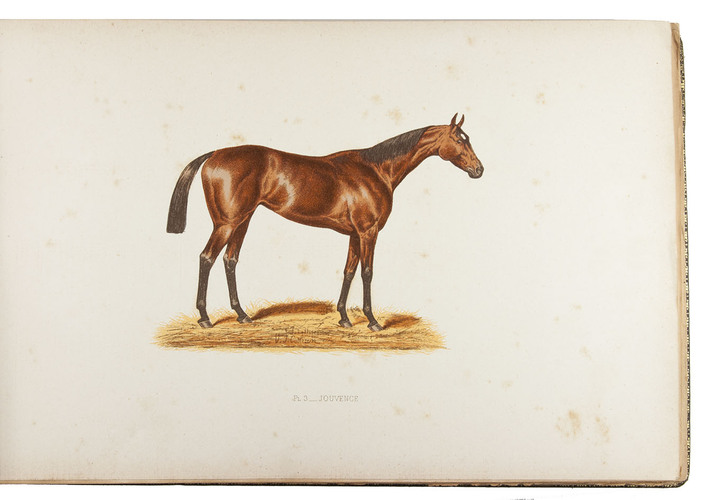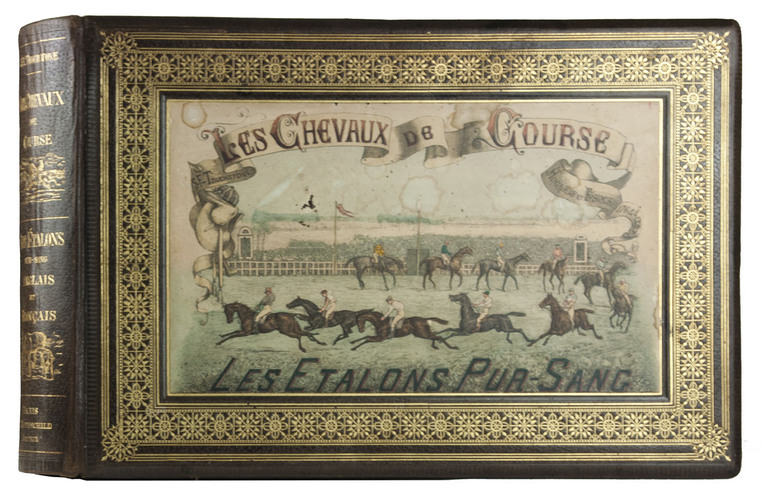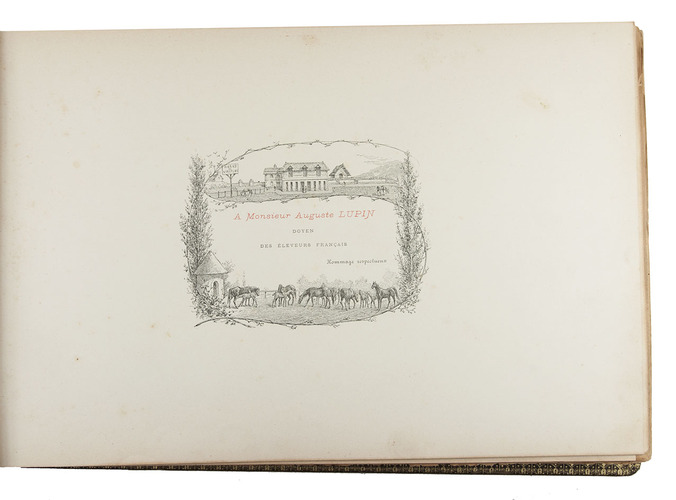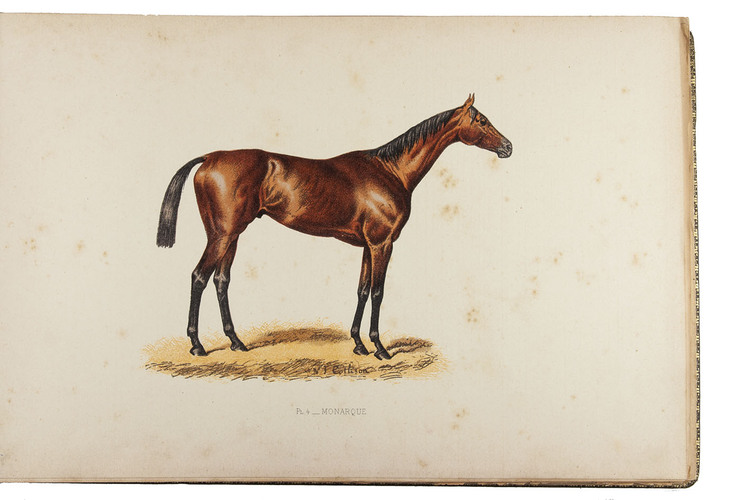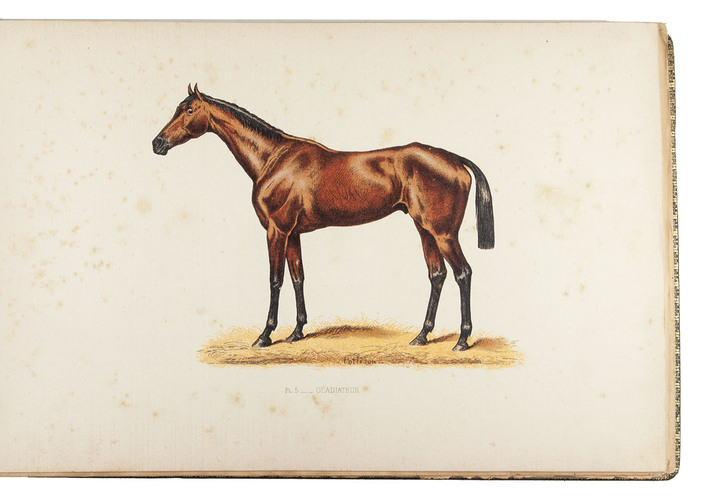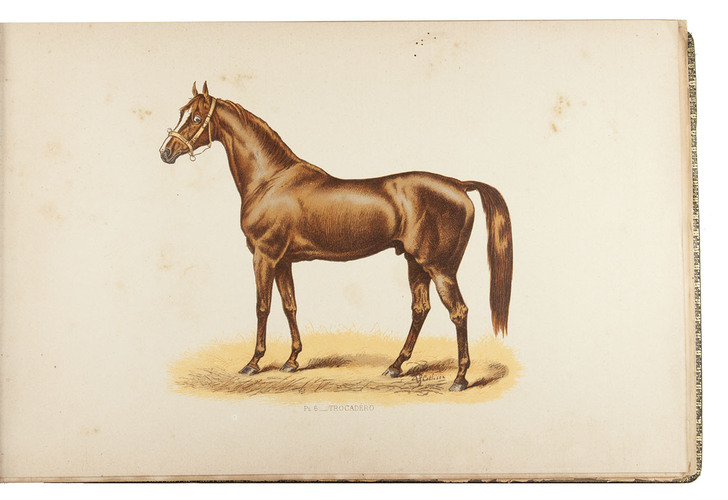 [TEYSSIER des FARGES, George Aimé]. TOUCHSTONE, S.F. (pseudonym).
Les chevaux de course[:] pedigree - description - historique. 60 portraits en couleur par V.-J. Cotlison, L. Pénicault et Le Nail. Texte orné de 182 vignettes ... = Historique des étalons pur-sang Anglais et Français et des juments Françaises les plus célèbres ayant paru sur le turf de 1764 à 1887.
Paris, J. Rothschild, 1889. Oblong folio (24.5 x 37 cm). With 2 title-pages in red and black, each with a different vignette; 60 chromolithographed plates, highlighted with gum arabic and lithographed by Thurwanger, each facing an inserted letterpress leaf with a pedigree of the horse portrayed. Further with 182 lithographed vignettes in the text. Contemporary gold- and blind-blocked brown morocco, with the original publisher's front wrapper (lithographed and hand-coloured) mounted on the front board in a wide decorated gold frame, gold-tooled turn-ins, gilt edges, white glazed endpapers with a watered-silk pattern, signed on the front board, "A SOUZE A. LENEGRE REL.", meaning Auguste Souze and Antoine Lenègre the younger in Paris. XXV, [1 blank], 165, [1 blank] pp.
€ 3,500
An impressive record of 60 famous English and French thoroughbred racehorses. After a 26-page history, the series opens with the Godolphin Arabian, a legendary 18th-century Arabian horse, named after Francis, 2nd Earl of Godolphin, and the subject of at least two novels and a British film. The portraits further include champion sires and racehorses such as Touchstone (a leading sire four times), Sultan, Flageolet, Hermit, Irish Birdcatcher, Melbourne, Stockwell, Whalebone, Eclipse (who won 18 races and later became one of the leading sires of his generation), Gladiateur ("One of the best horses ever to grace the turf in any century", according to the Thoroughbred Heritage), Monarque, an extremely successful stallion in France in the mid-19th century, etc.
Hinges reinforced, a few leaves slightly loose, With some foxing, and a tear in one of the inserted letterpress pedigrees, but still in very good condition. The binding with minor skuff marks, some reinforcements in the gutter margin, small waterstains of the mounted front wrapper and in the endleaves and some groups of leaves slightly loose, but in good condition. Splendid chromolithographed plates of race horces, in a very attractive contemporary signed binding. Dejager 363 (lacking 1 plate); Mennessier de la Lance II, p. 574; Nissen, ZBI 4151; for the binder Lenègre: Flety, p. 111.
Related Subjects: