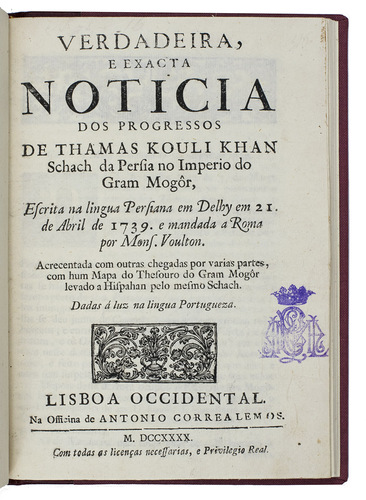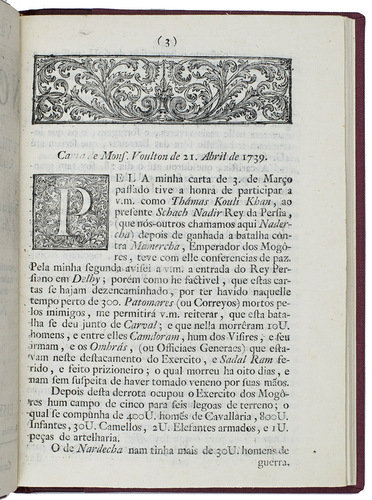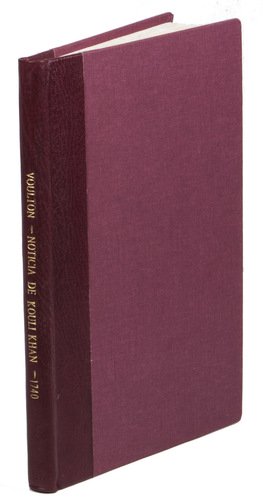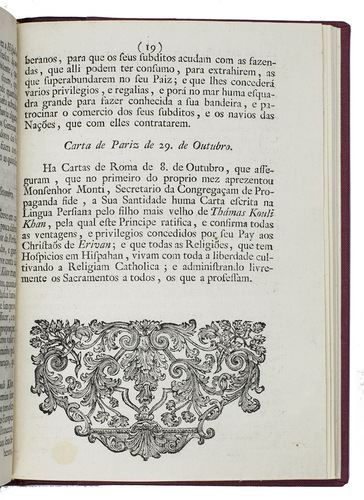 [VOULTON, Monsieur de?].
Verdadeira, e exacta noticia dos progressos de Thamas Kouli Khan Schach da Persia no imperio do Gram Mogôr, escrita na lingua Persiana em Delhy em 21. de Abril de 1739. e mandada a Roma por Mons. Voulton. Acrecentada com outras chegadas por varias partes, com hum mapa do thesouro do Gram Mogôr levado a Hispahan pelo mesmo Schach. Dadas á luz na lingua Portugueza.
Lisbon, Antonio Correa Lemos, 1740. 4to (19.5 x 14 cm). With woodcut decorations. Modern half red goatskin morocco. 19, [1 blank] pp.
€ 3,500
First Portuguese edition of a detailed description of the Shah of Persia's military campaign against the South Asian Mughal Empire. According to the title, the account was first written in Persian in Delhi, present-day northern India, in 1739 before being sent to Rome by Monsieur de Voulton. The present Portuguese pamphlet provides not only a translation of this original Persian account, but also other letters the events and descriptions of the captured Mughal treasure. A detailed list of this treasure can be found on pages 16-17: it includes elephants, artillery, gold and silver rupees, pearls and precious stones, and even the imperial throne studded with diamonds, which is also known as the Peacock Throne.
Nader Shah Afshar, also known as Tahmasp Qoli Khan or Thamas Kouli Khan (1688-1747) was the ruler and emperor of Persia from 1736 to 1747.
The present account describes his greatest campaign, against the Mughal Empire. Picking up after the Battle of Karnal in February 1739, the author describes how Nader Shah starved the Mughal army into submission, then gives a lively account of treaty negotiations and the polite exchange of gifts in the form of an indirect dialogue between Nader Shah and the Mughal emperor Mohammad Shah.
Voulton, the possible author of the letters compiled in the present account, was a deserter from the French army at Pondicherry, who fled to the court of the Mughal Emperor. There he became court physician and a member of the privy council. He apparently was with the army after the Battle of Karnal and then in Delhi. This Portuguese account includes some details that do not appear in other contemporary accounts, such as the description of Nader Shah eating sweetmeats while he watched the massacre at Delhi.
With a purple stamp of the library of the Dukes of Palmela (their monogram beneath the ducal coronet) on the title-page. With 24 modern blank leaves bound in. In very good condition. Porbase (1 copy); WorldCat (4 copies; also 1 copy of the Spanish ed.); cf. Laurence Lockhart, "De Voulton's Noticia", in: Bulletin of the School of Oriental Studies, University of London 4:2 (1926), pp. 223-245; not in Fonseca; Innocêncio; James Ford Bell Library.
Related Subjects: