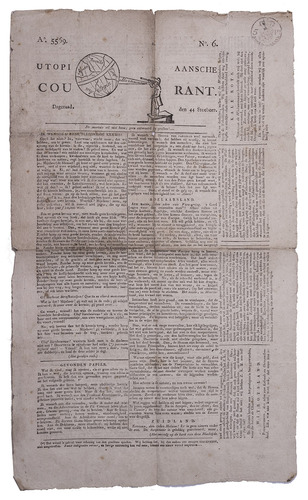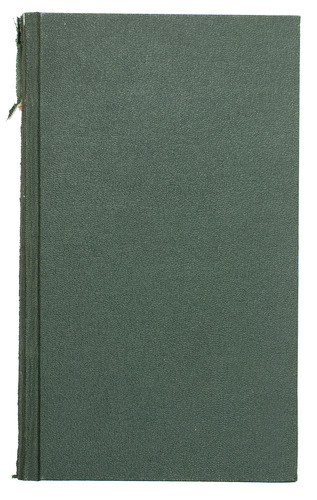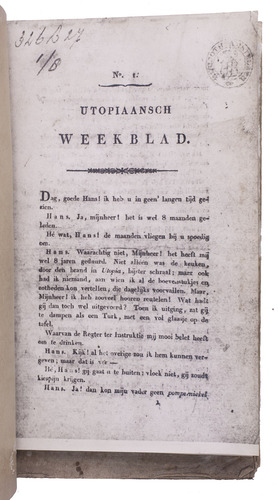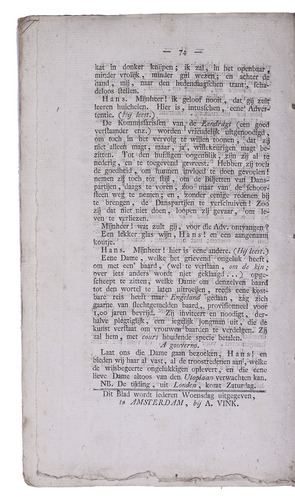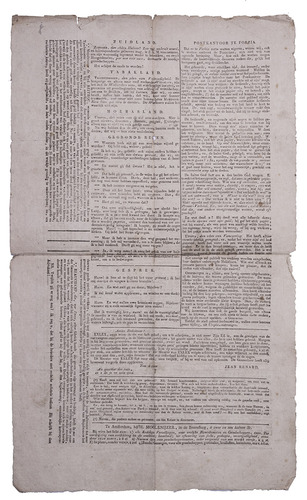 [WIBMER, Jean Baptiste Didier].
Utopiaansch weekblad nos. 3-9 & 11-13.
Amsterdam, A. Vink, [1820-1821]. 10 (of 14) parts, lacking parts 1, 2, 10 & 14, supplied in photocopy. 8vo. With a woodcut illustration as headpiece on the opening page of 9 of the 10 parts. Later green cloth.
With: (2) [WIBMER, Jean-Baptiste Didier]. Utopiaansche courant no. 6
Amsterdam, H. Moolenijzer, "Dageraad, den 44 Stoeborn A[nn]o. 5569" [= 1819]. Folio broadsheet (44 x 26.5 cm). With a woodcut illustration as headpiece. Folded and unbound. 112 pp. (incl. photocopies)
€ 1,500
10 instalments of the very rare Dutch satirical periodical Utopiaansch weekblad, written anonymously by Wibmer in the form of dialogues between the author and the Utopia-born servant Hans, who informs him of the latest gossip. Added is instalment 6 of Wibmers similarly absurdist Utopiaansche courant, a periodical that preceded the Weekblad and satirized King Willem I, who had ruled the Low Countries since Napoleons defeat in 1815. Both periodicals contain severe but cleverly hidden criticism of Dutch politics, society and circumstances of the day. Wibmer (1792-1836), trained as a minister of the Walloon Church, acknowledged his authorship, leading the church to relieve him of his post. On 8 September 1819, soon after publication of the present instalment 6 of the Courant, Wibmer was arrested along with the publisher and printer (Molenijzer and Brouwer) on various charges, including sedition. He successfully argued that his text had no comprehensible meaning and was acquitted, publishing his witty defence as Pleitrede (1819), as well as a 7th number of the Courant and then the present Weekblad. On 6 April 1820, soon after publication of the present Weekblad 12, he was arrested again. This time he was convicted on some counts and sentenced to six years imprisonment. Perhaps he had already written nos. 13 and 14, published after his arrest. Released a year early, in 1825, he publish an account of his second arrest, trial and incarceration, and continued his satirical writing.
Each instalment with a tax stamp. Spine split, leaving the back board and a few instalments detached. Some occasional foxing, but most of the instalments otherwise in good condition. Ad 1: Laurens Ham, Door Prometheus geboeid (2015), pp. 47-83; NCC (3 copies); WorldCat (3 additional copies, incl. 1 incomplete); cf. W.P. Sautijn Kluit, "De narrensteinsche, utopiaansche en liliputsche couranten" in: De Nederlandsche spectator (1872); ad 2: Ham, idem.
Related Subjects: